"You've got to do it all again now guys, but in the comfort of the media centre. Thank you very much. Oh, and a final word from Dan?"
"I just want to... I don't know, I think a lot of people will know, but yesterday there was a tragic accident and I said to you that if I do something special in this race, that race was for Dan obviously. It was absolutely shocking what I saw and may he rest in peace. No one should have to come and do your hobby, and for it to end like that is just shocking, so yeah... thoughts are with you, and friends and family and everyone."
"Well said Dan, thanks very much. So Dan Ticktum, remembering the fatal accident we had yesterday in the motorcycle race."
The Macau Grand Prix was a weekend of contrasts. From the brutal, horrible accident in the Motorcycle Grand Prix that claimed the life of Dan Hegarty to, 24 hours later, Dan Ticktum triumphing in an extraordinary Formula 3 Grand Prix - arguably the most exciting race ever held on the Guia circuit.
Ticktum's little speech with which this column is led showed what a remarkable young man he is. Veteran trackside commentator Ian Titchmarsh, the 'Voice of Macau', had just finished the podium interviews and was ushering the drivers into the media centre for the press conference when Ticktum interrupted the procedure - and this was just 25 minutes after he had taken the chequered flag for the most important victory of his life.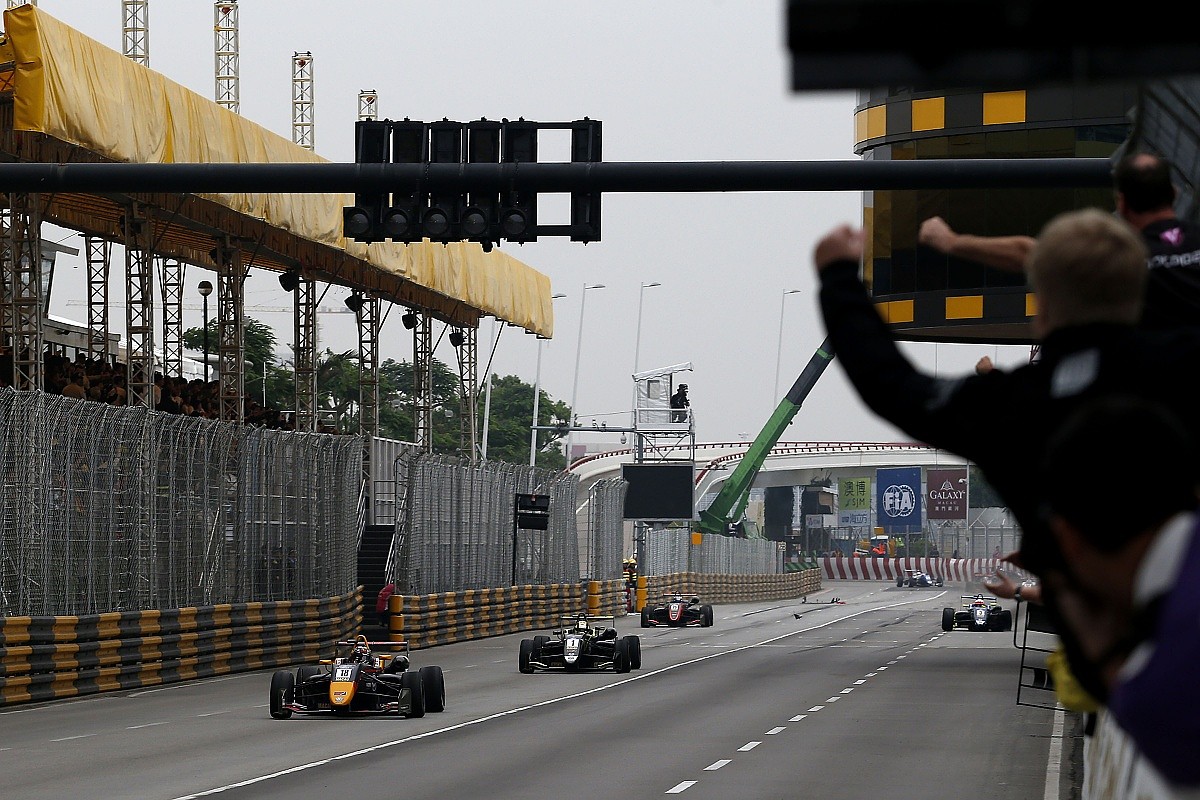 He did it again after the press conference, this time delaying the cheesy podium photos in order to make a little speech in which he profusely thanked all who had made his victory possible - Red Bull, the Motopark team, his family... everyone who had stood by him in his darkest hours. It was a remarkable off-track performance from someone not yet 18 and a half years old, and who had just wowed all with his exploits on-track.
Even before Sunday's main race, Ticktum in Macau had been a model young driver, a superb ambassador for his sport. Let's not forget: he is only just technically out of his two-year ban for his incident in the MSA Formula round at Silverstone in September 2015, although the second year was suspended, so that during the intervening period he has been actively racing as a new recruit to the Red Bull Junior programme, principally in the Formula Renault Eurocup.
The media activities can be hard for the young drivers in Macau. They go from a season where the only people approaching them on race weekends are hardcore specialists (erm, yours truly included) interested in whether they got their qualifying lap in when the tyres were at their peak, or whether whatever downforce level they're running is hampering them in sector one, to people who have only a very basic knowledge of what they're reporting. That's not to criticise them: the local media are invariably polite and friendly, but cannot have the depth of understanding of their European counterparts.
That a young man who has erred and paid the price, and then come back as a fantastic sportsman, is something that has impressed everyone
I'd wandered down to the Motopark pit on Saturday afternoon to grab a word with Ticktum, and he was just about to start a stand-up session with half a dozen local media, filming the session on their smartphones. I waited for about 15 minutes, listening in as he answered every question in an engaged, interested and polite fashion.
"I don't know if you know, but I actually got banned from racing for a year, something I regret and have learned my lessons from," he offered in order to give some context to an answer. "Macau is the best race in the world - even if I get to Formula 1, I'll want to do Macau, but I don't know if I'll be allowed to, although I'll try," he said in another. One of the Chinese had heard about his musical skills - Ticktum is an accomplished and entirely self-taught pianist, and creates his own music as a hobby - and off he went, telling them all about that.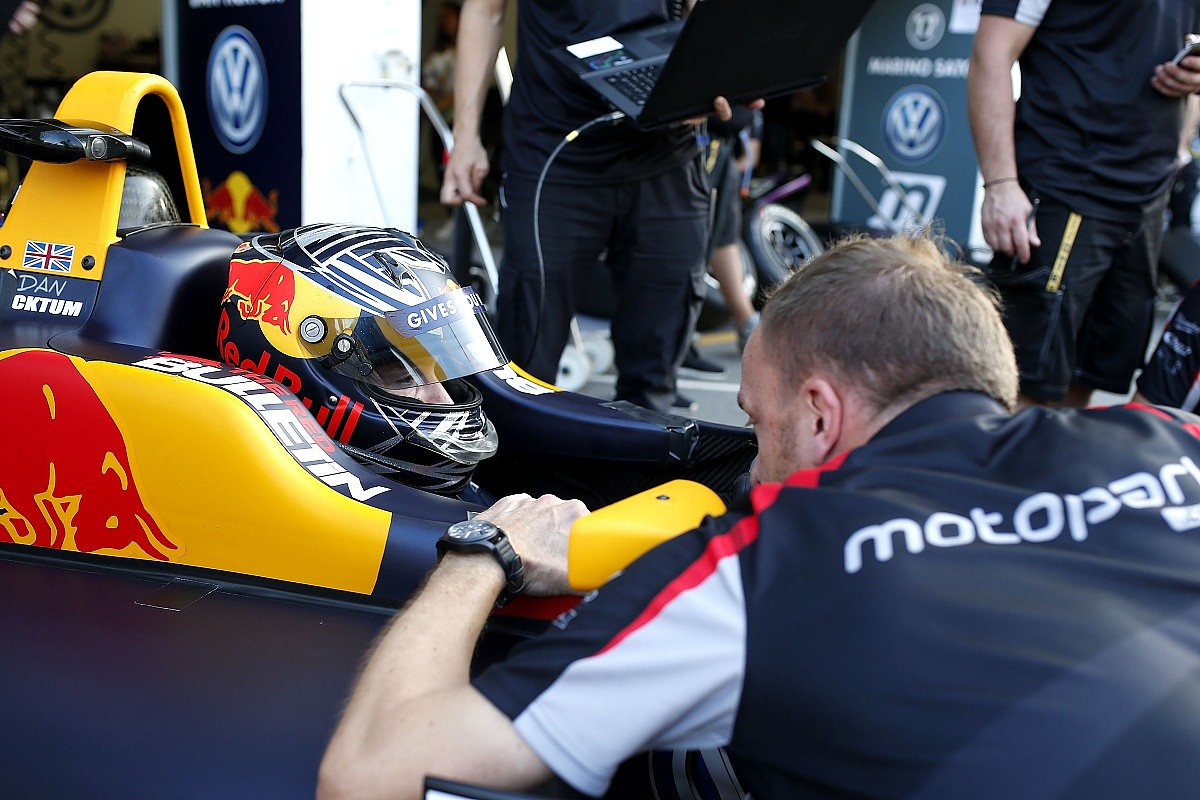 In short, Macau absolutely loves Dan Ticktum, not just for his stirring, big-balls driving but for his geniality out of the cockpit. Apparently, in a survey of local residents a few years back, the element of fair play was singled out as one of the major benefits of the Grand Prix, particularly its positive influence on the young. A young man who has erred and paid the price, and then come back as a fantastic sportsman, is something that has impressed everyone.
"Dan didn't arrive as the favourite but proved a worthy winner," an insider from the Macau GP organisation told me. "Off the track, he won everyone over with his honesty and consideration for others - even during the euphoria of victory. Macau people put a high value on sportsmanship and fair play, and that's exactly what Dan epitomises."
What was also so pleasing about Ticktum's victory was that his team, Motopark, ran stickers at the front of the sidepods of its five cars right from the start of the weekend, paying tribute to the late Barry Bland. Ticktum is just one of the many drivers on whom former Macau GP coordinator Bland has had an influence - when Ticktum was a political hot potato, Bland cajoled the FIA into accepting his entry for the 2016 race, subject to a trial by jury in the Hockenheim finale of that year's F3 European Championship.
Now Ticktum - who has led approximately 200 metres during his seven-race F3 career! - stands as a Macau Grand Prix and FIA F3 World Cup winner. It was a truly deserving win for someone who was competitive all weekend, but there were several moments that, when you add them all together, suggest it was good old-fashioned Macau 'destiny' that chose him for honours.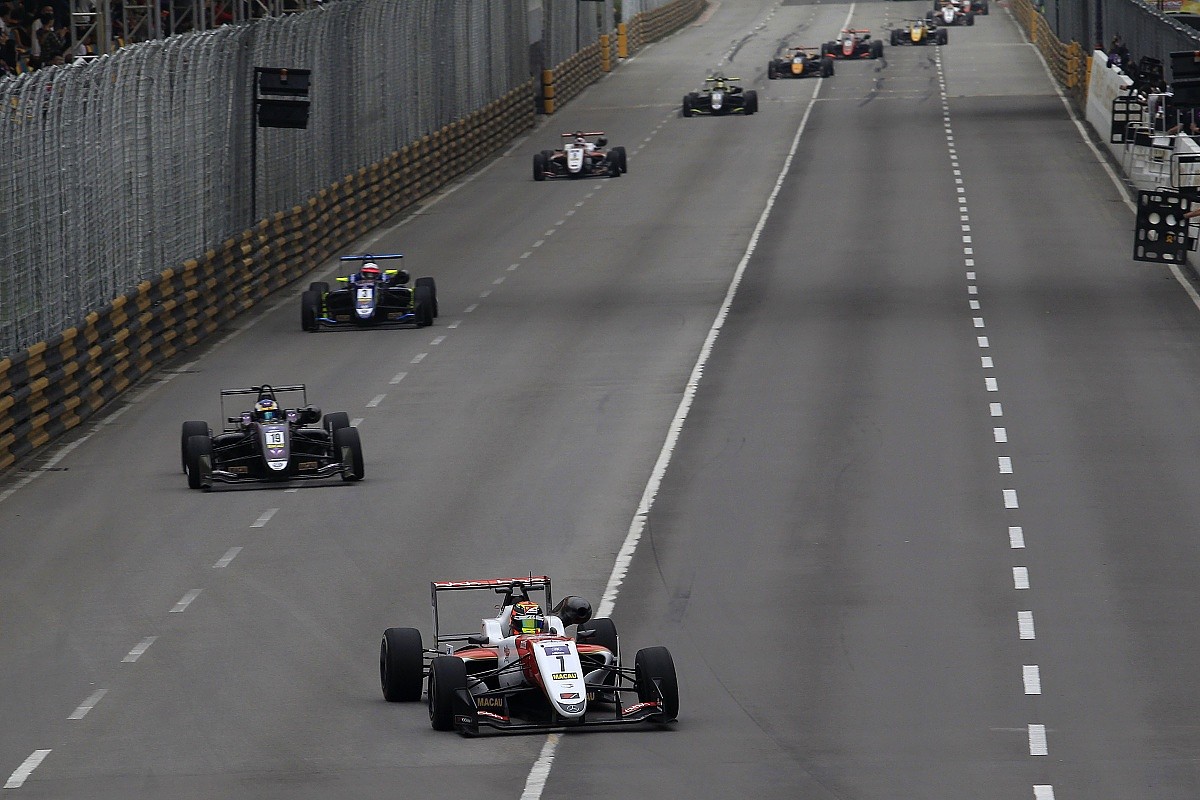 The first of two crucial clashes
Prema's newly appointed Ferrari junior Callum Ilott played himself in gently through Thursday's opening day, yet by FP2 on Friday morning he had the car dancing beautifully around the mountain sector. He was only denied pole that afternoon by bad luck with red flags, and he waltzed to victory in Saturday's qualification race.
His race ended when he clipped the car of Joel Eriksson on a restart following a full-course yellow. It wasn't caught on the TV cameras, but evidence suggests that Ilott got the jump on the race-leading Eriksson, and got most of the way past on the left. He made perhaps the most infinitesimal of moves to the right when he was not quite clear of Eriksson, puncturing his right-rear tyre.
If not for that, Ilott could well have opened up a lead once in front and, even had his tyres faded as they did following his pitstop to replace the puncture, he may have had enough in his pocket to triumph. Certainly, according to those who have seen the evidence, his blame by the stewards for the incident was extremely harsh.
Eriksson is arguably the savviest racer from F3's class of 2017, and it's likely that he could have stayed with Ilott. Bearing in mind the performance his Motopark team-mate Ticktum had from his tyres in the late stages, it's entirely feasible that Eriksson could have repassed Ilott for victory.
Unfortunately, the contact with Ilott folded his front wing under his left-front tyre and he was unable to steer at Lisboa, hitting the wall.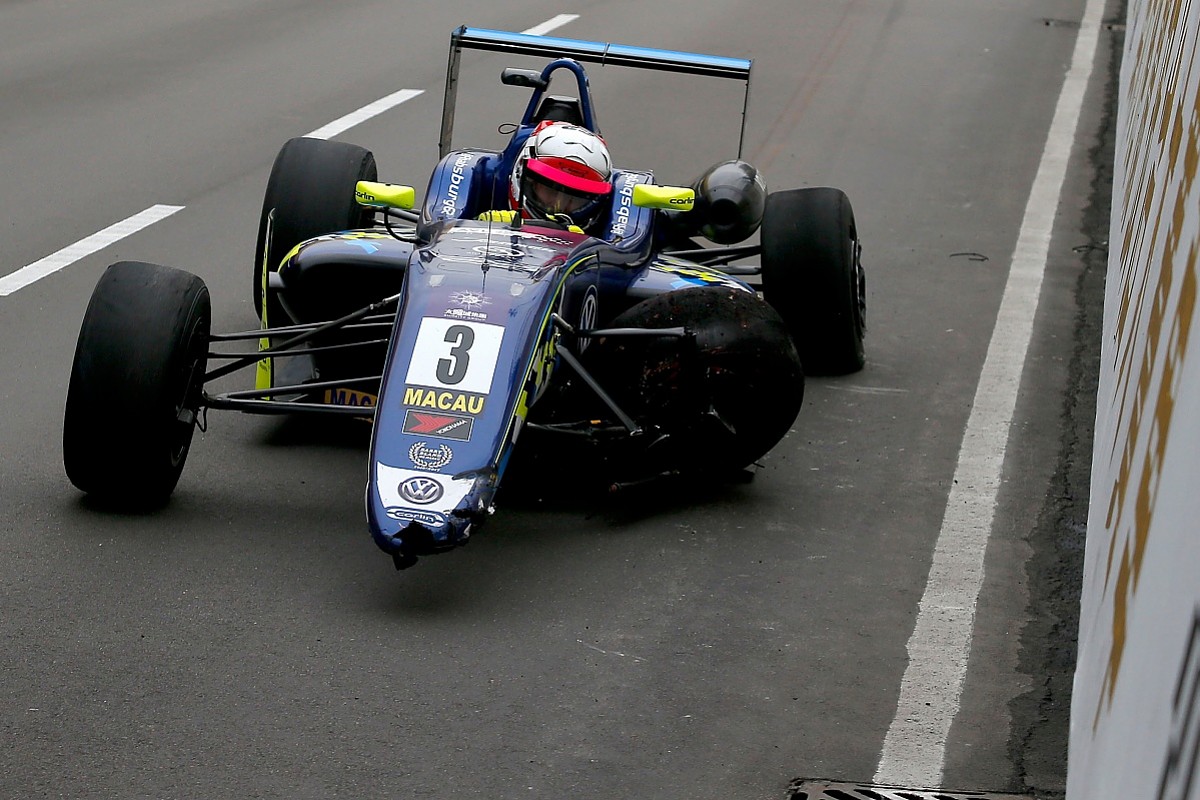 Macau's greatest ever final corner
The track was still a little slippery in places after overnight and morning rain, and on lap 10 Sergio Sette Camara was massively lairy at Moorish and Dona Maria as he strove to build an advantage. That was his fastest lap, but his pace immediately faded as he had cooked his tyres.
On the final lap, his defensive line into Fishermen's Bend compromised his exit speed, leading to that last-ditch attack from Ferdinand Habsburg...
Carlin driver Habsburg was 0.386 seconds behind Maximilian Gunther at the end of lap 10, got into the German's tow and passed him beautifully on the run from the Mandarin kink to Lisboa. At the end of the 14th lap, with one to go, he was an almost-identical 0.391s behind Sette Camara across the line, but this time was sucked in and had to try and go around the outside at Mandarin - he was forced to lift and didn't have momentum to complete the pass.
Had he backed off before Mandarin, there's every reason to expect he could have had a better run to complete the pass down to Lisboa. Furthermore, the first time he tackled the Melco hairpin after passing Gunther, he got into a massive slide - what he called a "Tokyo Drift moment" - that cost him time.
Without this, he could have caught Sette Camara one lap earlier and had more time to plot his pass. He wouldn't have needed his "win or bust" move at R Bend on the final corner.
McLaren's prodigy comes up short
Without his clutch problem at the start of the qualification race, which he joked was the first time this year he's had an excuse for his poor starts, Lando Norris could have finished second on Saturday rather than seventh - although he certainly wouldn't have had an answer to the pace of Ilott. In turn, that could have put him into the early lead in Sunday's final.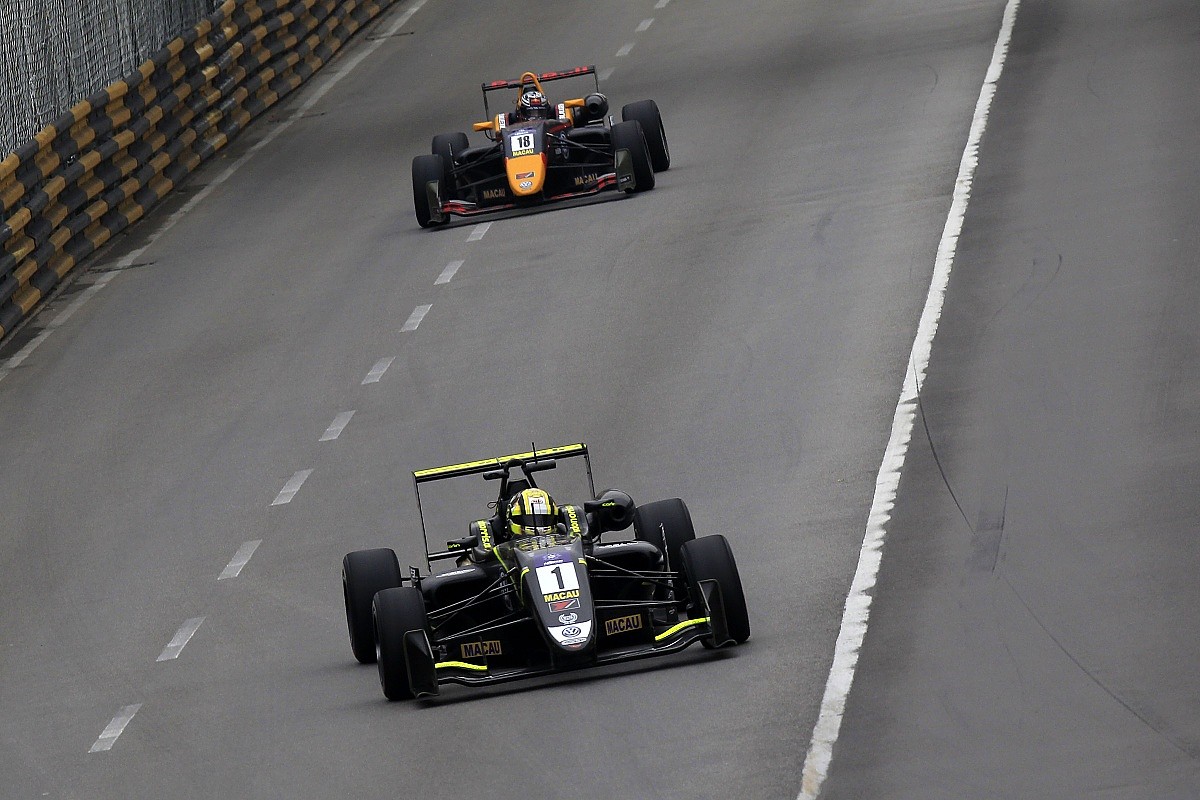 Even with that fourth-row start, there were moments on Sunday that cost Norris his shot. His onboard footage on TV gave a great illustration of his attempted move on Habsburg to take third position at the start of lap eight - and then he had to lift as they entered a yellow-flag zone. The move appeared to be done, so it could have been Norris - not Habsburg - chasing down Sette Camara late on.
There was a later moment too. On the 12th lap, he couldn't quite pull off a pass on Gunther into Lisboa, then had to defend from Ticktum into the following San Francisco Bend. His huge slides - beautifully controlled - through the Solitude Esses, delayed Ticktum and caused a one-lap delay to their double pass on Gunther.
The outside bets whose races unravelled
Norris's onboard at the start of lap eight also showed Prema ace Gunther having to back out of a bid to pass Sette Camara for the lead due to those yellows at Lisboa, caused by B-Max duo Kenta Yamashita and Yuhi Sekiguchi crashing.
If Gunther had got ahead then, even though his tyres soon dropped off the cliff, he would have had a similarly stricken Sette Camara behind him and could have been safe. He compounded that later in the lap when he went far too deep into the Melco hairpin and ran wide, giving him a very slow exit and ensuring Sette Camara was safe - for now.
Pedro Piquet was on it in Macau from the start, putting his Van Amersfoort Racing car second in opening qualifying. But a crash at Maternity Bend in Friday free practice knocked his confidence for second qualifying, and he dropped to 13th.
His drive to sixth in Saturday's qualification race showed he was back on form, but on Sunday he clipped the wall very early in the race and bent the steering. Bearing in mind the form of team-mate Ralf Aron - who qualified 17th yet finished third, just 1.763s off victory - a clean run for Piquet could have ended with him atop the podium, especially as both VAR cars had very good tyre life.
How Ticktum stole in
All of the above. If he hadn't been held up by the sideways Norris on lap 12; if he hadn't been part of the five-car train delayed by the struggling Gunther on the following lap; then even with that astonishing double pass of Norris and Gunther at the beginning of lap 14 he would have been right on the tails of Sette Camara and Habsburg as they crashed simultaneously within sight of the flag.
If that had been the case, Ticktum could well have been innocently eliminated, that podium speech would never have happened, and he would just be yet another Macau 'what if?' as Norris was feted for a Euro F3/Macau 2017 double...