Q: There has been talk of dissent between the four of you. Could you address who is leading this right now and where are you taking it?
Kevin Kalkhoven: "To say we are extremely co-operative with each other would be an understatement. The whole process of getting through our first three races has been extremely difficult but I will tell you right now that Paul and I have been on the phone every four hours every day.
"Do we agree about everything? Absolutely not - you can't get four guys to agree about absolutely everything. But are we 98 per cent in agreement? Absolutely. For example, we have a planning cycle, which we are all comfortable with. The first three races have been very successful and to get to that point, Paul, Gerry Dan and I have worked together very hard.
Paul Gentilozzi: "There were a lot of tough decisions. Two or three weeks before the season started, we had some bad news that came to us, that teams we thought were coming couldn't get all their acts together and that's a tough thing.
"When you have conflict, you have to work through it. And in the end, the discussions always end with 'What's best for the series?' Period. We all end up on the same ground, we don't have dissenting votes, everybody agrees, this is what the majority wants.
Gerry Forsythe: "I'd like to confirm that as well. There are some in the media who started rumours that are unfounded. It's not fair to the series, or to the four of us. As Paul says, at the end of the day we do what's best for the series. We all agree to do that."
Q: When the series goes into hibernation for six weeks now, what are you planning to do to keep the series in the news?
Sid Priddle: (Champ Car PR consultant) "There has been some shuffling going on in our PR department in recent days which has set us back a bit but I want to give a lot of credit to our staff for keeping going in as seamless a manner as they could.
"We are going to Europe week beginning May 14, with some of our European drivers. There is a Portland test on May 1-3, and we are doing something with that. We are going to talk to Paul Tracy once we know where he's at with his injury, because we want him to boost our image in America -because he is our star and good media copy at all times.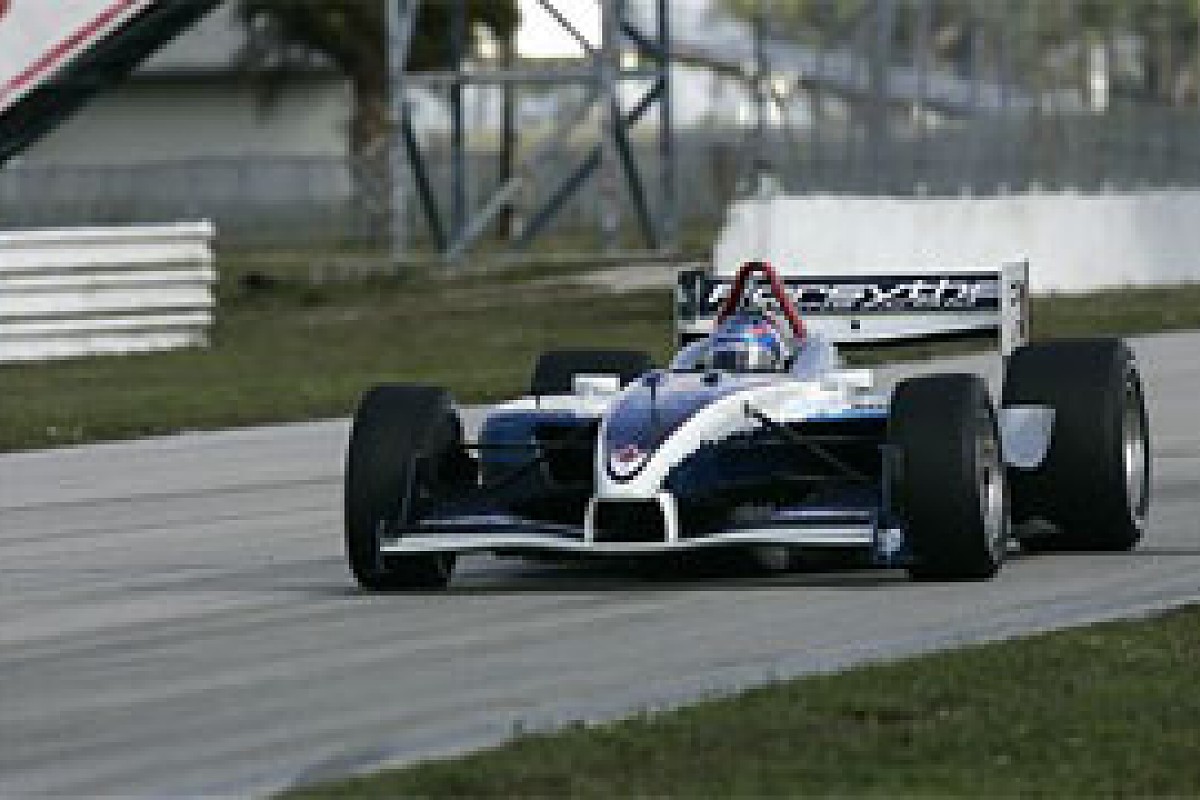 Paul Tracy (Forsythe) testing in Sebring © LAT
"And we're putting together a programme to match our lesser-known drivers with our better-known drivers, because we think very quickly spectators need to know who these newer drivers are. They all have a story to tell. We will be filling the hole."
Gentilozzi: "We have a 600-mile allocation to test, and you will see a variety of teams using at least 400 miles of that next month. Some will be going to Portland, some will use Road America, some will use Sebring.
"Tony Cotman [Champ Car VPO] and Scot Elkins [Champ Car Technical Director], along with the folks at Elan, will be working day and night to fix the technical issues that have come to light over the first three races. Everyone's going to be real busy.
"Would it be perfect if we had a race in between? Yeah perhaps, but honestly with the new car and given the delivery date, giving the teams a chance to test is what works best for the series. I believe you'll see almost all the teams testing at Portland. I don't know of a team that isn't going to do at least one or two days there.
"As far as being on the road and promoting future races, Alex [Tagliani] is going to be on the road at about a dozen WalMart stores in Canada, promoting the Mont Tremblant and Toronto races, Justin [Wilson] is going to Europe with a bunch of other drivers to promote the races there, so there's going to be a lot going on."
Q: What do you think about David Martinez, Mario Dominguez, and Monterrey?
Forsythe: "We'd love to have Mexican drivers in the series. Mario Dominguez should be in the series, and David Martinez. I don't know of any others, but both of those should be in the series."
Q: And will either of them be at Portland for the test or the race?
Forsythe: "We're talking to both of them."
Q: We had a recent positive press release about the television figures, and when you're talking to potential sponsors, what kind of numbers are they looking for to get involved in the series?
Kalkhoven: "I've been as critical as anyone about our television and the emails I've been receiving from fans have been 100 per cent positive about the changes for this over the last two races. I've not had one negative email about the television package. Could we be better? Sure. But our ratings are up on where they were last year and I expect them to continue to grow."
Forsythe: "All the feedback I've received regarding television has been positive too. It was a good move that we made, and television is the most important media that we need within the series."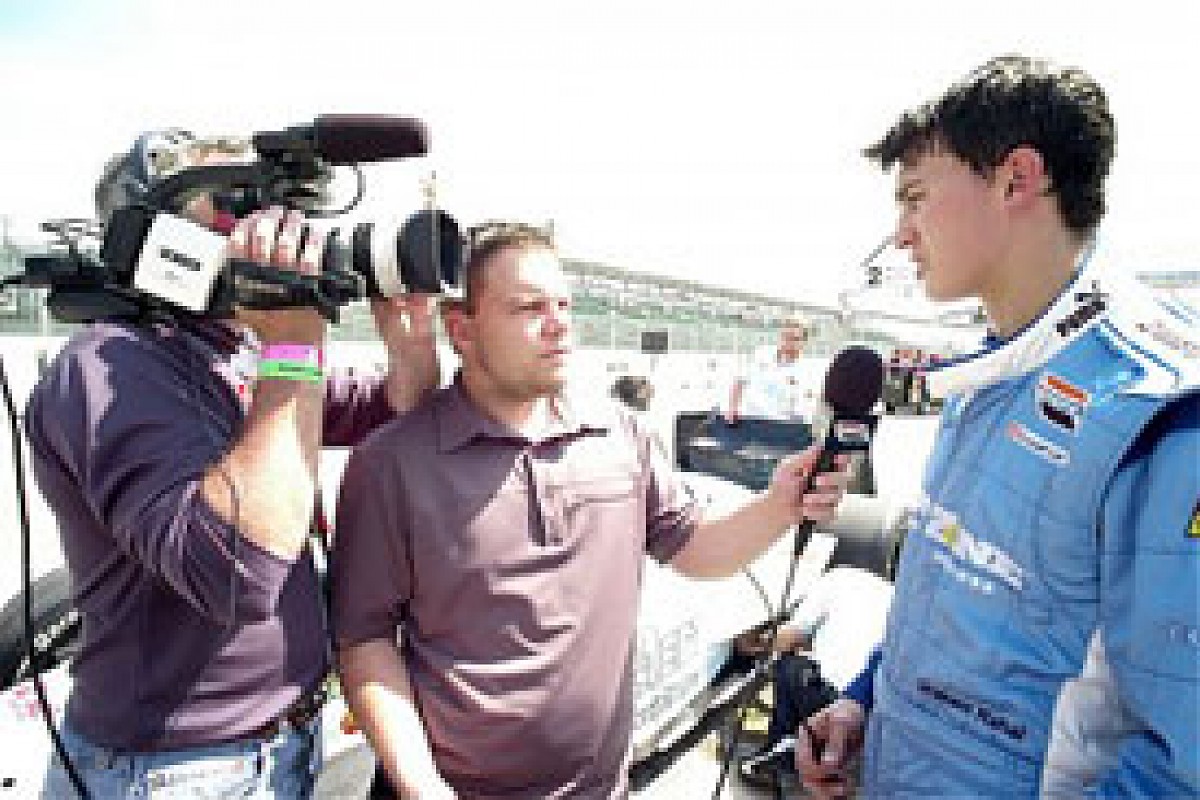 Graham Rahal does a TV interview © LAT
Gentilozzi: "There was a lot of fan forum talk on the internet about why ESPN wasn't promoting the series at the start of the year. Our season started with NBC and NBC/CBS. And they're competitors, NBC and ESPN, because ABC owns ESPN.
"ESPN loves Champ Car, they're very excited and they're doing a lot about it but they made a business decision to not promote our season until it started with them. But everybody was jumping up and down about why ESPN wasn't promoting Champ Car.
"It's because our first two races were on NBC, by contract. We didn't have a choice When we get past this race, you'll see a lot of activity, a lot of promotion, a lot of support on both ABC and ESPN because we're with them the rest of the year. Now we're there, and we'll really be their product."
Q: Kevin, the signs were at least somewhat encouraging that some sort of reconciliation could happen with the IRL, and now a year later that seems to be a completely dead issue. Is that the case? Is it something on the radar screen at all?
Kalkhoven: "It is a completely dead issue. I can't summarise it any further than that."
Gentilozzi: "How dead is dead?!"
Q: What killed it?
Kalkhoven: "The talks were making progress while it was kept quiet. But the moment it leaked out, an awful lot of other forces came into play from people who might not have benefited from such a unification. A lot of factors came into play, but basically you can assume that now and for the foreseeable future a unification idea is dead."
Forsythe: "I spent a whole day with Tony George last year and I think one of the largest issues we had to do with was the contract with Honda. Honda basically controls the IRL as the only engine supplier, and how would we put Champ Car and IRL together with Honda."
Q: What plans does Champ Car have to expand elsewhere in Mexico?
Forsythe: "There's nothing else we're looking at right now. Only Mexico City, because we're very concerned that that stays a premier race. If there was an opportunity with additional sponsorship to get more Mexican companies behind it, we'd love to have another race there, but until they get behind it sponsorship-wise, it won't happen."
Gentilozzi: "It's a little bit cart-and-horse. To have Canadian drivers, you have to have Canadian sponsors; to have Mexican drivers, you have to have Mexican sponsors. And the sponsors are saying to some extent 'Bring us drivers and then we'll sponsor', and we're saying 'Bring us sponsorship, and we'll have drivers'. It's a tough decision.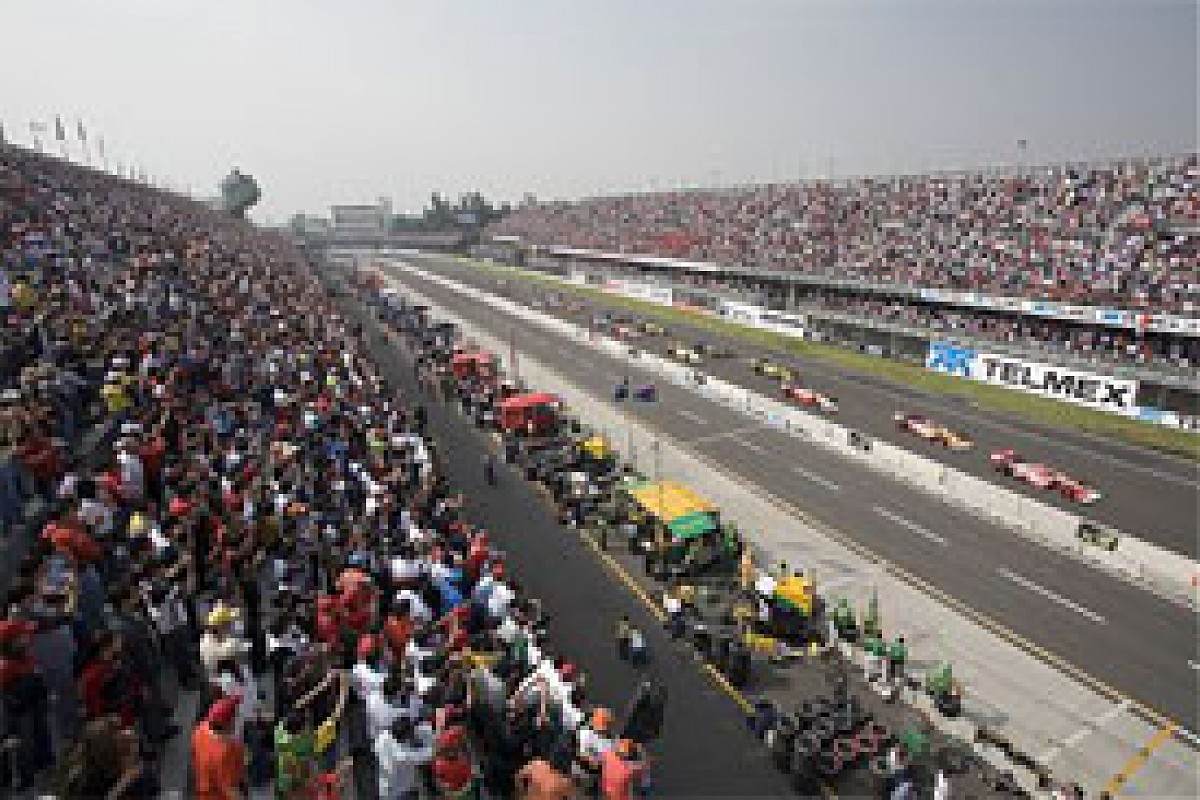 The start of a Champ Car race in Mexico City © LAT
"Gerry's done something very provocative by adding Mario, which shows his belief in Mexico City, but it would be great to have three or four Mexicans like we used to, absolutely. But we have to have the support of companies from that country."
Q: How much longer is the contract with Mexico City?
Steve Johnson: (Champ Car President) "We have another year. We have good relationship with the folks at OCESA and with some of the sponsors down there, and we're working daily to keep improving those, because as Gerry says, we really want to be in Mexico."
Q: It's been reported that the new DP01 Champ Car needs another six months of development. Is this true or false?
Kalkhoven: "I think that is complete and utter bullshit. Sorry to be so blunt on that one. But last race, the second one of the new car, we had only one mechanical failure. To say it needs another six months of development is complete nonsense.
"It's been a remarkable success, that we could get 17 cars to the grid with so few mechanical issues on our second race, we'll see what happens in our third today, because this is a heck of a bumpy track - if anything's going to fall off, it will fall off on this track. But I think our engineering team led by Scot Elkins and Tony Cotman has done a remarkable job.
"Does it have some bugs? Sure. But that's only to be expected.
Gentilozzi: "We haven't had, in a practice session or race, a major issue with more than one car at any one time. First race we had three car-related issues that took cars out of the race, and they were all different. Each time the Elan folks and Carl Haas Automotive have been there with the right parts and the right fixes.
"All the teams are working together, cumulatively, sharing engineering, sharing ideas, Scot Elkins has done a remarkable job of keeping everyone in the same box, because the first thing you want to do when you fail a little part, especially with experienced teams, is that you say 'I don't want to wait for the company to fix it, I wanna fix it myself', and we're not going to do that.
"We have guaranteed to competitors a level playing field. It requires a little more pain in the beginning until everyone can respond and have the same fixes for the cars, but you don't see cars parked in the pitlane in a session: everyone's out there running. So the [under-development] is just a vicious rumour."
Q: Do you think the refuelling issue has been solved?
Gentilozzi: "No. I'll tell you now that we have a venting issue, and not to be too specific. Traditionally when you bought a new Lola, you didn't get a fuel venting, fuel-filling system with the car. You bought it from an outside supplier.
"When Elan got ready to deliver the cars, they recognised that they had to do it. They did the first job, we didn't have enough time to test it, and it didn't work very well. Now we've gone to the expert in the area, Dan Jones and he's made a lot of parts that have gotten better. We're just starting to get those parts after this event, and all those teams will have new fuel-filling parts before the Portland race and the problem will be fixed.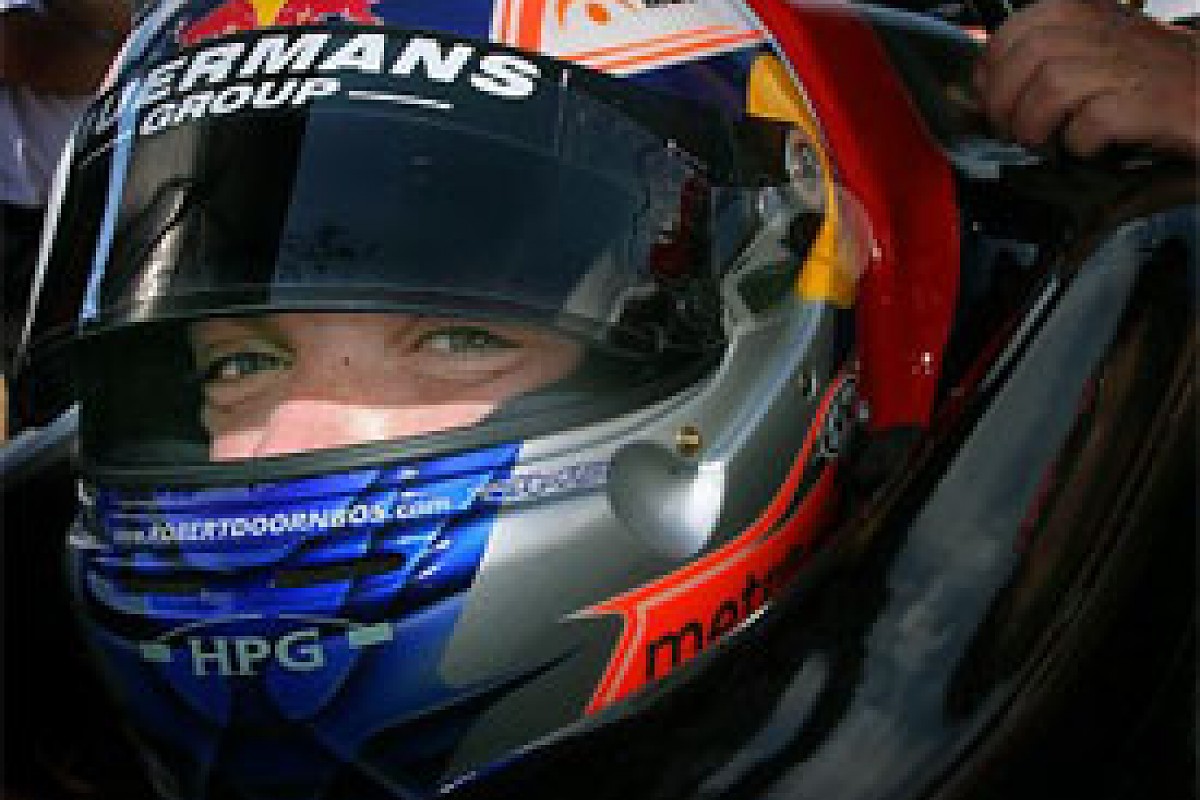 Robert Doornbos © LAT
Forsythe: "I've been in open-wheel racing with March, Reynard and Lola, and I can assure you that the difficulties we've experienced here are considerably fewer than with those other three manufacturers when a new car came out."
Q: How does Champ Car position itself vis-a-vis Formula One? You have some drivers here who freely admit they see Champ Car as a stepping stone to F1, others perceive it as a purgatory where they're not ready for F1, and others perceive it as a retirement from F1. How does Champ Car want to position itself with people like Neel Jani and Robert Doornbos on board?
Kalkhoven: "Formula One is a technology-driven and very expensive environment; we are a driver-driven environment that is extremely competitive, and what we do and where we position ourselves is where we hold three-day festivals of speed.
"Yours is a question that is regularly asked by countries that are interested in having us and they recognise specific advantages to having us over Formula One, which comes in, consumes a vast quantity of money and disappears. Our festivals around the world contribute significantly to the local economies and provide entertainment value that is driver based.
"To answer the part of your question about the drivers, those drivers know that only three or four people are ever going to win in Formula One, and people who have been there regard Formula One as purgatory because they know they won't win, they don't have a hope in heck of winning. And there is nothing more demoralising than being in a car with a team or a situation where they can never win. Here, I have no idea who is going to win this afternoon - apart from Neel Jani."
Gentilozzi: "As an analogy, a couple of years ago a second-string quarterback got traded to New England, a guy no-one ever thought could be champion. And he went on to win the Superbowl. So judgements are made so frequently based on the team and not so much on the talents of the individual.
"There are a lot of drivers that we talk to as team managers who want to come to Formula One for the first reason that they can race. When you come here, you race. It's not subject to a computer, it's not subject to the extra $50m that your team's got. We've all got the same stuff.
"You talk to guys who are good over there - two guys I've spoken to recently are Pedro de la Rosa and Ricardo Zonta - real race drivers. They know in the right car they could be front-running guys, but they know by the luck of the draw, or their birth date or their nationality that they're not going to get a seat. But if they come to Champ Car, they can race."
Q: But the flip side to that is if you have guys who are here only for a year or two and then go back to Formula One, it's very difficult to build driver equity in that environment.
Forsythe: "You're never going to change that. If they're from Europe, they're going to want to drive Formula One: that's in their head. And other places around the world look at F1 as the ultimate driving opportunity too. You're not going to change that."
Gentilozzi: "A similar example is how many kids come out of college basketball and go to Europe to play in the hope of getting back to the NBA? There's always going to be an NBA or an NFL, perceived as the ultimate participation, where the team decides who's going to win. In this case, the car companies, the factories, the politics of the organisation.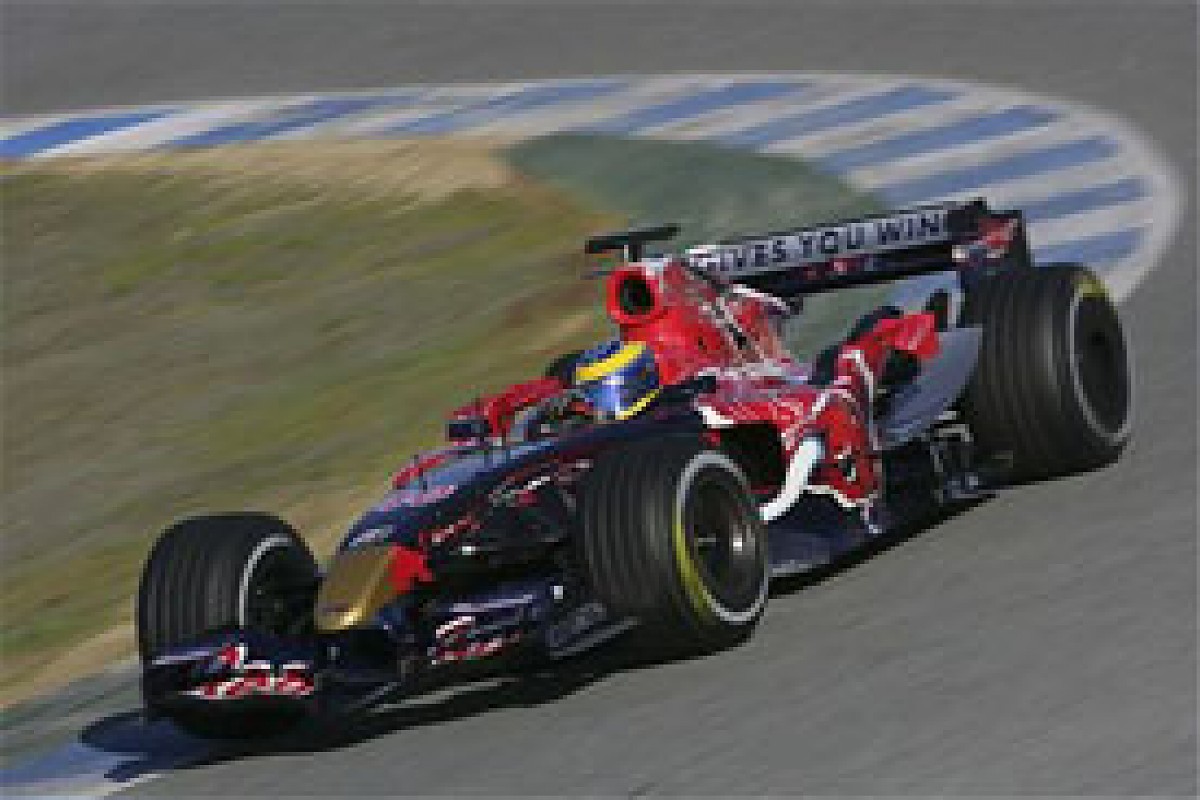 Sebastien Bourdais tests for Toro Rosso at Jerez © LAT
"We're going to keep being a driver's series to give the fans racing. Sometimes our view is so closed because we're in the industry. Does it really matter to the fan if Neel Jani finishes as the champion this year and goes to Formula One next year? Yeah, to some; it would be a tough thing to lose your champion. Or if we lost Sebastien [Bourdais]?
"Actually losing Sebastien would be quite good! Not because we don't love him - he's a great race driver. But if Sebastien goes to Renault and finishes runner-up in the championship, is it good for us? Hell yes, it's good for us. We've got to quit being selfish. We've got a hundred thousand fans who are intimately involved in our daily lives and think of us as a consumer product."
Q: Isn't part of the challenge, then, convincing American drivers that Champ Car is the destination of choice?
Kalkhoven: "Exactly, and that is why we have invested so much time, so much money, so much effort into getting so much success in Atlantics. Sometimes we forget what we've achieved in Atlantics: in our second year since the relaunch, there are almost 30 cars out on the grid, half of them are young Americans but there are also 11 other nationalities which shows how viable it is for drivers around the world.
"And that is where the young Americans like Graham Rahal, and Jonathan Bomarito some time in the future, are being created. But if you're doing it from the grass roots and it takes time. There are champions going to be emerging from that series who are future champions in Champ Car, and our whole future is indirectly based around the drivers in Atlantics. And there is no other series that can say it's investing so much time, money and effort in nurturing young American drivers."
Gentilozzi: "There are two great American stars on the horizon: Graham [Rahal] and Marco [Andretti]. Graham's dad owns an IRL team and an ALMS team, but he wanted to be here. He knows this is the right place to be.
"I can't speak for Michael [Andretti], but I can't imagine that on a pure day without the politics that Michael wouldn't have rather had Marco here, working on his craft in road racing, if some day he is going to follow the Andretti tradition and one day go to Formula One.
"Do we mind if some young stars come here and then go to Formula One? Well I think it helps racing in America if some day we have an American champion if it was Graham Rahal or Marco Andretti. I don't want to hold them down."
Kalkhoven: "Right. And out there in Atlantics, as I said, there are 30 drivers, half of whom are North American, and that's the future of open-wheel racing. When we as a partnership got together to ask how we were going to rebuild Atlantics, we envisioned it as a primary platform for the future. But it takes time - two or three years. We've already graduated two from last year, we'll graduate two or three from this year, and that's how you do it. Build it from the ground up."
Gentilozzi: "Look at Simon Pagenaud; he wins the $2 million (USD) prize, and now he's in Champ Car running in the top five every week. What a great story. And if we bring up Raphael Matos and Jonathan Bomarito [Atlantic stars], then we can say the Atlantic plan has really been successful."
Q: How do we keep them here though? Are we looking for the next Jimmy Vasser or the next Jimmie Johnson?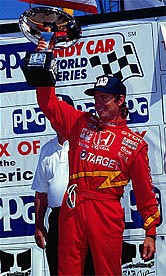 Jimmy Vasser was the last American to win the Champ Car title, in 1996 for Target Chip Ganassi Racing © LAT
(pause)
Gentilozzi: "The next Jimmy Vasser stumped me!"
Kalkhoven: "There will never be another Jimmy Vasser!"
Gentilozzi: "We need to bring the next champion of Champ Car."
Q: Yes. but we need to keep them in here. This isn't a slight against you Gerry, but obviously we lost AJ Allmendinger to NASCAR...
Gentilozzi: "I think that was lack of motorsport intellect."
Forsythe: "That was a pretty big cheque that was written, and you can't prevent that."
Gentilozzi: "Is us losing AJ any worse than all the good NASCAR teams who lost engineers and drivers to Toyota's money? You can't stop that."
Kalkhoven: "AJ made a move he's going to regret for the rest of his life. But in any sport you will always have stars going from team to team or series to series, and to expect anything different would not be a wise thing to do.
"What you have to do though is find them, grow them, nurture them and then do your best to keep them. But you start by finding and develop them. If you don't do that, then open wheel sport in the United States will grind to a halt. I'm very proud that Champ Car has invested in the future of open wheel sport in the US and worldwide."
Q: Obviously Gerry and Paul, you come from a motorsport background, but Dan and Kevin, you're businessmen who have come fairly late to this. How long is your commitment to this series?
Kalkhoven: "How long is my life? Answer that and I'll give you that answer."
Q: But if it stops making commercial sense, will you bail?
Kalkhoven: "No, my duty is to make it make commercial sense."
Q: My point being, Carl Russo made those kind of committed noises after Justin won for him in Edmonton last year and a few months later he was gone.
Dan Pettit: "What he told me is that his other business was growing so fast that his board told him he had to dedicate more time to that business. That's all he ever said to me."
Kalkhoven: "And Dan and I are unemployable."
Pettit: "Retired is the word you used to me."
Kalkhoven: "All these rumours going around that I'm not interested, that I've lost interest are nonsense. I had some medical issues I dealt with. One of my great loves in life is marine biology and I went down to Antarctica in the off-season, but it doesn't display a lack of interest in the series. Most people will tell you, including Steve Johnson, that we are actively involved in this.
Johnson: "Oh yes, he is..."