At the age of 26, Marco Wittmann is already a two-time champion in arguably the most competitive series outside of the Formula 1 World Championship. As a BMW factory driver, his strike rate in just four seasons in the DTM is truly impressive, his second title coming a month ago in a gripping showdown at Hockenheim with charging Audi star Edoardo Mortara.
When we say it's the most competitive series outside F1, that's because all 24 of the drivers over the past season are professionals who were there on merit. And that, Wittmann argues, in some ways makes it perhaps even stronger than F1.
Ask him whether, after clinching his first title in 2014 aged 24, he had thoughts of using it as a launchpad to the single-seater elite - as did Paul di Resta before him and Pascal Wehrlein afterwards - and he responds: "It definitely felt great to be champion, especially at that age. Of course there was always a bit of a thought, if there was a possibility to go to single-seaters, but I have to say I feel really comfortable in DTM together with BMW.
"And F1 has changed a bit - it's really tough to get a seat there if you don't have the money or the connections, like Pascal has with Mercedes. Times have changed and overall I'm pretty happy in DTM, and now I've claimed my second title it's even better.
"F1 is not always the way that is needed [for a driver]. I think DTM has the same competitiveness, maybe even better. F1 is more popular, no discussion, but I think from the sporting side, especially from the driving side, the competitiveness is even higher, because you don't have paying drivers, you have only factory drivers from manufacturers. That's something that really counts."
So Wittmann is happy in the DTM, ready to become a talisman for BMW in a similar way that Bernd Schneider was for so many years with Mercedes. Perhaps that's partly a by-product of his youth spent in the Bavarian town of Furth - a stone's throw from Nuremberg, and of course the city's Norising street circuit. So the young Wittmann grew up being entertained not by Schumacher and co in F1, but by Schneider and the DTM old school.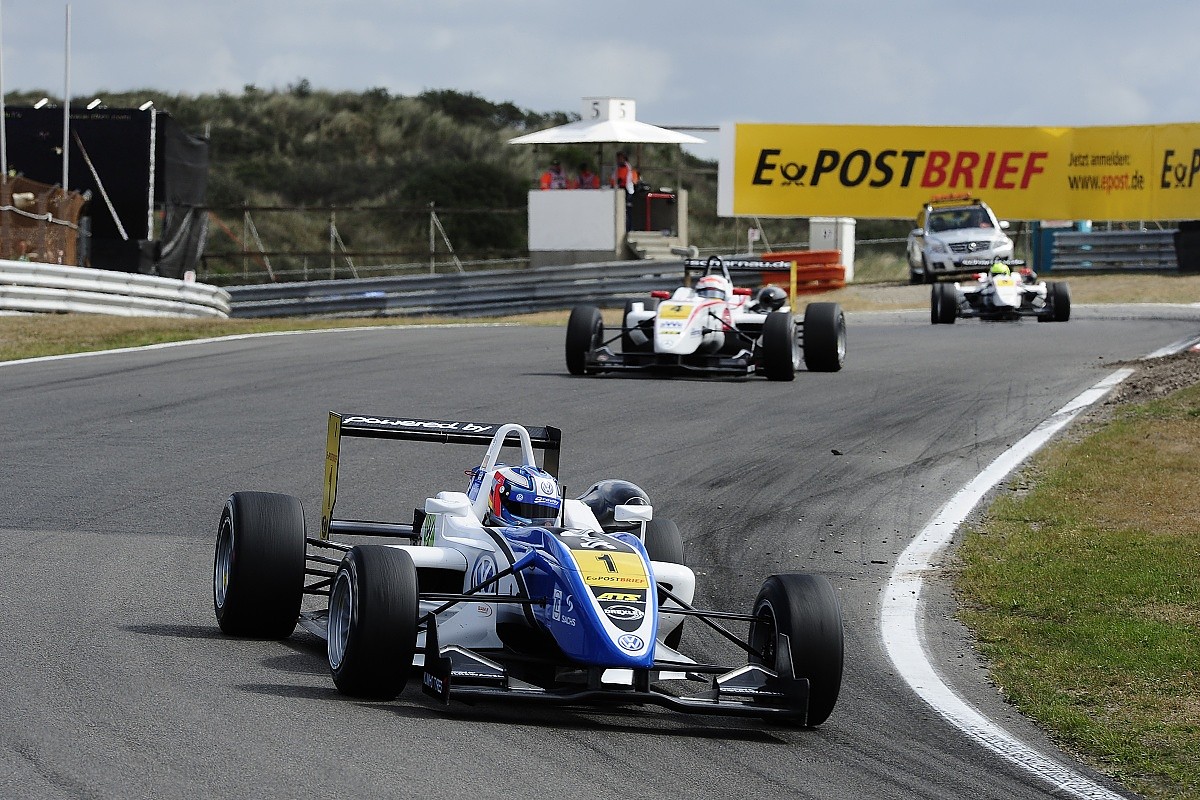 "My parents were always involved with cars," he recounts. "My father had his own garage, so there was a background of cars. When I was a child I always went to Norisring, to look especially at DTM and Formula 3. And at the age of six I got my first go-kart and then everything started."
Wittmann switched to cars in Formula BMW "at the age of 17, which is nowadays pretty late!" He raced in the German championship in 2007, then when that was replaced by a European series he continued into '08, finishing runner-up to current Haas F1 driver Esteban Gutierrez. Three seasons in the F3 Euro Series followed, with Wittmann finishing runner-up in '10 and '11.
After that came a tryout for BMW, which was returning to the DTM for 2012 but was doing so with only six cars for the first season. There was unlikely to be a race seat available straight away, but one was possible for '13, when the manufacturer would expand its effort to an Audi and Mercedes-matching eight cars.
"I knew that it would have only six places instead of eight," says Wittmann. "I decided that I would go for the test, and maybe get a chance. In the end I had to wait one more year.
"In '12 I was the test and reserve driver for BMW, the seventh driver, which is always hard when you have to watch the others racing and be in the background. But of course I learned a lot. I was in all the meetings, I did some GT driving in endurance and 24-hour races that gave me some 'touring car' experience.
"At the end it was the right call - for the first year just watching the others, getting as much knowledge as possible - if I look at what happened in the last four years."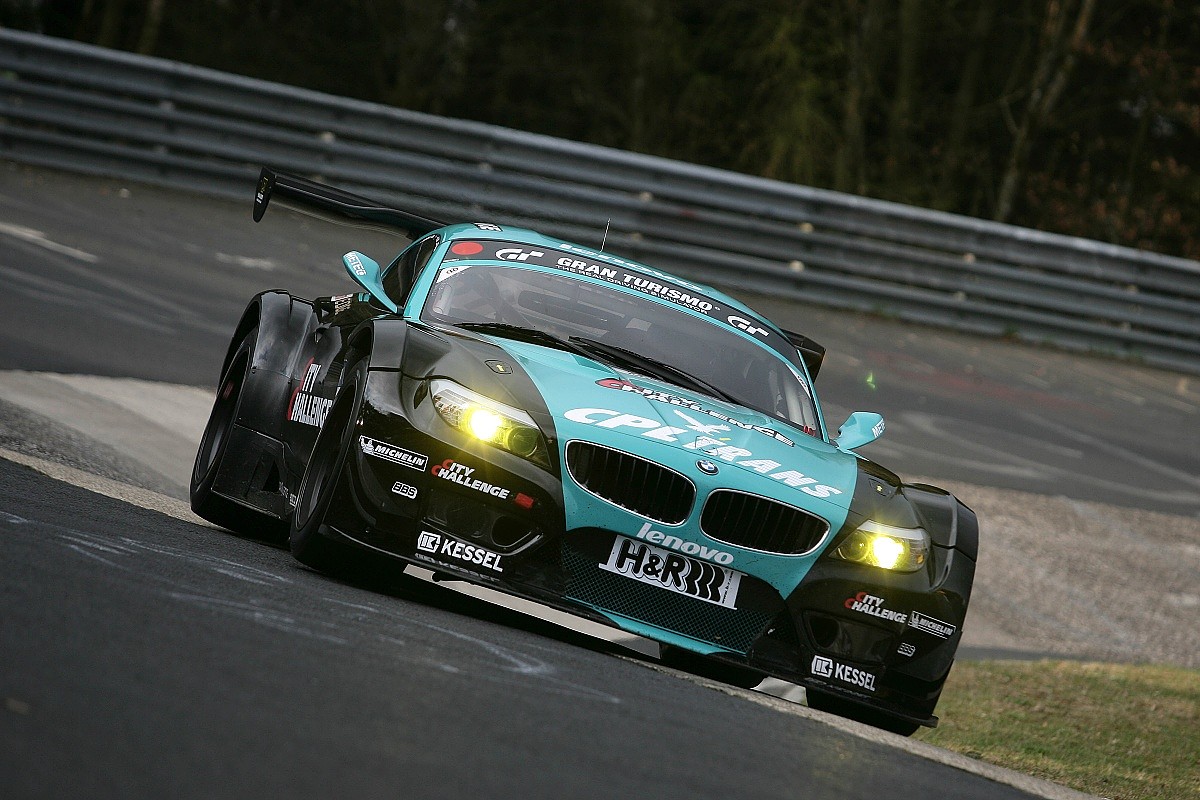 Naturally, Wittmann had to impress sufficiently to be granted a race seat in 2013. "I thought it would happen," he says. "But I was always waiting for the call from BMW, which came very, very late. I was waiting the whole season to get the answer for '13, but I knew anyway that BMW would have two more cars, so for me the focus was just to do a good job with the team in all the meetings, and show good speed on test days."
The step up came with the MTEK team of Ernest Knoors, a brand new squad added to the BMW roster to run its additional two cars. In the sister M3 was ex-F1 racer Timo Glock, also new to the DTM.
Wittmann did a great job, finishing on the podium for the first time in his third outing at the Red Bull Ring, and grabbing his maiden pole position near the end of the season at Zandvoort. He finished eighth in the standings - one place ahead of Glock - and now was recognised as a proper young talent of the DTM.
Moreover, the relationship with Glock was - and remains - strong. Wittmann moved straight away to the RMG team, where he was partnered by Maxime Martin in 2014 and '15, but Glock was reshuffled into that squad this season to reform their partnership from three years earlier.
New to the DTM he might have been, but at least Glock had plenty of experience of working with big operations. That must have been useful to the rookie Wittmann.
"In some points definitely," he agrees. "It was useful to get some feedback, some experience from him. And at the end maybe he picked up a bit of speed from my side!
"We had a great time [in 2013], and we were back together in 2016. It's working pretty well with Timo. He is a really honest guy who also comes to me and says, 'You really deserve it [success]'. The relationship is great, and we showed as well in '16 that we were the strongest BMW team."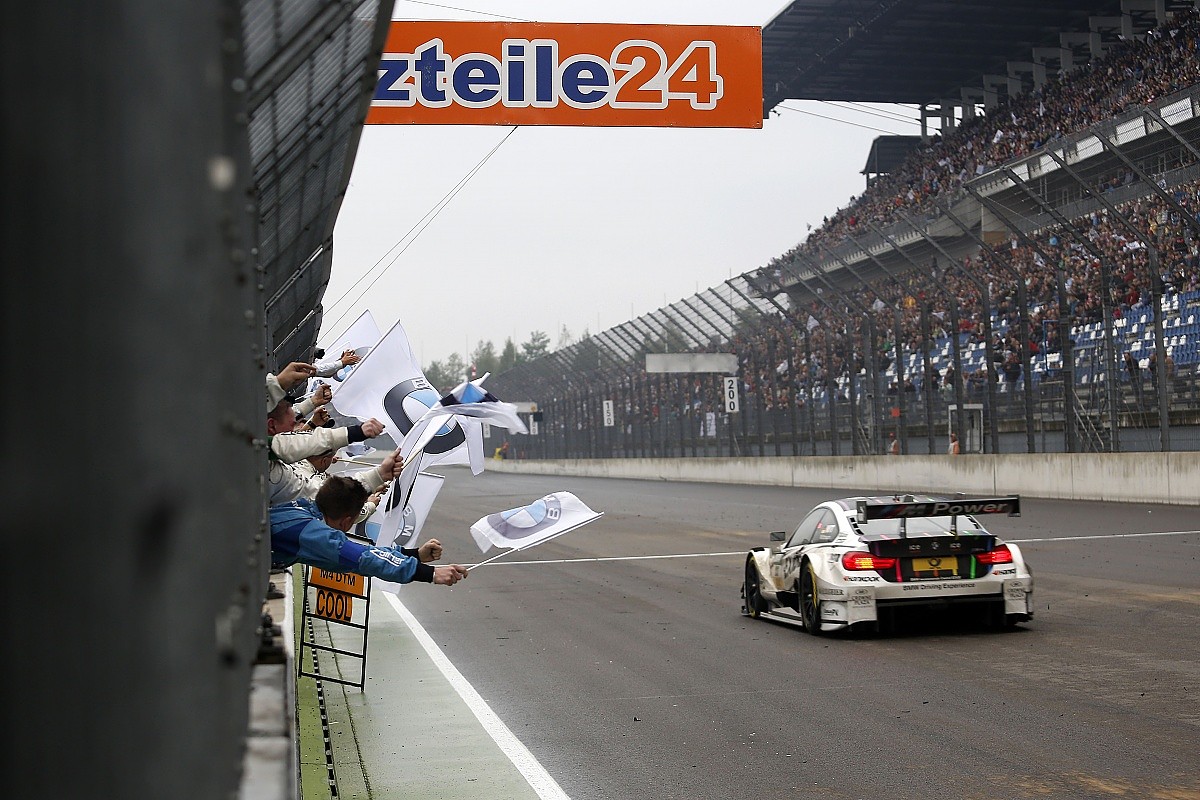 With the RMG squad for 2014, Wittmann was now comfortable with his place in the DTM. And with BMW switching to the M4, he worked hard over the winter with his new team and enjoyed the benefits with his first DTM title: "You have to get to know and trust each other, so it's more work. I would call it extra motivation.
"We worked to find the right set-up for my driving style to get the full potential out of the car. We did a pretty good job over the winter and started the season with a win, which proved we made the right adjustments on the car. From that point onwards it was a great season."
What was impressive was that Wittmann never let up. Rather than sit on a points cushion, he went out to win whenever he could. It was a season of domination, remarkable in a series as close as the DTM.
"I'm a guy who doesn't think too much about the championship," he asserts. "I did it in the past, especially in karting, and I lost quite a few championships because I was just looking at the points, calculating. So I tried to change and just go race to race. But it's not always about a win. Sometimes you just have to try to get the maximum out of it - sometimes that's P3, sometimes it's a win, maybe sometimes it's just P7, but at the end it's points. That's the same approach I had in 2016."
The intermediate season, 2015, wasn't a great success for BMW, although Wittmann - who'd moved from the Munich marque's Ice Watch car to its Red Bull-liveried machine - was just 11 points adrift of the manufacturer's top-scoring driver, Bruno Spengler. But he did fulfil an ambition by completing more than 100 laps of the Red Bull Ring with Toro Rosso in the mid-season F1 test.
This was no relaxed day of fun; Wittmann set a best lap that would have put him 10th in Q2 for the Austrian Grand Prix. "It was like a present from BMW, but also together with Red Bull because they are a partner with BMW," he says. "It was just a great experience - it was always a dream to run at least once in an F1 car. I enjoyed it a lot."
Wittmann always seems to shine at the Red Bull Ring, and it was his win there in 2016 that really kickstarted his bid for his second title. It was especially important as he had a disastrous opening round at Hockenheim, where he had expected to do well. With the third and fourth rounds at Lausitzring and Norisring - both circuits where BMW expected to struggle - he was not optimistic after that opener.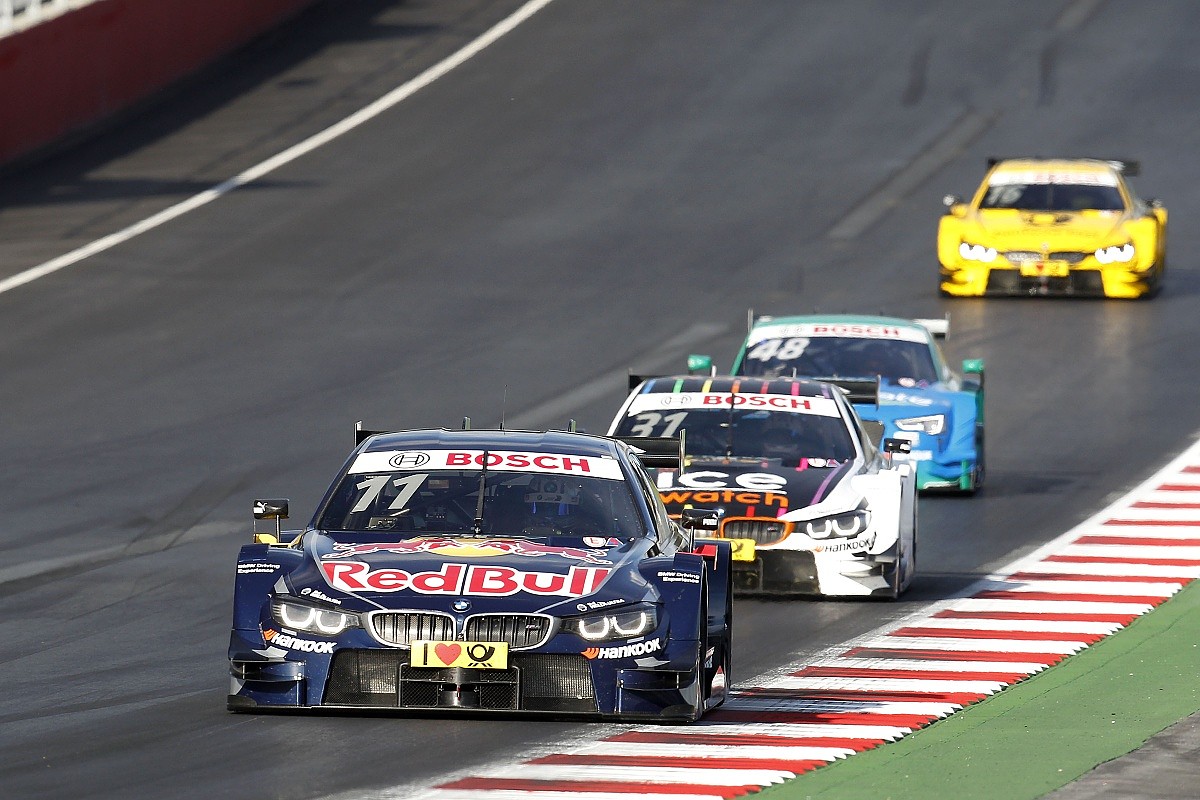 "We did not expect to fight for the championship after Hockenheim 1," he admits. "We had a pretty tough 2015 season and then starting in '16 with such a bad weekend..."
It was when he moved to the top of the points at the Norisring that momentum began to build: "We fought back, we had some good weekends, we collected a few good points, especially on tracks where we were not so strong in the past - Lausitzring and Norisring.
"Taking the lead of the championship at the Norisring was a bit of a surprise, because it was quite early and we'd just had the two race tracks where we had been bad in the past. It was somehow a good sign, and for us it was, 'OK, there could still be a chance to win it', and we then just tried to get the maximum out of the car.
"We had definitely not the strongest race car, because if you look Audi won 10 of the 18 races, which was impressive, but we were probably the more clever ones, and collected the points when they really were needed."
Wins at Moscow Raceway and the Nurburgring propelled Wittmann into a nice series lead, and things looked even better in the penultimate round at the Hungaroring when he was the only points-scoring survivor of a clash with main title rivals Mortara and Jamie Green at the start of race two.
Then came disaster for BMW, with Wittmann's exclusion from fourth place because of insufficient thickness of the skid plate. "That was a bit tough," he says. "Audi was pretty strong there, but we managed to claim some points in Saturday's race. On Sunday we actually won the start, and then we had the crash with Mortara.
"I was able to finish the race in fourth with a pretty damaged and broken car, and actually I was happy to somehow finish - collecting 12 points was like a win for me. And then three or four hours later, to get excluded from the race was a little punch in the face.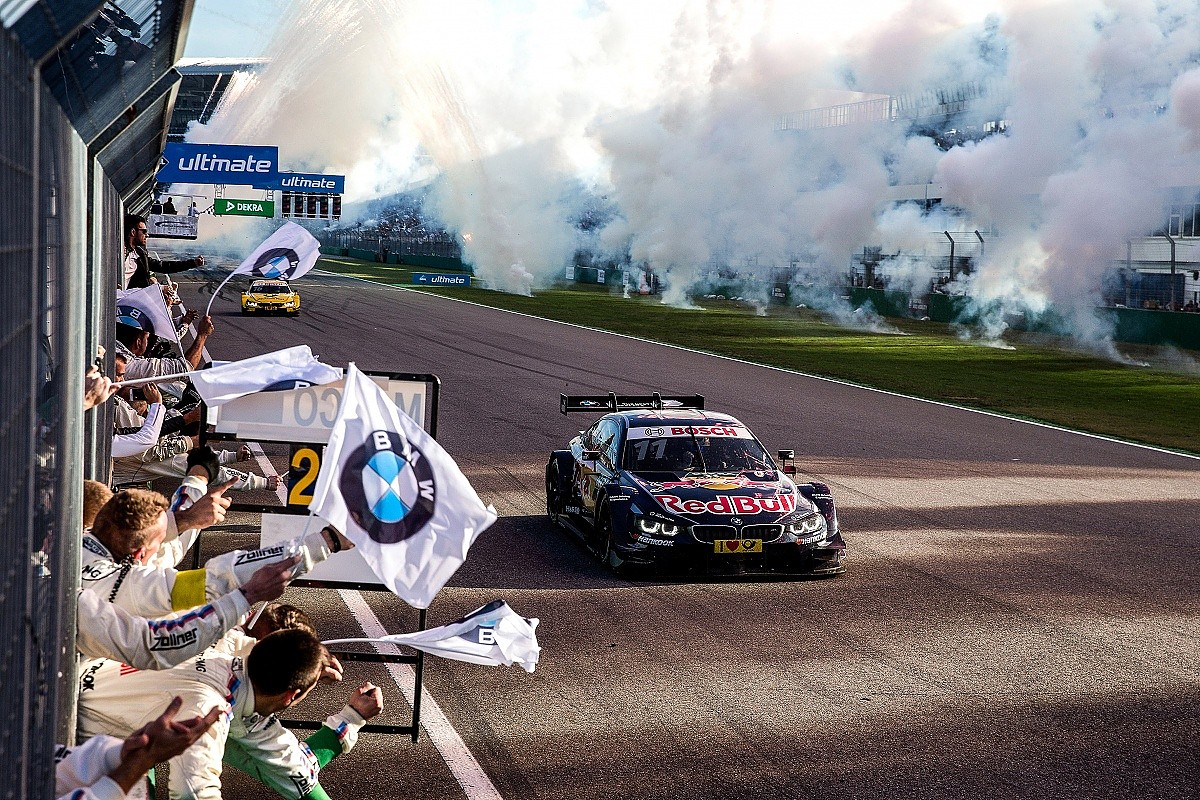 "A 26-point [advantage] going into Hockenheim would have been nicer than just 14. It's always very tight there - anything can happen. But we had to take this decision, even if it's something I don't understand. We had a broken and slower car and OK, rules are rules, it happened."
The irony was that the skid plate illegality was caused by the incident. "We checked the data and there was damage from the start crash with Mortara," says Wittmann. "We went to the ITR [promoter] and showed them our data, which is probably why the decision was taken so late in the evening.
"But at the end we decided not to appeal, because from the perspective of the fans we didn't want a decision to come after Hockenheim as to who becomes champion and who does not. BMW and I decided to have a clean championship fight at Hockenheim."
The upshot was a Hockenheim thriller. Wittmann set himself up beautifully by staying just out of DRS reach of a charging Mortara to take second place in the first race of the weekend, then had his position protected in the finale by a flotilla of BMWs as the fiery Mortara stormed to the front.
"Until the last lap it was not clear who was going to win the championship," Wittmann recalls. "Mortara was in the lead and I was fourth, but if I'd got a puncture he would have won the championship. It was one of the closest championship decisions in the DTM ever."
How could that lad watching V6 Mercedes C-Classes, Opel Calibras and Alfa 155s at the Norisring in the '90s have imagined he would twice be crowned king of the DTM?
No wonder he's happy there. He's as much a part of BMW tin-top folklore as Hans Stuck and the CSL.