The fully-electric Volkswagen ID. R has set a record lap of 7m38.585s on the 10.906-kilometre (6.77-mile) Tianmen Mountain, adding to its successes at Pikes Peak, Goodwood and the Nurburgring Nordschleife.
Romain Dumas took the car up the "Tianmen Shan Big Gate Road" - featuring 99 hairpins - and reached speeds of 230 km/h (142.9mph) in the process.
The key data for the next mountain tour for @RomainDumas and the #Volkswagen #IDR, now on #TianmenMountain. 1,100 meter altitude to overcome, top speed: about 230 km/h, slowest point: 25 km/h in turn 88, average slope: 10.14%. Monday is the day.#challengeacceptID #justelectric pic.twitter.com/LH5aHc0ZX6


— Volkswagen Motorsport (@volkswagenms) 1 September 2019

According to Volkswagen, "an official fastest time for racing cars did not exist before the record attempt", although Jaguar Formula E team reserve and test driver Ho-Pin Tung previously took a Range Rover Sport SVR up the mountain in 9m51s.
But VW added its "start and finish line were defined for notarial purposes, especially for the record attempt with the ID.R".
Volkswagen's Twitter account suggested that Dumas had three practice runs before Monday's actual record attempt.
"I will certainly remember this record run on Tianmen Mountain forever as my most spectacular outing," said Dumas.
"I am proud to have set a record with the electric Volkswagen ID.R in China.
"The little information and testing we had beforehand made it a huge challenge. The road is incredibly narrow and winding, but the drive was unbelievable fun with the electric power of the ID.R.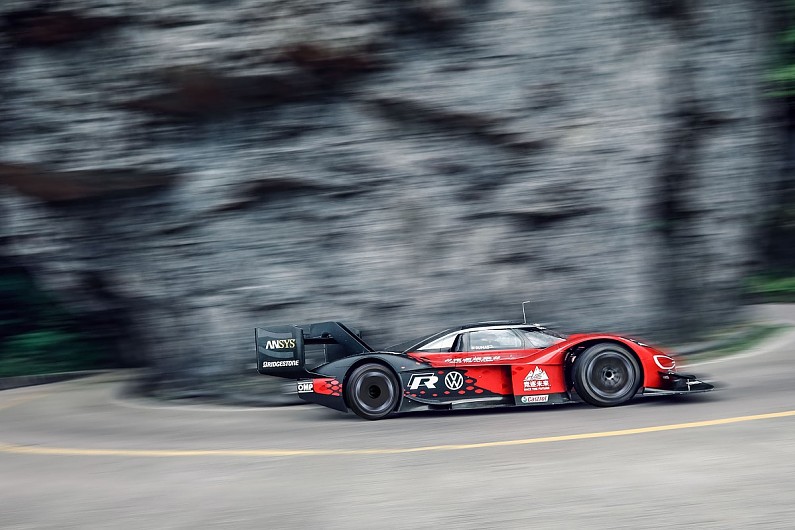 "The huge torque was a big advantage on the short straights, while the aerodynamics provided additional traction in the fast sections."
Volkswagen's motorsport director Sven Smeets said the manufacturer had to take a "whole new direction" in its preparations and car set-up.
"This record attempt was a special challenge for the whole team. We have really broken new ground on our motorsport expedition to Tianmen Mountain," said Smeets.
"This was an extremely unusual territory for a sportscar like the ID.R and we had to take a whole new direction once again during preparation and car set-up.
"The entire team - from the engineers, mechanics and logistics experts to our driver Romain Dumas himself - adapted in no time at all.
"I am proud of what the team has achieved. This record will take a special place in the history of Volkswagen in motorsport."
A release from Volkswagen contained no information as to what the next steps for the ID. R will be.
Read more on VW's record outings with the ID. R