Volkswagen electric prototype driver Romain Dumas says the Pikes Peak Hillclimb's challenge eclipses every other event he has contested - including the Le Mans, Spa and Nurburgring 24 Hours.
Double Le Mans winner Dumas travelled straight from the World Endurance Championship showpiece to Colorado, where he is spearheading the Pikes Peak electric record attempt that represents VW's biggest factory motorsport project since its World Rally Championship exit.
VW is aiming for its ID R prototype to beat the 8m57.118s electric record set by Rhys Millen in 2016.
Dumas said the one-shot nature of Pikes Peak - where each competitor is only allowed one run on the 12.4-mile course - makes it the most difficult driving challenge he has tackled.
"This is Pikes Peak, at the end of the day I always say it's the hardest race," said Dumas, who has won the event three times in Norma sports-prototypes.
"Even compared to Le Mans, Nurburgring or Spa, whatever, even some rallies, even the Dakar - because you cannot recover from any issue. It's a lot of pressure.
"It means you have to have the perfect run. It's my sixth time here, but you only have one chance each year.
"I'm looking at a lot of video and data, to see where I can gain, what I can do - the challenge is very high.
"We are ready, anyway. We've had a perfect week. We've gone step by step, the car is very fast, and we'll see what happens on the day."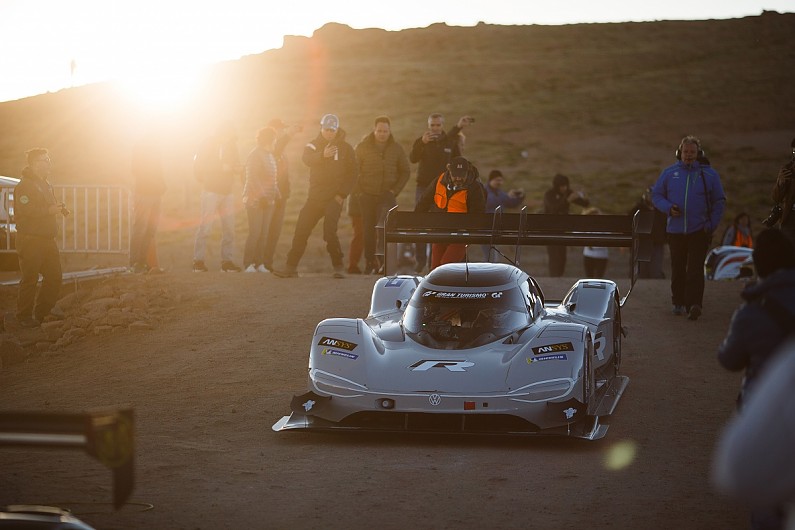 Dumas set the fastest time in qualifying, and his pace over the three sectors in practice - which are run separately - has suggested he could beat the outright Pikes Peak record of 8m13.878s set by Sebastien Loeb and Peugeot in 2013.
The all-electric VW, which features two motors on each axle, produces 500kW (680 PS) and has a 0-100km/h (62mph) acceleration time of 2.25 seconds.
"I always said the best car for Pikes Peak would be electric," said Dumas.
"You have to fight against losing power, brakes and downforce [at altitude], but you don't lose power with this car.
"I'm in love with this race, the mountain is so beautiful. It's a kind of Nordschleife, but for sure with even more risks."