Four-time British GT champion Jonny Adam will return to the championship in a one-off appearance at Brands Hatch, reprising his partnership with Andrew Howard that yielded the 2015 title.
Aston Martin factory driver Adam was due to defend the title he won with Graham Davidson last year alongside Ahmad al-Harthy in a TF Sport Aston Martin Vantage GT3 run under the Oman Racing banner, but the entry was withdrawn ahead of the season due to knock-on effects resulting from the COVID-19 pandemic.

Adam told Autosport after the news that was announced that he was determined to reprise his successful British GT career, which started with Howard in a Beechdean AMR Aston Martin DBRS9 in 2011, and is set to make his return in a Beechdean GT3 adorned in the livery he and two-time champion Howard used in 2011.

The pair hasn't raced together since the final round of their successful 2015 season, but tested on the Brands Hatch Grand Prix loop last Friday to get reacquainted.

Adam has won at Brands Hatch in each of the past two seasons, with Graham Davidson in 2019 and Flick Haigh the previous year, and previously triumphed with Howard in 2013.

He told Autosport the one-off entry means the pressure is off this weekend, but as the only Aston Martin on the grid is determined to show off the improvements made to the car's drivability since 2019.

"We've kept in contact over the years but we've really not done anything at all together since we won the championship at the end of 2015 at Donington, so it's nice after five years to get together again for this one off at Brands," said Adam.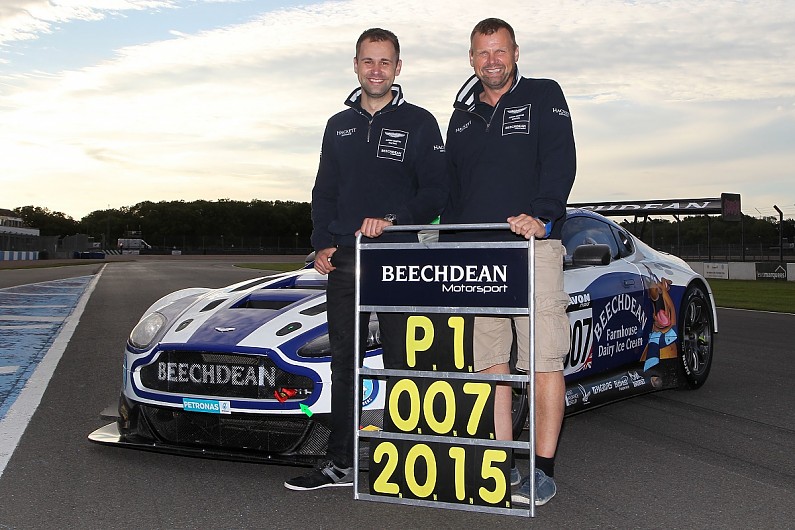 "We're going into it to enjoy it, it's a non-pressured weekend, but I'm still doing it to get a result with Andrew.

"At the same time I think the car will be extremely good this weekend because we've done a lot behind-the-scenes to improve the car, which will definitely suit Andrew.

"The level obviously looks quite competitive this year, but don't be surprised if we can go for a sneaky podium if there's an opportunity there."

Beechdean was due to enter two cars in GT3 this season, with Howard sharing one car alongside 2015 GT4 champion Ross Gunn, but scaled back to a single round-by-round entry due to the pandemic.

Howard also plans to contest the Snetterton double-header and three-hour Silverstone finale with an unnamed co-driver.