Since he first drove an IndyCar, Marco Andretti has had way more brickbats than bouquets thrown his way by the media. At times he's been described as miserable, lucky to have the surname, lucky to have a dad who's a team owner, a party animal, cocky, a hot-head, and so on. Then these terms have been repeated and embellished by those who don't know him. Thus an image was born.
On the basis of speak as you find, I'd say that image is distorted. I know a Marco who's professional, insightful and brutally honest about everything and everyone - including himself. Sure, I've seen him uncomfortable with fans, largely because he's poor at small talk. And, on occasion, he can be surly with journalists because he's useless at hiding his feelings - such as boredom at banal questions. But what most counts against him is that he never appears to care what's written about him, and that tends to prick writers' egos.
Andretti admits he did himself no favours when he first reached this level, back in 2006. "As a rookie, you have a big wall up," he says, "a 'No one's gonna mess with me'-type deal, and you miss the big picture. People read what the media writes and it helps form their opinions. You guys portray how we are, and perception becomes reality. Whatever people think of you, that's what you are. Except it's not...
"Anyway, I'm here on merit. I won in everything I drove coming through the ranks, I earned my way. Now I'm here to win races and that's it. So... love me or hate me."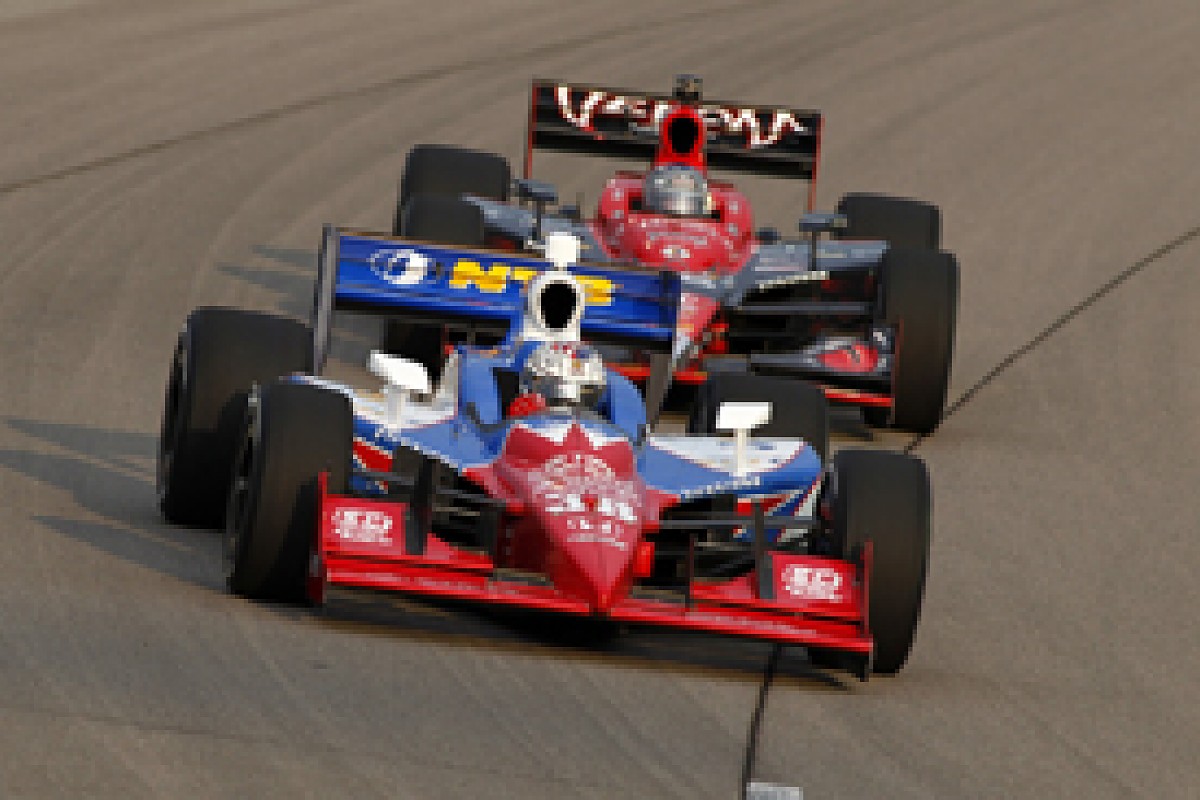 Comparisons are often drawn between Andretti and fellow young gun Rahal © LAT
The public perception issue Andretti has encountered is exacerbated by the contrast in image of fellow son-of-an-IndyCar-legend, Graham Rahal. Marco is like his father, Michael, so can appear irritated when dealing with anything that distracts him from making his car go faster. He also tells it as he sees it, which can aggravate certain rivals and their fans. And Marco clearly enjoys a free-spirited approach to girls who are attracted to a good-looking guy with a glamorous job.
Rahal, on the other hand, not only possesses the driving talent of his father Bobby, but also his ambassadorial demeanor and ease with the media. The charming long-term girlfriend and the choice of golf as his relaxation method further compound young Rahal's wholesome image.
"I wish I could be more like Graham and play golf," smiles Marco, "but golf's supposed to be relaxing, right? Well, it isn't when you suck at it as bad as I do! But I'm not a crazy party guy, either: I like to hang out with friends and be a normal 24-year-old but I'm only known as a playboy because I'm single. Do I find it a distraction? Absolutely not. Is it what I care about? Ab-so-lute-ly not. We have way too much off-time and I wish we were in the car a lot more - more testing and more racing. I show up at the track every day physically and mentally ready, with nothing else on my mind but the car. You better believe that."
But it's too late to change the minds of those who've long been resentful of this kid who apparently has it all, and who was fast-tracked toward his dad's team at a time when it was a championship winner. Yet that golden opportunity tarnished quickly. What was then Andretti Green Racing imploded in the space of two years as Bryan Herta retired from open-wheel racing, Dario Franchitti went on his NASCAR adventure, and Allen McDonald, who had engineered the Scot to the title in '07, departed in '08 having failed to recapture the same magic with Tony Kanaan. Three of the most technically astute AGR team members were gone.
McDonald, who's been back with Andretti Autosport since June, recalls: "Until the party was over, I don't think we realised the great thing we had going. Dario and Bryan had a lot of technical feel and experience; they added direction to the team and provided a solid foundation. You need a driver who can tell you, 'This set-up is close, we just need to do a little bit on X, Y or Z,' or, 'This is terrible, let's start again.' Well it's not fair on Marco to expect that in his second or even third year because he didn't have that experience."
The ragged-edge style of driving from Kanaan and Andretti was no good for sorting cars, and Danica Patrick and Hideki Mutoh were rarely quick enough to help. The team's slump was thus predictable, especially as the ex-Champ Car teams not only started to get a handle on the Dallaras but also brought with them fast and technically savvy road racers. Andretti Green submerged, scoring just two wins in 2008 and none at all in '09. At the end of that year, I asked Marco if he felt he'd be making more progress in another team. The morose response was, "After the season I've just had, who the hell else would have me?"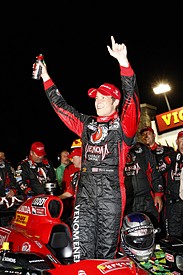 Andretti's Iowa win showed he could do it © LAT
In 2010, the rebranded Andretti Autosport re-entered Victory Lane with new arrival Ryan Hunter-Reay and Kanaan. Last season, Mike Conway (who replaced Kanaan), Hunter-Reay and Andretti himself each scored a win. And Marco's came in fine style at Iowa, defeating Kanaan and Franchitti in a bare-knuckle fight.
So, did the team's problems hinder Marco's career or toughen him up? Team owner Michael Andretti says: "If you're with a team that's struggling and then starts to turn around, you learn a lot and it's a real good experience. As this last season went on, we got better and better and we had at least a couple of competitive cars at all types of track.
"What's been a disadvantage for Marco, I think, is the perception that everything's handed to him because it's his dad's team. But that's not true. He gets nothing different from anyone in terms of technical support."
Agreed, living through the tough times - so long as you're mentally strong enough to deal with it - can benefit a driver. But statistically, it's really hurt Marco: 99 IndyCar races and just two wins. At this stage, he'd probably have expected... "10 wins, for sure," he interrupts. "And we've been in position to win 10 or more, and not the just woulda-coulda-shoulda ones, but ones where wins looked certain and for one reason or another, they didn't happen."
Although he's not totally blameless in the list of ones that got away - last October at Kentucky, a potential win turned into a pitlane collision - Andretti's errors tend to be born of frustration and occur when he's hopelessly out of the running. What vexed him over the past couple seasons was the number of times that was the case, usually on street circuits. Often the fastest of the team's four cars on road courses and ovals, temporary tracks often saw #26 qualify around P20, while Hunter-Reay was in the Fast Six. And adopting Ryan's set-up didn't work for Marco; he needed to modify it with a shock or damper tweak to give him faith in the car's rear end on corner entry.
Considering the various teams' shock/damper programmes will be one of the few carryovers to the new DW12, is there a worry Andretti will continue to struggle on IndyCar's street courses in 2012? No. Not now.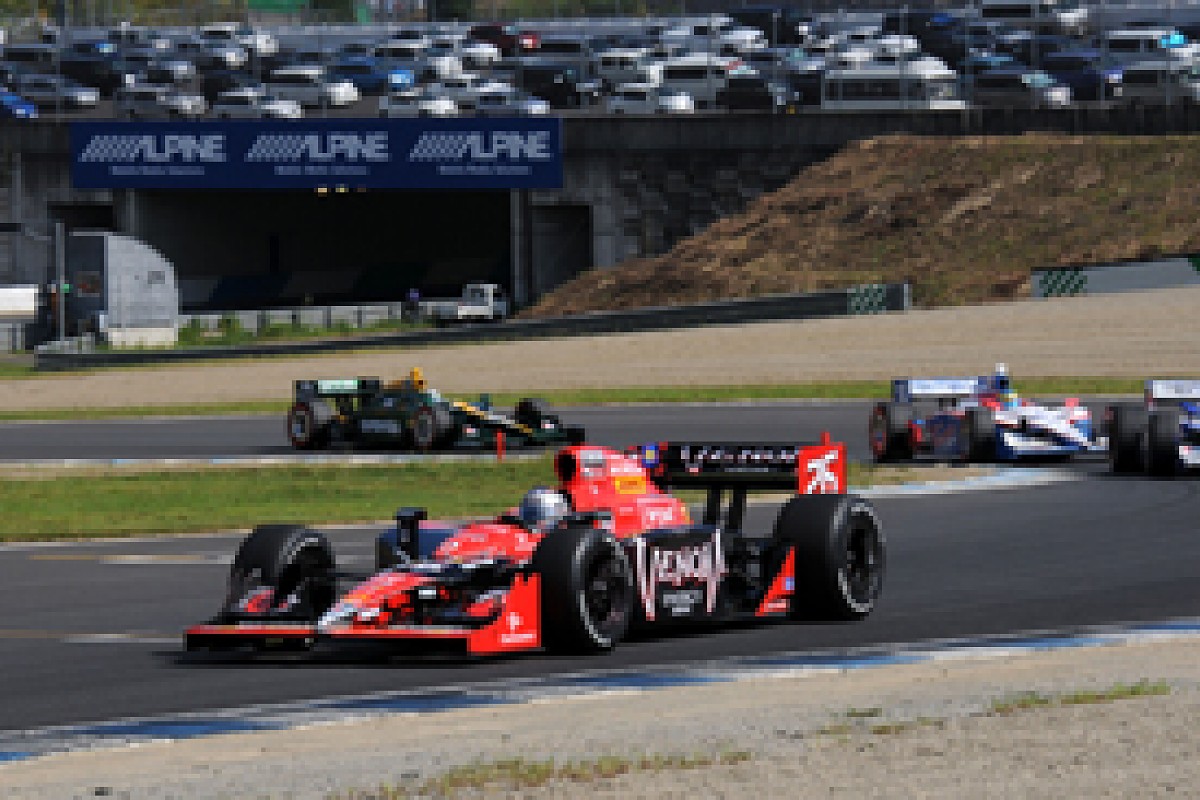 Motegi brought a breakthrough © LAT
"Marco learned a lot toward the end of last season," says Michael, "and I wish we'd had one more street race after Motegi because he'd have been very competitive. Before Japan, he discovered he'd basically been overdriving the car. I've been at that point in my career, too. You're like, 'What the hell's wrong? I'm driving as hard as I can,' - when that's exactly the problem. By Japan, Marco had discovered he needed to back it off and he was the quickest of our drivers and gave us a podium finish."
Marco explains further: "I like to really grab the car and drive the life out of it and the harder tyres we've had over the past couple years have hurt me: I've been looking for grip that just wasn't there. I was still usually quick on road courses but not always, and the street courses were really bad in qualifying when you're looking for those extra couple tenths that put you sixth instead of 16th, you know?
"Well, we figured out that I was attacking corner-entry too hard - and that was the part of the corner I didn't need to work on! I was already quick on entry, but I'd been trying to go deeper still, over the edge of adhesion, so I wasn't able to get a good exit. Basically, I'd mess up the whole corner. Now I'm desperate to get back on a street circuit and put what I learned into practice. In Motegi, I focused on driving according to the tyre and we finished third."
So now, with the new car coming, a firm partnership between Marco and his trusted race engineer Eddie Jones, and McDonald overseeing the team's technical progress, can Andretti Autosport put itself up with Chevrolet-powered rivals like Team Penske?
Says Michael: "I'm really looking forward to working with Chevrolet and the other three Chevy teams. So far we've worked well together to make this the engine to beat, so that, hopefully, we're just racing each other once the season starts. And, yeah, I think we're going to be right there with Penske."
His son concurs. "First, it's about spending money on R&D and we're prepared to do that. Then it's applying that knowledge so the cars roll off the trailer strong, and I have every confidence in the world in the guys at Andretti Autosport. And then it comes down to myself and Ryan giving our engineers good feedback and dialling it in."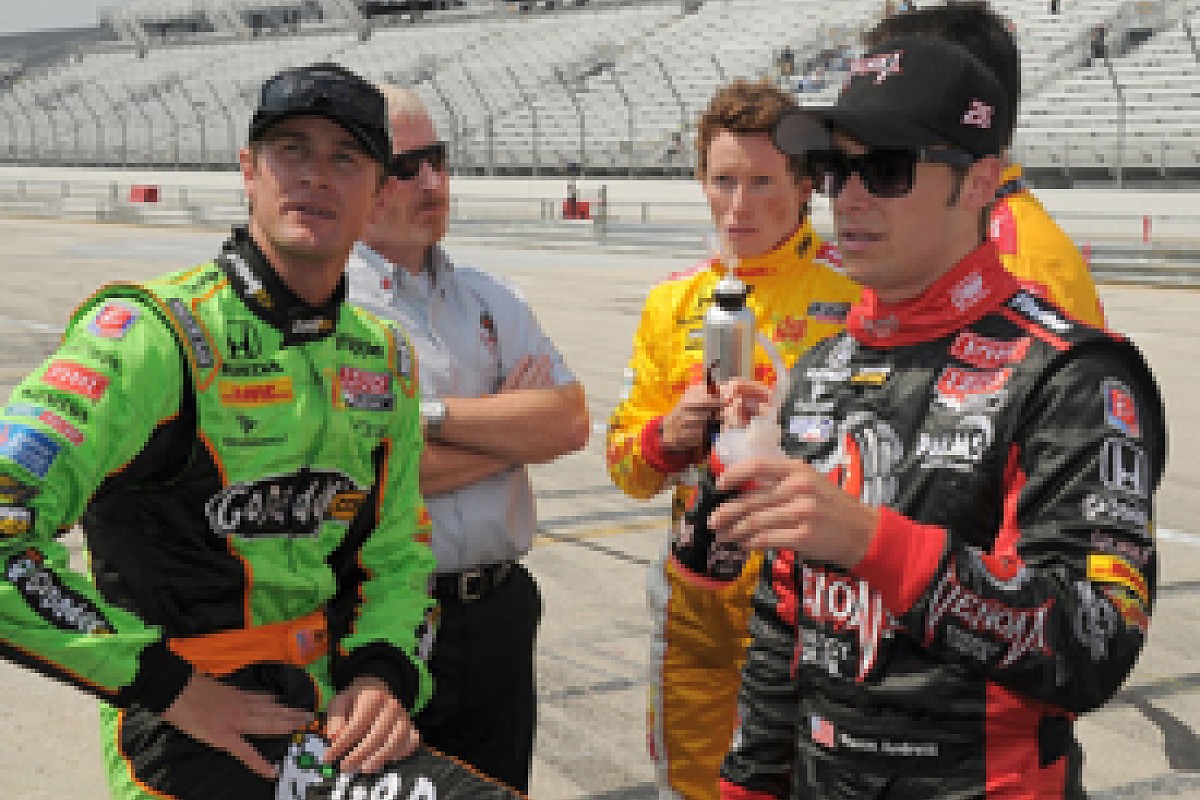 Andretti, Hunter-Reay and Conway are Andretti's new generation © LAT
With Hunter-Reay continuing for a third season with Andretti Autosport, Marco has a great gauge for how he's performing on all types of circuit. And Michael is confident his son is ready for the challenge of helping Ryan lead the team back to its previous position of prominence.
"I'm aware there's still stuff for him to learn," says Michael, "but look at Dario. He was very good, and we saw he'd be great one day, but that day happened when he was 34. I think Marco is going to be that guy when he hits 27. We'll be like, 'Holy crap! Where did he come from?' That's my feeling. Hope it's right."
Marco himself can't wait that long. "I think there have been distractions in the past - losing Dario, losing Tony, losing Danica - but now there's real camaraderie here. We have all our team line-up in place and we're all on the same page.
"We have no excuses. Let's go win races."
Subscribe here to read Racer magazine online every month.
You can also keep up to date with US motorsports news by signing up to Racer's daily newsletter.