James Calado said Ferrari "couldn't have done any more" than finish second in GTE Pro at the Le Mans 24 Hours as he believes it couldn't match Aston Martin's pace.
The #51 Ferrari that won the GTE Pro class in 2019 led for 123 laps of the 346 laps completed, but Calado, along with team-mates Alessandro Pier Guidi and Daniel Serra, was unable to challenge the #97 Aston Martin of Alex Lynn, Maxime Martin and Harry Tincknell after its brake change with six hours to go.
The Briton took the wheel for the final 90 minutes and finished 1m33s behind after being split from Lynn's car behind a separate safety car train.
He told Autosport: "They had good pace and there was nothing we could really do about that, we just lacked the pace compared to them, or at least just the one Aston.
"We struggled on the straights a little bit. Well, not the straights, but first, second and third gear where they've got a bit more torque, and then they use a lot more downforce than us.
"At the end of the straights, even though they were still quicker, we could live with them a little bit, but they had more downforce and more power.
"We couldn't have done any more really. We did what we could, and we basically just lacked pace, they were quicker than us.
"Second is not a great feeling, but we've just got to think ahead and try to improve the car for next year."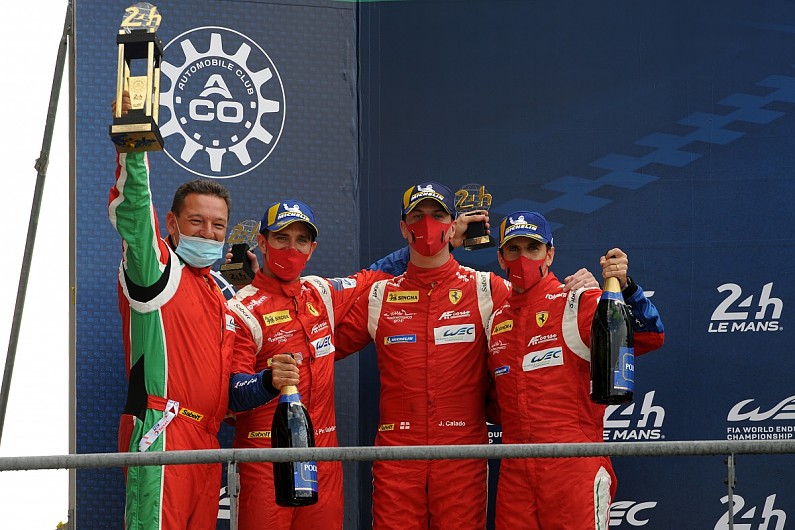 Making his first start with Aston Martin after the Ford GT programme concluded, Tincknell echoed Calado's thoughts on the Aston's superior downforce.
"High-speed corners, downforce corners we were really strong, it was very impressive but I knew it was going to be the case having followed it through the Porsche Curves in the past," he said.
"And I think raceability was really strong. From that side it made battling slightly easier than maybe what I've been used to in the past."
Lynn's fastest lap, a 3m50.321s that was 0.553s quicker than the time Gianmaria Bruni set to take pole, but he said after the race that Aston had "just got the car in the sweetspot".

PLUS: Why Aston Martin is ready to win Le Mans again
Asked by Autosport if his best lap had shown how much pace Aston had in reserve, Lynn said: "I said to Tincks after the race, 'mate, you should have driven it the last two years'.
"The car has come such a long way and in the end, we had the same BOP as we had last year before qualifying and even then, we wouldn't have been able to win with what we had last year."