Anthony Davidson will not take part in this weekend's season-opening World Endurance Championship race at Silverstone due to a lingering rib injury.
The ex-Formula 1 driver and Toyota LMP1 racer revealed to Autosport that he is in pain from the injury, which he sustained in a go-karting crash some weeks ago.
It means his Jota Sport team-mates Antonio Felix da Costa and Roberto Gonzalez are set to compete as a duo in the Goodyear-liveried #38 ORECA on Sunday.
"It's a bitter blow," Davidson said. "I'm driving around in a lot of agony out here, and the high g-forces of this circuit, combined with a new seat that I'm running here, it's putting forces on my rib on the left-hand side that I can't deal with.
"I've tried everything to try and get through it, but I think I'm going to have to admit defeat. I'm in too much pain, really.
"I've done everything I can. I was strapped up [in practice], with painkillers, and we modified the seat to try and relieve the area of impact, but it's too much."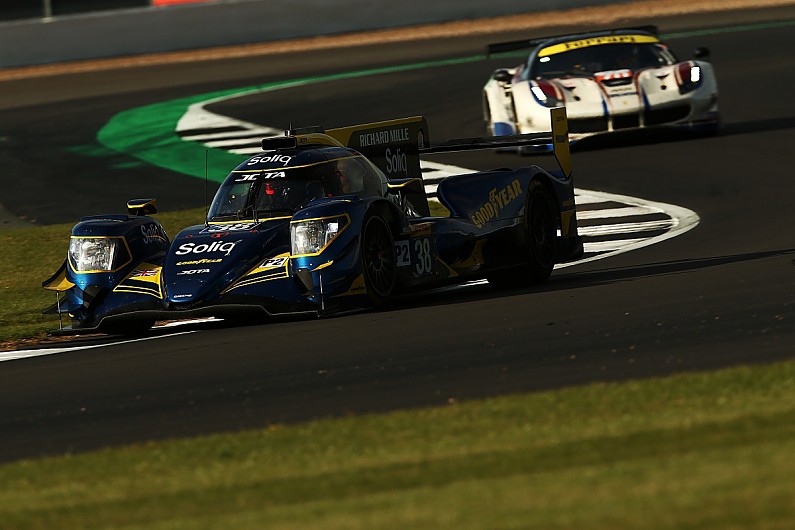 Davidson admitted that driving in last month's pre-season 'Prologue' test at Barcelona made his situation worse.
"The mistake I made was driving in the Prologue, which aggravated it further," he said.
"Looking back now I shouldn't have driven in the Prologue and prepared myself the best I could for this race.
"It's gutting to not have a chance to drive the way I know I can drive, but I don't want to compete like that.
"Now I have to turn my attention to Fuji, which is not that far off [on October 4-6]."
Da Costa was a late substitute in JOTA's full-season WEC line-up after Pastor Maldonado announced last week he was leaving the team.
Another LMP2 team heading into the Silverstone race with a depleted line-up is Cool Racing, after Alexandre Coigny suffered a crash at Brooklands during Saturday's European Le Mans Series round.
It means Nicolas Lapierre and Antonin Borga will race as a duo in Sunday's WEC event.