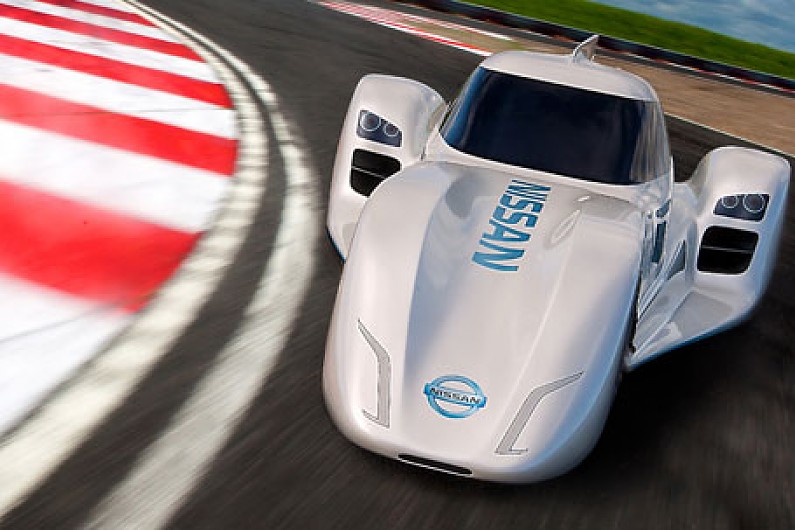 Nissan has unveiled the experimental electric machine that will contest next year's Le Mans 24 Hours.
The ZEOD RC machine, which has been designed by DeltaWing creator Ben Bowlby, will use the same lithium battery technology as the Leaf road car and will take the 'Garage 56' slot for experimental vehicles in 2014.
Nissan plans to use the car, which is not fully-electric, as a test bed for several new technologies that could be incorporated into an all-electric LMP1 machine in the future.
"The ZEOD RC programme is designed to develop multiple technologies to evaluate how they could be used for a future LMP1 class return of Nissan at the Le Mans 24 Hours," said Nissan executive vice-president Andy Palmer.
"There are multiple options we are investigating.
"A zero-emission on-demand option where the driver can switch between electric and petrol-powered drive is a future direction for road cars, so that will be tested in addition to pure electric power and other new technologies that we still have under development.
"As no other manufacturer is using electric battery technology in endurance racing today, Nissan is innovating again.
"This will provide us with significant amounts of data and information to evaluate potential powertrains for future sportscar programmes and allow us to continue as the leader in zero-emissions technology on the road."
The car, which will use Michelin tyres, is due to begin testing later this summer.
Bowlby said that a variety of different drivetrain options would be trialled during the testing programme in a bid to find the most efficient way of powering the car next year.
"We have many options to consider and test," he said. "The test program is part of a longer term goal of developing a system and a set of rules for this type of technology in partnership with the Le Mans organiser, the ACO, that would be best suited to competing at the highest level of this sport."

Related images (click to enlarge)
Autosport has produced a standalone special magazine to celebrate our 70th birthday. All current print subscribers will receive a copy for free. To order your copy of the 196-page Autosport 70th Anniversary issue, please go to: autosport.com/autosport70th