"It's not a corner anymore, it's a straight. Whatever tyres you have, you're doing that corner flat out. All the corners are more tricky now compared to Eau Rouge."
In recent years, as Formula 1 cars have gone ever-faster and runoff zones have been extended to accommodate them, Spa-Francorchamps' most iconic corner has been the subject of many comments similar to those made by Felipe Massa in 2013.
"It's good, but the myth is bigger than the corner," said Jenson Button in 2002. "You don't come to it thinking, 'It's Eau Rouge'; it's just a normal corner."
In his 2005 book, Working the Wheel, Martin Brundle argued that the downhill Pouhon left-hander had usurped Eau Rouge - the colloquial name for the left-right-left series of corners that comprise Raidillon at the top of the hill - as "the ultimate challenge at Spa".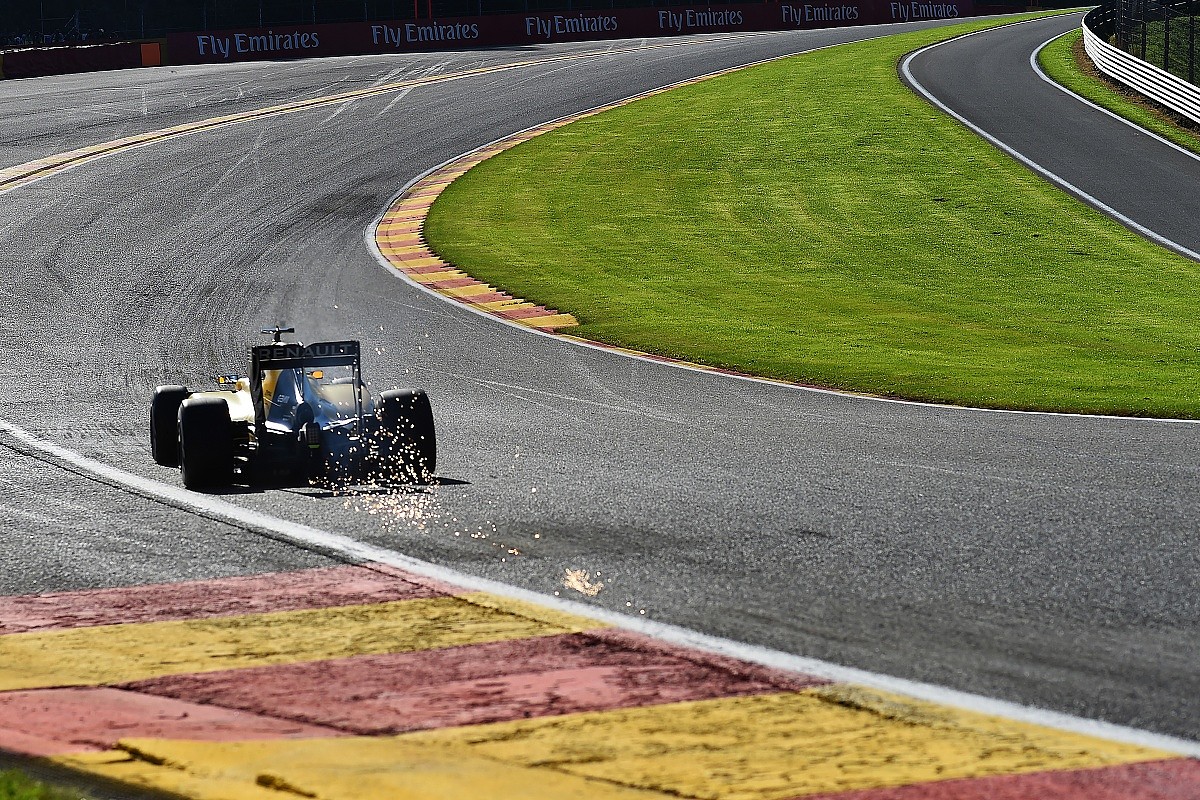 This followed the completion of renovation works designed to improve safety, with the barriers moved back, gravel traps paved over and the track resurfaced.
"The sting has been removed completely from Eau Rouge," Brundle wrote. "It used to be that you built up to Eau Rouge throughout the weekend until your final qualifying lap.
"It is now simply a great risk without being a great challenge because it is absolutely flat out from the word go."
Eau Rouge sparks debate like few other stretches of asphalt. That's because, as one of the last surviving segments of the old 8.8-mile circuit - so fearsome that Brian Redman, a future four-time winner of the Spa 1000km, had to "learn the trick of burying reason under layers of confidence and pretence" after his first experience in 1966 - it is a key link to the sport's past.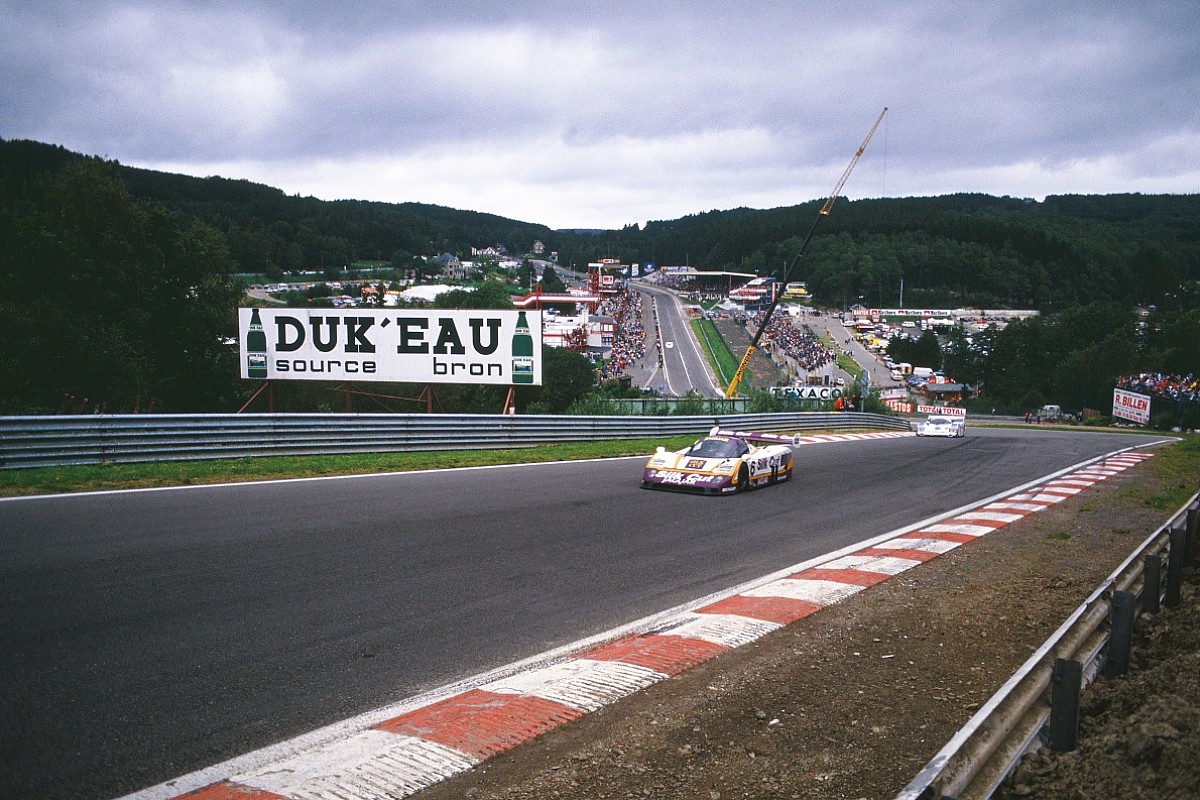 How it was then
Jochen Mass won the 1972 Spa 24 Hours, and later three world sportscar championship races in Porsche (1982 and 1983) and Mercedes (1990) machinery.
The old Spa reminded Mass of the precision required in hillclimbing, with Eau Rouge one of many corners that "you could not be silly about".
"You had to go in on a specific line, otherwise you had great difficulties making it through" Jochen Mass
"The old Eau Rouge was fairly tight over the bridge, through the little running water underneath," says Mass.
"It was a much more dangerous corner then because you came down at good speed and it was not as harmonious.
"You had to go in on a specific line, otherwise you had great difficulties making it through. You needed to treat it with respect."
Following the Jackie Stewart-led boycott of the 1969 grand prix, Formula 1 did not return to Spa after 1970, and when three touring car drivers - Hans-Peter Joisten, Roger Dubos and Massimo Larini, uncle of future Ferrari F1 racer Nicola - were killed during the 24-hour race in 1973, the circuit was on borrowed time.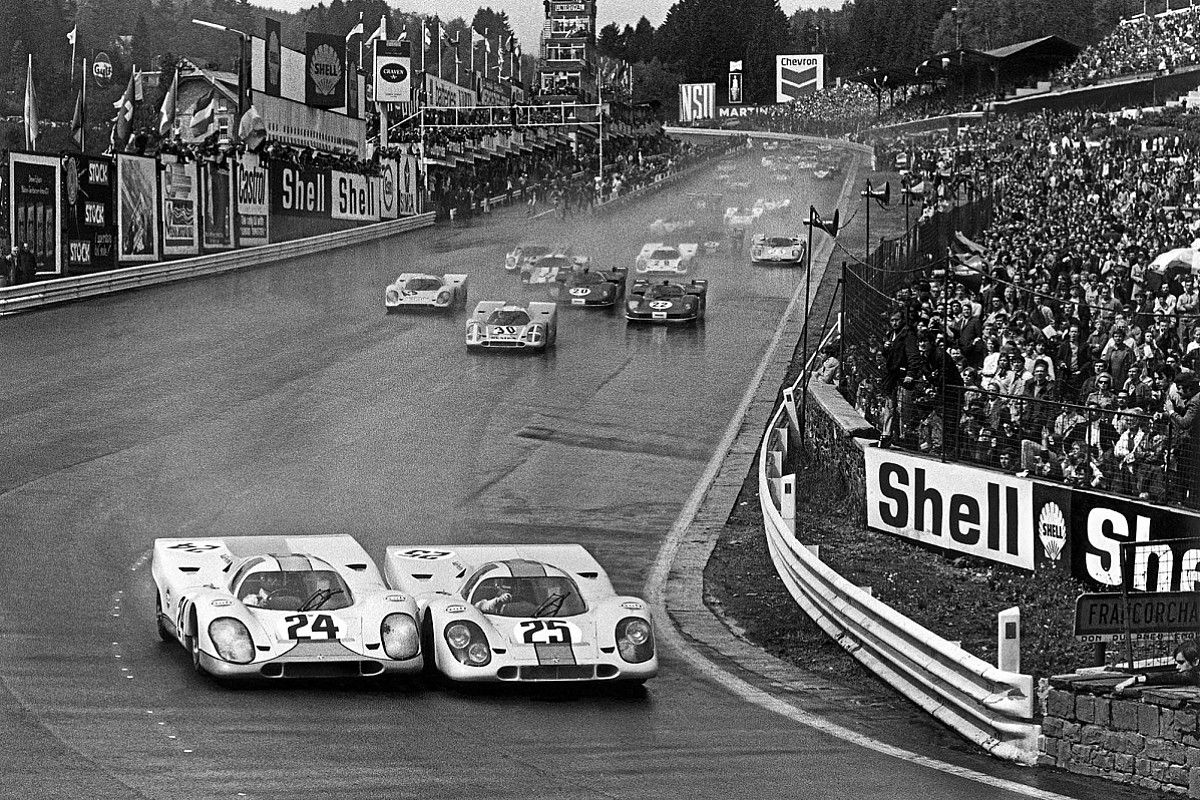 A new, 4.3-mile, track connecting Les Combes and Blanchimont was fashioned and F1 returned in 1983, but Eau Rouge remained dangerous. Barriers lined the road and afforded little room for error - although Mass could take the corner flat in his Porsche 956 Group C car.
"While you were driving you thought about how dangerous it could be if you made a mistake or you went too fast or something happened," he says.
"You were terribly aware of that, but Eau Rouge was always swelling your ego a lot, it made you more heroic when you came past and everybody in the pits looked at you. It felt good flexing your muscles going as fast as you could."
This is often cited as a factor in Stefan Bellof's ill-fated move on Jacky Ickx - Mass's team-mate - in the 1985 world sportscar race, which claimed Bellof's life. Mass saw the accident unfold and laments that Bellof took Ickx's cooperation for granted.
"Stefan should have never done that, it's really a sad story," says Mass.
"It was a silly move from Stefan trying to overtake Jacky on the outside. Jacky was aware that he was close behind and he didn't necessarily want to move over completely for him, so just followed his racing line and turned in a little bit later than usual.
"They put a lot of blame on Jacky afterwards which I always fought against because it was not his fault. It was just recklessness. You put yourself in danger and the other guy as well - Jacky could have hurt himself too."
Changes were only mooted after Alex Zanardi's violent crash in 1993, and ultimately implemented following the deaths of Ayrton Senna and Roland Ratzenberger at Imola.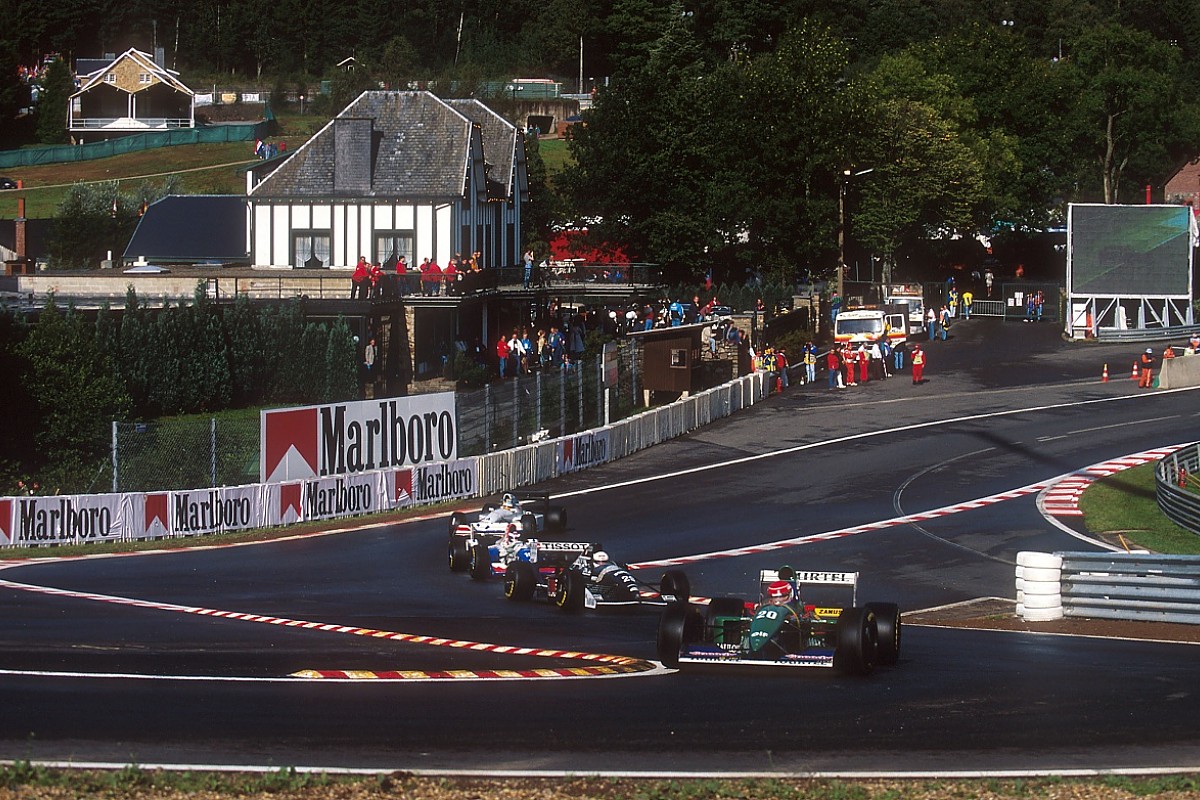 After a temporary chicane was installed in 1994, the corner was restored for '95 with the outside wall moved back and new gravel traps added, but swift punishment for exceeding the limit of grip remained: witness Jacques Villeneuve's spectacular crash in 1998.
"We tried to go as quick as the other cars, but the BAR was not able to go flat there" Ricardo Zonta
One year later, Villeneuve and BAR team-mate Ricardo Zonta gave their mechanics a sleepless night with consecutive violent accidents at Eau Rouge in qualifying.
"We tried to go as quick as the other cars, but the BAR was not able to go flat there," Zonta says. "That was our mistake to do it quicker than the car was able to do.
"When I saw [Villeneueve's] crash I thought it was his mistake, it was not because of the car. Because I was young, I was not worried about the speed.
"If it was now I would think a lot more, 'Maybe the car doesn't do it, I'm going to go easier', but at that time I closed my visor and said, 'My turn to try now'."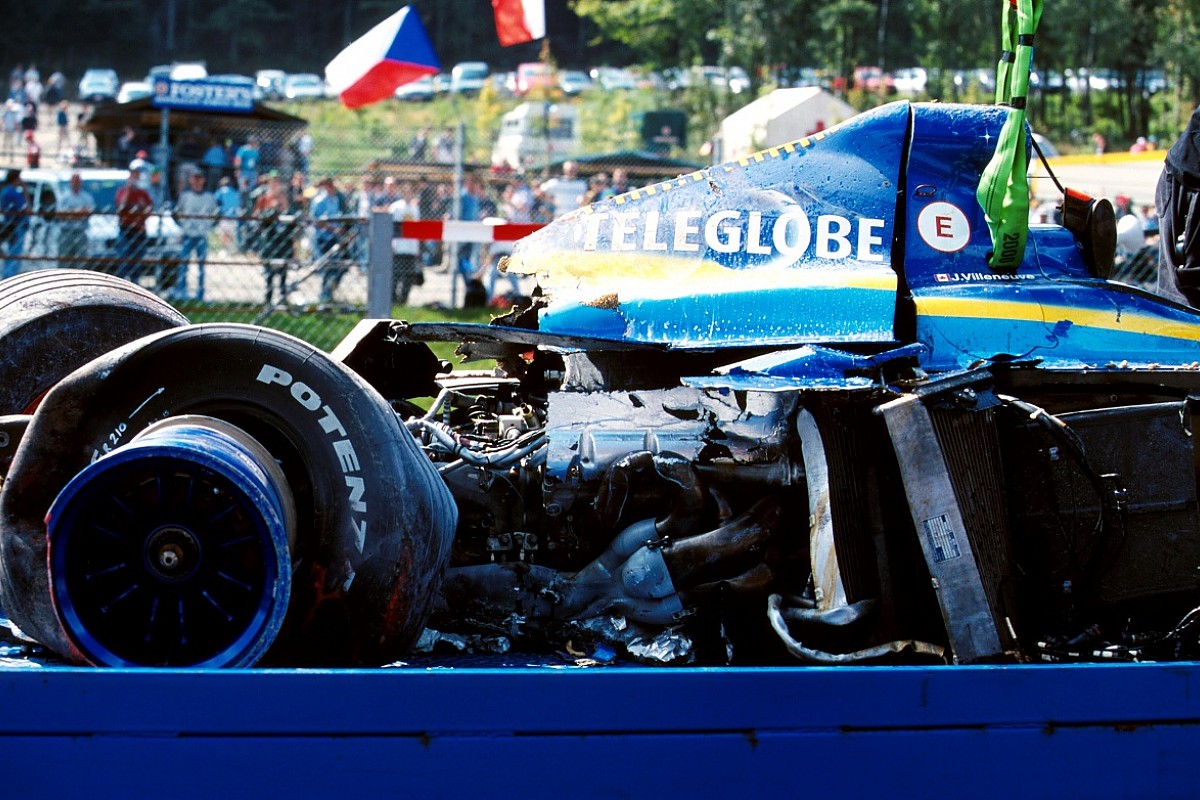 Afterwards, calls led by Ferrari title challenger Eddie Irvine meant it was simply a matter of time before change was effected.
"I haven't got a problem with the track," said Irvine, "it's the runoff..."
A continued challenge
There's no question that Eau Rouge today is a different proposition than it was even 20 years ago. But it wouldn't be the first iconic corner made to look easy by the combination of F1 downforce levels and slick tyres. For that, see Suzuka's 130R.
But for those not in an F1 car, Eau Rouge could hardly be described as easy - try telling that to SMP LMP1 driver Matevos Isaakyan, who got the line wrong in the wake of a Toyota and back-flipped over the crest at Raidillon in the World Endurance Championship race last year.
Indeed, despite the additional runoff, much of what was required at Eau Rouge in past years is no different today. Attempt it flat in an E-type and you will likely find yourself with an expensive repair bill.
Jackie Oliver won the 1971 Spa 1000km in a JW Porsche 917K and raced there twice in F1, taking fifth for Lotus in 1968 (below). A regular competitor in historic events at Spa, Oliver professes himself comfortable with high-speed corners, and says the secret to tackling Eau Rouge today isn't that different from the past.
"It's all a question of being relaxed. If you tighten up because of the speed - because if it goes wrong you know it's going to be a big one - that makes it worse," he says.
"You have to be very smooth. The crucial thing is not to dab the brakes; you're better off to lift a bit earlier if it's not completely flat so the car remains settled."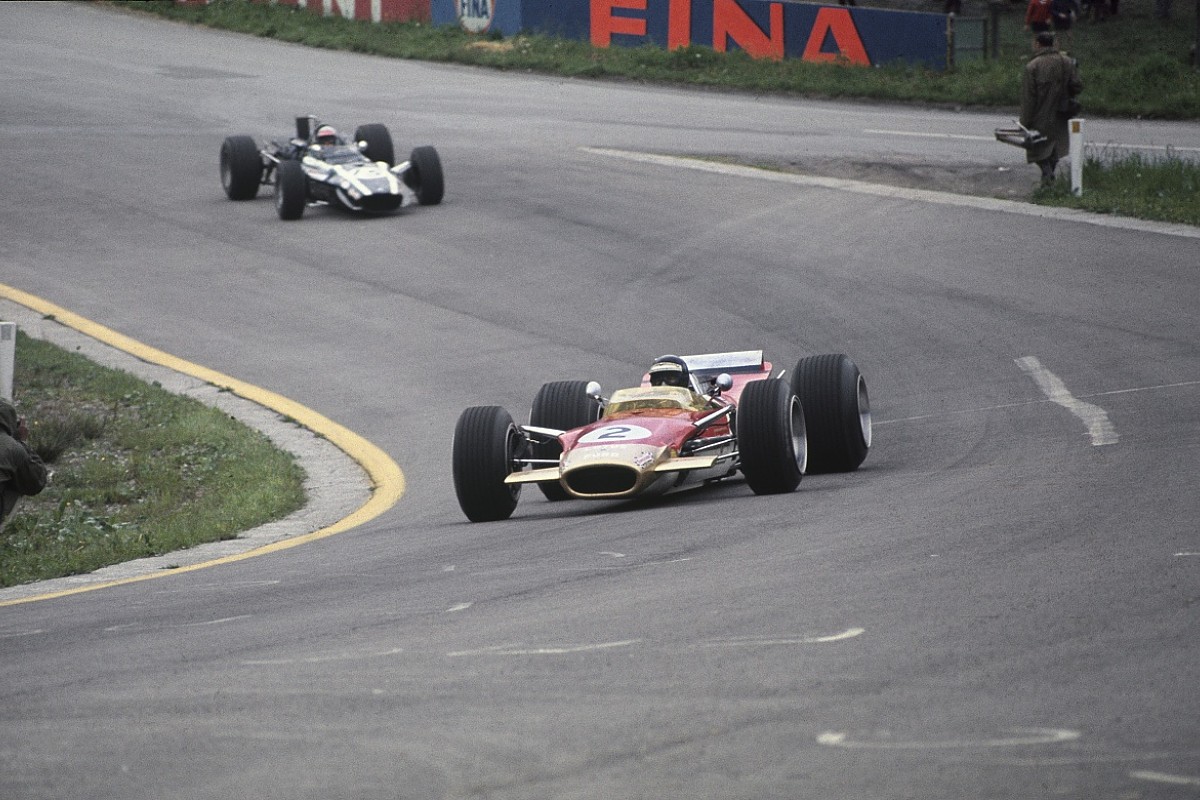 Keeping the car flat at Eau Rouge has a double bonus of producing more downforce while avoiding the instability that results from a mid-corner lift, but drivers cannot take for granted that the car will respond as they expect. As Mass explains, there is a fine art of judgement involved.
"You felt it very quickly what the car could do, maybe two times passing through the corner and then you knew what the car would allow you to do," he says.
"You felt the steering, whether you could take it flat or not and, depending on your front suspension, whether it was too soft and it went stiff on the steering, then you eased it a little bit. "As a driver it's your responsibility to yourself and the team to feel the car is good and decide how fast you want to go."
Beyond comparison
Anyone driving at Spa for the first time may have a fair idea of what to expect, but Eau Rouge continually defies comparison.
Craig Lowndes was already the youngest Bathurst 1000 winner when he sampled its swoops for the first time in International Formula 3000 in 1997, but found that Eau Rouge "gave you goosebumps every time".
With none of the simulation tools available today to shortcut his learning curve, Lowndes had a tough weekend, not helped by practice and qualifying both being wet.
"The rookies - and I was one of them - asked the FIA to have a morning warm-up to experience the speed through that section of the track [in the dry]," he recalls. "They said no and we had to do it for the first time in the race...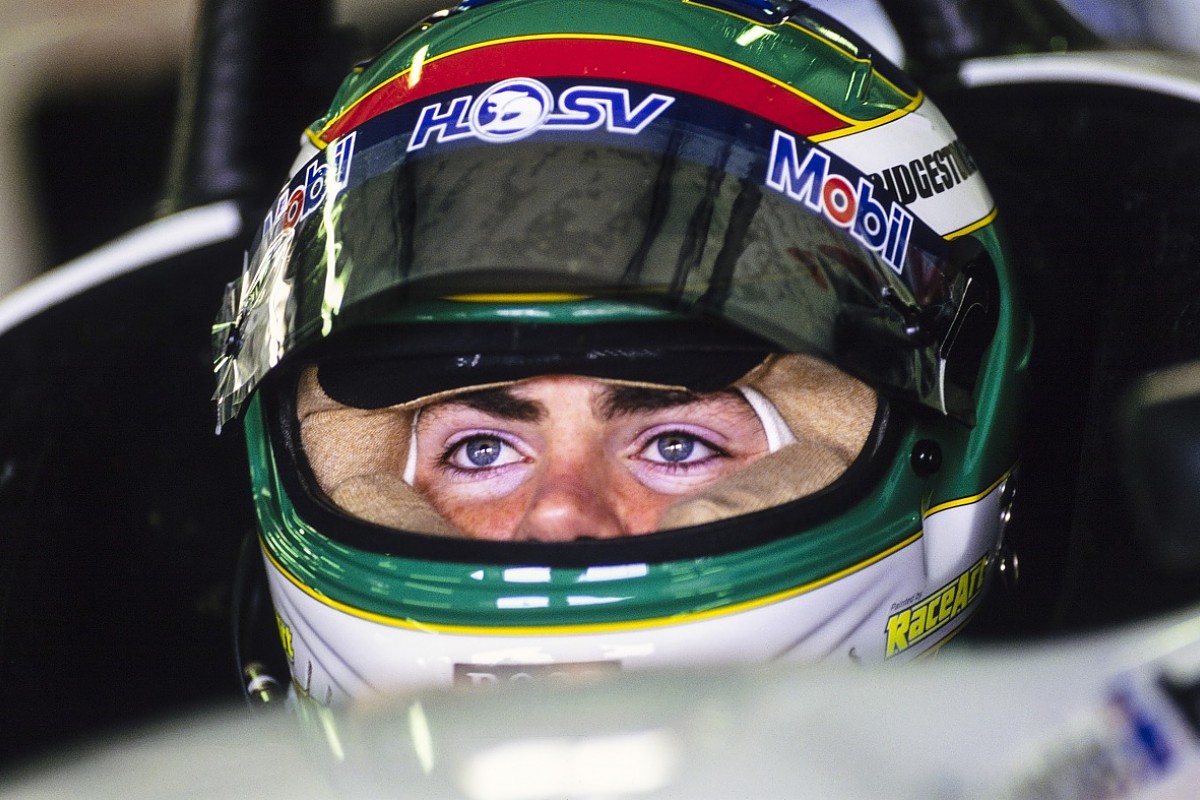 "Going through there in the wet was extremely daunting because the margin for error was really small. That didn't change in the dry, you were just carrying another 100km/h!"
Lowndes returned to Spa in 2013 for the 24 Hours and scored a class podium in a Ferrari 458 GT3, when Eau Rouge was "just a slight lift, literally a split-second to breathe and then back on".
He says Eau Rouge is most similar to the blind crest at Skyline on Bathurst's Mount Panorama track - albeit in reverse.
"You've got to approach it the same way of making sure you position the car correctly, you've really got to believe in yourself," he says.
Those who maintain that Eau Rouge is not as good as it used to be ultimately miss the point - if it was in far-flung Japan or Argentina, where only a few international drivers got to try it every year, they would likely be grateful to still be allowed to tackle it.
It may be the case that Pouhon is a now greater challenge than Eau Rouge, but both are entitled to be iconic in their own right, regardless of how comfortable it has become in F1.
"Eau Rouge will always remain a revered corner," says Oliver. "You get a depression feeling when you're into the apex and then the car goes light over the brow of the hill, so even if the car is easily flat, the physical experience inside the car is quite exciting."
It could be described as many things, but Eau Rouge certainly isn't boring.
And without the last great corner from the old track, Spa simply wouldn't be the same.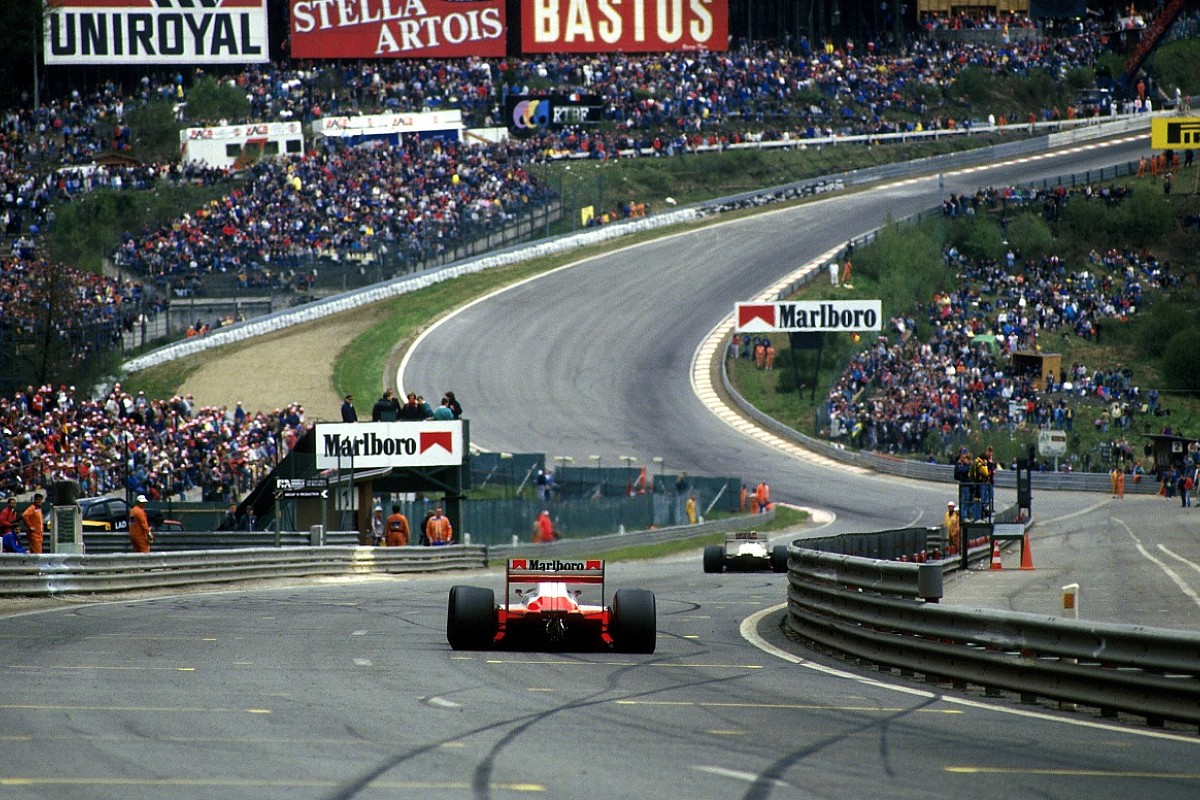 The trackday errors to avoid at Eau Rouge
Sampling Eau Rouge for yourself is straightforward, but to get the best from your experience Autosport recommends attending a specialist driving school to help you avoid the common trackday pitfalls.
One of these is RSRSpa, based a stone's throw from La Source and run by experienced coach Ron Simons. The Dutchman has been a regular at Spa since the early 1980s and says Eau Rouge "hasn't lost any of its magic" in that time.
"Unless you can copy the same line through the corner 10 times and end up on the exit at the same position, you cannot speed up yet" Ron Simons
Simons advises newcomers to build confidence in their reference points before working up to the limit at Eau Rouge, and to be prepared for non-aero cars to feel significantly less stable.
"You can get away with some stuff on this track, but not on the big corners because it can bite if you go too fast too soon," he says.
"Unless you can copy the same line through the corner 10 times and end up on the exit at the same position, you cannot speed up yet.
"In a non-aero car, as soon as you start going uphill, it's like you have a big hand pushing you down on the Tarmac, you feel like nothing can go wrong. But on the crest the g-load is reduced to zero and it can go light. If you scare yourself and come off the throttle, it's all lost."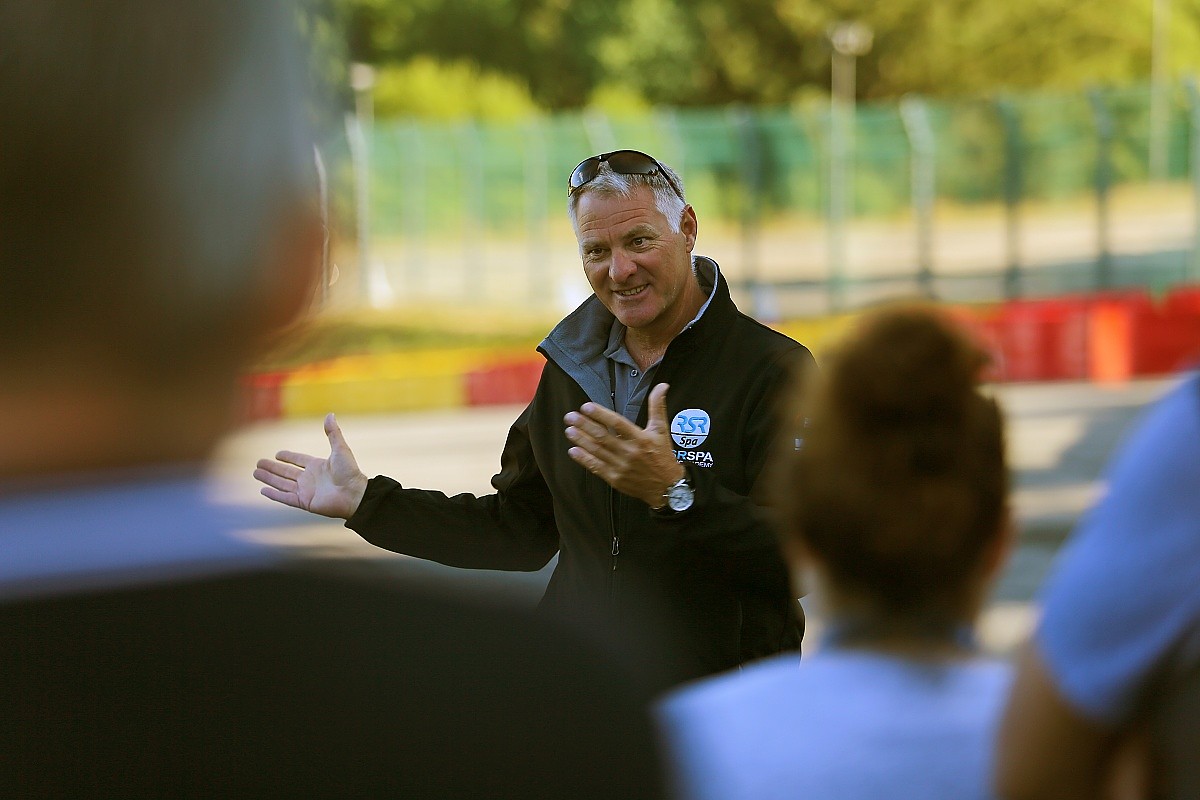 Simons teaches the corner as three distinct parts. The actual Eau Rouge, the left-hander at the bottom, is "the easy part", followed by an uphill right-hander, "the technical middle part". This features "a very weird camber change", where drivers can easily find themselves on the wrong line if they don't stay tight to the pitwall before turning in at the bottom.
The final crest at Raidillon to the exit kerb is "the dangerous part", where drivers attempting to recover the line upset the balance by pinching the car tight rather than using the available runoff.
"When that third one is becoming a real corner, it gets very sensitive and you see people lose it because they don't open the steering to use the full width of the road there," he says.
When drivers get into trouble, Simons advises them to keep the steering smooth.
"If you don't panic and you realise that there's all this parking lot at the exit, then just open the steering wheel and use the parking lot," he says. "When you need it, use it."
This article appears in the latest edition of Autosport Performance, our bi-monthly magazine supplement and regular online series that gives racers the knowledge, skills and tools they need to improve themselves