Milka Duno's career history doesn't make for stunning reading, but does include two Grand-Am victories in 2004. That owes much to the heroics of co-driver Andy Wallace, who twice reminded observers the meaning of 'you have to be in it to win it'
"I don't know who's driving that #27, the guy thinks it's a weapon, not a car!"
The events that preceded Chip Ganassi's furious comments to TV networks following the incident that decided the second round of the 2004 Grand-Am Series at Homestead can be disputed for days.
Ganassi's Max Papis, who had inherited the lead after Luis Diaz in the sister Ganassi Riley-Lexus spun off at a previous restart, was defending from the Doran-Lexus of Jan Magnussen when he got sideways exiting Turn 2 and left a gap for Magnussen to lunge up the inside at Turn 3. Both ran wide, allowing Max Angelelli's SunTrust Riley-Pontiac to unlap itself.
Papis just kept the place but, riled by the move, forced Magnussen down to the grass when the Dane got a better exit onto the banking one lap later. The argy-bargy continued as they rounded the final turn to start lap 102 of 109, the two cars banging wheels several times, each unwilling to yield. Then, with his right rear tyre pluming with smoke, Magnussen clattered into Papis at the apex of Turn 1.
It wouldn't have looked out of place if it was a pair of teenagers on a sim racing platform and, while an irate Papis trailed slowly back to the pits with a puncture, Magnussen was out on the spot. Papis' team-mate Scott Pruett summed it up with his comment to Autosport: "That was just stupidity."
If there was some conflagration over who was to blame, the outcome was crystal clear - Andy Wallace and Milka Duno in the Howard Boss Motorsports Crawford-Pontiac moved from third to first, making Duno the first female to win an international sportscar race since Desire Wilson's victory in a World Sportscar Championship race at Silverstone in 1980.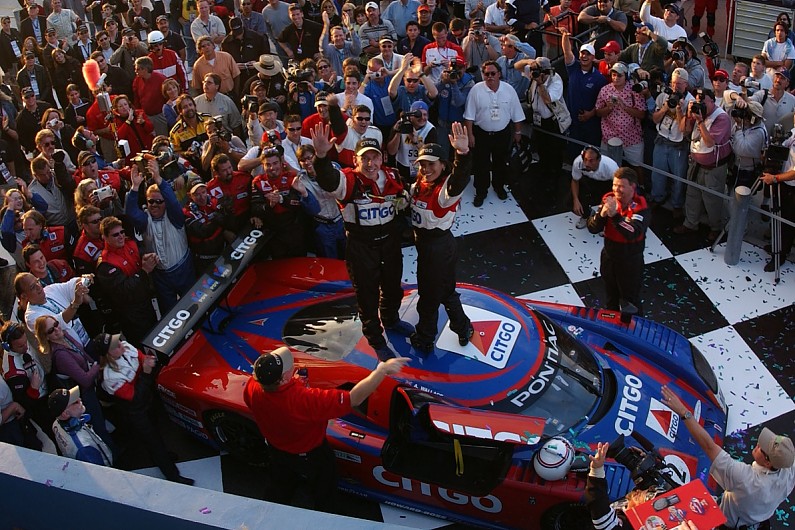 The new-for-2004 Crawford, designed by former TWR engineer Andy Scriven and run by renowned engineer Max Crawford, had shown well on debut at the 24 Hours of Daytona. Paired with two of NASCAR's biggest names in Dale Earnhardt Jr and Tony Stewart in the #2 Crawford, three-time Daytona winner Wallace had led 346 laps until a rear rocker broke in the final hour and eventually collapsed with 16 minutes to go, pitching Stewart into the wall approaching the Bus Stop chicane.
Its near-miss was all the more galling when new leader Bell Motorsports pulled Andy Pilgrim out of the car he had shared with Terry Borcheller and Christian Fittipaldi with five minutes to go and inserted team owner Forest Barber for his one and only stint of the race. In worsening rain, the bespectacled Texan drove around like a grandmother, allowing GT cars to pass him and was short-shifting around the banking.
The #2 car had completed enough laps to be classified fifth, but if that was little consolation, the car had at least proven its potential. You could be forgiven for thinking that doesn't sound like the set-up for a giant-killing exploit. But the problem for Wallace was that his co-driver for the rest of the Grand-Am season certainly wasn't proven.
"What I've learned through all my years of endurance racing is you never give up. When you're in the car, you just give it absolutely everything because even if it's a three or four-hour race, all sorts of things can happen" Andy Wallace
Venezuelan Duno had been a late starter in motorsport, already aged 28 when she made her international debut in the American Le Mans Series' Petit Le Mans in 2000.
Backed by state oil concern Citgo, she even reached IndyCar and started the Indianapolis 500 three times between 2007 and '09, but failed to make the cut in 2010, a year in which she was placed on probation by the series for lack of performance and ordered to park her car at Toronto.
Duno had qualified 15th of the 16 Daytona Prototypes entered at Homestead, almost two seconds off the fastest Crawford - that of ninth-placed Stephane Gregoire - and a full 3.6s off the polesitting Pruett. By the time she handed over to the 1988 Le Mans winner on lap 43, she was already a lap down.
"The qualifying driver had to start the race and it made sense that I would do the last part of the race, so Milka would always do the qualifying," says Wallace. "Then if there was a yellow at a good time to do the driver change, then that's what we did.
"People in a similar situation were doing the same thing, so usually you would have a race between everyone in the beginning and then later on when everybody did the driver change, it would change its complexion."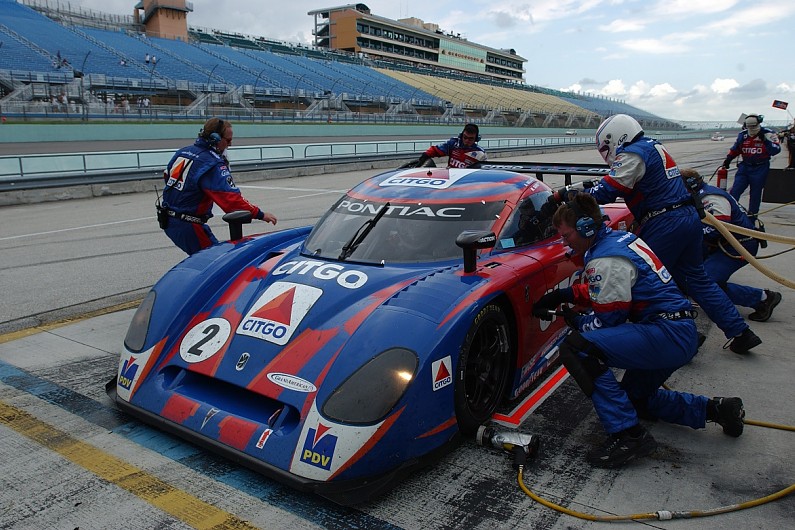 Despite facing a one-lap deficit, Wallace still believed a result could be possible and got his reward when a safety car allowed him to get back onto the lead lap.
"What I've learned through all my years of endurance racing is you never give up," he says. "When you're in the car, you just give it absolutely everything because even if it's a three or four-hour race, all sorts of things can happen and as the race comes along you see where you are.
"In this instance, we had gone a lap down but the car was in perfectly good condition. It was really well-balanced and of course, with a long-distance race, the balance is everything. I really felt at home in it.
"It was pretty quick in a straight-line as well, so we had slightly less downforce than the competition, but the infield at Homestead has got a few slow corners where the downforce isn't necessarily a big problem. We did quite a bit of testing in Homestead I remember, and always when we were there, the car was mighty."
Having made his way up to third behind Papis and Magnussen, Wallace "saw pretty much all of it" unfolding in front of him and prepared to take advantage of any potential clash.
"It actually didn't surprise me too much because there were one or two guys in those days who would always manage to bump into each other, perhaps they were two of them!" he chuckles. "It was pretty entertaining to watch. It was going on for a while too, it wasn't just that one lap!"
Momentous though the result was, Wallace and Duno's repeat victory at Homestead in September was even more gratifying, coming after a late move for victory on Angelelli rather than an accident opening the gate to victory lane.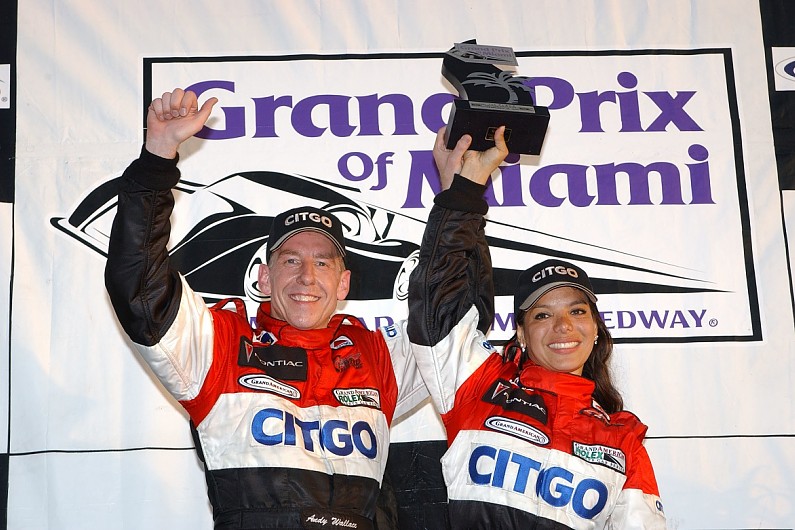 "If it's been tough, it always feels a lot better and again the car was mega in a straight-line," he recalls. "I got a fantastic tow going through the banking, it was just a case of getting past him because he was going to be weaving about when I got there and just making it stick."
A Florida-bound hurricane had delayed the race by one week, so the field lined up in championship order in lieu of qualifying, putting Duno third on the grid. Again, the Crawford team repeated the same trick of having Duno vacate the cockpit early in the race, although this time the extreme temperatures were an additional obstacle for Wallace to overcome.
"The guys in the team were pretty good at sensing what I was like on the radio and they even thought that some of my speech wasn't as clear as it should have been. They were worried that something might be going wrong in there" Andy Wallace
"That was really, really hot, it was incredible," recalls Wallace. "When we did the driver change, it was very early in the race and the heat in the cockpit was massive.
"I remember getting on the radio and asking, 'how long is there to go?' I felt like I'd been in the car for ages so when they said 'you've got 1hr40 minutes to go', I thought 'shit, there is no way I'm going to make this."
Wallace requested for a cooler of ice to be dumped over him at the next pitstop - "it was perhaps a quarter of a bath full of ice, it actually hurt for a little while because it was such a shock" - but it did the trick, for a while.
"Of course the intense heat from the car and all the heat from your body started to melt the ice and I felt really good!" he says. "I got on the radio again and said 'how long to go now' expecting it to be 15 minutes, and it was still 40 minutes to go! But at this point, I'd already convinced myself 'I'm going to be alright'."
Wallace admits that nearing the end of the stint, the onset of dehydration was starting to give him tunnel vision, but here the then 43-year-old's experience came into play.
"The guys in the team were pretty good at sensing what I was like on the radio and they even thought that some of my speech wasn't as clear as it should have been," says Wallace. "They were worried that something might be going wrong in there.
"What tends to happen, when you get dehydrated and your brain gets really hot, is you start to get a bit confused and your peripheral vision starts go. In extreme cases, you start to get to a situation where it looks like you're just looking through a pipe and that's all you see.
"I've had the beginning of that on a few occasions, so I knew what it was and how to deal with it - otherwise it frightens you a bit because you don't know what's going on.
MORE GIANT-KILLING STORIES FROM AUTOSPORT
"Whenever you're in a really difficult situation where you think you can't do it, you just refer back and think 'I did it last time, it's going to be fine' and then suddenly it clicks. But it's having the experience to know that will happen to you, otherwise you just give up."
As Angelelli's challenge wilted - he collapsed getting out of the car - Wallace came to the fore and took a second giant-killing win. He even won a third time with Duno, joined by Wallace's team-mate in 1988 Jan Lammers, at Mont-Tremblant in 2005.
But, as Wallace points out, although they were routinely written-off, that didn't mean the drivers could allow themselves to fall into the same mindset.
"We had this situation in every race," he says. "If the situation isn't ideal, it's never any good to dwell on that and think 'I haven't got a chance'. Whenever you're in a car, you've got a chance to win, everybody does, so you always give it your all. Whenever it does work out, it's really satisfying."