Austin Dillon scored his first NASCAR Cup Series win since the 2018 Daytona 500 at Texas for Richard Childress Racing after seeing out a flurry of late restarts.
After a caution period for a Quinn Houff spin on lap 306 of 334, Dillon was one of those to make a pitstop for fresh Goodyear tyres - the RCR crew only changing two tyres on Dillon's #3 Chevrolet to vault him up the order to run in second behind team-mate Tyler Reddick.
Dillon quickly passed Reddick, who opted not to change tyres during the Houff caution, and began to pull away from the pack, but his advantage was wiped out after Denny Hamlin got loose in his Joe Gibbs Racing-run Toyota Camry, nudging Hendrick Motorsports' Alex Bowman into the wall.
Five laps after the lap 324 restart, Hamlin spun by himself after losing control in the dirty air of mid-week All-Star winner Chase Elliott's Camaro.
This brief caution ended with just two green-flag laps scheduled, and a sprint to the flag with both RCR cars restarting on the front-row, and Joey Logano and Kyle Busch slotting in behind.
As before, Dillon got the jump on Reddick, and held his team-mate off by 0.149s to record his first Cup win in 88 attempts, third of his career and the first RCR one-two finish since Clint Bowyer and Jeff Burton achieved the feat at Talladega in 2011.
Dillon also became the 10th different driver to book himself a spot in the championship playoffs.
Reddick posted the best result of his career, the double Xfinity series champion holding off three Cup series champions in Logano, Kyle Busch and Kevin Harvick for second.
Logano's #22 Team Penske Ford Mustang scored his best result since fourth at Martinsville after a string of scrappy races, while reigning champion Busch still has not collected a playoff point or race win in 2020 for JGR - fourth being an eighth top 10 result of the campaign for the #18.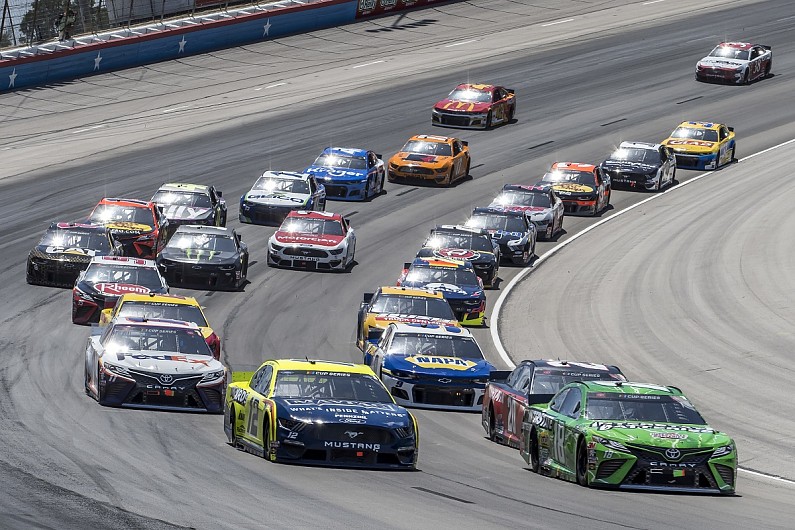 Erik Jones took sixth ahead of long-term leader Ryan Blaney whose race was scuppered by the Houff caution.
Blaney, who had started second for Penske looked in control for large periods of the race, scooping both stages one and two and looked set to cycle back to the lead after his lap 287 stop.
The reason that those who ultimately finished ahead of Blaney did not respond to the #12's stop immediately was thanks to a split in strategies throughout the field, where they were offset by around 20 laps - legacy of the lap 20 competition caution where they elected not to pit.
Blaney restarted in 15th, and was able to climb to seventh by the flag, just ahead of Kurt Busch's #1 Chip Ganassi machine - an 11th top 10 result of 2020 for the 2004 Cup champion.
Brad Keselowski ensured all three Penske's finished inside the top 10 with ninth, ahead of pole-sitter Aric Almirola, who had complained of brake issues in the early stages of the race.
In a torrid afternoon for Hendrick, Bowman, William Byron both suffered suspension damage in incidents while Jimmie Johnson had a forgettable event - the #48 being held for two laps after a pit-road safety violation midway through. Elliott salvaged 12th.
The race was briefly red-flagged after 10 cars were involved in an incident triggered by Almirola tagging Kurt Busch.
The #10 Stewart-Haas Racing of Almirola brushed the front bumper of Kurt, before being flicked into the rear of Kyle Busch, who in turn spat JGR team-mate Martin Truex Jr into the wall.
Truex was unable to continue along with Kentucky winner Cole Custer, who suffered major damage to his SHR Mustang in the incident.
NASCAR Cup Texas results - 334 laps
| Pos | Driver | Team | Car | Gap |
| --- | --- | --- | --- | --- |
| 1 | Austin Dillon | Richard Childress Racing | Chevrolet | 3h38m57.s |
| 2 | Tyler Reddick | Richard Childress Racing | Chevrolet | 0.149s |
| 3 | Joey Logano | Team Penske | Ford | 0.420s |
| 4 | Kyle Busch | Joe Gibbs Racing | Toyota | 0.452s |
| 5 | Kevin Harvick | Stewart-Haas Racing | Ford | 0.602s |
| 6 | Erik Jones | Joe Gibbs Racing | Toyota | 0.756s |
| 7 | Ryan Blaney | Team Penske | Ford | 1.350s |
| 8 | Kurt Busch | Chip Ganassi Racing | Chevrolet | 1.408s |
| 9 | Brad Keselowski | Team Penske | Ford | 1.623s |
| 10 | Aric Almirola | Stewart-Haas Racing | Ford | 1.714s |
| 11 | Clint Bowyer | Stewart-Haas Racing | Ford | 1.868s |
| 12 | Chase Elliott | Hendrick Motorsports | Chevrolet | 2.029s |
| 13 | Ryan Newman | Roush Fenway Racing | Ford | 2.151s |
| 14 | Darrell Wallace Jr. | Richard Petty Motorsports | Chevrolet | 2.515s |
| 15 | Michael McDowell | Front Row Motorsports | Ford | 2.609s |
| 16 | Corey LaJoie | Go FAS Racing | Ford | 3.019s |
| 17 | Matt DiBenedetto | Wood Brothers Racing | Ford | 3.282s |
| 18 | Matt Kenseth | Chip Ganassi Racing | Chevrolet | 3.457s |
| 19 | Chris Buescher | Roush Fenway Racing | Ford | 1 Lap |
| 20 | Denny Hamlin | Joe Gibbs Racing | Toyota | 1 Lap |
| 21 | Christopher Bell | Leavine Family Racing | Toyota | 3 Laps |
| 22 | John Hunter Nemechek | Front Row Motorsports | Ford | 3 Laps |
| 23 | Daniel Suarez | Gaunt Brothers Racing | Toyota | 5 Laps |
| 24 | J.J. Yeley | Spire Motorsports | Chevrolet | 6 Laps |
| 25 | Gray Gaulding | Rick Ware Racing | Ford | 11 Laps |
| 26 | Jimmie Johnson | Hendrick Motorsports | Chevrolet | 12 Laps |
| 27 | Brennan Poole | Premium Motorsports | Chevrolet | 12 Laps |
| 28 | Reed Sorenson | Tommy Baldwin Racing | Chevrolet | 12 Laps |
| 29 | Martin Truex Jr. | Joe Gibbs Racing | Toyota | 14 Laps |
| 30 | Alex Bowman | Hendrick Motorsports | Chevrolet | Accident |
| 31 | Josh Bilicki | Rick Ware Racing | Chevrolet | 16 Laps |
| 32 | Joey Gase | Petty Ware Racing | Ford | 16 Laps |
| 33 | B.J. McLeod | BJ McLeod Motorsports | Chevrolet | 16 Laps |
| 34 | Quin Houff | StarCom Racing | Chevrolet | Accident |
| 35 | Ty Dillon | Germain Racing | Chevrolet | Accident damage |
| 36 | Timmy Hill | MBM Motorsports | Toyota | Electrical |
| 37 | William Byron | Hendrick Motorsports | Chevrolet | Accident |
| 38 | Ricky Stenhouse Jr. | JTG Daugherty Racing | Chevrolet | Accident |
| 39 | Cole Custer | Stewart-Haas Racing | Ford | Accident |
| 40 | Ryan Preece | JTG Daugherty Racing | Chevrolet | Accident |
| - | Garrett Smithley | Rick Ware Racing | Chevrolet | Withdrawn |
| - | Joey Gase | Spire Motorsports | Chevrolet | Withdrawn |
| - | J.J. Yeley | Petty Ware Racing | Ford | Withdrawn |