When I pulled up into the car park in Germany last Sunday morning, three cars full of Japanese Yamaha technicians pulled up alongside my wheezing hire car.
It was 7:30 am and it was already 24 degrees Celsius, and my naked scalp could feel it was going to be a scorcher. I said it was going to be hot to one of the Japanese, and he laughed, probably not quite understanding what I'd said.
Cut to the start of the race and the ambient temperature is 35 degrees in the shade, with the freshly laid tarmac just oozing heat. Remember that the bikes sitting stationary on the grid are not in the shade, and are therefore cooking like my scalp.
The lights went out and the Yamaha M1 that those Yamaha engineers were working on that morning left the line from sixth position with Valentino Rossi on board.
He made an average start, exiting from the first downhill right-hander in seventh place as he entered the part of the track where passing is so notoriously difficult.
Rossi then crossed the line at the end of the first lap in eighth, 1.9s back of the leader, Dani Pedrosa, and lost another half a second a lap for the next five laps to the little Spaniard.
Stuck behind Randy De Puniet's Kawasaki, Rossi was desperate to get past and get on with the race at the front. The trouble was that De Puniet was having a good race himself, being quicker than Rossi where the Italian thought he would have an advantage, through the quick downhill right-hander.
Valentino Rossi low-sides his Yamaha attempting to pass Randy de Puniet © DPPI
Needless to say, the tight Omega curve was not really an option for passing as the bikes are so slow and leaned over to such a degree that there is hardly enough tyre left to be in contact with the ground should there be the need, let alone the other rider giving space to an unexpected bike coming through.
But Rossi's water temperature gremlins were returning as he sat behind De Puniet. The scorching mid-continent sunshine and the immense heat that pours out of modern MotoGP bikes meant that his FIAT Yamaha just wasn't getting enough air through the radiator behind the front wheel.
"My temperature gauge only registers 120 and it was showing 120, so it was probably more in reality," he said later.
Number 46 made a desperate lunge for space, air and position past De Puniet's green number 14. It was the place on the track where he thought the Yamaha had the advantage, but instead he ran out of tyres.
The bike slid away into the gravel at a tangent from the slowest corner on the track, but it was quick enough to whack the handlebar against the kerb.
"Even if I could have re-bent it back up, the water temperature was too hot so I stop the bike," he said.
Rossi's mental attitude to the rest of the season will have changed in the instant that he traipsed across the German gravel.
He must have thought he'd got rid of overheating problems after two non-scores last year relating to the same problem.
It happened at Laguna, when it blew up after a hose couldn't take the boiling water anymore, and again at Valencia when the hotter than expected conditions sapped the bike of power, resulting in him to having to 'over-ride' it just in order to keep up. As we know, he over-rode it so much he fell off.
Laguna Seca this weekend will be another hot race, and the option of bolting in a wider fatter, larger radiator is not an option available to them with the bikes were packed into crates in Sunday night in Germany.
The radiator on this year's Yamaha is only a tad smaller than last year's 990 bike, a direct correlation to the amount of power that the engine is producing; 220bhp rather that 250bhp.
However, with an 800 engine revving higher than a 990, heat increases exponentially, meaning the riders need the same size as they did on the 990. Surface area aside, an across-the-frame four-cylinder is harder to cool, as you essentially have an air dam behind the radiator restricting the escaping hot air.
Casey Stoner adjusts his gloves on the grid © DPPI
Sure, a Ducati is hot. "It even burns my hands through the bars," said Casey Stoner. But the front profile of a V4 is narrower than that of an across-the-frame four, making it easier for exiting air to escape.
Sylvain Guintoli's engine blew up on lap four, launching the Frenchman into what he laughed was "an even better crash than at Le Mans..!" He was a very lucky guy to get away with it with nothing worse than a bruised backside.
Another Yamaha ran into trouble on Sunday too, but this one was painted green. De Puniet's bike came to a cruel halt with one lap to go. Remember that has the same layout as a Yamaha; four cylinders across the frame ...
Maybe I'm reading too much into it, but I was young when I was taught the phrase 'Once is bad luck, twice is coincidence, three is war'. And this is the third time that this has happened in a race to Rossi.
The bizarre thing is that Colin Edwards' sister machine didn't cook during his fantastic surge through the field from 11th after the first lap to finish just 1.5s off a podium!
He seemed to have a bit more clean air judging from the lap-by-lap times, but 30 laps around the Sachsenring on Sunday was hard work for any bike. Just look at Stoner's Ducati, 31s behind Pedrosa.
Apparently Edwards doesn't thrash his engine as much as the former 250 guys, so maybe it just didn't have as many revs every time he went up the gearbox.
Heat may well be a nightmare for the Yamaha squad at Laguna, as it was for them last year. And poor Chris Vermeulen's fuel that vapourised, dropping him off the most deserved of podiums all season.
Small things...
Jerry Burgess and his FIAT Yamaha crew can make many decisions instantly, but one 'buck stops here' decision has changed in the past weeks.
Final tyre choice decisions are now in the hands of the Australian after the monumental screw-up at Le Mans, when Michelin put a hard compound wet tyre into the back of the 'wet set-up' bike that was going to be needed when the lights went out in France.
The clouds were already spitting drops and every forecast for 2:10 pm predicting rain, yet Rossi was left lumbering around on a bulletproof hard compound. Pedrosa had a soft one while Hayden had a medium, and that was proved in their speed in the monsoon that followed.
Pedrosa's flag-to-flag win on Sunday revives Repsol Honda from the doldrums of 51 weeks without a victory. It was a relief for the all in the paddock, who were struggling to get their head around Big Red not having victories with premiership riders.
Honda don't get things wrong on two wheels for very long, but we'll see how things go when the championship returns to the fast tracks after the summer break.
There have now been six wins from Repsol Honda since Rossi left the squad at the end of 2003; three each for Pedrosa and Nicky Hayden. Rossi has won an incredible 25 victories with Yamaha in those same three-and-a-half seasons. Stunning figures however you read them.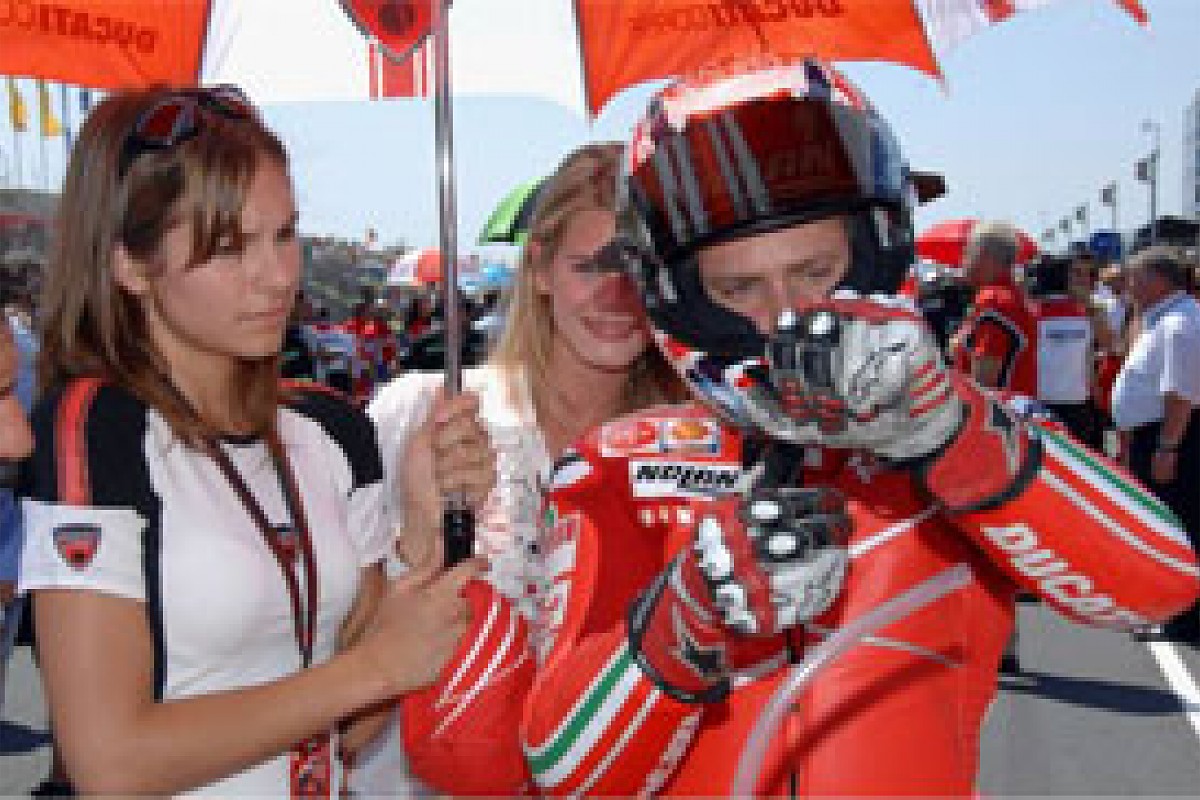 Jorge Lorenzo 'sings' to the crowd following his 250cc victory in Catalunya © DPPI
Rider Movements
With so many rumblings on the rider market, it is probably worth an update on the silly season.
Yamaha
Rossi is staying until the end of 2008, and will race as hard throughout next season as he did in his very first Grand Prix in April 1996 at Shah Alam in Malaysia.
Crash in Germany aside, he'll fight back and get into his stride. Just how long can he go on with pups coming into the class and whopping his backside in only their second season?
Jorge Lorenzo did a deal with Yamaha back in Turkey. It seems that he'll have a one-bike team next door to Rossi's FIAT garage. Rossi will never have Lorenzo in the same team, and the Yamaha lot are clever enough to realise that. The swagger of Lorenzo would just rub Rossi up the wrong way.
Meanwhile, Colin Edwards may go to Tech 3 Yamaha. Why wouldn't he, when they are to be on Michelins?
If Vermeulen has been offered the Edwards Yamaha, then he needs to take it. That may well be a Yamaha that very rarely does any better than the one the other side of the garage, but it's better than the Suzuki.
More importantly, if he is there when Rossi vacates, then he has got experience on the bike and the team to step up to team leader.
The unfortunate thing is that all his podiums have come in wet races, but that's something that people see as a positive. Smooth riding without the need for bags of grunt shines through.
Just look at Sete Gibernau in the wet. He could win races in the dry too, but he was on a Honda that was of top-spec.
This is a really terrible thing to say but does Vermeulen need to start swearing a bit in the garage? Sometimes you have to be a complete bastard, firing others up around you as such. Have you heard over the TV what Casey Stoner says when he comes into the garage?
Ducati
Ducati did a deal early this season for Stoner to stay there until the end of 2010 if all the options kick in.
He will be doing well this year financially, but will have to back the truck up to the bank in downtown Bologna if he wins the championship due to the bonuses that must be in place. Good luck to him.
Loris Capirossi is understood to have been offered an ambassador role on behalf of Ducati should he not be chosen to ride in the Marlboro Ducati team next season, but they aren't getting along at the moment.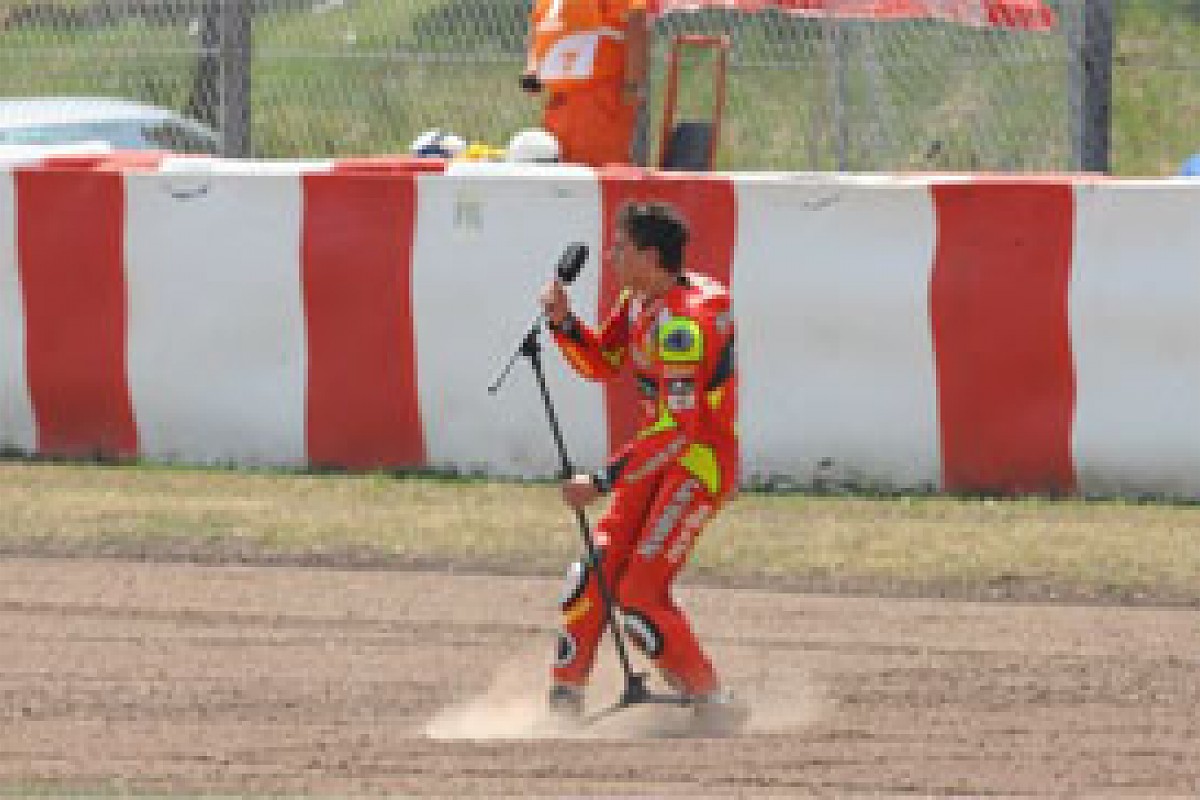 Andrea Dovizioso celebrates his victory in the British Grand Prix at Donington Park © DPPI
Did he make a rude signal to the pit wall when he passed it in second place last Sunday? Capirossi has ridden for the team since they came into MotoGP in 2003, but has struggled this season with the character of the 800cc bike and the speed of team-mate Stoner.
With Ducati having first call on Marco Melandri's services after their near deal at the end of last season, Capirossi's options are diminishing within the Bologna squad, irrespective of last weekend's podium.
Vermeulen? Too many Australians maybe, but they do seem to keep winning on Ducatis ...
Andrea Dovizioso is also in the frame, although his speed on the bike as a rookie may be a question mark, while discussions have also taken place with the management of Pedrosa and, incredibly, Nicky Hayden, even though Hayden has a contract with HRC until the end of 2008.
Repsol Honda
Pedrosa is never going to go anywhere else. Not unless he falls out with crew chief Alberto Puig, that is.
You have to feel sorry for Hayden, as he rode harder than any other rider in recent years to win that title last year, and yet he gets parts after Pedrosa this season.
The whole clutch debacle last season was inexcusable, but for Hayden to ride through the problems with his head high, and then win the title, was so dignified. Honda are capable of being cold hearted and then as daft as a brush in the same day. We'll never work them out!
Gresini Honda
When will riders realise that second-string Honda teams are never going to win the title as long as Repsol Honda are in the garage next door?
Melandri has had enough of Honda and won't ride there next year. He's had an HRC contract for this season but it didn't make a massive amount of difference to his new parts.
It would be a good place for Hiroshi Aoyama to learn the big bike trade, and Toni Elias will probably stay.
Suzuki
Suzuki are looking to keep Vermeulen, but are also looking towards Capirossi. They need to sign someone quickly because right now they technically have no riders at all for 2008. John Hopkins is going, and with would be good to see some podiums in his farewell races.
Whether Vermeulen stays depends on what Suzuki can demonstrate is in the pipeline. Vermeulen gets along with the team around him, but is the bike fast enough?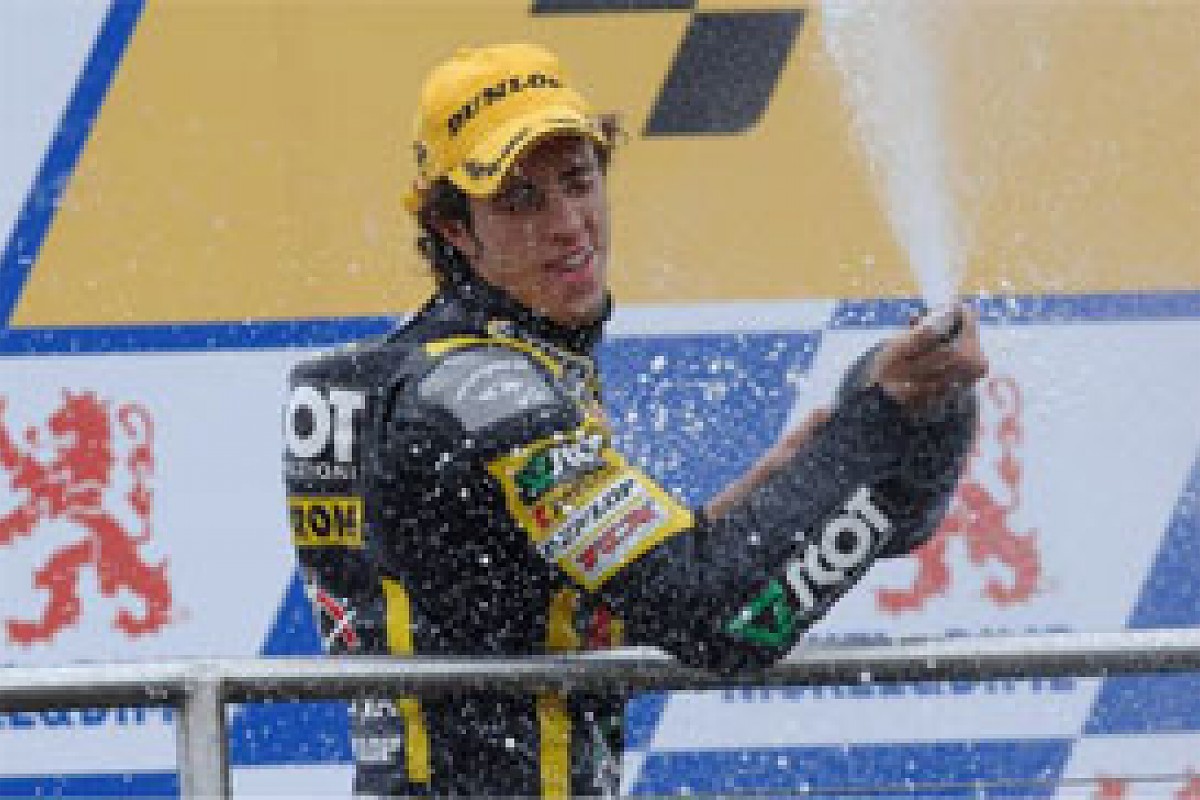 Chris Vermeulen © DPPI
There will still be only two Suzukis on the grid next year, as the Aspar team's step up from 250 will not be until 2009.
Rizla are looking to stay but Imperial Tobacco, the owners of Rizla, are busy at the moment trying to buy Altadis, which is Gauloises and Fortuna.
If and when they pull that off, then a Fortuna Yamaha of Lorenzo may well turn into a two-bike garage.
Or might Suzuki turn into another colour? It's unlikely, with the World Health Organisation's restriction on tobacco sports sponsorship, but they may go on a first class ticket right to the end.
D'Antin Ducati
The Pramac deal is for three years so they are safe as a Ducati income stream. Alex Barros seems to go on forever, while Alex Hofmann may be edged out by Andrea Dovisioso. What about Hiroshi Aoyama? Or Sylvain Guintoli?
Tech 3 Yamaha
Herve Poncheral's proper and correct squad will not have Dunlops next year unless they win races bewteen now and November 4th in Valencia, and that is not going to happen.
Michelins are lined up and he won't have to pay for them, but the trouble is that Dunlop's exit also means the end of Dunlop sponsorship dollars.
Poncheral wants to keep Guintoli, and so he should. Makato Tamada is lazy and not going to take any more risks. He should never have got off a Honda with Bridgestones ...
Team KR
"I am not selling another house this time," said Kenny Roberts Sr. The one-bike team is now never going to work. You need data by the gigabyte load and one bike won't be the way. Neither Roberts riders are quick enough; it's the engine.
Konica and Lucio Cecchinello may well form one team, combining finances to get their start money. The Konica deal finishes at the end of the year, while Cecchinello is on shoestring.
So where does this all leave James Toseland? The danger is that he'll get a duff bike a bad run from Honda as he won't be in the works team.
If he's in the works team, Pedrosa will have gone. There have only been four riders that were properly chosen by Honda from the word go who rode in the works team in recent years: Mick Doohan, Rossi, Hayden and Pedrosa.
Others, like Gibernau and Alex Criville, got their foot in through Repsol. Max Biaggi and Barros were there because there was no-one else at the time to fill the seat. If Toseland gets the call, he should go for it.