Dan Wheldon has had to celebrate his last-gasp victory in the 2011 Indianapolis 500 from the IndyCar sidelines for the past month. But that's not to say he hasn't been kept busy since drinking the famous bottle of milk.
It's been a whirlwind month for the Briton - he's moved from one appearance to the next, joined the IndyCar Series TV commentary team, had an enquiry from a NASCAR team, and been signed to carry out the initial development work on the 2012 IndyCar chassis.
It's all a far cry from the early months of the year, when he slipped into the background without a drive as the season got underway. Now, with his name and face back in the news (and on Indy's famous Borg-Warner trophy for a second time), Wheldon explains why he is loving every minute of his celebratory tour, and trying to soak up the enormity of being a two-time winner of his favourite race in the world.
Q. What has the last month been like since that dramatic Indy 500 win?
Dan Wheldon: It's been crazy - I think up until this point I've had about four nights at home. And then this weekend I'm going to be at the Goodwood Festival of Speed. I think the biggest thing is that the race was entertaining for the spectators in the stands, the people watching on TV, and it was appealing to a lot of the media.
The amount of media I've done has got to be considerably more than I did back in 2005. I've done a lot of things that were a bit different for me, like presenting at the Country Music Awards and some live TV. But it's been really good fun and I think at this stage in my career you just enjoy every minute of it. I haven't been home but that's not a worry. I'm just enjoying the fact that I've won the 100th anniversary of the Indianapolis 500.
Q. How did your recently-announced deal to do the development work on the 2012 IndyCar come about?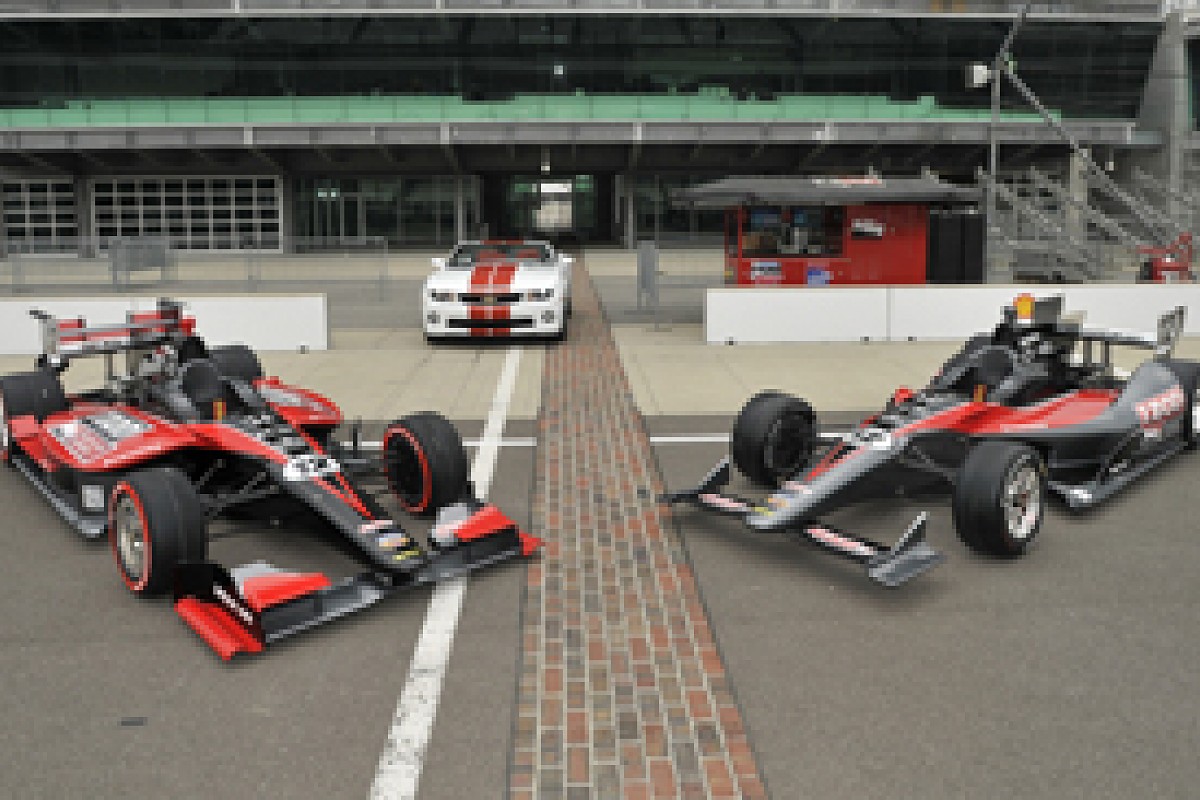 The 2012 IndyCar © LAT
DW: I was approached by the series. I've worked very closely with [project manager] Tony Cotman before and obviously he's someone that I have huge respect for. So it just fits very well. Tony's comfortable with what I've done before; he's seen me in that sort of role. I was able to do that sort of role for Honda at the end of 2002 with Andretti Green. I think he felt that I did a good job and was professional. Obviously the series knew that I was available because there's not a competitive ride out there for me. So it just happened really.
Q. Does this role satisfy your urge to be back in a racing car more regularly?
DW: Not really, to tell you the truth! For me it's important to stay racing. I've read people's comments where they say that I'm expecting a huge price tag and I've declined other offers and what have you. But the basic thing for me, in order to race, is that it's a competitive car that I feel gives me a reasonable chance of winning. That is it. I am not the kind of driver that can bring funding to a team. Do I try? Yes, but I haven't been very successful at it. Do I expect to be paid? Yeah. But at the end of the day that's not my main concern.
My main concern is being in a competitive ride that gives me the chance to win, just like I had at the Indy 500. That's also how this situation came about - I've worked with Bryan Herta Autosport and we had one very good race together. And Bryan has also been good in that development role in the past at Honda. So for the series to pick his team, and for me to be a part of it is a no-brainer. But I'd definitely like to be racing, there's no doubt about it.
Q. What sort of work will you be doing in the tests?
DW: Just doing lap after lap, making sure everything is reliable. There's certain procedures that you have to go through to achieve what certain parts need to achieve. It's about being disciplined and doing it. The main history of this that I've had is doing the same with Honda back in 2002. And when you get big manufacturers, whether it be engine, chassis, suspension manufacturers, they will have a certain way of achieving what they want to achieve and it's about doing what they say.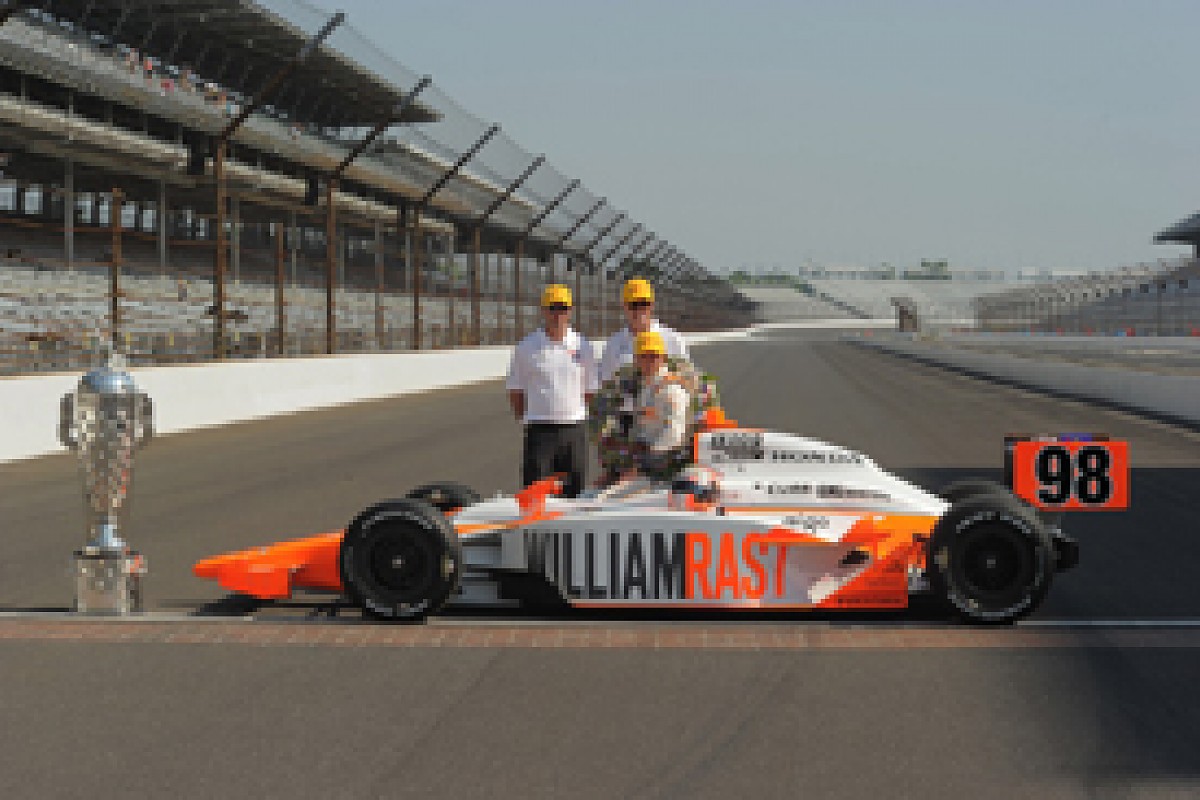 Wheldon and the Bryan Herta Autosport owners pose with the Indy 500 spoils © LAT
Q. You've joined the IndyCar commentary team on TV recently, and that seems to be getting quite a lot of positive feedback...
DW: Hopefully it's getting more than quite a lot! For me, it's a very interesting position to be in. I've never had this perspective before, and for me as a driver, if maybe the TV ratings were more that would have an impact on sponsors and maybe I would have a ride. So it's something that I have taken very seriously and really tried to work hard with the TV guys to help the numbers. Hopefully we can keep doing that.
Q. There was a story recently that you had been approached by a NASCAR Nationwide team [AUTOSPORT magazine, June 16]. Is that something you are giving serious consideration to?
DW: Honestly, at this point, I've got the testing deal, which is going to keep me very busy for August, September, and maybe the beginning of October. So I'm obviously focused on that. But after that, you'd hope that I'd be able to secure a drive for 2012. Again, if that's not something that I think is going to develop then you have to consider all of your options. You can't be on the sidelines too long. So I guess that would probably answer that.
Q. Your Indy 500 win and the testing deal have propelled you back into the spotlight recently. So how confident are you about landing a drive for 2012?
DW: You know what, I was confident in the off-season last year and look where that got me. So until it's signed sealed and delivered, who knows?