The Techeetah Formula E team is evaluating a move to a DS Performance powertrain from the 2018/19 season in place of its current Renault deal, Autosport has learned.
Mostly owned by Chinese Media Capital, Techeetah is FE's last remaining customer team.
Plans for a deal with DS, which has a works partnership with the Virgin team, are believed to be at an advanced discussion stage.
Manufacturers of FE powertrains are allocated 15 days of testing, but get an extra seven if they are also supplying a customer team.
Whether those extra days are given to the partner team is at the manufacturer's discretion.
Renault used its own e.dams squad for the additional running it earned by supplying Techeetah, although Techeetah was still in the process of being set up out of the former Aguri squad at the time and did not shake down its own cars until the eve of pre-season testing.
Driver Jean-Eric Vergne, who is understood to have a stake in Techeetah and has been key in building the team since it acquired Aguri's FE grid slot, has been frustrated by the lack of testing.
e.dams won the first three races of the 2016/17 season with Sebastien Buemi, while Techeetah's best results are two second places for Vergne.
"They have a huge advantage that people don't consider so much and all we have is the racing day to try things, it's hard," said Vergne of Techeetah's deficit to e.dams.
Vergne is known to still have an excellent relationship with senior DS figures, including CEO Yves Bonnefont and technical chief Xavier Mestelan-Pinon, after a season working with them at Virgin in 2015/16.
Though DS played down talk of a Techeetah deal, Vergne said his team had "really good strategy" for its future.
"Hopefully sometime soon we can announce something," he said.
"We want to be a successful team and I have a long contract with the team."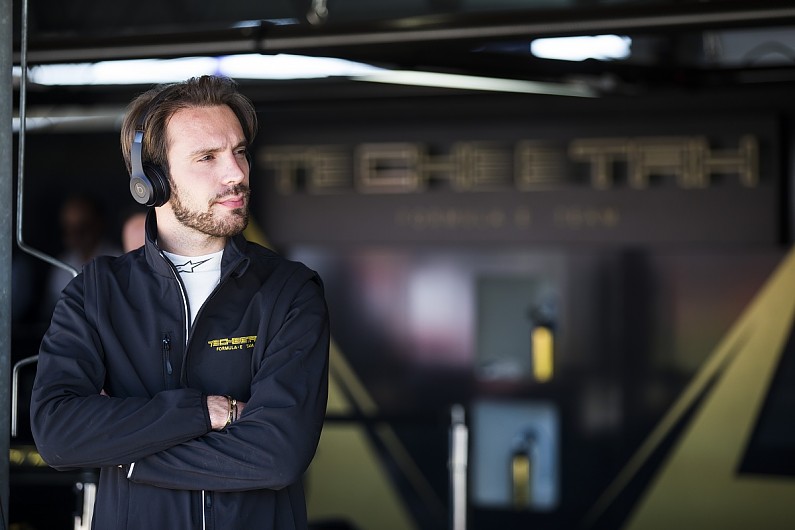 RENAULT DEAL IN PLACE FOR 2017/18
By Scott Mitchell
Aguri had committed to a Renault customer deal prior to the Techeetah takeover, after running the year-one specification Spark SRT_01E in FE's second season.
Techeetah team principal Mark Preston held the same role with the Aguri team and was part of striking the Renault agreement, which he has revealed is a two-year deal.
"It'll still be a Renault," Preston told Autosport. "It means next season will be a nice smooth transition.
"When I was at Arrows [in Formula 1] we had five engines in six years.
"The first thing I noticed when I moved to McLaren was we kept the same engine!"
FE's regulations state a constructor can only homologate one powertrain at a time, which means Techeetah is guaranteed the latest-specification Renault unit next season.
In addition to the motor, gearbox and inverter, it will benefit from Renault's revised rear suspension and its electronics system.
Autosport has produced a standalone special magazine to celebrate our 70th birthday. All current print subscribers will receive a copy for free. To order your copy of the 196-page Autosport 70th Anniversary issue, please go to: autosport.com/autosport70th