Jacques Villeneuve, the 1997 Formula 1 world champion, has called Esteban Ocon an "embarrassment" following his controversial Brazilian Grand Prix collision with Max Verstappen.
Ocon received a 10-second stop and go penalty for clashing with race leader Verstappen while trying to unlap himself, spinning the Red Bull and handing victory to Lewis Hamilton.
Villeneuve suggested it was proof Ocon lacks racecraft.
"Ocon is an embarrassment," Villeneuve told Autosport.
"That was ridiculous. And the worst bit is everyone has seen what happened, and on the radio not even a 'Sorry guys I was wrong.' It's good to accept you're wrong.
"You can unlap yourself, but do it properly, you're not allowed to put the leader at risk at all. You don't do something that loses time for the other driver, and is taking a risk.
"Overtaking on the straight and you're in front is fine. But that looked like it was a battle for the lead.
"But also it shows he has no racecraft, zero racecraft whatsoever.
"All the incidents in the last two years where maybe it's his fault, maybe it's not, you can kind of think that maybe he was in the wrong, because he hasn't read the race properly. And he never learns, because it's never his fault, ever."
Villeneuve said he had "100%" sympathy for Verstappen, who was given a 'public service' punishment for pushing Ocon in a post-race confrontation.
"I thought he was very restrained in his reaction. He didn't even punch him!" Villeneuve added.
"What do we want to see? We want to emotion, we want to see these gladiators. It was good to see that. And the other one is taller than him anyway!"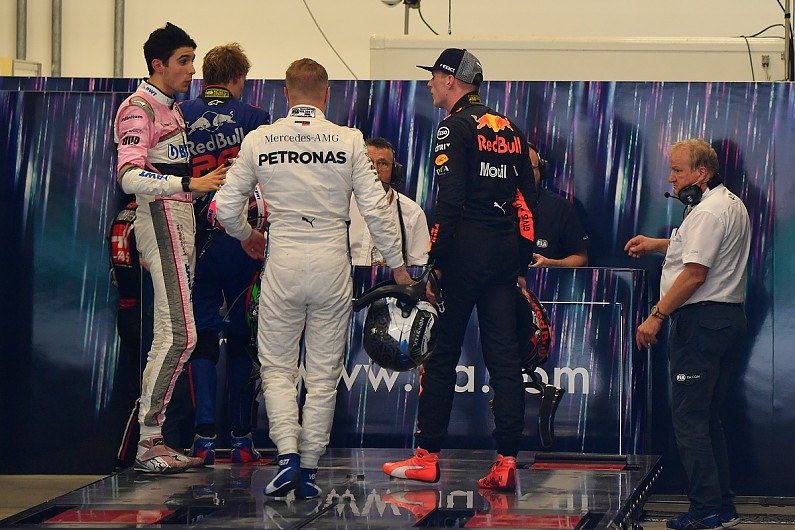 Verstappen had overtaken both Mercedes and both Ferraris on the way from fifth on the grid to the lead.
"Max was amazing, and his overtaking early on without DRS was aggressive and clean," said Villeneuve.
"It's a different Max. It looks like after Monaco he took [Daniel] Ricciardo's talent, or what was good in Ricciardo as well.
"He got rid of what was nasty and took what was good from Ricciardo, and has really made a step.
"In the last few races he's been very impressive."
Force India has resolutely defended Ocon, stressing the pace advantage he had at the time on new supersofts.
Team principal Otmar Szafnauer told Autosport: "Max is probably doing five, six or seven slow laps to bring his tyres in.
"We have another race to run. We can't afford to lose even a half a second a lap for six laps.
"So he asked, 'Can I unlap myself?' [We replied:] 'Yeah, unlap yourself. You've got a tyre advantage, you're faster'.
"Max knew he was there, because they went side-by-side into Turn 1. It didn't happen in Turn 1, so he knows he's there.
"Where else is he going to go if he takes the apex?"