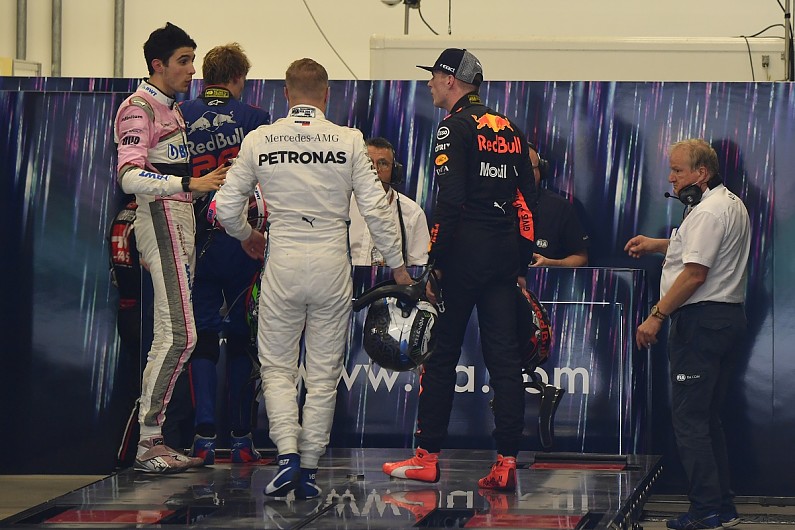 Max Verstappen says Esteban Ocon was "being a pussy" when the two Formula 1 drivers started shoving each other in retaliation to their controversial Brazilian Grand Prix clash.
Verstappen spun from the lead of the race after he and Ocon made contact at the second corner, where Ocon was trying to unlap himself.
That dropped Verstappen to second and after the race he confronted Ocon while they were being weighed, shoved the Frenchman and was shoved back.
Asked by Autosport to explain what happened, Verstappen said: "I don't really have lots to comment on that, except that he was being a pussy."
Ocon was judged at fault by the stewards and received a 10-second stop-go penalty.
Immediately after the race Verstappen said Ocon had been "such an idiot" and he later reiterated his belief that Ocon was the aggressor.
There was contact on the track, and a bit off it too ? #BrazilGP ?? #F1 pic.twitter.com/OajZ1UM4lL

— Formula 1 (@F1) November 11, 2018
"We had a great car today," said Verstappen. "I'm very happy with that, the strategy was also working really well. We could do our own pace until I got taken out.
"I think a penalty says enough. If the stewards give him a penalty you know who was wrong in that situation.
"You can easily say afterwards that I have much more to lose than him but I'm just trying to do my race.
"Suddenly a backmarker is trying to race you and taking a stupid risk to dive inside. What can I do about it?
"The penalty for me is that I lost the victory but hopefully in 15 years' time we can laugh about it."
Asked if Ocon's penalty was too lenient, Verstappen said it did not matter because it did not change his own result.
Lewis Hamilton, who inherited the win, said he would have handled Ocon differently in Verstappen's position and told Verstappen post-race that Ocon was not in the wrong to try to unlap himself and Verstappen had more to lose.
Addressing the media post-race, Verstappen said: "Of course they have the right to unlap themselves but you have to be careful. That has always been the case."
Both drivers were summoned by the FIA regarding the shoving incident.