Aston Martin has ramped up plans to enter Formula 1 as an engine supplier from 2021 by recruiting ex-Ferrari F1 engine chief Joerg Ross and starting work on its concept.
The British manufacturer, which will become Red Bull's title sponsor next season, is interested in F1's next engine rules cycle but wants costs to be reduced significantly.
Aston Martin president and CEO Andy Palmer said he was "encouraged" by the direction of the 2021 engine plans that were presented by F1 bosses last month.
Ross, who worked for Ferrari as head of engine mechanics and then head of base engine between 2004 and '07, joined Aston Martin in August but has since been moved to focus on the car maker's F1 concept.
He will team up with Luca Marmorini (pictured below during his time with Toyota).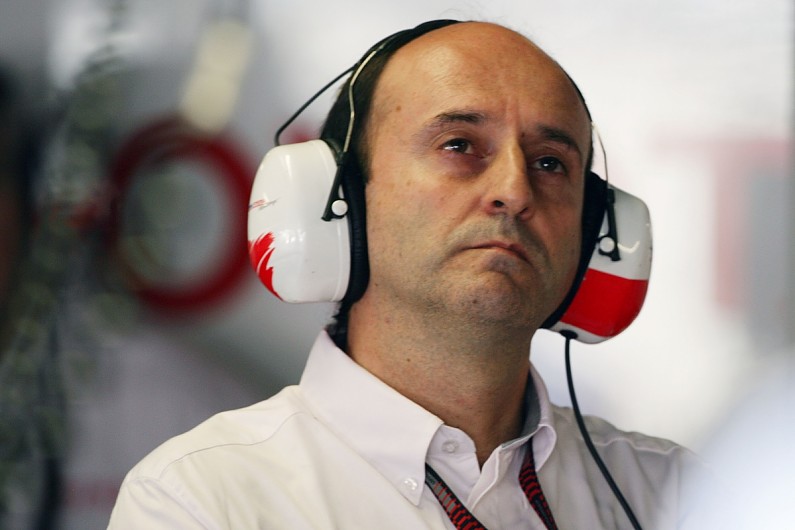 Marmorini, who held the same role as Ross at Ferrari during the mid to late 1990s, was previously taken on by Aston Martin as a consultant. That role has now been made permanent.
"I've engaged Luca full-time now to help us with developing the concept engine," Palmer told Autosport.
"I've got Joerg Ross, he's already working for me on our internal engine development and is ex-Ferrari Formula 1. He will work on the F1 project.
"So I've got two good people now to start thinking about our concept."
Palmer said Marmorini has already started working on Aston's F1 concept and hoped his experience in the championship will help Aston in the long term.
"Luca started his concept thoughts just last week so it's fairly early days," he said.
"But he's a good guy to have onboard and lucid about who he thinks we should work with, who we could work with, from his experience what didn't work so that will save us time."
While the independent manufacturers were in favour of the 2021 engine proposal, F1's existing manufacturers were less so.
Mercedes and Renault suggested the new rules could lead to an arms race while Ferrari was so unhappy, it threatened to quit.
"I'm surprised they have been as vociferous as they have been because I think it was pretty well signalled within those meetings," said Palmer.
"I don't know whether they feign surprise. I don't think it was a huge surprise.
"In those meetings, you had the incumbents and you had the challengers. The challengers are aligned and the incumbents are aligned.
"But everyone around the room accepted that the sport is broken. And we need to bring back the entertainment.
"The entertainment is about drivers racing, its not about the heat recovery on an engine."