Kimi Raikkonen says it is "pointless" to study Friday Formula 1 lap times as "it's so easy to make somebody look good", after Ferrari overhauled Red Bull in Singapore qualifying.
Daniel Ricciardo lapped seven tenths clear of Lewis Hamilton's Mercedes in Friday practice at Marina Bay, while Raikkonen was nearly two seconds adrift in the best of the Ferraris.
But Raikkonen's team-mate Sebastian Vettel closed to within a tenth of the pace set by Max Verstappen in final practice on Saturday, before beating the Red Bulls to pole by more than three tenths in qualifying.
Raikkonen would likely have joined Vettel on the front row without a mistake on his final Q3 lap, and suggested Vettel's result indicates how misleading Friday practice form can be in F1.
"It all seemed to change for qualifying, but we have seen that in other weekends," Raikkonen said.
"Some teams can be quick very early in the weekend and then everyone closes up and bunches up a bit.
"Different fuel loads, or runs, it's so easy to make somebody look good.
"It's a bit pointless to look at the Friday times and say 'this team will be ahead of others'.
"More often than not, everyone bunches up. The top three teams are usually closer to each other.
"Since yesterday, we - well at least myself - was nowhere near to the Red Bull; today, without some mistakes, we could have [both] been ahead of them."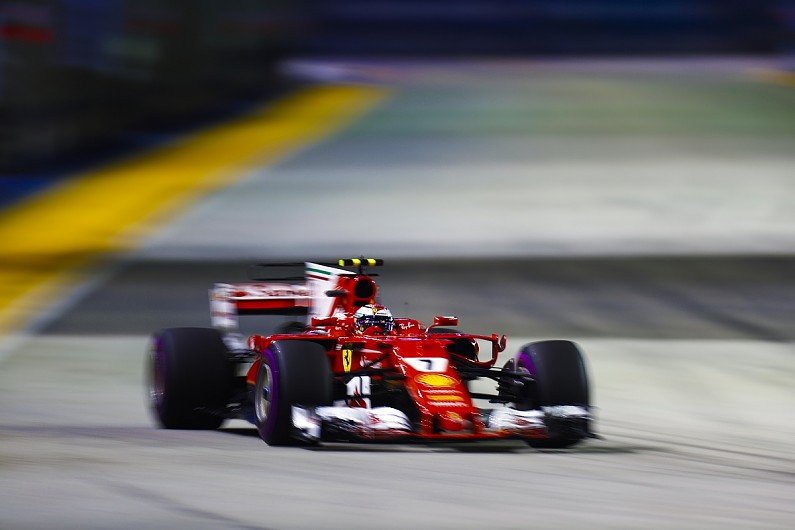 Raikkonen said Ferrari was struggling to improve the car without making it worse in other aspects as it battled to turn things around after a difficult Friday.
He said he did not feel comfortable with his Ferrari's handling as he ended up fourth, two tenths adrift of Ricciardo's Red Bull.
"It's been a difficult weekend, all the way through," Raikkonen added. "Qualifying was the best that it has been so far but it still definitely didn't feel easy.
"It just didn't feel like I would expect. I was fighting and trying to get a good lap, but [it was] easy to make mistakes and easy to lose lap time.
"It's a tricky circuit, a lot of corners, a lot of places where it is easy to make a mistake. You take it to the limit, sometimes you get away with it, sometimes not.
"OK, it is never going to be easy anywhere, but you expect things to be making sense.
"It's fighting with different issues, and improving one but creating another one. It's small things.
"I'd take the fourth place because if you look until before qualifying, it could have been awfully more worse."