Sebastian Vettel believes the Ferrari Formula 1 team has a very quick package for the Austrian Grand Prix, despite gearbox problems interrupting his Friday practice sessions.
The morning only lasted four laps for Vettel before he had to park his car on the exit of Turn 1, while he was then ordered back to the pits shortly after setting the best lap of the day in practice two.
"Unfortunately there are days like this, and today these things came together to stop us from some quite important running," said Vettel.
"I'm not really worried. Sometimes that happens.
"We know that we have a good car, and that it works well around here.
"I didn't get many laps today, but the car felt good and competitive.
"Hopefully we can stay with Mercedes as much as possible and then it will be an interesting qualifying."
He said he had stopped as a precaution in the afternoon with a suspected gearbox problem.
"There are plenty of sensors, and one was not happy, so it was screaming," Vettel explained.
"So I slowed down and came in and now the guys are looking into it.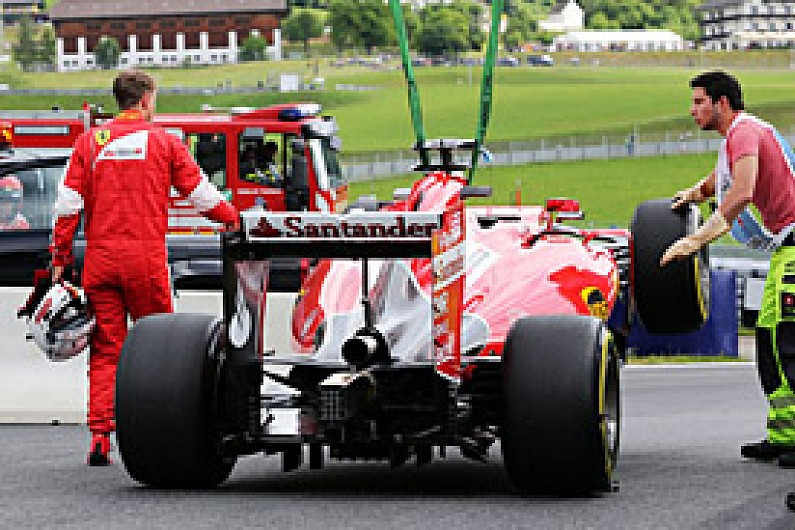 "Always better it happens in practice than the race, but we need to understand what happened and make sure it doesn't happen again."
Ferrari was unable to do a long run on super-softs with either car as Kimi Raikkonen flat-spotted his set after just a few laps, although the Finn was competitive on heavy fuel on the soft tyre.
"It's a shame I destroyed the super-soft and the other car couldn't do the long run but we should be OK," said Raikkonen.
"It's one of those things, it didn't work out like we wanted, but we did the soft long run and more or less everything is OK."
Vettel's result was the first time in the 2015 F1 season that a team other than Mercedes had ended Friday on top.
But Nico Rosberg - who was 0.011 seconds slower in second place - said the Red Bull Ring's 2.688-mile length naturally closed the field up.
"We're always a bit worried about Ferrari as they're our closest rival, and naturally they're closer here because it's a very short track," said Rosberg, who felt his own best lap was compromised by locking up at Turn 3.
"They seemed quick today. They were good in qualifying [trim] and on the long run they were even closer, but in general everyone's closer here."
Championship leader Lewis Hamilton was only fifth after failing to get a mistake-free lap on super-softs.
"Today I was pushing and just learning along the way," he said. "If you don't make any mistakes then you're not trying.
"I don't know how our pace is compared to others, but the Ferraris looked quite quick."