The Lewis Hamilton freight train continues to bear down on Michael Schumacher's Formula 1 records, but for now his achievements of 91 wins and seven world championships remain at least a couple of years out of reach.
To put Schumacher's tally of wins into perspective, that's one short of the combined win totals of F1 legends Ayrton Senna and Alain Prost, and only 81 drivers in the history of the world championship have started more races than he's won.
Not every win among those 91 is something to be proud of - with the 2002 Austrian Grand Prix team orders fiasco, including awkward podium swap with Rubens Barrichello not going down as anybody's finest hour.
But fear not Schumacher fans, this is all about the days that were memorable for all the right reasons. Unfortunately, as we've limited ourselves to selecting from his wins, stunning performances such as the 1994 Spanish GP, where he finished second despite being stuck in fifth gear for a large part of the race, are not up for consideration.
10) 2006 Chinese Grand Prix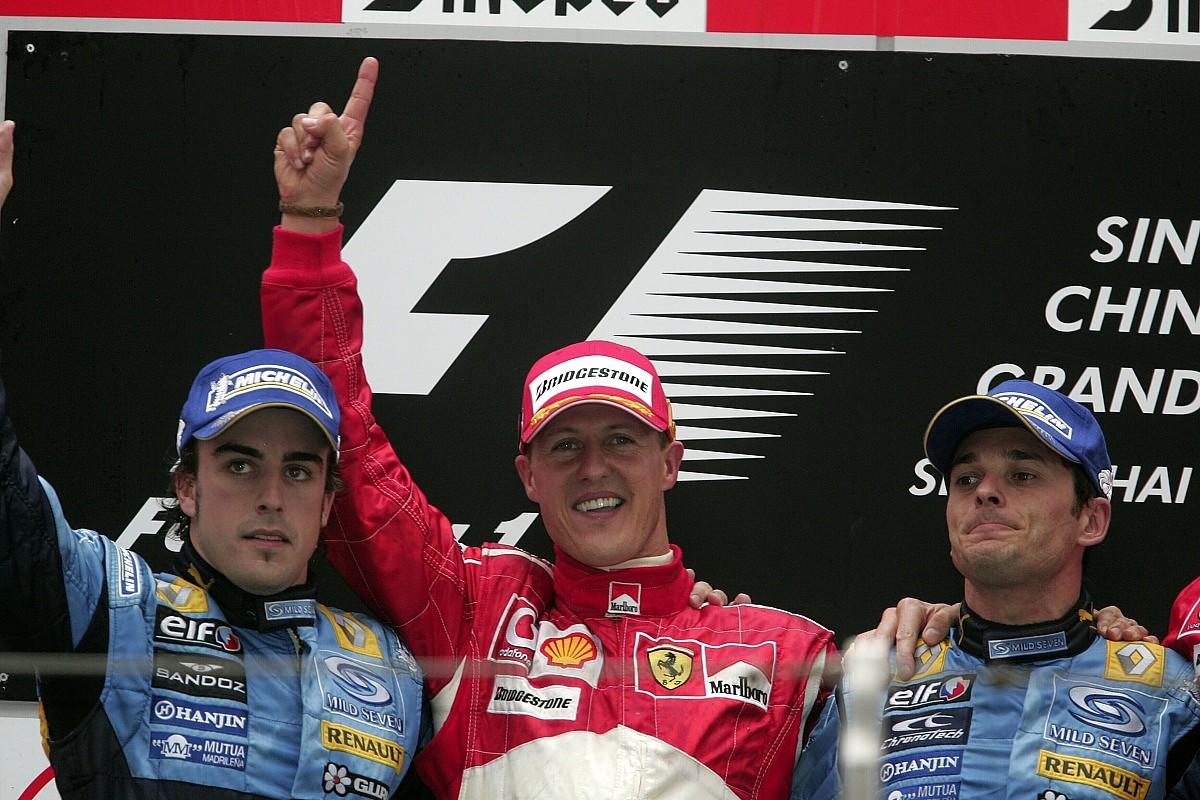 Our countdown begins with the 91st and final victory of Schumacher's career, one that came at a crucial time in the 2006 title race.
Schumacher ran sixth in the early laps while championship rival Fernando Alonso streaked away in the lead, but by lap 17 of the 56 he was up to third and hounding the second Renault of Giancarlo Fisichella.
At the first round of pitstops Schumacher and Fisichella opted against changing their intermediate tyres in the drying conditions, while Alonso's decision to take on new fronts proved costly.
Schumacher hounded the Renault drivers as Fisichella made a bit of a mess of dealing with his struggling team leader, and once they were both past Alonso it was up to Fisichella to keep the Ferrari at bay.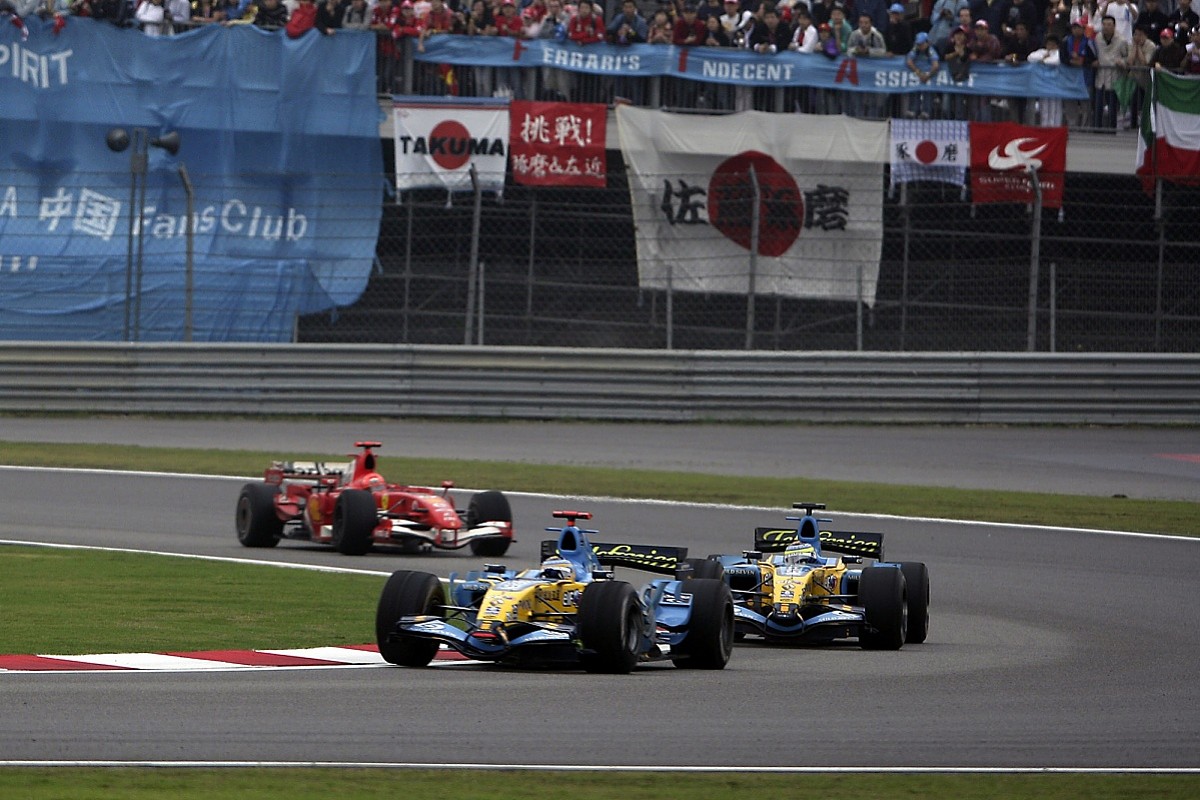 But Schumacher seized an opportunity when Fisichella came out of the pits on slick tyres, the Renault running wide at the damp first corner and leaving just enough room for Schumacher to sneak up the inside.
Alonso recovered from his forgettable middle stint and a disastrous second stop to close a 24-second gap to just three by the end, but it was too little too late. With so much on the line in the title race Schumacher didn't crack under the increasing pressure and the final victory of his career put the title rivals level on points with two rounds remaining that season.
9) 2004 French Grand Prix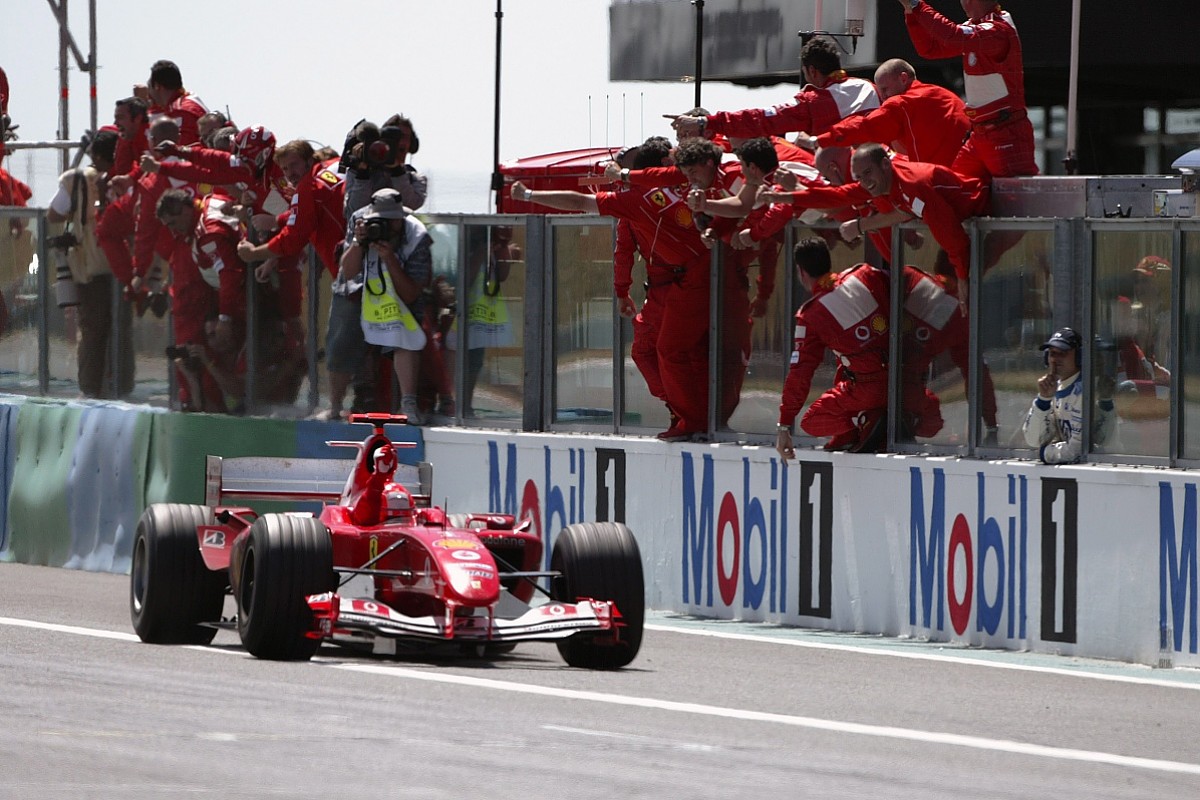 It's hard to pick out the standout performances from the most dominant years of the Schumacher/Ferrari partnership, mainly because they made their competition look average on an almost weekly basis.
But one race that stood out from Schumacher's record-breaking 2004 season was the French Grand Prix, where the Ferrari pitwall outfoxed Renault at its home race with a four-stop strategy.
Renault's starts were superb during this era of F1, so nobody was surprised to see Alonso convert pole position into an early lead. The question was how could Ferrari find a way to get Schumacher ahead to exploit the fact he had the faster car in race trim.
Ferrari hatched a plan on raceday to take advantage of the short Magny-Cours pitlane, which meant the time lost to making a pitstop was not as big as it would be at most circuits - just 11 seconds plus the time the car was stopped for.
The strategy allowed Schumacher to jump Alonso by getting out of sync with the Renault to find clear track, and it also forced Renault into short-fuelling in the pits when it thought Ferrari had done the same thing.
Alonso paid the price for that by being heavy in his final stint, unable to respond to a string of classic qualifying laps from Schumacher when it counted that allowed the Ferrari to build a gap big enough retain the lead despite making an extra pitstop.
A Ross Brawn masterstroke? Not this time. Ferrari strategist Luca Baldisserri cooked this one up, and Schumacher delivered in fine style.
8) 1992 Belgian Grand Prix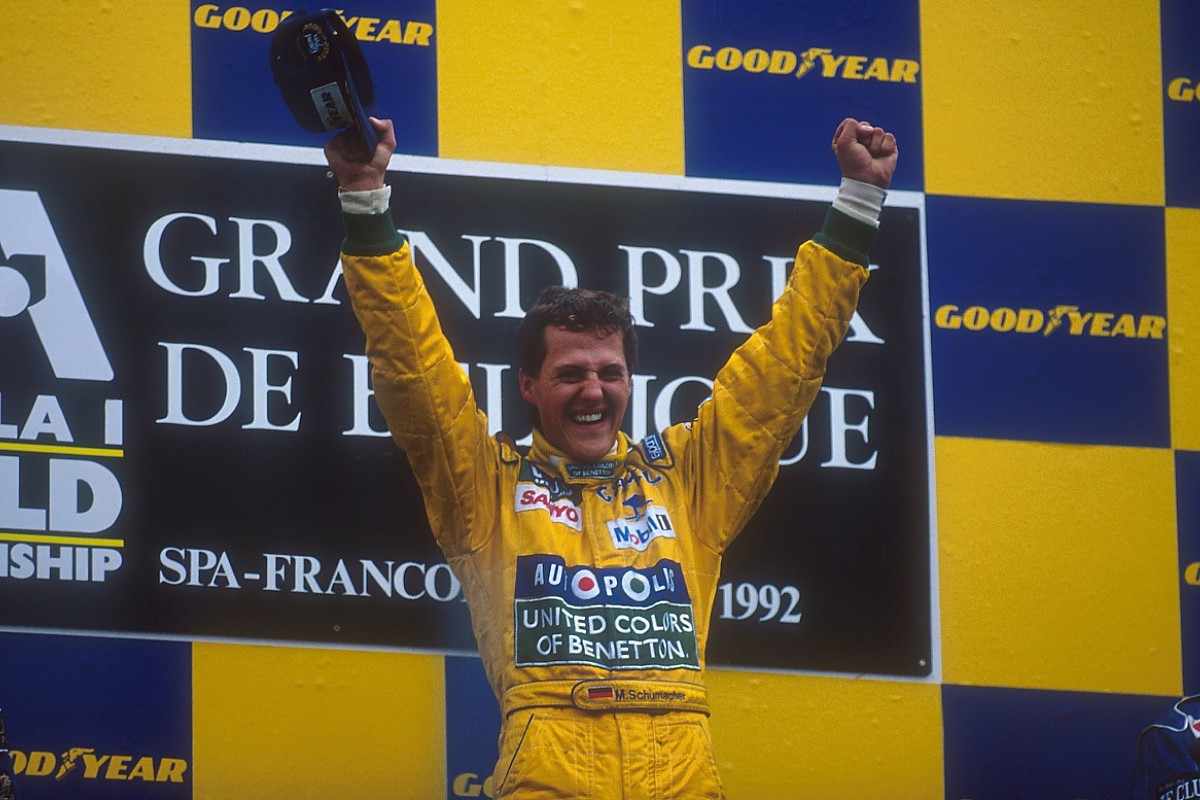 One year on from his debut for Jordan at the same track, Schumacher became a grand prix winner for the first time at the iconic Spa-Francorchamps circuit.
Rain in the early laps forced the drivers to pit for wet tyres, but it was the timing of Schumacher's stop to switch back to slicks that put him in a race-winning position.
Having slid off the road with 14 laps to go, Schumacher ended up behind Benetton team-mate Martin Brundle. On seeing the state of the Brit's rear tyres, he made an on the spot decision to come in immediately as he assumed his own tyres were also in trouble.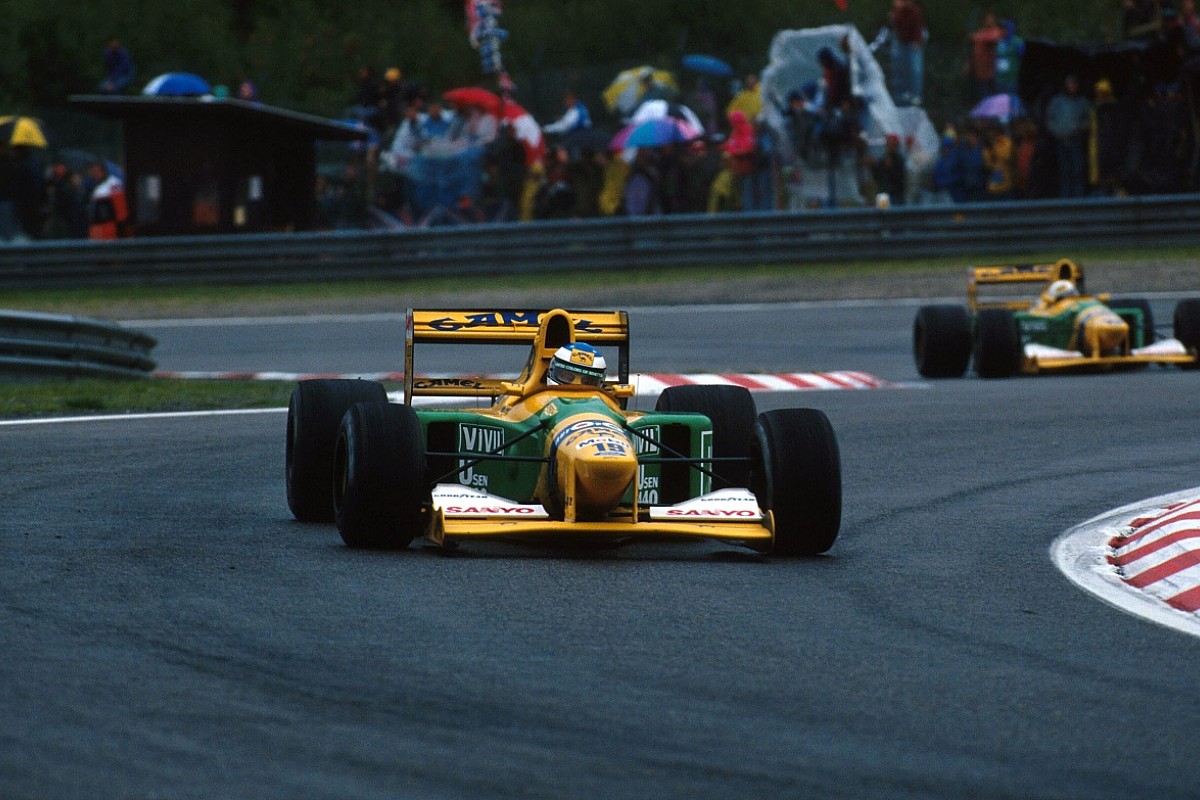 This vaulted him into the lead once the other leading cars came in, and world champion Nigel Mansell's pursuit in the dominant Williams FW14B was halted when an electrical problem cost him between 1000 and 1400 rpm and dropped him off the pace.
Schumacher just had to bring it home take the first of 91 victories, but two laps from the end, in mixed conditions, he was - in the words of Autosport's report - "stunning", setting a lap time just seven tenths slower than he managed in qualifying.
"Schumacher always had the look of a man for whom it was only a matter of time," was Autosport's verdict. "This, we may be sure, was the first of many."
7) 1994 Brazilian Grand Prix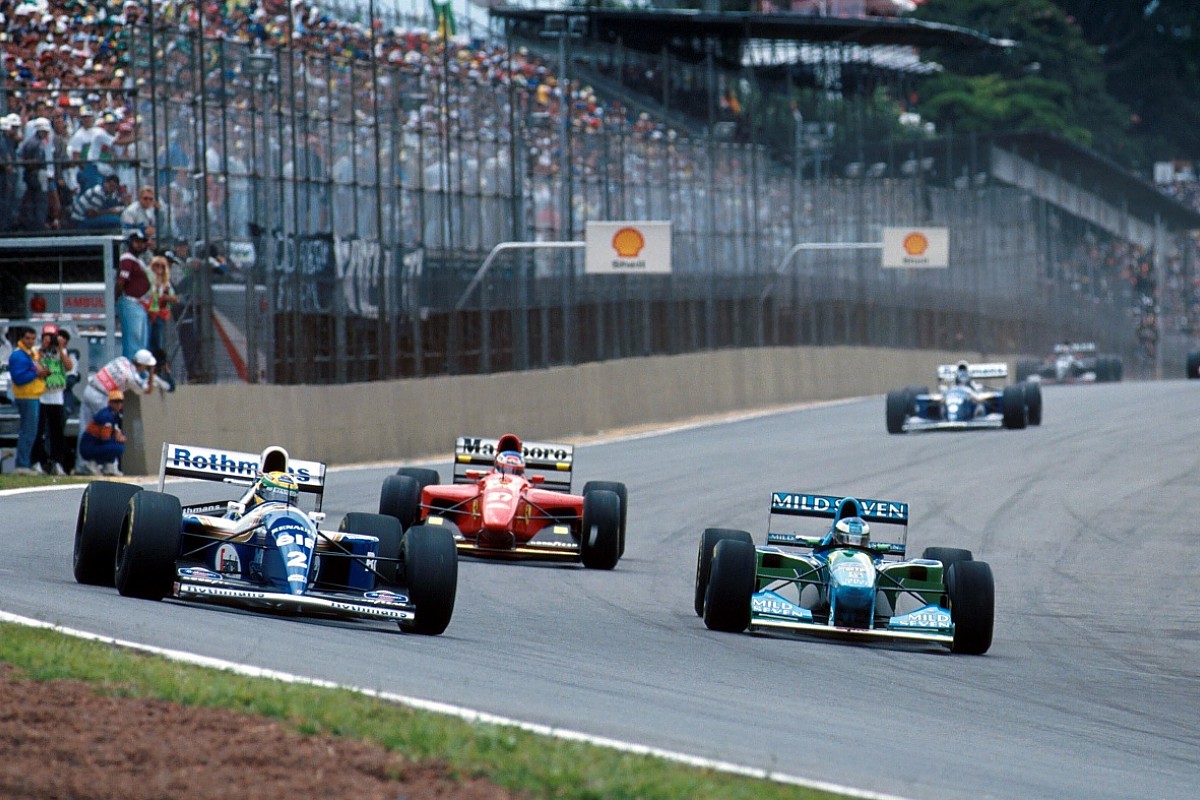 By the start of the 1994 season Schumacher was only a two-time grand prix winner, but he kicked off the year triumphing in a head-to-head with Ayrton Senna on the three-time world champion's home soil in Brazil.
Senna led away from pole at the green light, while Schumacher had to deal with the fast-starting Ferrari of Jean Alesi before hounding Senna for the lead as they left everyone else for dust.
With refuelling returning to F1 for '94, Schumacher's Benetton team managed to jump Senna's Williams in the pits on lap 21 and he controlled the gap for the remaining 50 laps, extending his lead during the second round of stops.
Schumacher's pace eventually forced the great Senna into an error in the difficult Williams FW16, which was not a patch on its predecessors that had convinced Senna he needed to leave McLaren to join the dominant force in F1. Williams would need a chunk of the season to get on top of the driver aids ban for '94, and Senna spun out with 15 laps to go in Brazil, leaving Schumacher to take victory by a whole lap over Damon Hill.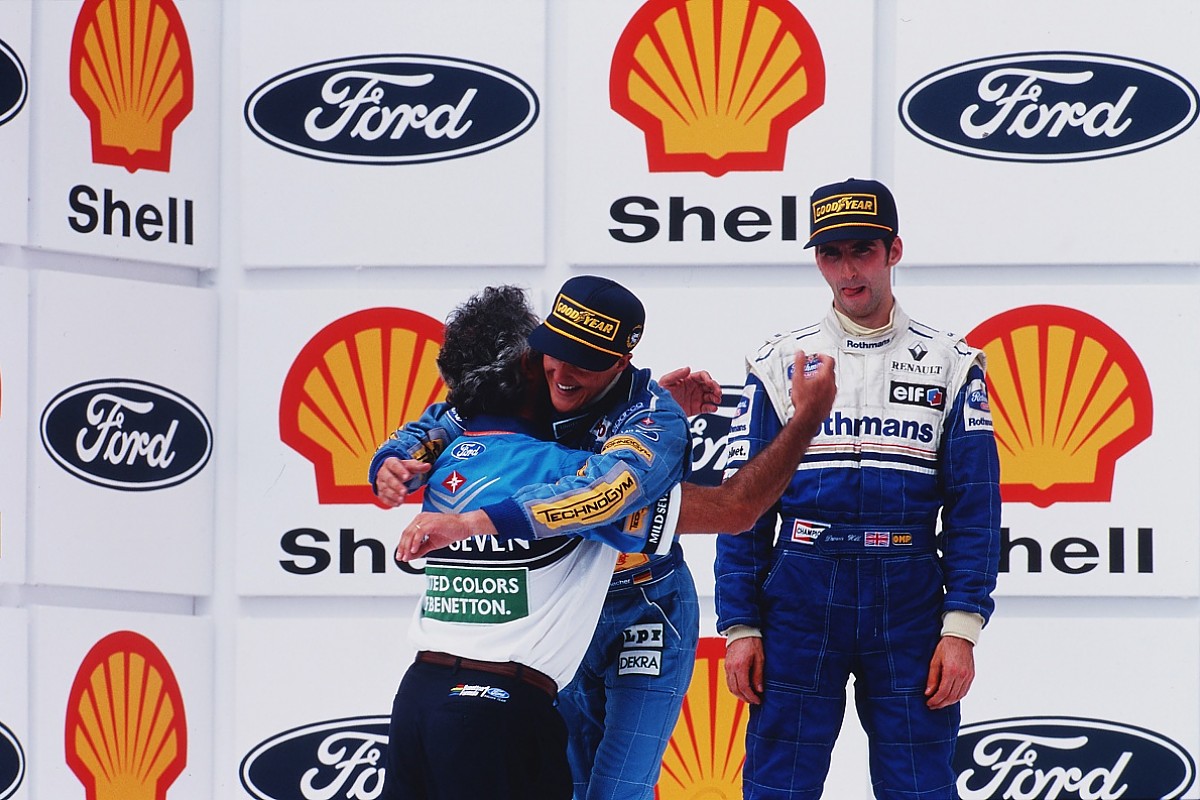 "I was right at the limit and then I got caught out," said Senna. "There was nothing wrong with the car. I was pushing too hard - it was my mistake."
Schumacher, meanwhile, said: "I never really felt under pressure. I could control the gap when necessary, just by pushing a bit harder. Everything felt so easy. I felt sorry for the spectators - I know they'd come here to see a Senna win, but I wanted something different."
6) 1995 Belgian Grand Prix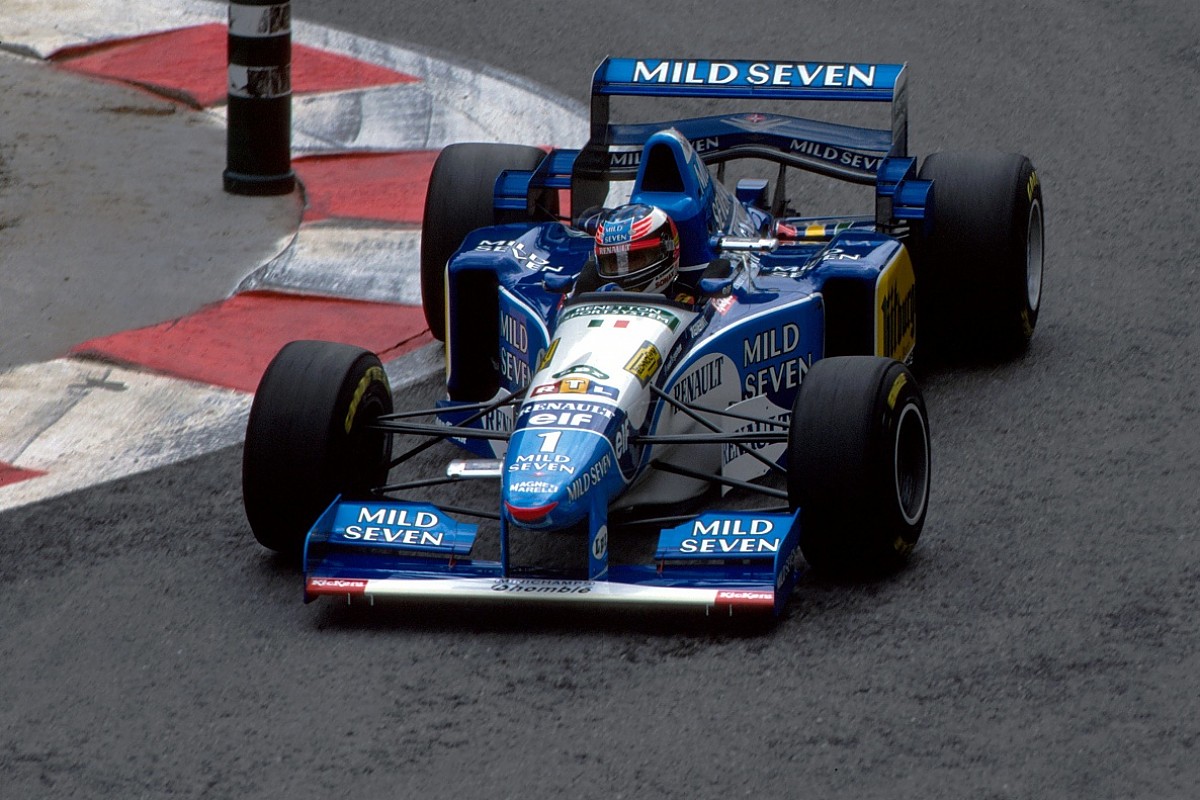 Schumacher is a six-time winner at the famous Spa circuit, and his 1997 victory is perhaps the most glaring omission from this list. But his '95 success is surely his most famous - featuring a charge from 16th on the grid and one of several clashes with Hill from that season.
With Hill only eighth on the grid the title protagonists were out of the picture early on, but it took them just 15 laps to restore normality and start fighting over the lead.
The next chapter in their spiky on-track history took shape when Hill pitted for wets just before half-distance, and Schumacher stayed out on slicks, convinced the shower was going to pass. His defence of the lead in damp conditions angered Hill and Williams, who protested his driving resulting in a suspended one-race ban for Schumacher.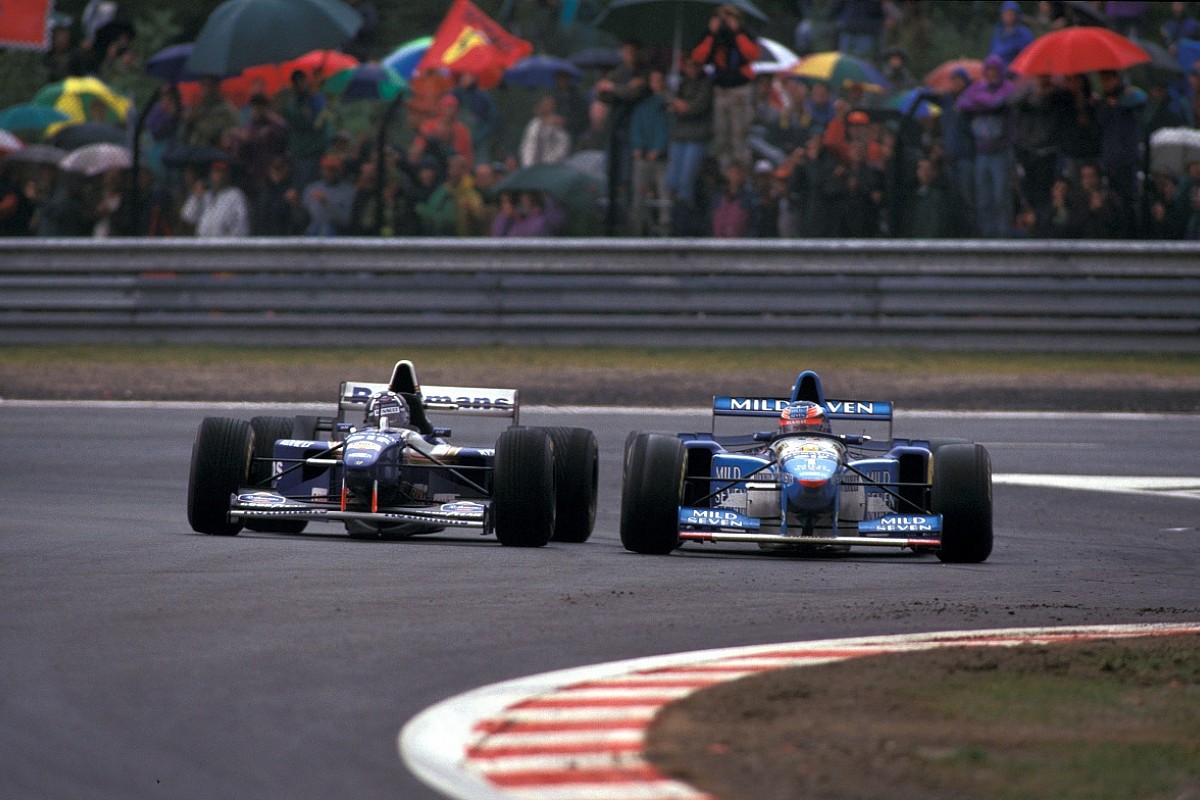 Schumacher's justification for his behaviour, to the amazement of Hill, was to declare that it was OK because he only took risks in lower-speed corners where the consequences of a collision would not be so severe.
Crucially, Schumacher's robust combat prevented Hill taking advantage of his wet tyres, and shortly after the Williams finally got ahead the Spa weather changed again, leaving Schumacher with the upper hand and Hill heading in for another stop.
While the appearance of the safety car appeared to give Hill another shot at victory, his hopes were dashed when he was penalised for pitlane speeding. That left Schumacher in the clear to romp home to the only win of his career that came from starting outside the top 10.
5) 1996 Spanish Grand Prix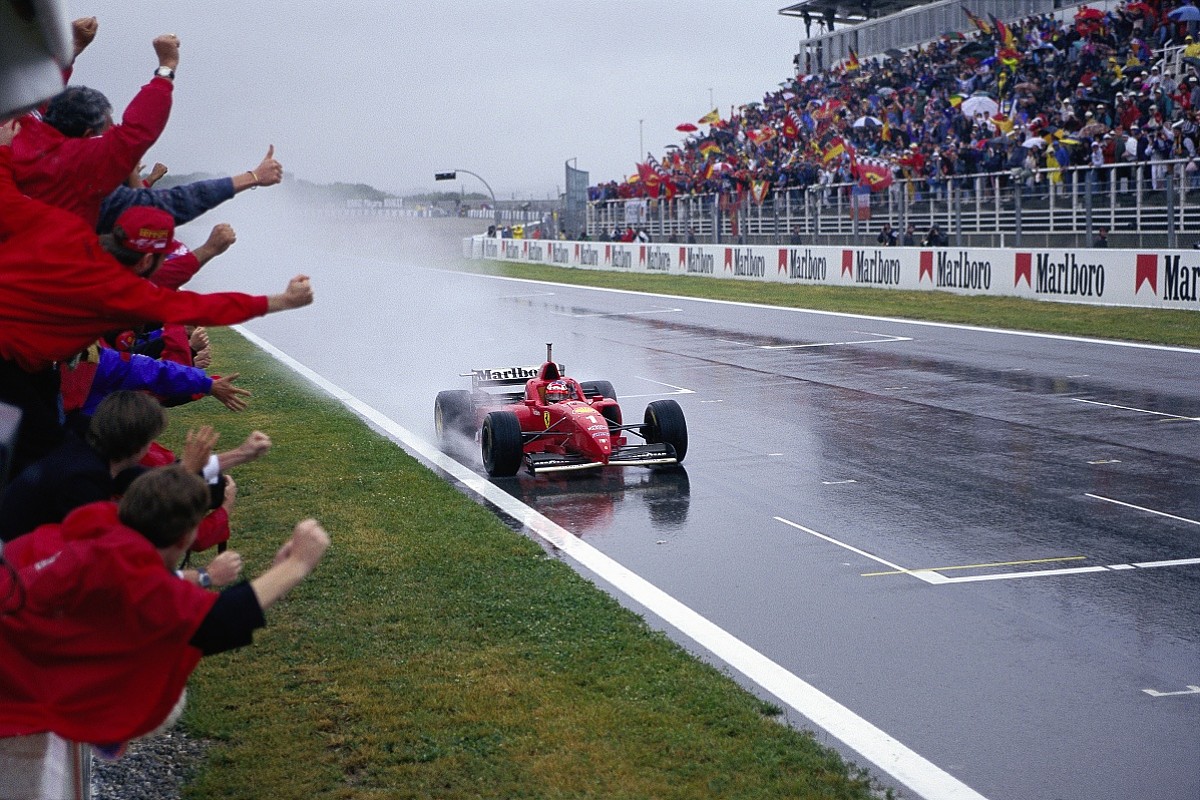 Before the days when a hint of rain meant a grand prix had to start behind the safety car, Schumacher hardly made the getaway of a man about to take a dominant victory in atrocious conditions in Spain.
"Even [Pedro] Diniz passed me," he said afterwards, using the poor Brazilian as an example of how far down the order he fell due to clutch problems.
He ended lap one sixth, five places up on Ligier driver Diniz, and after nine laps he was up to second. Three laps later he passed the leading Williams of Jacques Villeneuve to hit the front.
From there, the contest was over.
Schumacher sailed - almost literally - off into the distance on a dismal Barcelona afternoon, opening a lead of more than a minute before backing off in the closing stages nursing a broken exhaust.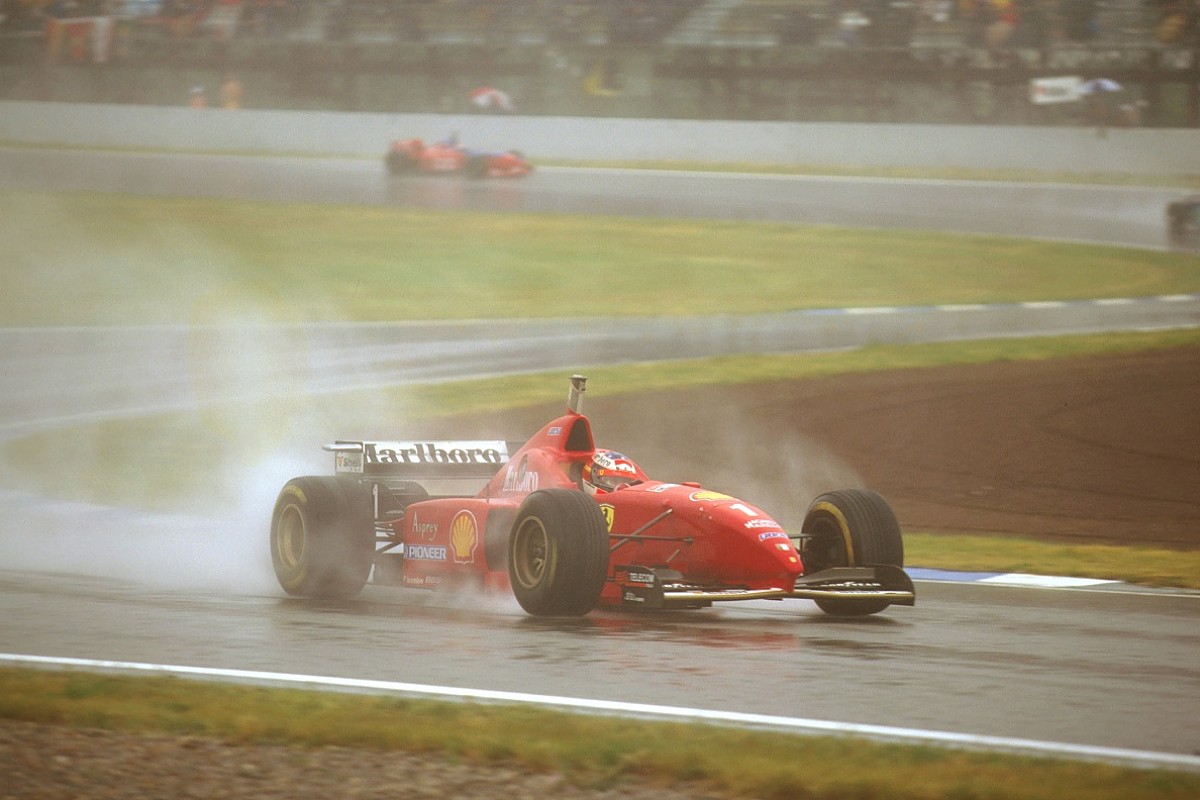 "It was one of the great wet weather drives in history, in comparison with Ayrton Senna's performances at Estoril in 1985 or Donington in '93," wrote Nigel Roebuck in Autosport's race report. "So mesmeric, in fact, you forgot it was supposed to be a race."
Alesi, himself no slouch in wet conditions, beat Villeneuve for second place, but nobody was in the same race as Schumacher, whose fastest lap was 2.2s quicker than anybody else managed all afternoon on his way to the first of 72 wins for Ferrari.
4) 1997 Monaco Grand Prix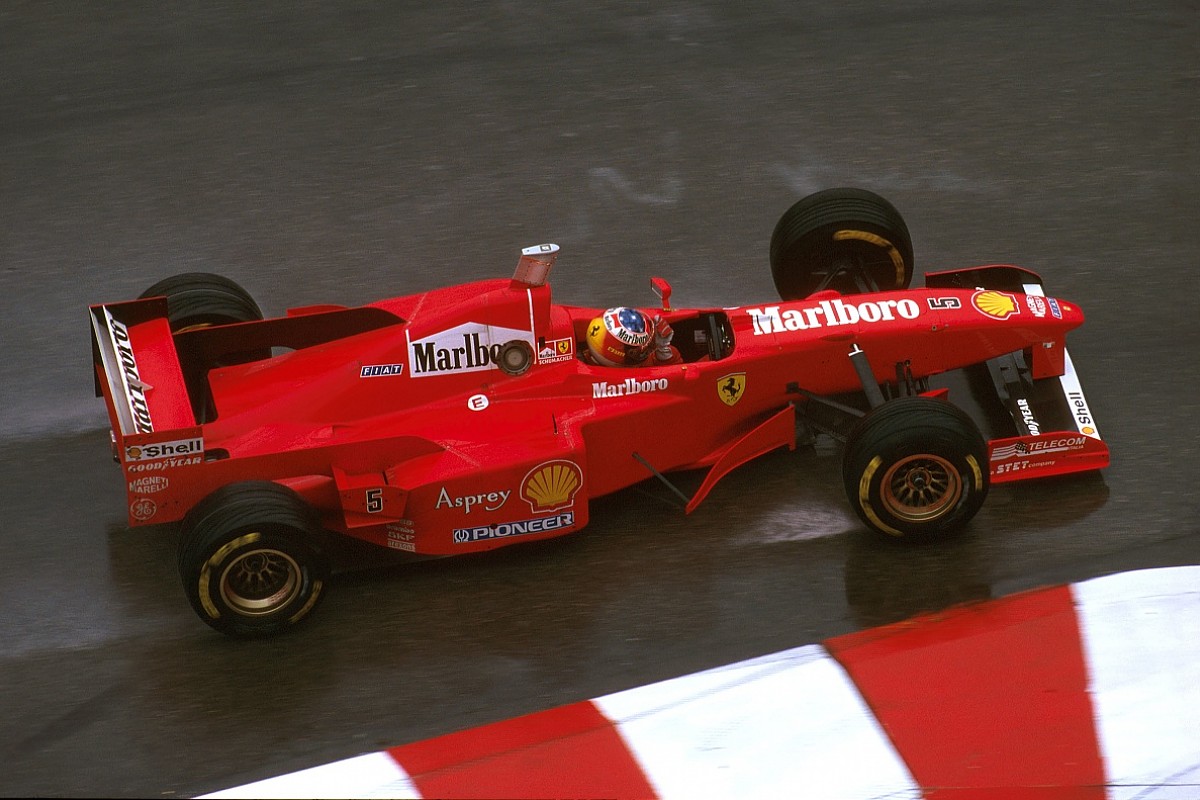 Monaco, rain, and dreadful tyre choices from major rivals: in 1997 this was a one-horse race from the off.
As the Williams drivers slithered around the damp track on slicks thanks to poor weather information before the start, Schumacher disappeared up the road.
He led the race by six seconds after one lap, 11 seconds after two and nearly 16 seconds at the end of lap three. The gap climbed to 75 seconds late on, but following the brief scare of a run down the escape road at Ste Devote on lap 53, Schumacher backed off to take a safe victory.
"Because he's in a Ferrari, Schumacher doesn't win all the time anymore," a rival technical director told Autosport at the time. "That doesn't mean you take him for granted, but you tend to forget just what he is - until he pops in a performance like this.
"In the early laps someone told me that he was on intermediates, and I said, 'I'm sorry, but I just don't believe that'. Not lapping at that speed, on something that's virtually a slick. No way. But he was. The bloke is something else."
Behind, his future Ferrari team-mate Rubens Barrichello took an emotional podium for the new Stewart team, one of only three other cars on the same lap as Schumacher, who took the championship lead as a result of Villeneuve's disastrous afternoon for Williams.
3) 1998 Hungarian Grand Prix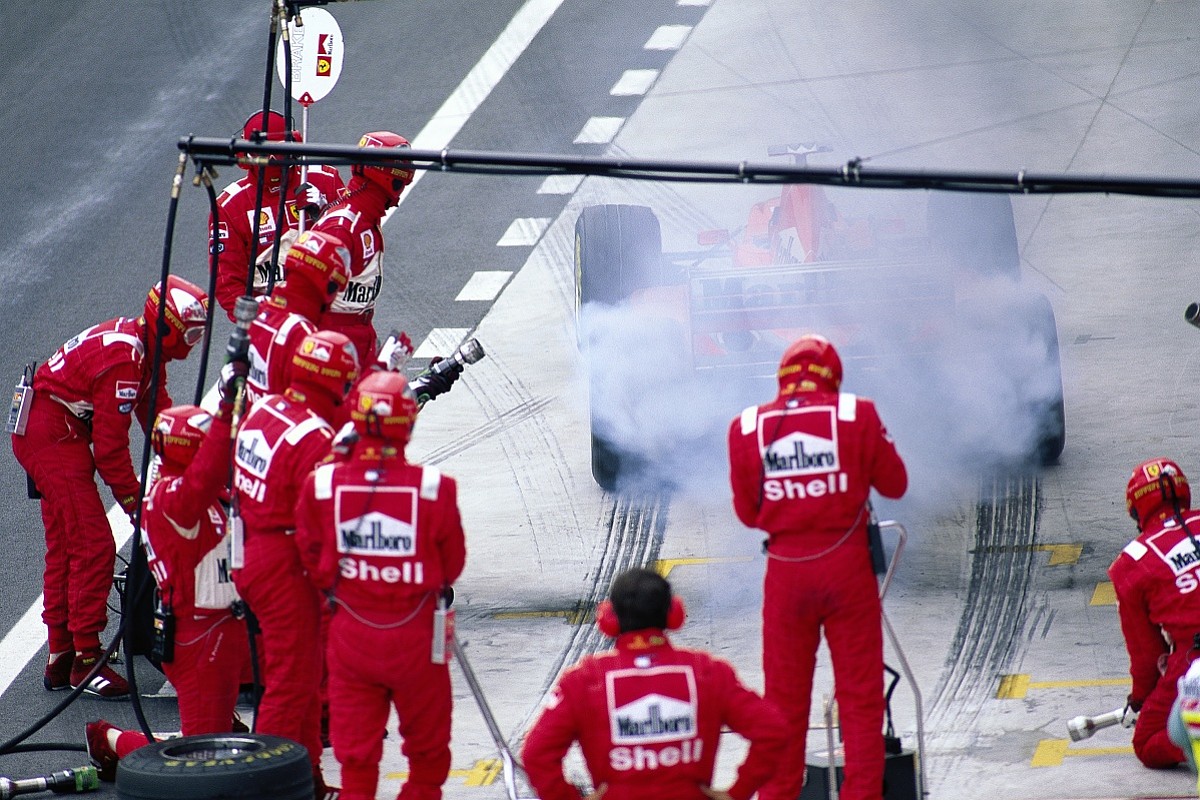 Ferrari's gamble on a three-stop strategy to overhaul the McLarens at the Hungaroring required one simple task: building a lead of 25 seconds in 19 laps. Easy, right?
When pitwall mastermind Ross Brawn explained that scenario to Schumacher on the radio the response was a simple "OK" from the cockpit. Schumacher got his head down and built a lead of 26.9 seconds, and he emerged from his extra stop five seconds clear and on his way to a famous victory.
McLaren tried to cover Schumacher's strategy off with David Coulthard to protect the one-two it held early in the race, but the Scot rejoined from his second stop behind the Ferrari, and erstwhile leader Mika Hakkinen could offer no resistance when his car developed a handling problem after his second stop.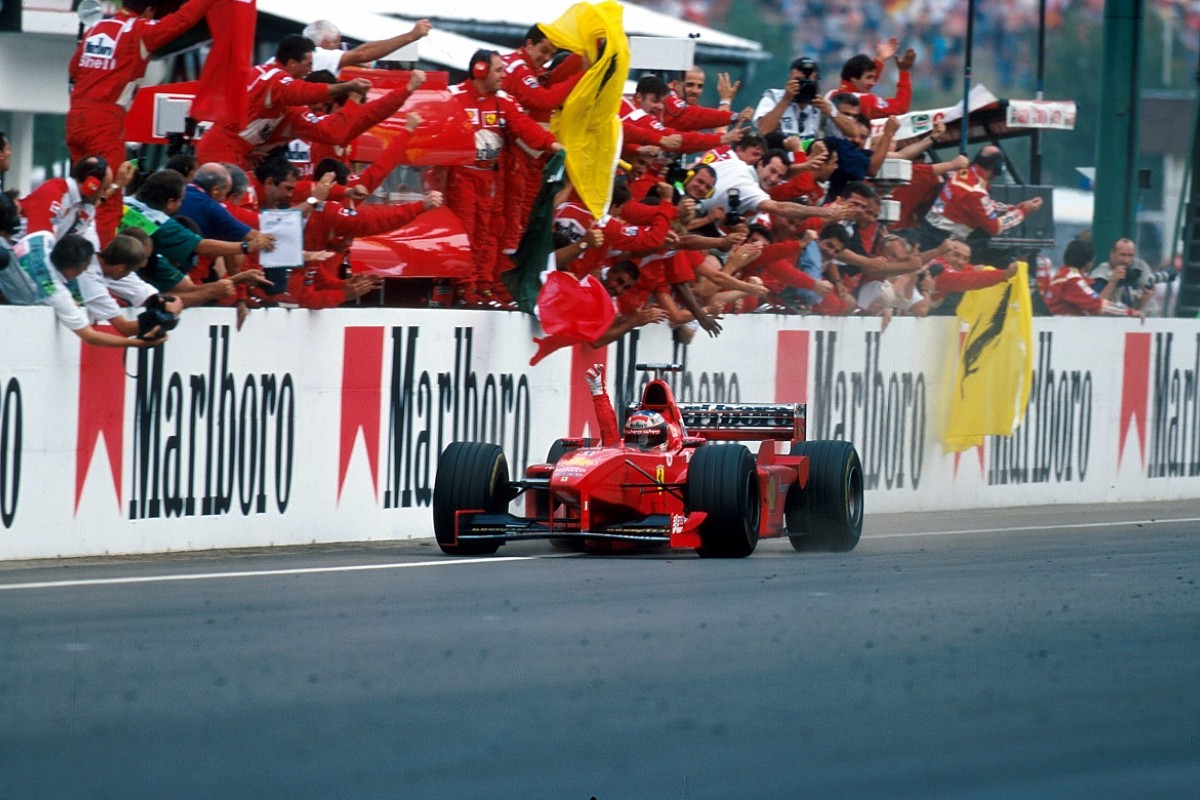 With Schumacher well into his 19-lap charge, miscommunications on the McLaren pitwall meant the ailing Hakkinen also delayed Coulthard for five laps. The heartache didn't stop there for McLaren, as Coulthard had problems of his own in the final stint due to an incorrect tyre pressure.
There might not have been any wheel-to-wheel brilliance from Schumacher here, but it was a masterclass in how to star in F1's refuelling era.
2) 1995 European Grand Prix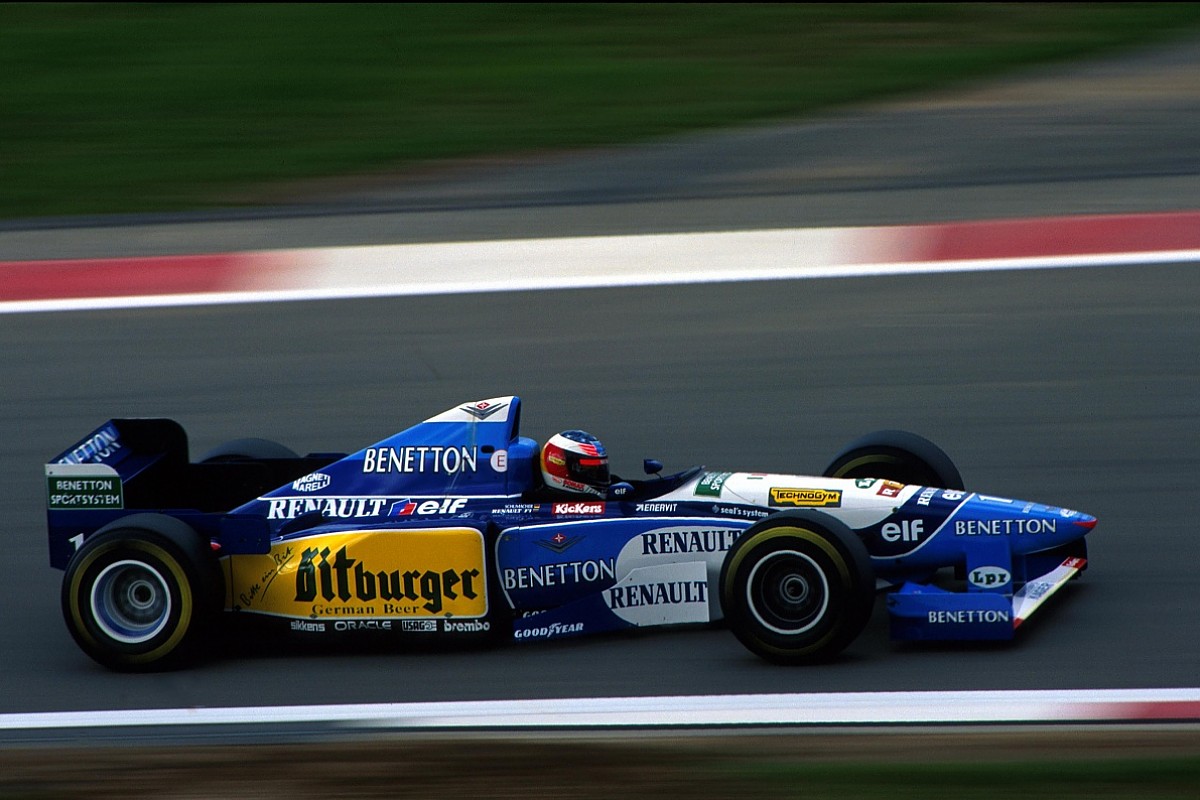 'AWESOME' was the word used on the Autosport front cover to describe Schumacher's performance at the Nurburgring, where he recovered from being 43 seconds behind Alesi's Ferrari to taking the lead just over two laps from the finish.
Alesi inherited the lead thanks to an inspired decision to start the race on slicks despite the track still being damp, so when Schumacher and Williams drivers Coulthard and Hill pitted, the Ferrari was in the clear out front.
But Schumacher was in determined mood, taking advantage of a lighter fuel load to cut as much as two seconds per lap from Alesi's lead. When he caught the French-Sicilian inside the final 20 laps, Schumacher was shocked to learn that he still had another pitstop to make while Alesi was going to the end.
"We'd been on a two-stop strategy, and I'd made two stops," he said after the race. "But the first of those had really been to change from wets to slicks, and they didn't put much fuel in. On the second stop it was the same. I didn't realise this at the time, so when they told me I needed to come in again, I was pretty upset, thinking for sure I would now lose the race."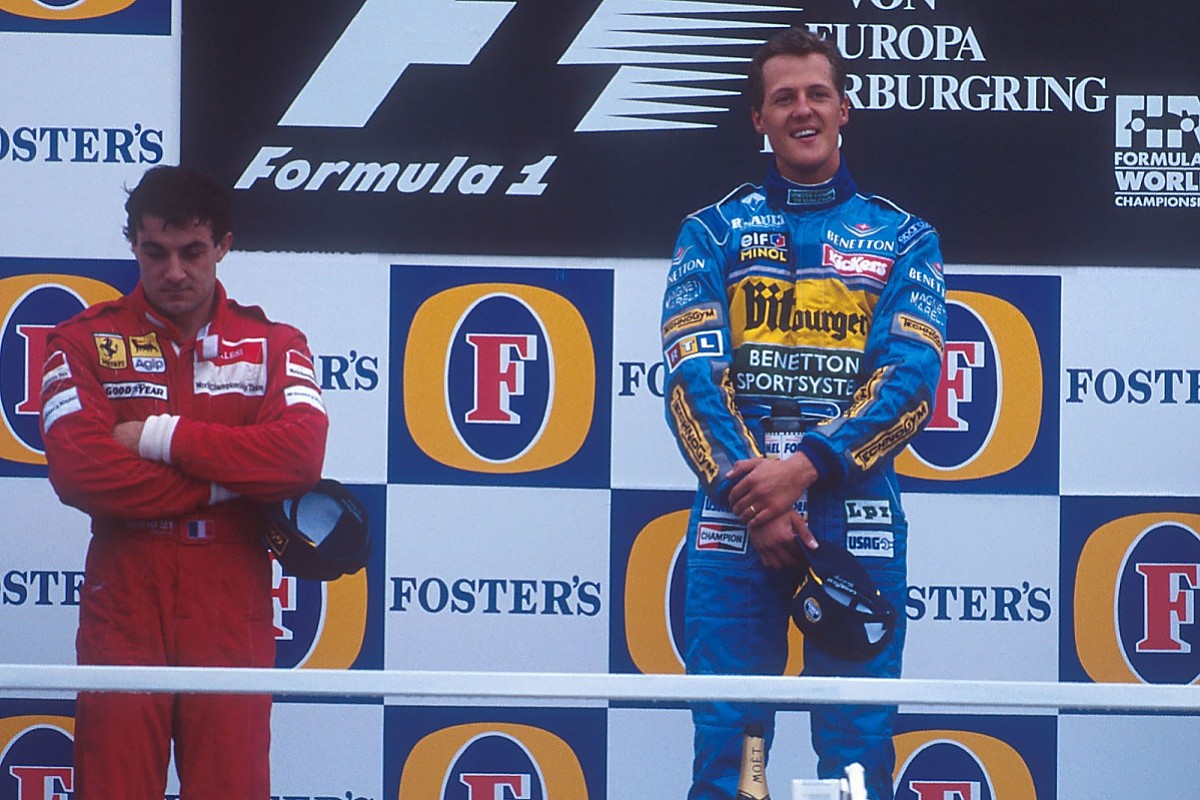 Schumacher emerged from his surprise final stop 24s behind with 16 laps remaining, and when he saw championship rival Hill - who he had collided with yet again earlier in the race - had crashed out, he decided he had nothing to lose with the world championship effectively assured.
He reeled Alesi in again and, after some aggressive defensive driving from the race leader, Schumacher finally muscled his way into the lead at the end of lap 65 of 67 with a daring pass around the outside into the chicane at the end of the lap.
"To watch Schumacher in action now was to witness a great racing driver at his absolute best," wrote Nigel Roebuck in his race report.
As Schumacher celebrated what was clearly the best drive of his career up to that point, even Hill stood trackside on the slowing down lap to applaud a phenomenal performance.
1) 2000 Japanese Grand Prix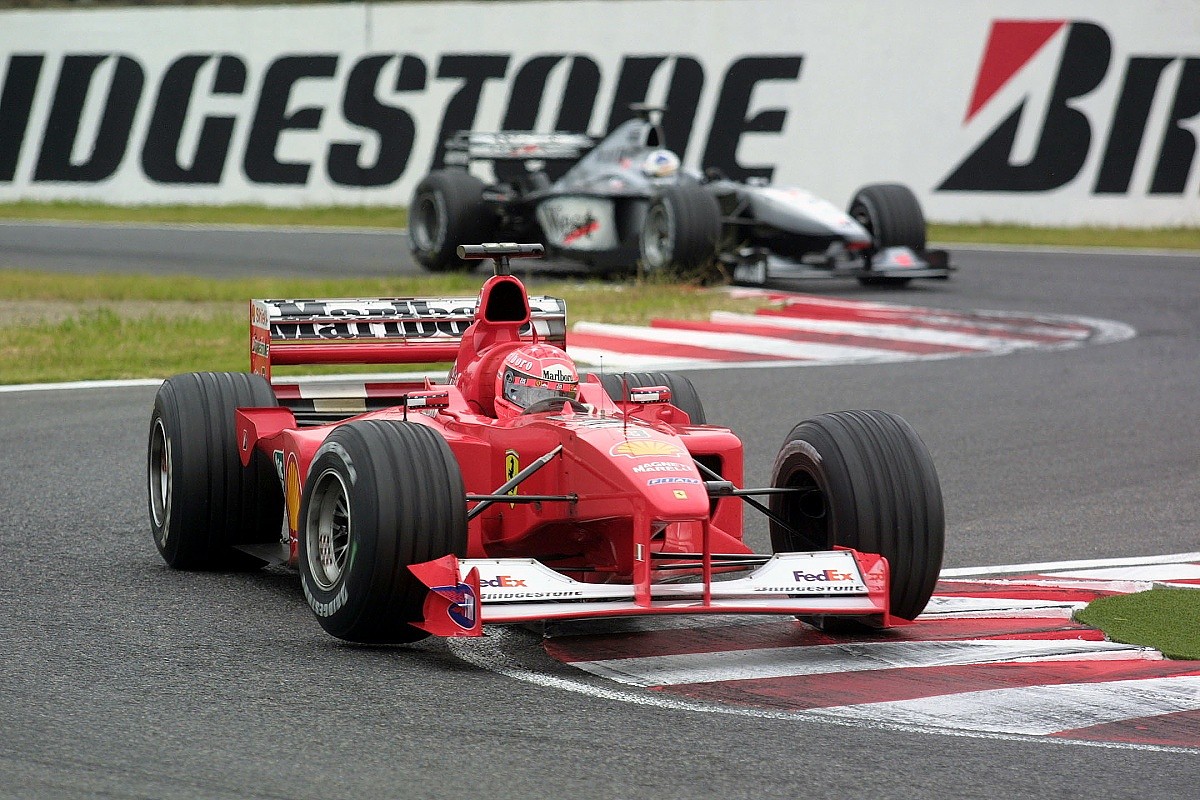 There can be no debate about the number one race on this list, for Schumacher chose it as his greatest race for Autosport's 'Race of my life' series in 2009.
The combination of the long-awaited first world championship with Ferrari and a relentless lights-to-flag battle with his favourite adversary Hakkinen made this the most special of Schumacher's triumphs.
Schumacher only led 19 laps to Hakkinen's 33, but thanks to a charge between the Finn's final pitstop and his own, Schumacher went from the hunter to the hunted in their fight for glory.
It was far from a straightforward charge though, as in the three laps he had after Hakkinen's stop to build a gap, Schumacher had to contend with rain in the air and a spinning Benetton of Alex Wurz (below), but he still managed to emerge fractionally ahead of Hakkinen.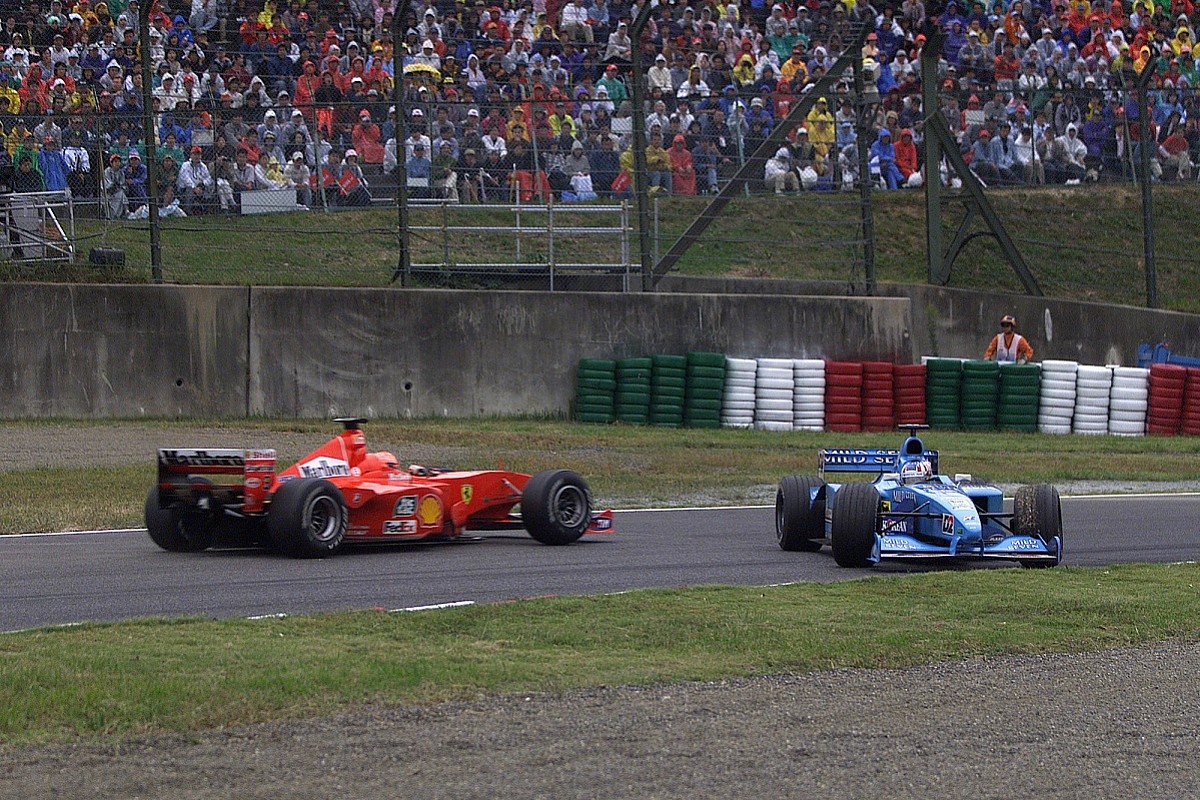 The gap between the two standout performers in F1 at the time was never larger than six seconds, and Schumacher admitted Hakkinen pushed him to his very limits in a race that - in his own words - required more than 40 qualifying laps.
"All my life, I will never forget that radio signal from Ross [Brawn]," Schumacher wrote for us in 2009. "I was driving down the pitlane after my second stop, and he said over the radio: 'It's looking good, it's looking good'. I was very tense, and fully expecting him to say: 'It was looking good', but suddenly he said: 'It's looking bloody good!'
"For over 40 laps Mika and I did almost identical times, like a perpetual qualifying lap. Mika was fantastic and pushed me to the very limits."
On crossing the finish line to seal his first world titles for Ferrari, Schumacher hit his steering wheel so hard Ferrari decided to take it out of service in case it was damaged.
He added: "I was repeatedly asked what my predominant feelings were at that moment [crossing the finish line], and on no single occasion was I able to find the right words. I didn't know what to do with this happiness."
The next four years would bring four more championships for the Schumacher/Ferrari partnership.