Andrew Jordan says he will be fit for this weekend's Silverstone World Rallycross Championship round after being hospitalised with a stomach virus during the Thruxton British Touring Car Championship meeting.
The WSR BMW 125i M Sport driver collapsed after the second BTCC race at Thruxton on Sunday after his illness took hold.
Having been treated in the team's truck, he was taken to the circuit's medical centre, before being transferred to hospital in Winchester. He was released later that evening.
Jordan, the 2013 champion, said the illness had started during qualifying on Saturday afternoon.
He still took eighth spot on grid and raced to sixth and fifth in the opening two encounters before having to withdraw.
"I just couldn't keep anything down," said Jordan. "It was a horrible feeling. I was throwing up all the time and it got to the point where I couldn't even keep water down.
"It was just adrenaline that got me through the opening two races.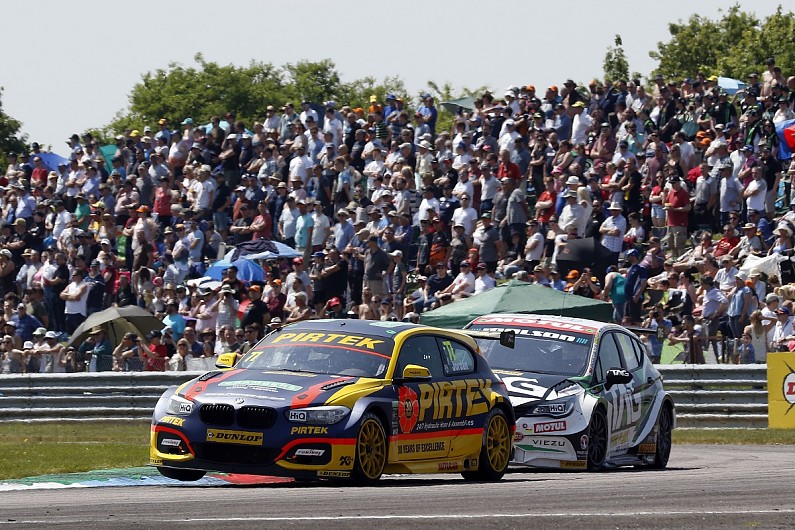 "I have never experienced it before, but when the adrenaline drained away after race two, it really hit me. I felt so weak.
"I wanted to go on, because it had been a strong weekend up to that point, but I started to feel woozy and light-headed.
"The medics were brilliant though, and I must thank them for looking after me."
Jordan's father Mike, a former BTCC racer, was competing at Spa in Belgium on Sunday and drove overnight to be with Jordan and his mother Judith at Royal Hampshire County Hospital in Winchester.
Jordan said he would be fully recovered in time for this weekend's World RX event at Silverstone, where he is due to drive a Ford Fiesta Supercar for the MJP team.
"I will rest up and recuperate, take on plenty of fluids and just try to regain my strength," he said.
"I am feeling better already, and can't wait for this weekend's challenge. I will be raring to go."