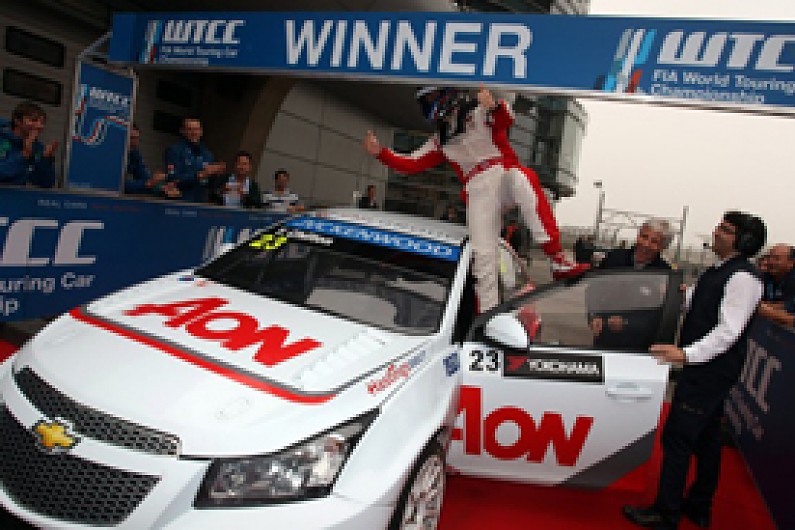 Tom Chilton won a sprint to the line to defeat RML Chevrolet team-mate Yvan Muller and triumph in the World Touring Car Championship's Shanghai opener.
Just one hundredth of a second separated the pair at the chequered flag, with Chilton just prevailing after they went side-by-side through the final three turns.
James Nash meanwhile furthered his bid for Independents glory by beating Bamboo team-mate and main rival Alex MacDowall to third following a race-long scrap.
While a heavy pre-race shower meant the first two laps were conducted behind the safety car, they also helped enliven a race notable for multi-car fights throughout.
Pepe Oriola kicked off the action by passing Chilton and Muller in quick succession to take an early lead, although he faded as the race wore on and was eventually picked off by both RML cars and their Bamboo equivalents, leaving him fifth.
Rickard Rydell also managed to climb through the field and into fourth, only to likewise fade rapidly into the clutches of a six-car train led by Nash and MacDowall.
Rob Huff, who announced he had signed a two-year deal with Lada prior to the race, was also involved along with Gabriele Tarquini and Norbert Michelisz.
Huff initially dropped to the back of that pack, but a superb move on Michelisz around the outside of Turn 1 - which also included a great save by the Hungarian - provided the platform for a renewed attack in the latter stages of the race.
He was able to reel in Tarquini and pass him for sixth on the final lap, falling just short of picking off Oriola to claim a top five spot.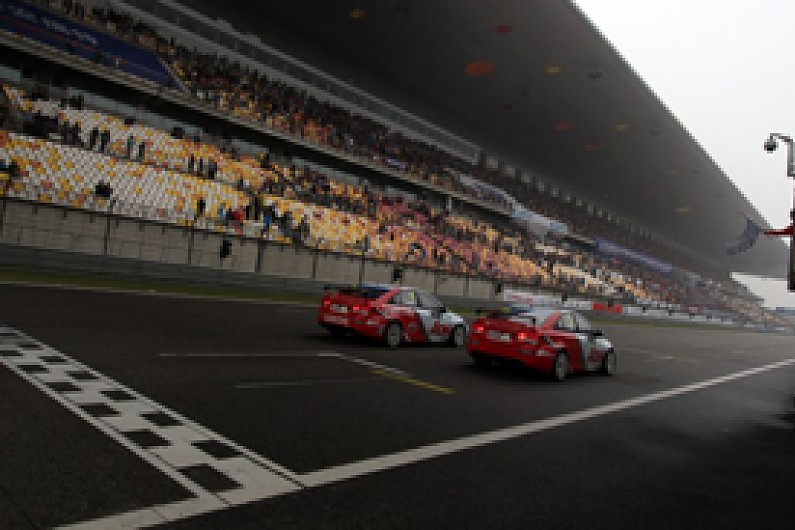 Tarquini therefore finished seventh, just ahead of Lada's James Thompson and Special Tuning's Tom Boardman, both of whom had superb drives to come through to eighth and ninth respectively.
Michelisz meanwhile beat Tiago Monteiro to 10th, their fight only settled on the final lap.
The battle out front similarly went down to the wire, with Chilton hounding Muller and launching an attack at Turn 14.
The pair stayed locked together through the next two turns, with Muller - who held the inside line at the final turn - giving his team-mate a very generous amount of space, which allowed the Briton to slip through and claim a second WTCC win by the narrowest of margins.
Results - 10 laps:

Pos  Driver              Team/Car                  Time/Gap
 1.  Tom Chilton         RML Chevrolet           26m28.234s
 2.  Yvan Muller         RML Chevrolet              +0.010s
 3.  James Nash          Bamboo Chevrolet          +14.737s
 4.  Alex MacDowall      Bamboo Chevrolet          +15.455s
 5.  Pepe Oriola         Tuenti Chevrolet          +16.441s
 6.  Rob Huff            Munnich SEAT              +16.585s
 7.  Gabriele Tarquini   Honda                     +16.799s
 8.  James Thompson      Lada                      +16.825s
 9.  Tom Boardman        Special Tuning SEAT       +16.931s
10.  Norbert Michelisz   Zengo Honda               +17.683s
11.  Tiago Monteiro      Honda                     +18.017s
12.  Tom Coronel         ROAL BMW                  +18.079s
13.  Franz Engstler      Engstler BMW              +22.899s
14.  Rickard Rydell      Nika Chevrolet            +27.546s
15.  Marc Basseng        Munnich SEAT              +29.496s
16.  Mehdi Bennani       Proteam BMW               +42.004s
17.  Mikhail Kozlovskiy  Lada                      +45.122s
18.  Rene Munnich        Munnich SEAT              +47.010s
19.  Fredy Barth         Wiechers BMW              +48.590s
20.  Darryl O'Young      ROAL BMW                +1m02.102s
21.  Yukinori Taniguchi  Campos SEAT             +1m03.596s
22.  Filipe de Souza     China Dragon Chevrolet  +1m03.800s
23.  Henry Ho            Engstler BMW            +1m13.464s
24.  Jeronimo Badaraco   Son Veng Chevrolet      +1m29.654s
25.  Ka Lok Mak          RPM BMW                 +2m03.392s
26.  Kin Veng Ng         China Dragon Chevrolet      +1 lap
27.  Charles Ng          Engstler BMW                +1 lap
28.  Stefano D'Aste      PB BMW                      +1 lap
29.  Fernando Monje      Campos SEAT                 +1 lap

Retirements:

     Hugo Valente        Campos SEAT                 7 laps
     Thed Bjork          Polestar Volvo              0 laps