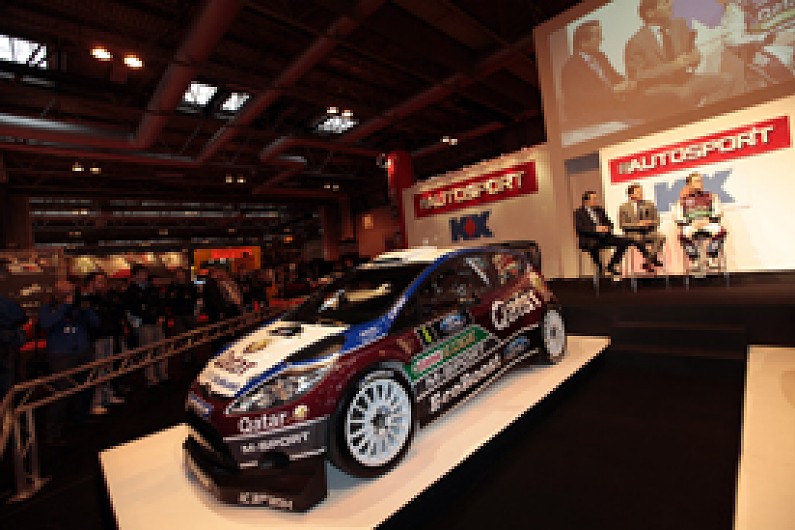 Ford will keep track of the fortunes of the World Rally Championship, despite withdrawing factory backing for the M-Sport team for 2013.
The manufacturer announced late last year that it was ending its works support of the Cumbrian outfit, which has since secured its short-term presence in the WRC with backing from Qatar.
Ford will continue to work with M-Sport on the technical side of the Fiesta WRC programme, and Ford Racing director Gerard Quinn said at AUTOSPORT International that the firm will keep a close eye on the fortunes of the series.
"We will continue to keep a watching brief on it," Quinn said on the AUTOSPORT Stage with KX.
"It's unfair to speculate on a return, but a lot of things need to change. When some of those things start to improve and evolve, who knows."
The WRC has been without a promoter for the past 12 months, but Red Bull Media House and German firm Sportsman Media are in the process of acquiring the global media and promotional rights.
Quinn added that Ford has played a key role in the future of world rallying, and he welcomed the fact that other manufacturers such as Volkswagen and Hyundai are coming in.
"I know that we worked very hard with the FIA over the past two seasons to get a promoter in place because it's important," he said.
"A lot of work is going on behind the scenes. We still have some involvement in those discussions which I hope will firm up the decision and we get something that will improve the WRC.
"It's good to see other manufacturers coming in. People have got to remember that during the bad years for the championship Ford consistently supported the WRC.
"Maybe it was just time for us to take a step back anyway and let somebody else take up the mantle."
AUTOSPORT coverage of Ford's WRC withdrawal:
David Evans' verdict on Ford's decision
Ford's top 10 WRC cars