It may not be world famous like Eau Rouge and 130R, but perhaps it's just as good. Former Australian Grand Prix venue Adelaide has one of the few old-school, car-crunching corners left in professional motorsport.
Mount Panorama deserves its reputation as the biggest, baddest race track in Australia. But as iconic as The Dipper, The Chase, and The Grate are, it's a corner thousands of kilometres from Bathurst that most Supercars drivers rate as the toughest in the land.
It doesn't even have a fancy nickname. It's simply called Turn 8.
For 51 weekends of the year Turn 8 is a pretty standard inner-city intersection, linking Bartels Road with Dequetteville Terrace on the fringe of Adelaide's parklands.
But on Adelaide 500 weekend it becomes a sixth-gear chassis-wrecker, with a narrow entry, zero run-off on exit, and a prime overtaking opportunity just down the road which means the slightest hesitation will be punished by the guy or girl sitting in your slipstream.
Turn 8 is the calling card of the Supercars era in Adelaide. It didn't exist back when the F1 circus came to town, with the entry onto the old Brabham Straight at Rundle Road more of a kink. But even that corner carried serious risk, as Mika Hakkinen (pictured getting it wrong there in 1993) found out when he was left fighting for his life after his huge accident in 1995.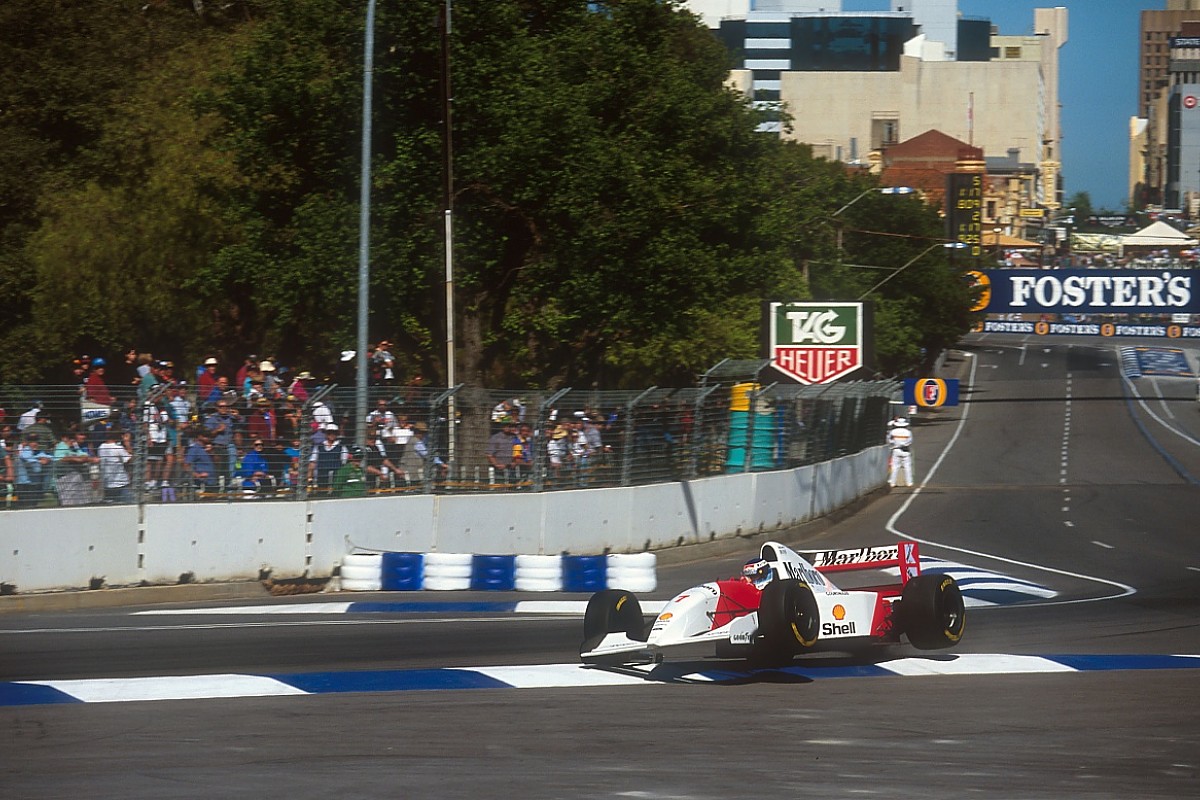 The track was altered for the first all-Supercars Adelaide event in 1999 and, by the time corner had evolved from a chicane into the challenge it now represents, it quickly became apparent that this was no 'kink' onto the back straight.
"From day dot it was one of those corners that you had to have respect for," says Craig Lowndes, a man who's raced at all 19 Adelaide 500s so far.
"I remember making a comment to Neil Crompton, who was still racing himself in '99, that I thought we'd get through there flat. How wrong was I..."
What makes Turn 8 such a challenging corner isn't actually the mid-corner speed or the lack of run-off. They are contributing factors, sure, but it's the turn-in that's crucial.
With the outside wall arcing into the approach, it's easy to get spooked and turn in too early. Do that, and you're on a rocket ride to a massive shunt on the other side.
Getting the turn-in right is so crucial that overtaking has long been banned on the way into Turn 8. It's single-file only. Save your big lunge for Turn 9.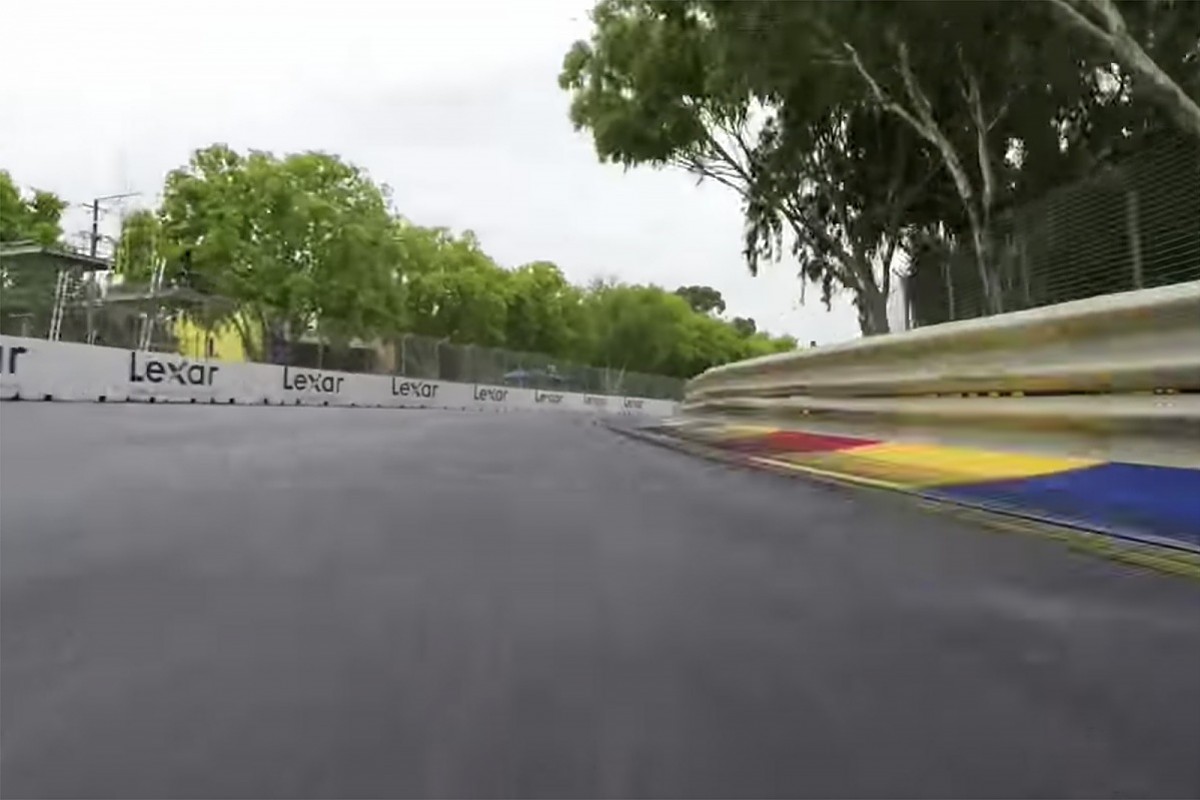 "It's one of those corners where as you're coming up to it, every lap, even at the end of Sunday, you are on edge," says James Courtney.
"You never relax. It demands respect, and if doesn't get it, it bites.
"It's quite tricky because as you approach it, the wall on the left side is angled, and it's coming in at you. The wall is coming towards you.
"You have to pick your apex, so you look across to the inside but you're still well aware that the wall is still coming in at you from the left. So a lot of guys hit the wall on the left.
"But on the other side, if you clip the wall on the right then the steering arm is gone and you're going to hit the wall on the outside incredibly hard.
"Even in the middle of the race, you can't relax. It feels like it gets narrower as the race goes on, like the wall is creeping in."
Courtney has a bittersweet relationship with Turn 8.
He's twice been caught out badly there; once on his Supercars debut for Stone Brothers back in 2006, and again when an engine lunched itself during his first weekend with the Holden Racing Team in '12.
In other words, he knows how it feels when it all goes wrong.
"You work out very quickly that it's going to get exciting," he says.
"As you hit, you're trying to keep it off the wall on the other side because things like steering arms break straight away, so the car is uncontrollable at a couple of hundred kilometres an hour.
"The next job is trying not to pinball down the straight.
"It's a big impact. They've done a lot with the outside wall and brought it closer. It makes it narrower, but it's more of a glancing blow now than a direct impact."
The hits were decent, but it's Courtney's miss that's really impressive.
Back in 2016 Courtney pulled off one of the great last-lap saves of all time at Turn 8 to set up a spectacular race win.
It was a full-blown, full-throttle slide right up to the wall, with mirrors full of Jamie Whincup and on tyres that had long given up making any sort of decent grip.
"That's about as close as it can get, I reckon," he recalls.
"I knew Jamie was building up for a big run through there and to attack me into Turn 9, because it was his last chance. So I tipped in quicker than I went through in qualifying, at the end of the race with screwed tyres.
"I had a few big breaths and decided that I wasn't going to come second. I was only ever going to win, or... I wasn't going to come second, anyway.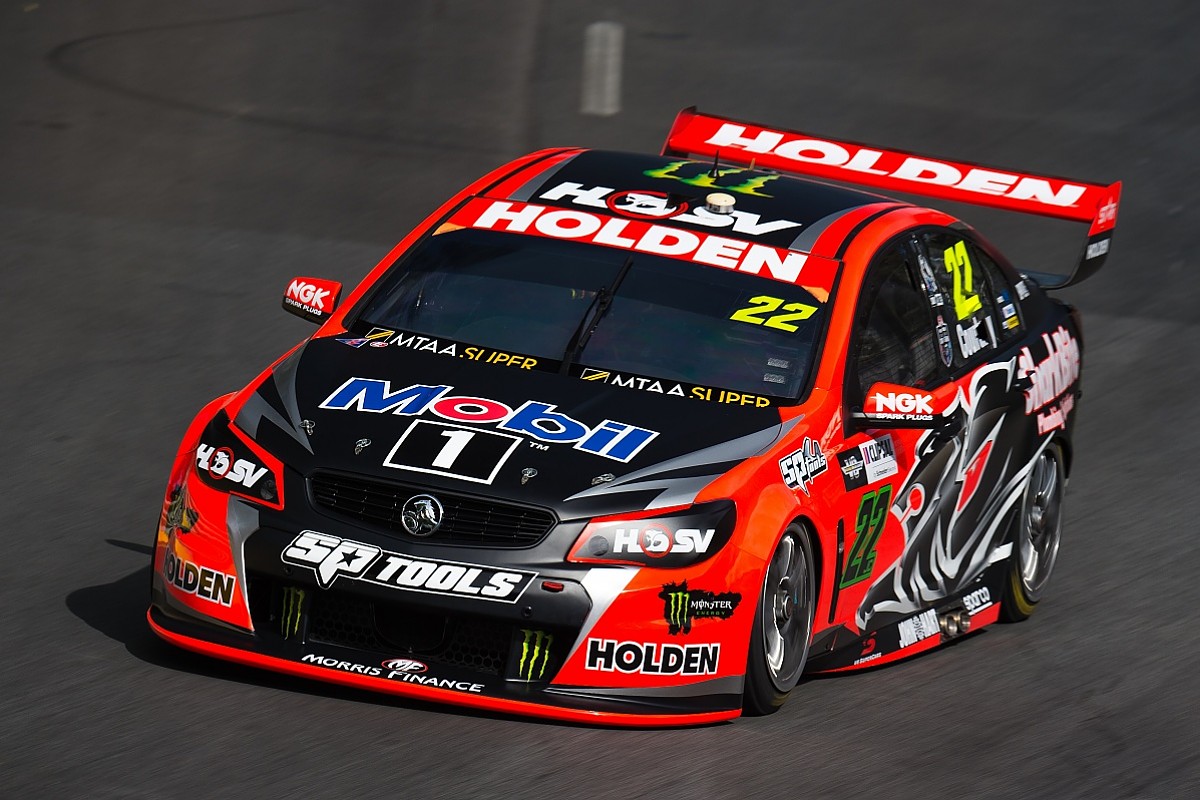 "It was the world's biggest slide. As I turned in I lost the rear, and I thought 'there's only one thing to do now and that's get on the gas'.
"I stood hard on it and cranked a bit of lock into it, and thankfully it came back right as I was getting to the wall.
"It looked pretty spectacular, but I'll tell you it was more good luck than good management that I made it through."
Scott McLaughlin spent a good 12 months dwelling on his first run through Turn 8.
When the young Kiwi burst onto the Supercars scene in 2010 with a drive in the second-tier development series, he was forced to sit out the Adelaide round.
The issue was that the then-16-year-old hadn't done enough circuit racing to qualify for the right licence for the season-opener. It wasn't track specific, but it did come at the height of Turn 8 safety concerns, off the back of Ashley Cooper's fatal crash during the development series race two years earlier.
Legendary team owners Ross and Jimmy Stone, who ran McLaughlin's development series entry, weren't sad about having a technicality delay his Adelaide debut: "I remember Ross and Jimmy were pretty nervous about me going there," he says.
McLaughlin himself didn't quite understand it at the time, but the concerns made more sense when he finally got a taste of the unforgiving Adelaide circuit for the first time a year later.
"I shit myself!" he admits. "There's so much hype with it, and as a young kid I watched so many races over the years and everybody was like, 'Turn 8, Turn 8'. I had stuffed myself before I got there."
Those early jitters are long gone now, though, McLaughlin claiming it as one of his absolute favourites.
"It's up there," he says. "It's a technical corner, because you can easily over-rush it.
"If you're behind someone and you want to make a pass, you've got to get through there really nice - and really nice means you're pretty much hard on the wall on the way out."
Just eight corners in...
The cherry on the Turn 8 pie is that Adelaide is the opening round of the season.
Drivers arrive in the South Aussie capital with a single day of testing under their belt and plenty of rust left to shake off after the summer break.
And they're expected to tackle the toughest corner in the country on their first flying lap of the new season.
"The first lap in anger is always pretty funny," says Courtney.
"Garth [Tander] and I used to always have a competition to see who had the biggest set when we were team-mates, based on who went through quickest on their first flying lap.
"The stupid things we do..."