Keep it consistent. Manage the traffic. Nail the night. There are other elements that go into winning a round-the-clock race, but these are three crucial components that a driver must be able to achieve if there is to be any chance of success.
Autosport Performance partner Position One Motorsports is a sister company of Gulf Racing, the World Endurance Championship team whose GTE Am drivers - GP2 race winner and Ireland's A1 Grand Prix champion Adam Carroll, Porsche Supercup frontrunner Ben Barker and Gulf Racing co-founder Mike Wainwright - will be making their Le Mans 24 Hours debuts in June.
Position One and Gulf Racing are based in the same headquarters in Milton Keynes, along with a classroom, gym, massage therapy facility and changing room. It's part of the Position One holistic philosophy designed to elevate driver preparation.
So what better place to go to learn how you prepare for Le Mans?
In the World Endurance Championship calendar, the Le Mans 24 Hours is preceded by a six-hour race at Spa-Francorchamps. It is often used by Le Mans entrants who otherwise don't compete in the WEC as a warm-up for the French enduro.
Spa is also the circuit chosen by Position One Motorsports as an appropriate venue for simulator training for drivers to prepare for Le Mans. But why?
"It's because it ticks all the boxes," says Matt Beers, the Position One chief whose Gulf Racing team raced at Spa in May ahead of its trio of drivers' Le Mans debuts.
"Quite frequently the race is in changeable weather conditions and offers a changeable track. The track's got driving challenges - Eau Rouge, Blanchimont - where it's high-speed and requires confidence, and it's got low-speed corners and elevation changes."
Spa is 4.3 miles long, almost half the length of the 8.47-mile Circuit de la Sarthe. It also has a greater topographical variance. So the differences between the two are quite significant. Beers says that's actually to Spa's advantage as a warm-up event.
"It's fast and flowing and it gives you a test that's a little more intense than the Le Mans experience," he says. "Le Mans is relatively easy-going for a driver from a physical perspective. Relative to Le Mans, the work rate from a driver is proportionally higher per lap. It's a good physical test for consistency.
"From a stamina and endurance perspective, any 24-hour race is a big challenge and the big thing with Le Mans is that focus on other cars and maintaining that over a longer period.
"Typically, drivers do longer stints at Le Mans than at Spa. If you can do an hour or two at Spa you get a good reference for your fitness levels, so understanding driver performance as well as car performance is quite relevant."
From a driver's perspective, the three disciplines mentioned in our introduction can all be targeted in the right simulator environment. The core function of a simulator is to give you a far greater time-to-money ratio for testing, but that added value is worthless if you do not use that time correctly. To demonstrate best practice, we put Ben Barker through his paces in the simulator.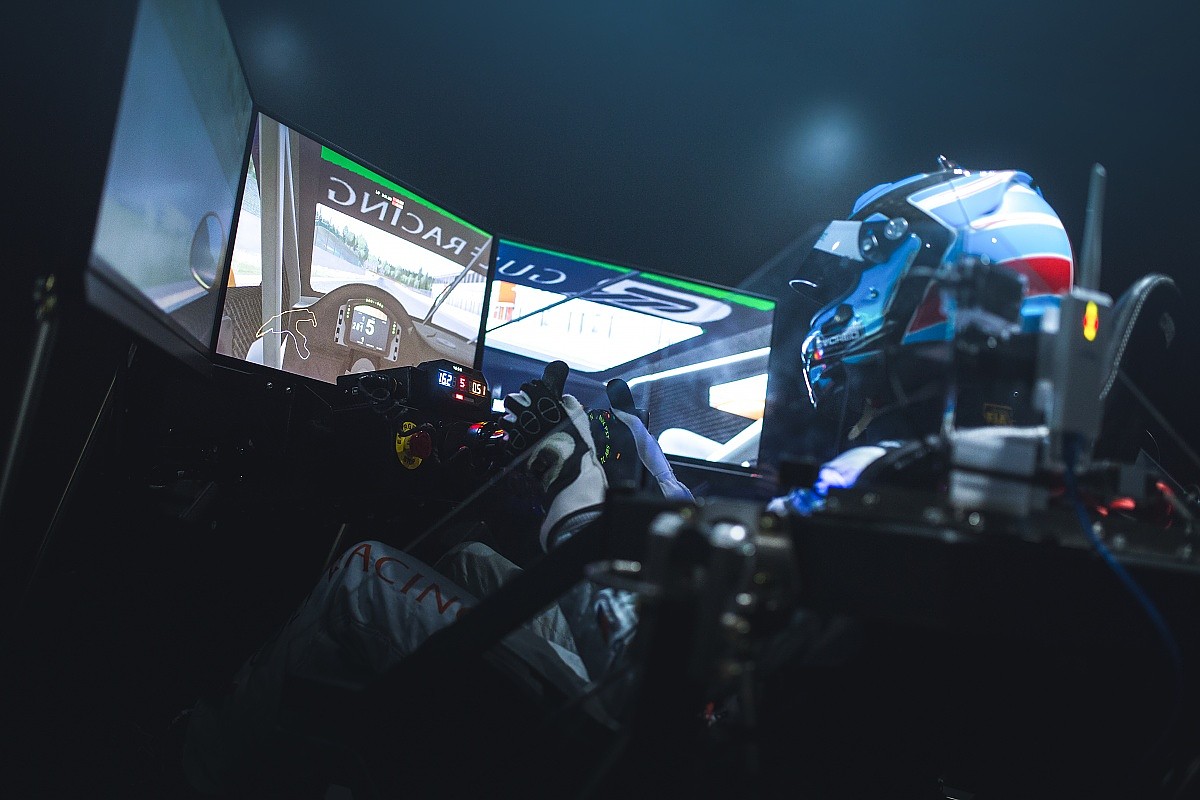 MANAGING CONSISTENCY
If you wanted to, you could double-stint on a simulator to your heart's content. Our process was more targeted, a lesson in consistency and mental preparation.
Using Spa as the test track, Barker was tasked with two relatively short runs - the first was to push for the ultimate laptime. His pace was immediately into the low 1m17s, but the Audi R8 GT3 was clearly on the edge and he pushed his luck numerous times with track limits - and also had a spin that cost him four seconds on one lap.
The final effort, at the sixth attempt, yielded a big improvement - a 1.2s gain and a final laptime of 1m15.9s, delivered through aggressive driving and masses of oversteer.
The second run was slightly longer, around 11 laps. Barker's technique noticeably changed, with braking effort reduced (reflected in noticeably lower pressure on the telemetry) to avoid being 'on the edge' on corner entry. Another example was a slight lift at Eau Rouge to reduce effort to 'hang on' to the car on the limit.
After six laps, with Barker undisturbed, we compared the cumulative time with the qualifying effort. And the result was that the 'slower' run was actually 3.6s to the good.
Although Barker's raw pace was significantly quicker over one lap when it came together, stepping back and evaluating the bigger pictured revealed the spin and other small mistakes while overdriving cost him time. There was significantly greater steering work-rate overall on the quicker lap, an approach that is not only aggressive on the tyres but is also disproportionately more exhausting for the driver.
It may seem obvious that consistency is better than ups-and-downs over the course of a one-hour or two-stint, but an upper limit is a difficult thing to consciously impose when in the heat of battle. By using the split times to keep his focus, Barker was able to concentrate on hitting (slightly beating, actually) his target time of 1m17.5s. He acknowledged it was "a really useful tool" and not something he'd focused on before.
In reality, there would be additional variables such as fuel load decreasing and tyres wearing. But, if the driver is doing a good job and the car is set up well, they should cancel each other out. That means a target time is something which could, in theory, be applicable across a stint. The mental preparation afforded on the sim, insofar as encouraging the driver to keep concentration levels up, helps reinforce the need to be smooth and not overdrive when in an endurance environment. The pursuit is of average laptime, not ultimate pace.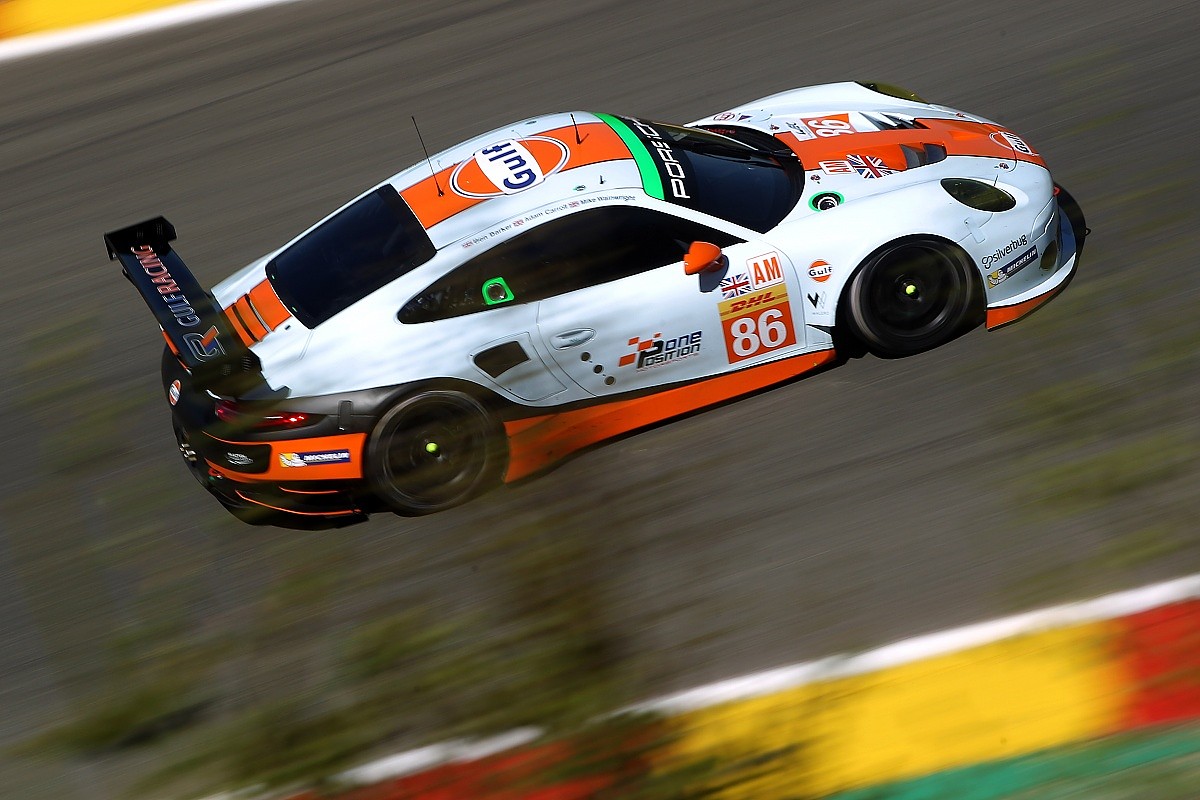 MANAGING THE ENVIRONMENT
Position One has entered a partnership with Spanish company OHW Studios, which will be providing laser-scanned tracks for the simulator where possible and "GPS models of superior quality" when it isn't, says Beers.
Where this comes in handy with something such as preparation for a 24-hour race is the ability to have reliable reference points on the track. This means the environment you train in is a more accurate representation of what you will find at the circuit.
"The benefits of having that extra resolution and extra accuracy of the physical and visual elements are that you can take it to another degree of coaching and preparation," Beers explains. "First of all from a driver's perspective - markers, references, kerbs, kerb usage. It's that kind of thing, where you get that extra step closer.
"When it comes to things like consistency and lines, again you don't have to make that adaptation when you make the transition to real life.
"A laser-scanned track from a stationary sim is quite similar because that's quite easy to produce. The physicality of the circuit and the feel come into it with the motion sim. When you're driving at a certain level of performance, where they are using the reaction of the car when they hit a bump or a kerb as an input to affect the simulator's output.
"For example there's a little bump before you get into the Bus Stop at Spa, which you can use as a reference point. Through Eau Rouge there are bumps at the bottom that unsettle the car. Non-scanned models are useful to about 95 per cent, but you get that extra few per cent of accuracy with a laser-scanned model. The more benefit you can get, the better."
This is particularly important when you're preparing for a race in which variables will keep changing. If you've only tested at Spa in the day, or you don't prepare for what's to come at night until the evening sessions in the build up to Le Mans, it will be a culture shock at first.
Having a reliable reference point on the simulator helps overcome that to an extent, because you can acclimatise to any differences. It enables you to target potential danger spots on the circuit where visibility may be particularly worse at night, or where references change dramatically, and adjust in advance. Far better for that to be your method than to arrive at the first Mulsanne chicane in a GTE car and find your 200-metre board reference isn't as easy to spot with headlights.
Barker performed a night-time run at Spa to compare back-to-back with his 'long-distance' stint previously. This was to establish what difference, if any, there was in laptime and if any references changed. While Barker discovered he was able lap almost quickly as in the day, it came after a couple of laps of trying - there was an initial hesitancy with his reference points that was reflected in a 2m18s laptime first time out.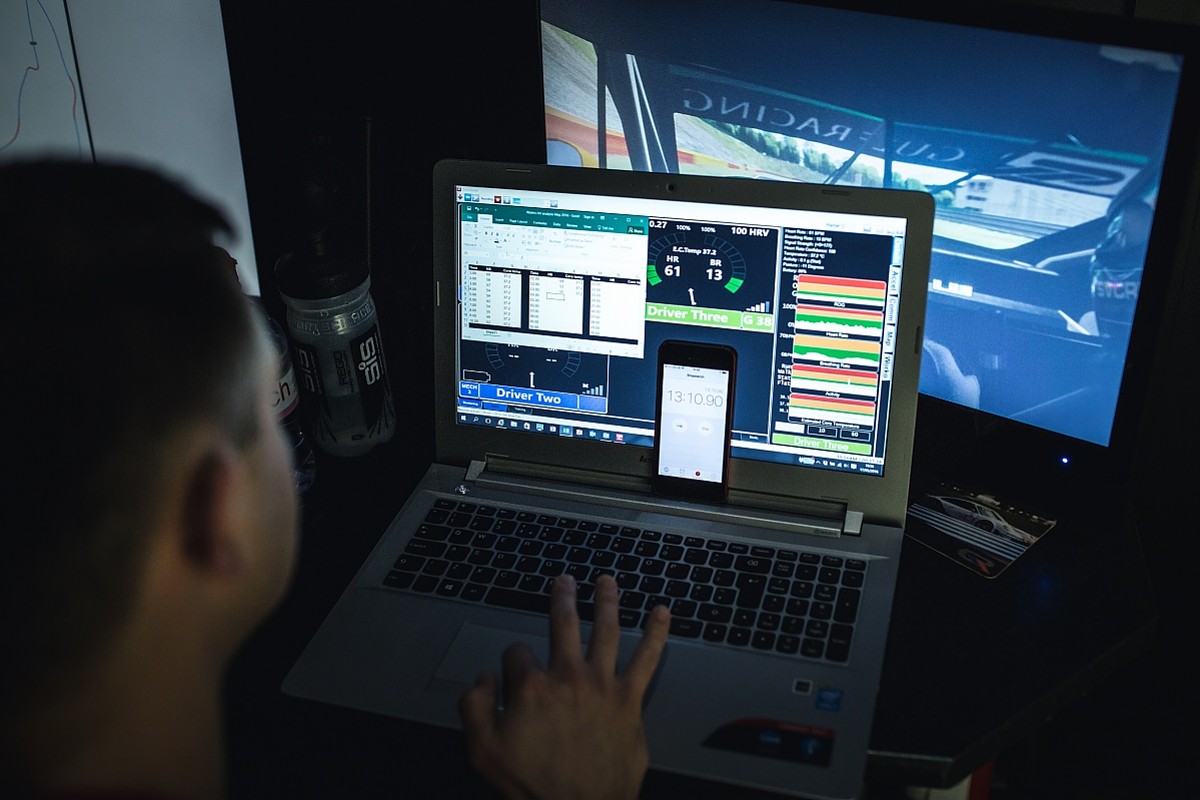 MANAGING TRAFFIC
The AI of any simulator is limited in terms of the complexity of the strategy that the AI has. It's a very unpredictable behaviour. So if you want to have a really competitive race it's difficult.
But what we could do with Position One is set the AI performance to a level and test different scenarios. You can practice managing traffic, but it should be done with a certain amount of structure, to allow for real-time tuition of how to manage the cars around you. It's more about teaching awareness, and what you need to be focusing on where there is traffic around.
"Rather than really racing and practicing that," says Beers, "it's having the discipline to practice specific skills. You can set the AI's performance above your own, so you can practice chasing a car down, trying to match a performance level, or realising and accepting that you can't match it but remaining consistent. It doesn't have to require particularly intelligent drivers around you.
"If you're injected into that scenario of traffic - overtaking or being overtaken - and you haven't experienced it or managed it, it's not intuitive. You might focus on something you shouldn't, like where your braking points are rather than what the other car is doing in front of you. You've got to manage both.
"That will be assessing the situation. 'What is the car doing lap after lap and what do I need to do to adapt?' You need to stick to your markers when you've got cars coming past you, it's so easy to just outbrake yourself when you've got a faster car overtaking you because you're going with them in a way."
The challenge of traffic is significant at Le Mans, where there are three classes of car (and a mix of professional and gentleman drivers). So whether it's a case of learning how best to manage being overtaken without losing time or how to cut through traffic, the value is the same. Gulf Racing's Wainwright was hit by the Porsche driven by Brendon Hartley at Silverstone, for example, so even the best trip up...
On the sim, Barker was placed in a race environment with a dozen other GT cars. The target was to stay out of trouble, avoid contact and make places when possible.
"It's about emphasising, and potentially exaggerating, what you would do in reality," explains Beers. "The AI is less intelligent so it's more likely to drive into you."
That proves an understatement as Barker is assaulted by an out-of-control car into the Bus Stop. But the process is visually effective as Barker deals with multiple cars around him, and the experience is clearly relevant to the challenge of Le Mans and other enduros because Barker's car positioning and choices when attacking and defending play a direct role in a success or failure.
"If you're going to go for an overtake, present yourself more obviously - dive that much further on the brakes," says Beers. "If you want someone to overtake you, choose the corner, make it obvious there's a gap. Do it in such a way that they get past easily and quickly and you pick your pace up as quickly as possible.
"It's very easy to say it's not realistic but you can practice procedures and identify on a specific circuit what you can do and where. You can't pre-empt what they are doing behind, if you do that's where the risk increases."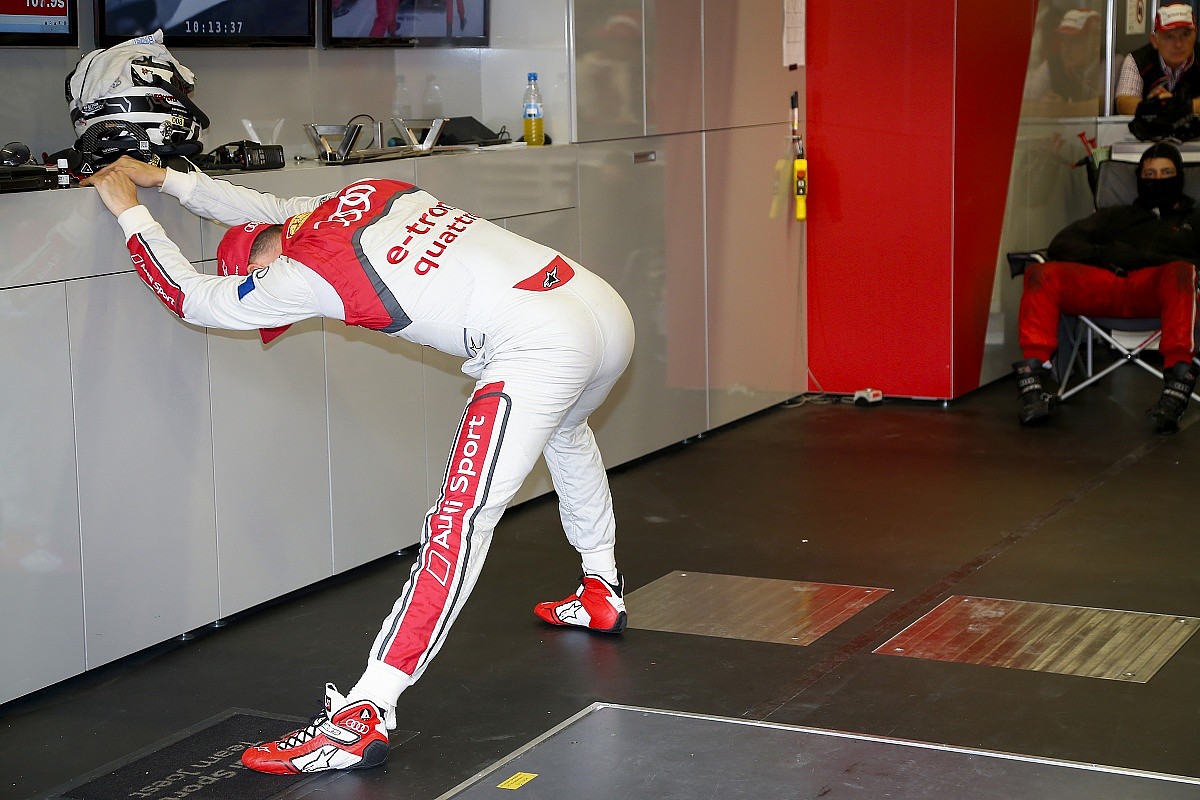 MANAGING YOURSELF
The physical exertion of competing in any endurance race, let alone one lasting 24 hours, is tremendous. This is why motorsport companies are investing more into physiological analysis than ever before. Position One and Walero, another Autosport Performance partner, conducted an investigation into the physiological effect a driver experiences in a racing environment while wearing different base layers.
Position One's fitness consultant John Camilleri measured Barker's resting heart rate and blood pressure, and the Gulf Racing driver then completed two stints of the Spa-Francorchamps circuit on the Position One simulator, the first wearing Walero base layers. The second stint, using alternative base layers, did not begin until Barker's heart rate and blood pressure had returned to the original levels.
The simulator was set at a controlled ambient temperature of 30 degrees Celsius, which is close to the maximum 32-degree temperature permitted in the WEC.
Bodyweight (kg) was measured before and after stints on the simulator, and water intake was strictly controlled in order to carry out accurate sweat-testing procedures. Heart rate and core body temperature were then recorded every 60 seconds in real time using a BioCOM physiological monitoring system.
While Barker's core temperature remained consistent over both stints at 37.2 degrees Celsius, the stint wearing the Walero base layers produced a body mass reduction of 0.27 per cent (which equated to 0.4L/hour, 'low sweat rate).
In comparison, the stint wearing the alternative base layers produced a body mass reduction of 0.56 per cent (a 0.8L/hour, 'normal' sweat rate). Barker's average heart rate was also four per cent lower when he was wearing the Walero base layers.
Now, what was abundantly clear when considering the results was that a broader sample of drivers would need to be assessed in the controlled simulator environment to make a definitive conclusion.
"However," says Camilleri, "the low sweat-rate, minimal body mass reduction and lower average heart rate values do suggest that the Walero base layers were more efficient at maintaining homeostatic balance than the alternative choice we tested".
This is a good example of the opportunity afforded by the simulator to evaluate a driver's habits and tendencies from an endurance perspective. Dehydration can be a major limiting factor in endurance racing, affecting concentration and reaction times and also harming visibility at night-time.
If there are gains to be made by something as simple as choosing the right equipment, this is a valuable lens for those interested in driver preparation to look through - particularly in motorsport, where events are often decided by the smallest fractions.
And that is why a structured approach to using a simulator, and targeting specific areas, is a training method with untapped potential.