Gasoline Alley - Indianapolis Motor Speedway's garage area - is one of the most famous areas of real estate in world motorsport. Normally, I'd be striding through it to seek out the likes of Dario Franchitti or Jimmie Johnson for an interview, but on Friday, May 28, 2010 - or Carb Day as it's more commonly known - I had a different job to do. On pit lane itself.
The task ahead was to ensure that 'my' driver, FAZZT Race Team's Alex Tagliani, was tuned in to hitting his mark in the pits by holding the 'lollipop' in exactly the right spot. Too far forward or back, and there'd be a costly time loss for the tyre changers to adjust. Even worse, the fuel rig assembly might not reach. To add to the pressure, he had qualified fifth, the middle of the second row, for Sunday's big race... Hopes were high; now - effectively the race's warm-up session - wasn't the time for mistakes.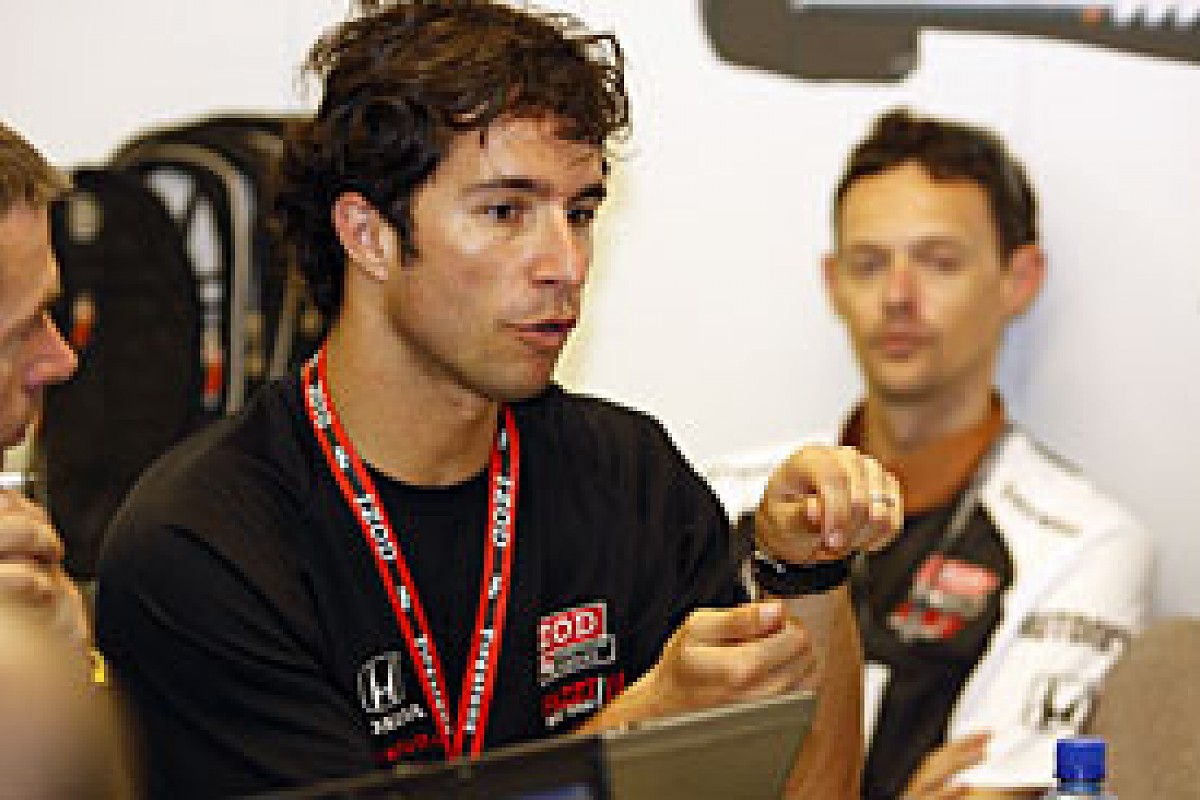 Charles Bradley listens on as Bruno Junqueira gives feed back in the debrief © LAT
My radio headset crackled with the spotter saying Alex was in pit lane, which was my cue to start waving the lollipop structure up and down to ensure he's spotted it. It's shaped like sponsor Bowers & Wilkins' uber-cool 'Mini-Zepplin' iPod dock, so it's not hard to miss. As he comes into my sight, a couple of pit boxes away, I thrust the lollipop groundwards onto the tiny sliver of ducktape that forms my mark.
'BOOM!' - Tagliani's nosecone slaps surprisingly hard into the lollipop, making the metal rod in my hands vibrate and shift forwards. Good job I'd kept a firm grasp! I lift the lollipop away and marvel at the ant-like efficiency of the team as they swarm over the car. In the pit next to ours, Dario Franchitti's, they're already packing up - with his number 10 sat proudly at the top of the scoring tower. Part-timer!
Fortunately for me, the IndyCar system means I'm not in control of Tagliani's release from the pitstop, like I would be in Formula 1. The right-front tyre-changer, who had the best view of the pitstop, is in charge of that. So job done.
Thanks to team manager (and long-time AUTOSPORT subscriber) Rob Edwards's hospitality, I get to sit-in on the post-session driver/engineer debrief, where I learn they've not only made a roll-centre change during the session, but changed the rear springs too - not bad in an hour-long session.
Tagliani and one-off team-mate Bruno Junqueira are impressively precise with their recall as they compare their in-car feelings to the numbers on the computer screens.
Before the Bowers & Wilkins stretch Hummer (I kid you not - and we even had a Police escort on raceday) arrives to pick me up, my day of pure 'fever' has more to offer. Indycar legend, Daytona 500 and Le Mans 24 Hours winner AJ Foyt has a slot in his schedule for me to do our AUTOSPORT 60th issue interview face-to-face. His fearsome reputation makes me steel myself as I climb the stairs to his trailer, but his opening gambit "What's a foreigner doing in here?" is delivered with a huge smile, and the next 25 minutes are a true delight as the anecdotes flow thick and fast. He's a true gent; every bit the giant of a man that the myth suggests.
As I step out of AJ's trailer, the Carb Day concert is in full swing in the field next to us. ZZ Top are belting out 'Legs' and, as I wander around, I've never seen so many drunken people in one place. Time to join them...
Awesome day.