Autosport's Academy training scheme for aspiring motorsport journalists is open for new applicants ahead of the 2019 season.
The Autosport Academy is a flexible programme of training classes for writers taking place online, in Autosport's Richmond office and at UK national events.
The scheme is run by Autosport.com Deputy Editor Matt Beer, and has now brought 16 people into full-time roles with the Autosport group and parent company Motorsport Network.
Autosport's F1 Reporter Scott Mitchell, Autosport Plus Editor Alex Kalinauckas, Motorsport News Deputy Editor Stephen Lickorish, Autosport.com International Editor Jack Cozens, Group National Editor Jack Benyon (pictured above interviewing Lando Norris), Autosport Performance/Engineering Editor James Newbold and Technical Editor Jake Boxall-Legge are among the graduates of the scheme.
Academy members have also earned full-time positions with the Motorsport Network's social media teams, with our sister site AutoClassics and in the Motorsport Images archives.
Motorsport UK's Young Journalist of the Year Award has been won by Autosport Academy graduates for the past five seasons.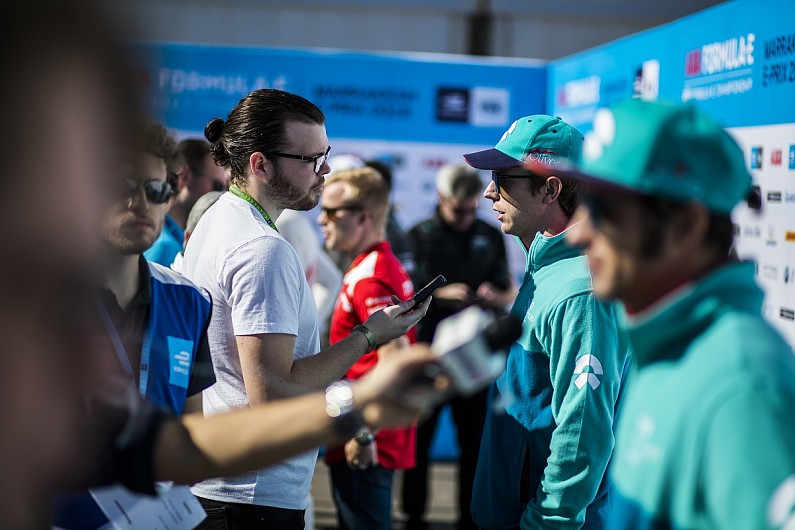 Alongside Mitchell's key role in Autosport and Motorsport.com's F1 news team, this year Academy graduates and members led our coverage of Formula 2, Formula E, GP3, the World Touring Car Cup, the Isle of Man TT and Esports, and were heavily involved in reporting on the DTM, World Rally Championship, Le Mans 24 Hours and British national motorsport scene.
The Academy is a free training programme, with many bespoke elements tuned towards individual members' interests and career development needs, and provides regular opportunities for paid freelance work while preparing participants to apply for future staff jobs.
Autosport Academy application process
The Autosport Academy is open to anyone aged at least 16, and based in the UK or Ireland. No previous experience or specific qualifications are required - we are looking for the right attitude and raw talent above all else - and the training is designed to be conducted around full-time employment or education.
To be considered for a place in 2019 Autosport Academy 'pre-qualifying', please send the following to academy@autosport.com by 4pm UK time on Friday December 14:
* Three examples of your work (as attachments rather than links. It does not have to be published work)
* A short summary of your current career/education situation and ambitions
* Brief answers to these two questions: Which Autosport or Motorsport Network staff member's role would you most like to have, and why? What would be your main personal development aims if you had a week's placement in the Autosport office?
Candidates accepted into the next part of the application process will be invited to a final assessment day in January 2019 either in the Autosport office in Richmond or at Autosport International in Birmingham, and given further tasks to complete in preparation for these decisive shootout sessions.
Successful new Academy members will then need to ensure they complete a small number of training placements in the Richmond office and at UK national racetracks/rallies before the end of June 2019, as well as participating in the fortnightly online evening classes, to continue in the programme.