Brad Keselowski won his third NASCAR Cup Series race in a row to give Team Penske its 500th victory in motorsport in a hectic playoff opener at Las Vegas.
Keselowski got himself to the front repeatedly during a hard-fought final segment in which his Penske team-mate Joey Logano, reigning champion Martin Truex Jr and Ganassi's Kyle Larson were the other main protagonists.
The latter part of the race was interrupted multiple times by accidents, eventually being red-flagged and taken into overtime following a four-car crash featuring Stewart-Haas team-mates Kurt Busch and Clint Bowyer and Front Row pair Michael McDowell and David Ragan.
Keselowski held off the pack at the final restart to win a race in which he wasn't even running in the top 10 until making up positions in the pitstops at the start of stage two.
Another quick pitstop then got him into the lead and he won stage two before his triumphant role in the final battle.
Larson took second despite having to pit with a flat tyre when third 70 laps into the 267-lap race. The decision to not pit after stage two got him back into contention when yellows fell his way early in the final segment, and he twice surged into the lead briefly in spectacular late battles with the Penske drivers and Truex.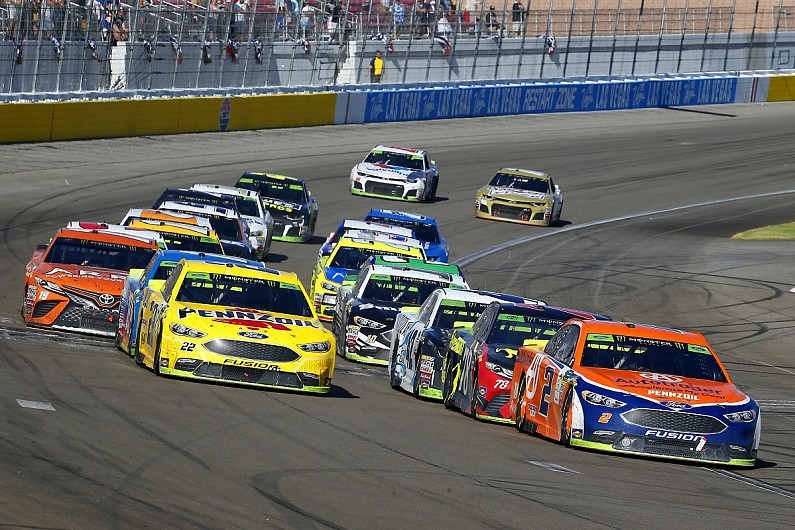 Stage one winner Truex led 96 laps and was in victory contention for the vast majority of the race, but ended up third in the Furniture Row Toyota, ahead of Penske pair Logano and Ryan Blaney, having struggled to break into the lead at the late restarts.
Truex was the only one of the top three drivers from the regular season to have a smooth start to the playoffs.
Kyle Busch ran into multiple issues including an extra pitstop due to missing wheelnuts and a late spin caused by a puncture. He still finished seventh.
Kevin Harvick's race was ended just over halfway through in a collision with polesitter and fellow playoff contender Erik Jones, who ploughed into the Stewart-Haas Chevrolet as it slid into the wall following a tyre failure.
Other playoff drivers in trouble included Denny Hamlin, Jimmie Johnson and Chase Elliott.
Hamlin's Joe Gibbs Toyota suffered race-ending damage in a spin over the infield grass in the closing stages, while Johnson dropped back to 22nd after brushing the wall following one of his strongest recent runs.
Johnson's Hendrick team-mate Elliott had one of the nastiest incidents of the race, initially fearing a shoulder injury after collecting the spinning Jamie McMurray.
Race result
| Pos | Driver | Team | Car | Laps |
| --- | --- | --- | --- | --- |
| 1 | Brad Keselowski | Team Penske | Ford | 272 |
| 2 | Kyle Larson | Chip Ganassi Racing | Chevrolet | 272 |
| 3 | Martin Truex Jr. | Furniture Row Racing | Toyota | 272 |
| 4 | Joey Logano | Team Penske | Ford | 272 |
| 5 | Ryan Blaney | Team Penske | Ford | 272 |
| 6 | Aric Almirola | Stewart-Haas Racing | Ford | 272 |
| 7 | Kyle Busch | Joe Gibbs Racing | Toyota | 272 |
| 8 | Daniel Suarez | Joe Gibbs Racing | Toyota | 272 |
| 9 | Ryan Newman | Richard Childress Racing | Chevrolet | 272 |
| 10 | Paul Menard | Wood Brothers Racing | Ford | 272 |
| 11 | Austin Dillon | Richard Childress Racing | Chevrolet | 272 |
| 12 | Regan Smith | Leavine Family Racing | Chevrolet | 272 |
| 13 | Trevor Bayne | Roush Fenway Racing | Ford | 272 |
| 14 | A.J. Allmendinger | JTG Daugherty Racing | Chevrolet | 272 |
| 15 | Chris Buescher | JTG Daugherty Racing | Chevrolet | 272 |
| 16 | Corey LaJoie | TriStar Motorsports | Chevrolet | 272 |
| 17 | J.J. Yeley | BK Racing | Toyota | 272 |
| 18 | Landon Cassill | StarCom Racing | Chevrolet | 272 |
| 19 | Alex Bowman | Hendrick Motorsports | Chevrolet | 271 |
| 20 | Ross Chastain | Premium Motorsports | Chevrolet | 271 |
| 21 | Kurt Busch | Stewart-Haas Racing | Ford | 271 |
| 22 | Jimmie Johnson | Hendrick Motorsports | Chevrolet | 270 |
| 23 | Clint Bowyer | Stewart-Haas Racing | Ford | 270 |
| 24 | Matt DiBenedetto | Go FAS Racing | Ford | 269 |
| 25 | Jeffrey Earnhardt | Gaunt Brothers Racing | Toyota | 269 |
| 26 | Kyle Weatherman | StarCom Racing | Chevrolet | 269 |
| 27 | David Ragan | Front Row Motorsports | Ford | 268 |
| 28 | B.J. McLeod | Rick Ware Racing | Ford | 268 |
| 29 | Michael McDowell | Front Row Motorsports | Ford | 265 |
| 30 | Ricky Stenhouse Jr. | Roush Fenway Racing | Ford | 251 |
| 31 | Reed Sorenson | Premium Motorsports | Chevrolet | 246 |
| 32 | Denny Hamlin | Joe Gibbs Racing | Toyota | 245 |
| 33 | Timmy Hill | MBM Motorsports | Toyota | 231 |
| 34 | Ty Dillon | Germain Racing | Chevrolet | 218 |
| 35 | Jamie McMurray | Chip Ganassi Racing | Chevrolet | 211 |
| 36 | Chase Elliott | Hendrick Motorsports | Chevrolet | 211 |
| 37 | William Byron | Hendrick Motorsports | Chevrolet | 210 |
| 38 | Darrell Wallace Jr. | Richard Petty Motorsports | Chevrolet | 164 |
| 39 | Kevin Harvick | Stewart-Haas Racing | Ford | 147 |
| 40 | Erik Jones | Joe Gibbs Racing | Toyota | 147 |
Playoff standings
| Pos | Driver | Points |
| --- | --- | --- |
| 1 | Martin Truex Jr. | 2087 |
| 2 | Kyle Busch | 2085 |
| 3 | Brad Keselowski | 2069 |
| 4 | Kevin Harvick | 2060 |
| 5 | Joey Logano | 2056 |
| 6 | Kurt Busch | 2046 |
| 7 | Ryan Blaney | 2042 |
| 8 | Kyle Larson | 2041 |
| 9 | Aric Almirola | 2034 |
| 10 | Austin Dillon | 2031 |
| 11 | Clint Bowyer | 2029 |
| 12 | Alex Bowman | 2028 |
| 13 | Jimmie Johnson | 2022 |
| 14 | Chase Elliott | 2019 |
| 15 | Erik Jones | 2009 |
| 16 | Denny Hamlin | 2008 |