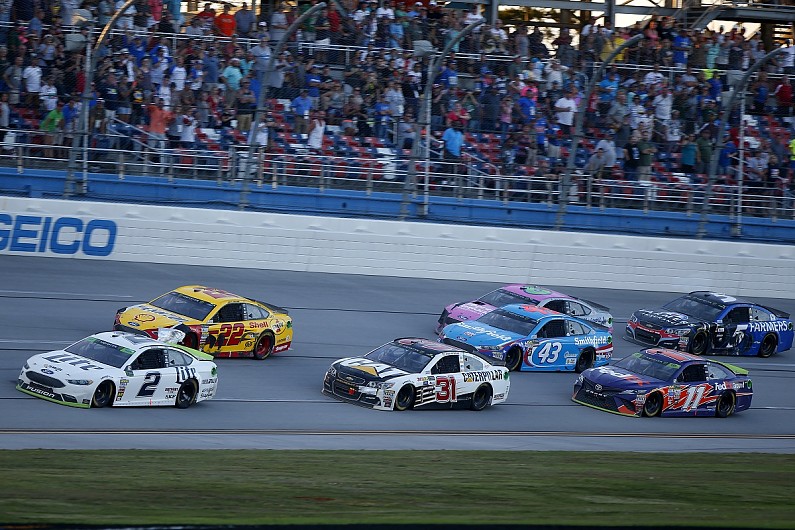 Brad Keselowski booked his place in the final eight of the playoffs by winning on his 300th NASCAR Cup Series start at Talladega.
Three late red-flags left Keselowski in the lead, and the #2 Penske Ford driver won the last three-lap shootout with the help of team-mate Joey Logano.
Keselowski won the first stage on a late restart over team-mate Logano but radio problems hampered his efforts to win stage two.
He was forced to pit from fourth in stage three for a new radio antenna, leaving him at the rear with 29 laps remaining.
Having avoided those three late crashes, Keselowski led in front of polesitter Dale Earnhardt Jr with Ryan Newman and Denny Hamlin on his flank for the final restart.
Newman and Hamlin worked in tandem to clear their rivals as Earnhardt and Keselowski split, but Newman broke too far from the pack.
Helped by Logano, Keselowski took the lead around the outside on the final lap to win.
Trevor Bayne hovered around 10th place all afternoon but took third having recovered from a late puncture. The #6 Roush Fenway Racing driver was collected in a late crash but made it to the finish with damage.
Logano took fourth ahead of Aric Almirola.
Earnhardt narrowly avoided those late crashes but finished seventh in front of Hendrick Motorsports team-mate Kasey Kahne.
Though Gray Gaulding crashed earlier on in the race, he took his BK Racing Toyota to ninth ahead of fellow damage-stricken racer David Ragan.
On the lead lap were left 11 cars, with only 15 classed as finishers after the multiple crashes.
The first red-flag was flown for a massive late crash caused by contact between Ragan and Martin Truex Jr, which collected 16 cars in total with 16 laps of the 188-lap race remaining.
Playoff contenders Truex, Kurt Busch, Kyle Busch, Matt Kenseth, Jimmie Johnson, Kevin Harvick and Ricky Stenhouse Jr were collected in the pile-up as the three-wide battle for position ended in chaos.
A lap after the restart, Logano hit Ryan Blaney and Trevor Bayne to bring out another red-flag, but Logano's #22 survived to finish the race.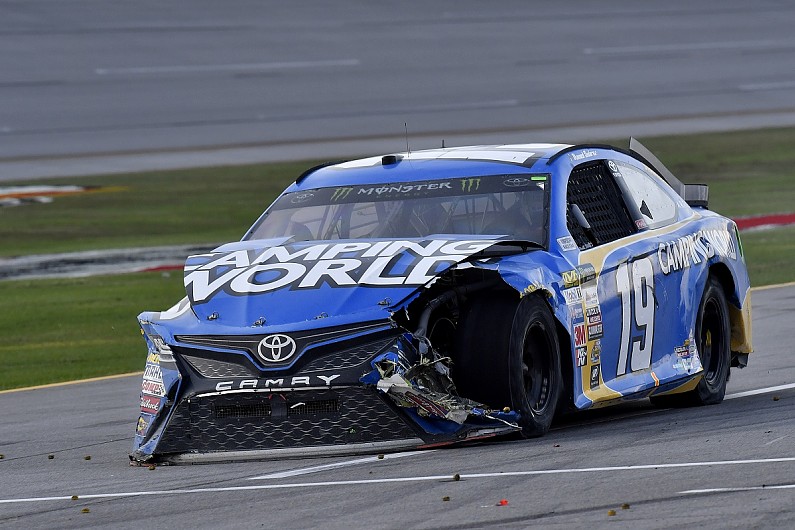 Three laps of clean racing, led by Daniel Suarez, were swiftly ended as Chase Elliott spun the Joe Gibbs Racing rookie around and took out another two cars in the process, giving Keselowski the lead.
Elliott's Hendrick Motorsports team-mate Johnson retired as his #48 team violated NASCAR rules by working on his car under the first red-flag.
Truex, who suffered terminal damage in the 16-car crash, had cemented his place into the round of eight of the playoffs with victory at Charlotte last weekend.
With one race remaining in the round of 12, hopes of advancement for Kyle Busch, Stenhouse and Kenseth hang in the balance.
Jamie McMurray's day ended early and his playoff hopes also took a dent with an early crash with Jeffrey Earnhardt as McMurray was spun around on the entrance to the pitlane in stage one.
Race result
| Pos | Driver | Team | Car | Gap | Laps |
| --- | --- | --- | --- | --- | --- |
| 1 | Brad Keselowski | Team Penske | Ford | 3h47m52.s | 188 |
| 2 | Ryan Newman | Richard Childress Racing | Chevrolet | 0.210s | 188 |
| 3 | Trevor Bayne | Roush Fenway Racing | Ford | 0.249s | 188 |
| 4 | Joey Logano | Team Penske | Ford | 0.291s | 188 |
| 5 | Aric Almirola | Richard Petty Motorsports | Ford | 0.378s | 188 |
| 6 | Denny Hamlin | Joe Gibbs Racing | Toyota | 0.381s | 188 |
| 7 | Dale Earnhardt Jr. | Hendrick Motorsports | Chevrolet | 0.408s | 188 |
| 8 | Kasey Kahne | Hendrick Motorsports | Chevrolet | 0.434s | 188 |
| 9 | Gray Gaulding | BK Racing | Toyota | 1.857s | 188 |
| 10 | David Ragan | Front Row Motorsports | Ford | 2.052s | 188 |
| 11 | Ty Dillon | Germain Racing | Chevrolet | 2.077s | 188 |
| 12 | Paul Menard | Richard Childress Racing | Chevrolet | s | 188 |
| 13 | Kyle Larson | Chip Ganassi Racing | Chevrolet | 1 Lap | 187 |
| 14 | Matt Kenseth | Joe Gibbs Racing | Toyota | 1 Lap | 187 |
| 15 | Daniel Suarez | Joe Gibbs Racing | Toyota | Accident | 184 |
| 16 | Chase Elliott | Hendrick Motorsports | Chevrolet | Accident | 182 |
| 17 | Chris Buescher | JTG Daugherty Racing | Chevrolet | Accident | 182 |
| 18 | Ryan Blaney | Wood Brothers Racing | Ford | Accident | 177 |
| 19 | Brendan Gaughan | Beard Motorsports | Chevrolet | Accident | 177 |
| 20 | Kevin Harvick | Stewart-Haas Racing | Ford | Accident | 176 |
| 21 | Danica Patrick | Stewart-Haas Racing | Ford | Accident | 175 |
| 22 | A.J. Allmendinger | JTG Daugherty Racing | Chevrolet | Accident | 172 |
| 23 | Martin Truex Jr. | Furniture Row Racing | Toyota | Accident | 171 |
| 24 | Jimmie Johnson | Hendrick Motorsports | Chevrolet | Parked | 171 |
| 25 | Kurt Busch | Stewart-Haas Racing | Ford | Accident | 171 |
| 26 | Ricky Stenhouse Jr. | Roush Fenway Racing | Ford | Accident | 171 |
| 27 | Kyle Busch | Joe Gibbs Racing | Toyota | Accident | 171 |
| 28 | Landon Cassill | Front Row Motorsports | Ford | Accident | 171 |
| 29 | Austin Dillon | Richard Childress Racing | Chevrolet | Accident | 171 |
| 30 | Michael McDowell | Leavine Family Racing | Chevrolet | Accident | 171 |
| 31 | Matt DiBenedetto | Go FAS Racing | Ford | Parked | 171 |
| 32 | Joey Gase | BK Racing | Toyota | Accident | 164 |
| 33 | D.J. Kennington | Premium Motorsports | Toyota | Accident | 164 |
| 34 | Cole Whitt | TriStar Motorsports | Chevrolet | Accident | 155 |
| 35 | Clint Bowyer | Stewart-Haas Racing | Ford | Accident | 155 |
| 36 | Erik Jones | Furniture Row Racing | Toyota | Accident | 26 |
| 37 | Jamie McMurray | Chip Ganassi Racing | Chevrolet | Accident | 25 |
| 38 | Jeffrey Earnhardt | Circle Sport / TMG | Chevrolet | Accident | 25 |
| 39 | Mark Thompson | Premium Motorsports | Chevrolet | Accident | 25 |
| 40 | Justin Marks | Tommy Baldwin Racing | Chevrolet | Accident | 16 |
Playoff standings

| Pos | Driver | Points |
| --- | --- | --- |
| 1 | Martin Truex Jr. | 3120 |
| 2 | Brad Keselowski | 3101 |
| 3 | Kyle Larson | 3096 |
| 4 | Kevin Harvick | 3089 |
| 5 | Denny Hamlin | 3088 |
| 6 | Chase Elliott | 3087 |
| 7 | Ryan Blaney | 3076 |
| 8 | Jimmie Johnson | 3074 |
| 9 | Kyle Busch | 3067 |
| 10 | Matt Kenseth | 3066 |
| 11 | Ricky Stenhouse Jr. | 3052 |
| 12 | Jamie McMurray | 3045 |