---
By Dieter Rencken, Belgium
Autosport-Atlas Columnist
Third Cars
That Red Bull Racing have requested a Sporting Regulation change in order to run Christian Klien, whom they intend to temporarily 'demote' to Man Friday whilst promoting Vitantonio Liuzzi to race driver, is no surprise.
In fact, that the regulations regarding the Friday Rule, which fundamentally rewards failure to finish higher than fifth in the Constructors' Championship, are being discussed is even less surprising, for in essence their intended role as sop to cash-strapped or underperforming teams has, this year, been superseded by the Gang Of Nine's own testing restrictions.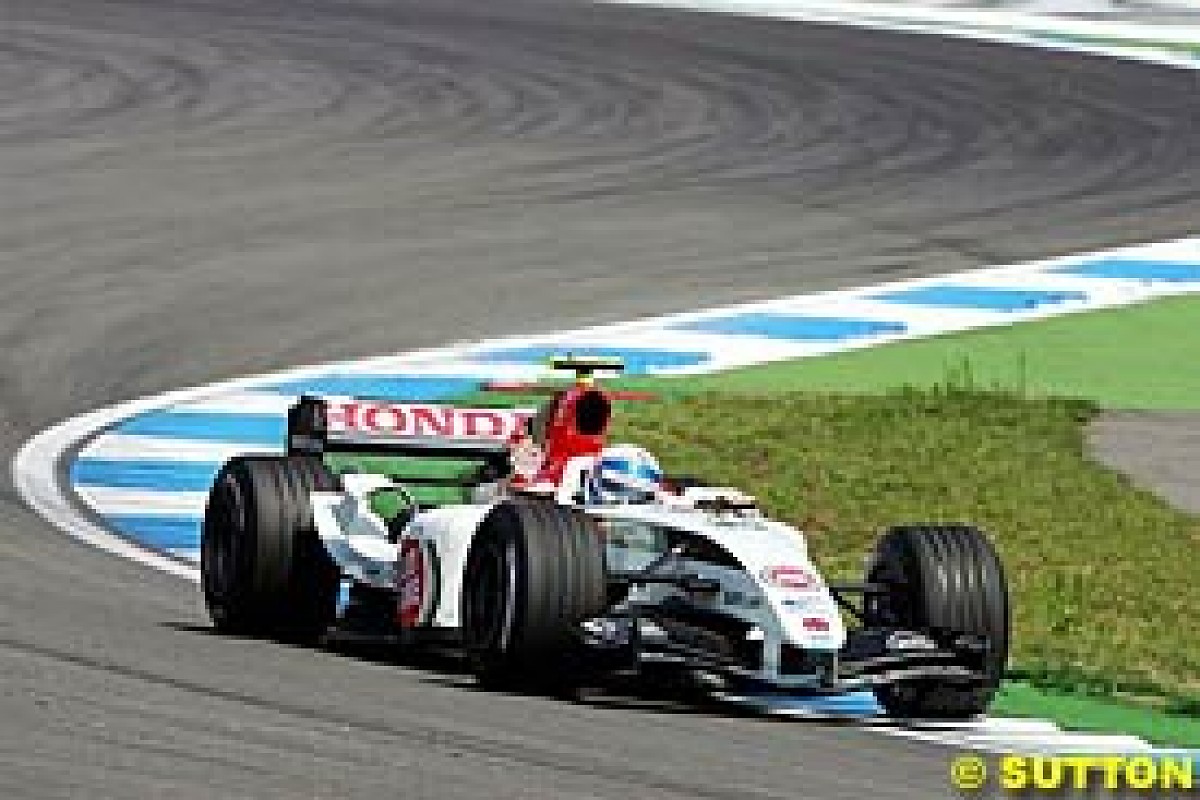 Briefly, in 2003, 'Third Cars' were permitted on Fridays subject to teams restricting themselves to no more than 10 days' unofficial testing, with maximum two cars, during the season. The first amendment to the rule came when Jaguar suggested converting 10 days x 2 cars to 20 car/days, and, thus, received consent to run one test car for 20 days.
But, testing had not been the only intention behind the rule, there existed commercial considerations: the FIA envisaged teams would introduce new sponsors via third cars, so waived identical livery restrictions for Fridays. Strangely, though, not a single team have availed themselves of these opportunities, except for BAR, who ran once a car in alternate livery: that of 555, in China - the brand's largest market.
Some saw a tutelage aspect in that rookie drivers could be eased into the paddock ahead of race breaks, and, during the introductory season, it was generally youngsters who availed themselves of the opportunities.
So, these cars ran in dedicated sessions on Fridays - McLaren's Ron Dennis somewhat caustically referring to them as 'street sweepers' - with their value categorically proven by Renault, who, by the second race of the 2003 season, Malaysia, claimed their first pole position in almost 20 years (as Renault) or almost five seasons (as Benetton), with Fernando Alonso becoming the youngest pole sitter in the history of the Formula One World Championship.
In Hungary that year, the Spaniard became the youngest winner of a World Championship Grand Prix, enabling Renault to consolidate their place in the Top Four, and their present successes can, in large part, be traced back to data accumulated thus.
For 2004 the rule was amended, with teams placed lower than fifth in the previous Championship being permitted 'Third Cars' during Friday scheduled sessions. Again the worth of Friday cars in the hands of well-funded and managed teams was proven: BAR-Honda, fifth in 2003, leapt to second in the Constructors' Championship, with Jenson Button ending the season best-placed non-Ferrari drive. Sure, BAR's task was eased by underperformance from McLaren and Williams, and Renault's loss of focus towards the close of the 18-race season, but, whatever, Anthony Davidson and the third BAR regularly figured near the top of Friday's timesheets.
Davidson, with but two Formula One races to his CV, admirably fulfilled the requirements, which, ironically on Dennis' insistence, specified that no driver with more than six Grands Prix starts in the previous two years may act as Man Friday, and BAR freely admit the team's performance, particularly as influenced by engine and tyre factors, was aided considerably by his efforts.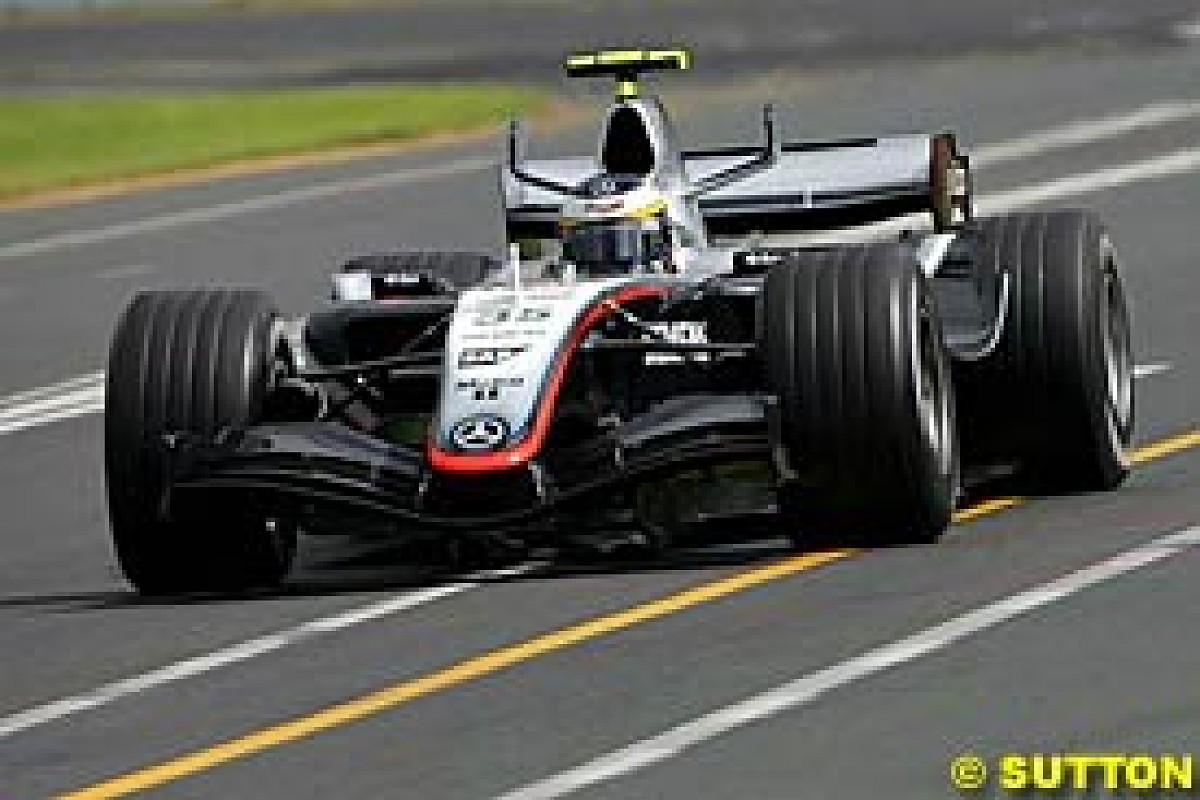 By mid-point of the season it became clear that a third car was more than mere luxury, to the degree that this column was first to speculate upon the wisdom of Williams and McLaren ramping up their performance from Spa-Francorchamps onwards, when the third car facility in 2005 was there for the taking. At the time both shrugged aside the suggestion, with Dennis indicating that teams would vote against the Third Car rule should either McLaren or Williams benefit there from.
History shows the rules were not changed, and McLaren, who finished fifth behind Ferrari, BAR, Renault and Williams in the Championship, was granted the facility, and very much availing themselves thereof. The team, of course, had in their employ not one, but two drivers superbly suited to the role - Alex Wurz and Pedro de la Rosa - both of whom have numerous Grand Prix points to their names, but, crucially, had not competed at the top level since 2000 and 2002 respectively.
If third cars were a major advantage last year, even in the face of unrestricted testing, then they are doubly so in a season which has brought regulations stipulating long-life rubber and power units. Factor in the voluntary test cap - agreed amongst the nine 'bottom' cars in the Championship - and it becomes clear that McLaren, able to test engines and tyres for two additional hours on Fridays, have gained a major performance advantage. One look at the times set by de la Rosa, standing in for injured Juan Pablo Montoya, and Kimi Raikkonen towards the end of the Bahrain Grand Prix confirms just that.
In fact, so great is the perceived advantage of third cars, particularly in the capable hands of BAR or McLaren, that Ferrari Technical Director Ross Brawn had no hesitation in strongly condemning the facility ahead of this year's Malaysian Grand Prix.
"I think it's a gross anomaly," he said during the FIA Media Conference in Sepang, "which was originally intended to give some commercial benefit to less well-off teams to enable them to sell a third car for Friday. To have a team of the calibre of McLaren, or last year BAR, having the benefit of a third car on Friday is a nonsense. I don't agree with it."
Certainly, McLaren have not allocated their car to a rookie (as long as rules permit Wurz or de la Rosa to drive it, why risk losing advantage through indiscretion or inexperience?), nor have they availed themselves of incremental funding opportunities. In truth, by running experienced drivers, one of whom has a worthy podium to his name, and not rookies; by not introducing additional sponsors via the additional car, McLaren, without doubt amongst the best funded of outfits, are exploiting an unfair advantage granted on the basis of underperformance in 2004.
On that basis alone, third cars, as currently operated by McLaren and others, have no place in a meritocratic Formula One, and, thus, the facility should be extended to all teams, or withdrawn entirely - preferably the former, with commensurate unofficial testing restrictions applied across the board.
However, this week comes news that Red Bull are requesting a waiver for Christian Klien, with 21 Grands Prix to his name, to run their Friday car on the basis that "the current status was intended against older drivers to fill spots for young ones. In our case, with Christian not eligible for Friday testing, the rule contravenes its spirit."
Wrong: the ruling was intended, amongst other considerations, to ease youngsters into Formula One, and Red Bull and Klien certainly used that opportunity last year. At the time, when asked whether the Austrian was 'ripe' for Grand Prix racing, sources close to him stated "he was the real deal", whilst Red Bull owner Dietrich Mateschitz told Autosport in November last year, "We have backed Christian since he was 14 or 15 years old and we do not wish to lead someone into Formula One only to drop him after a premature verdict. There are some people who say that your first season in Grand Prix racing is a learning year. You have to prove yourself in the second." Well, this is his second season...
Note Mateschitz' timing: two months later he signed Klien and F3000 Champion Vitantonio Liuzzi on identical contracts whilst very much aware of the rules and regulations governing third cars. At the time he hinted that the second seat would be rotated, whilst deflecting questions regarding Klien's overqualification for a third car role.
Ironically, Liuzzi is Red Bull's ideal third car driver: eminently marketable, the Italian could attract additional sponsors (which the team, apparently, do not wish to attract). With an impressive CV, albeit one which lists no Grand Prix starts, he needs to learn F1's ropes before a crowd; finally, with little Formula One testing to his name, he needs the development time. Why, then, do Red Bull not maintain their present status quo as they grooms him for higher things next year?
However, should Red Bull wish to allude to the 'spirit' of the regulations as justification for their request, maybe they should, before even nominating a driver in place of Liuzzi, introduce an additional sponsor and run the third car under its livery?
If the Friday rule can be easily changed, and sources suggest 'all' it requires is unanimous agreement from all teams and Bernie Ecclestone, it can just as easily be removed from the regulations - which is its deserved fate for as long as it does not ease new sponsors or rookie drivers into the sport, and is nothing other than massive reward for abject failure to finish in the Top Four.
The FIA Meeting
The surprise is not so much that Ferrari and two teams - Red Bull and Jordan - intend attending the FIA's meeting in London on April 15th, but that seven teams seemingly have decided to boycott the affair for reasons best known to themselves.
As great a surprise is that the two teams attending are not Toyota and Honda, for these companies are categorically against the knee-jerk promotion of a breakaway premier Championship, preferring instead to evaluate all the options over the maximum period of time.
Honda Racing Development Vice-President Otmar Szafnauer has long stated that the company's approach to the entire political scenario Formula One has been embroiled in since 2001 is one of 'look and listen', whilst Toyota, for their part, a fortnight ago sent a letter to all teams confirming the company's commitment to a single Grand Prix formula regardless of administrator or promoter.
So, against that background, why do both operations not attend Friday's meeting, for how else can meaningful evaluation, or unrelenting commitment, be made or given without access to all the facts? Toyota, by virtue of being a team owner, are invited, whilst Honda, through their 45% holding in BAR, are entitled to representation via the team.
That said, why do not all members of the 9+5+3 attend FIA President Max Mosley's meeting? They, after all, have an inherent advantage in their 'battle' against the three Fs (FIA, FOM, Ferrari), for they have been invited by the FIA, whereas the G9 etc, have not reciprocated. In short, they have been invited to attend, so can glean information to their heart's content, whilst locking the 'enemy' out of their own meetings.
Of course, there are those who may prefer, for manifold reasons, to be seen to be boycotting Mosley's meeting, whilst others may wish to make political capital out of any attendances from those ranks, but, in the final analysis, the majority seem to be agreed that the world should be offered only one Championship come 2008. The remaining questions, then, surround purely the details of what and where and who and when. Surely no informed decisions can be taken without all permutations being known to all parties?
Is it not strange that teams will brazenly post 'spies' up and down the pitlane to record all opposing teams' activities, will openly contract photographers to shoot visuals of competitor cars in action to obtain minutest details (or, in the case of Ferrari, measure opposition tyre dimensions), risk court cases to gain design information, will ask endless questions of journalists regarding competitor activity, yet fail conspicuously to exploit every opportunity of acquainting themselves with the plans of their administrative 'enemy'?
Car companies have for decades mounted highly sophisticated market intelligence operations and regularly pay dearly for advance information on the competition, yet, in this instance, a group of five highly paid executives representing five major motor manufacturers are offered every opportunity of gaining valuable strategic information (or advance warning) for no more than the price of a business class ticket to London, yet are seemingly snubbing the opportunity for spurious reasons.
Some cite 'the alliance', others 'timing'; whatever, why cannot the entire G9 alliance attend for reasons already amplified? Strange, to say the least.
Of course, Jordan's representatives may well feed back information from the meeting to Toyota, but, as stated, the Japanese company wants no part in a breakaway championship, whilst Jordan's management, through relative inexperience and lack of previous Concorde involvement, is hardly qualified to take on board the nuances surrounding the latest political power plays. Equally, Toyota, despite increasingly flexing its economic and political muscles in recent times, is hardly a charter member of the existing contract.
Red Bull and Cosworth, of course, have no direct connection to either the five manufacturers or GPWC, whilst their respective owners are equally inexperienced in matters Concorde.
The Gang Of Nine points out, not unreasonably, that it needs, and has, time before committing itself to whatever blueprints are drawn up for the future of Grand Prix racing but, would not a little advance information immeasurably aid them in formulating their own plans, whatever they may be?
At the launch of Williams' FW27 Sir Frank, in response to a question regarding the shenanigans surrounding the situation, said: "All this arguing is enormous fun..."
A case could be made that sleeping with the enemy, too, should be 'enormous fun', and could turn out to be enormously constructive to boot.