Q. How did you find your first experiences as a Red Bull Formula 1 reserve driver in Melbourne and at Sepang? I heard that you got to catch up with your old Formula BMW Asia team, Euroasia, in Malaysia.
Daniel Ricciardo: Yes, I got to see everyone, so it was nice. Malaysia was pretty quiet compared to Australia. It was pretty busy in Albert Park, with the media it was full on. So it was a good few weeks, but I'm happy to be back now, empty my suitcase and do a good load of washing.
Q. Are you settled into your role, or are the first few races just acclimatising to how everything is going to work?
DR: I wasn't really sure what to expect for the first few races. I've just got a feel of it now. The next few I do, I'll know how the system works a bit better. I'm just slowly building up to it.
Q. I understand that you and [team-mate and fellow Red Bull Junior] Brendon [Hartley] live quite close to each other in Milton Keynes, how is that working out?
DR: We're based around Milton Keynes, within 10 minutes of each other, and it's alright because we get to do training together and have some company away from the race track, which is cool. Because our families live so far away, every bit of young company is nice to get. We're getting along well and I expect that will continue for the season.
Q. Is there a good rapport among the Red Bull Junior drivers? Are you able maintain a good ambiance without things getting cut-throat?
DR: I think so, we all know we have a job to do and if we don't perform it's pretty much goodbye, but we're just focusing on our own racing and on our own careers. If we can block the other competition out for now, then that's fine, and we're doing that.
We're pushing each other well with the training side of things so this is what we need. We can work together and build a stronger combination, I am sure if we finish one-two in the championship, then they're not going to want to get rid of any of us.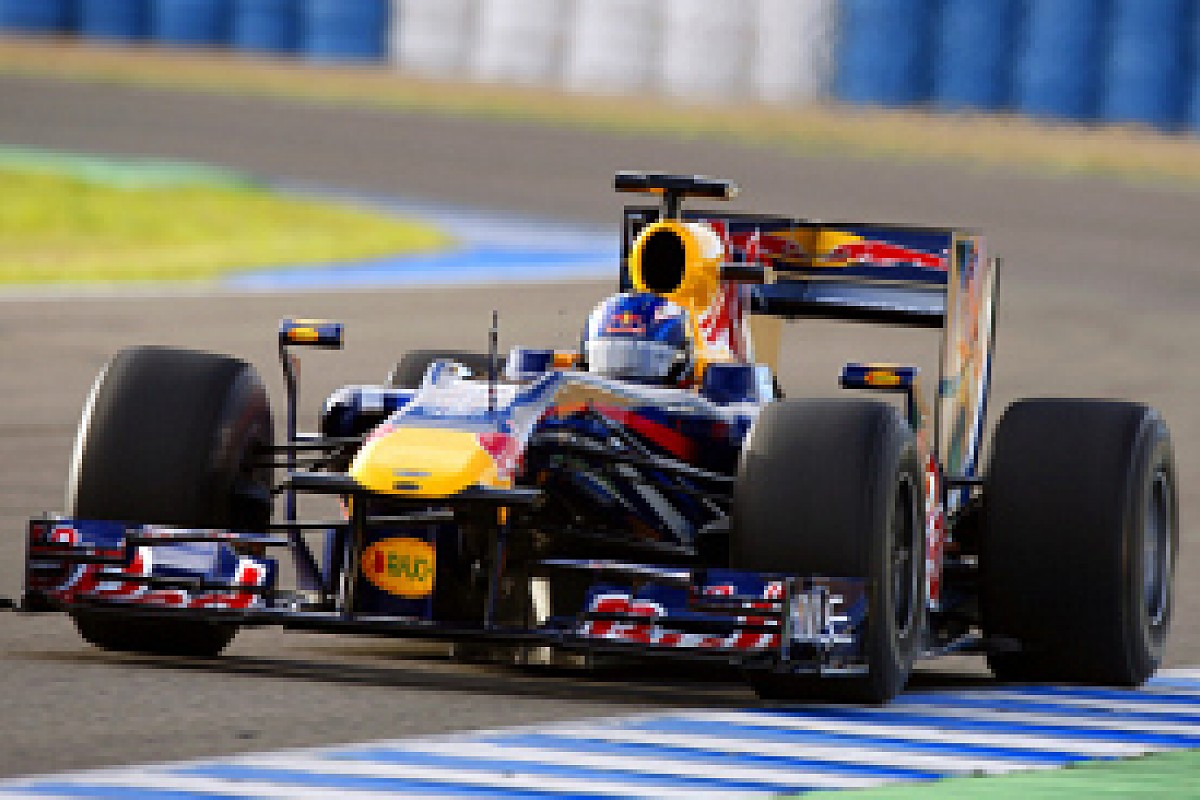 Ricciardo testing for Red Bull at Jerez © LAT
Q. How has testing gone? You have had a hand injury, do you feel that you have already done enough miles to compensate?
DR: Well, it's not ideal. I've missed four days this year, one test through my injury and one due to being in Albert Park. So it's not perfect. I've done enough now to be adapted to the car, so that gives me the confidence to approach [this] weekend with confidence.
Q. What is the main thing that you have had to adapt to coming from Formula 3? I know that you did a couple of races at Portimao last year, but I'm guessing that it was only of limited value with the unfortunate early accident that you had.
DR: I only did the one round last year and it didn't give me much experience. It is different from F3, you've got to alter the driving style a little bit, but at the end of day all of these modern formula cars are more or less similar. I think if you are good enough you can adapt the four things you need, and then after a few tests it is pretty much like how any other car feels.
I am enjoying the car. It is much bigger than the F3 and quite a bit heavier, so requires a different technique. I guess there's a little bit more fitness that I'll need with the longer races, the car itself is a bit more physical.
Q. What exactly happened in your mountain bike accident, and are you fully recovered now?
DR: It's fully recovered and there's nothing to worry about. It was just a mountain bike accident. It was a bit unfortunate, actually. I was doing some trial riding and on a downhill run my chain came off, so I pretty much went over the bar and when I landed my wrist copped most of it.
We're nearly always training in the gym, so it was nice to do something else. Even though it was more of an unfortunate accident, I think that I've got to stay away from it for a while, for this season I guess I'll have to keep it in the gym, be a bit more boring, I guess.
Q. Have you spoken to Brendon or (former Red Bull Junior driver) Jaime Alguersuari about what to expect this from year? The rookies from last year said that getting used to new tyres in qualifying was the biggest challenge, and in the early races the third or fourth year drivers had an advantage.
DR: I think the experienced drivers definitely proved that. Speaking to Brendon, it just seems having the confidence to really get on the tyres in qualifying, and to trust it, was where the experienced guys were gaining their edge.
So I think it's all about trust and I guess a lot of it comes with more time in the car. Hopefully, if I can get over that little hurdle, it will give me the little bit that I need to start the season.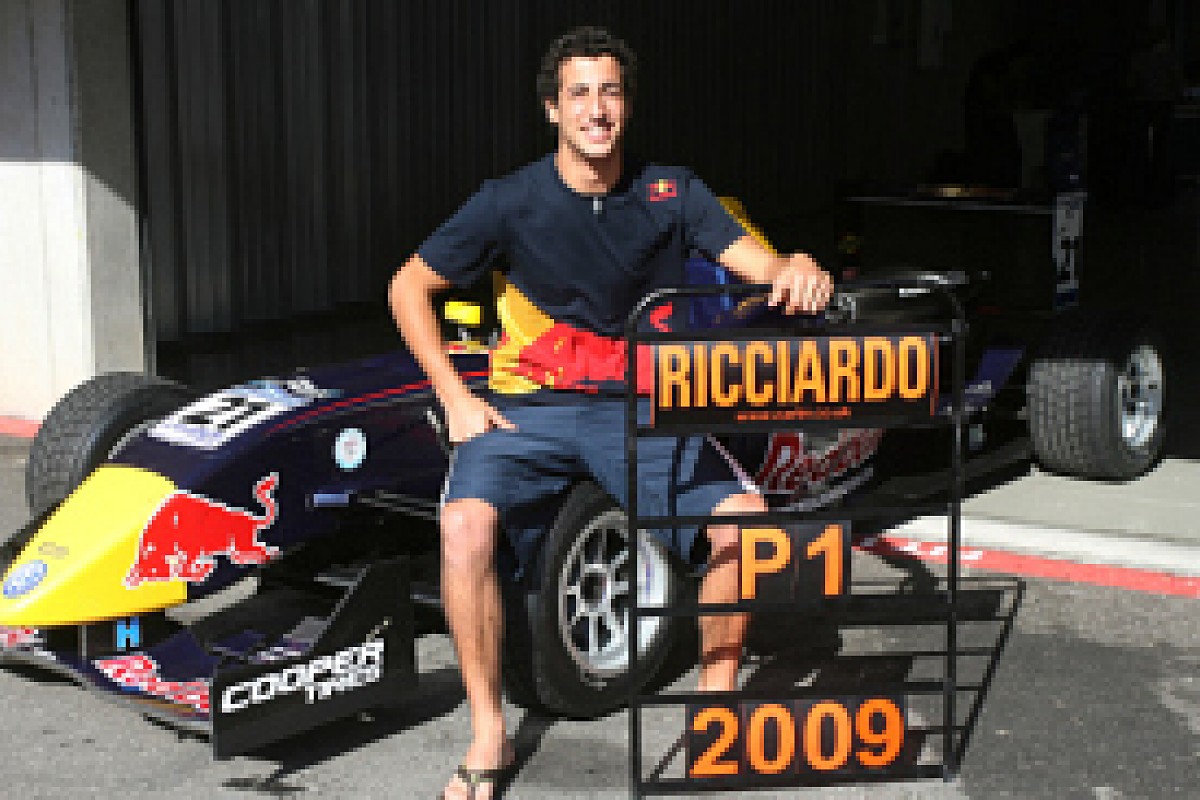 Ricciardo won the British F3 title last year © LAT
Q. A lot of rookies seem to have been going quite well in testing; yourself, Nathanael Berthon... That must be quite encouraging.
DR: They have been. It's a bit of a surprise that the rookies have done quite so well in all of the tests. There's probably not so much experience in the field this year compared to last year, but I think there are a few more rookies in the mix. There's going to be a different feel to this year. As always, it's going to be competitive.
Q. Going back to your relationship with Red Bull. Is it Dr Marko that you're dealing with most of the time, or are there other people at Red Bull who are assessing the drivers on the Junior Team?
DR: Dr Marko is pretty much our boss on the Junior Team. He overlooks everything. I'll be in contact with him usually after every test or every race. It's pretty common contact.
Q. Do you think when he's assessing he will take into consideration that Brendon has a little bit more experience?
DR: [Laughs] We'll see, I don't know, it's hard to say. They expect us all to be good and able to win, no matter what experience we have. If I am running around in eighth or 10th, then I don't expect to have much sympathy from him, that's for sure.
Q. Without Red Bull, where do you think that you would be?
DR: Phew. I definitely, definitely doubt I would be where I am now. I did the first year of Italian Formula Renault, which was without Red Bull. And that was pretty much through my dad and a few sponsors at that time. Maybe to do another year of Renaults was possible, but then to do Formula 3 we really needed a big backer like Red Bull. Yeah, I definitely wouldn't be here.
Q. I understand that your dad did a bit of racing, what sort of cars did he drive?
DR: He finished his career just doing sports sedans. He tried out for some open-wheel stuff when he was younger, but I guess his father didn't really have the backing to help him out back then. It was quite hard coming from Perth. So he ended up just doing it for fun and sports sedans was what he did the most.
Q. When you were out in Melbourne and at Sepang, did you have any mixed feelings seeing the Toro Rosso drivers running so strongly?
DR: No, no. I am actually in contact with both teams. I do spend more time with Red Bull, but I go and see Toro Rosso a couple of times a day. I'll speak with the drivers a bit and they're doing very well. From what I saw, Jaime had a very good race at Sepang. At the moment he looks like he's getting stronger. Hopefully, Toro Rosso can extract a bit more speed from the car and help these rookies show their full potential.
Q. I know that you're just starting World Series now, but where do you see yourself in a couple of years time - or are you not looking that far ahead?
DR: It's nice to look ahead and dream a few things, and I'd love to be in F1, but at the moment I'm just taking it year by year. Even though I am involved with Red Bull Racing, World Series is 100 per cent my focus this year. That's what I am looking forward to doing, hopefully winning that, or proving that I can fight for the championship. We'll see what next year brings after this.
Read the full preview to this season's Formula Renault 3.5 championship in this week's AUTOSPORT magazine, or in the digital edition.