Q. How do you feel going into this year after finishing runner-up last season?
Craig Dolby: Last year was a strong year. This year, I've stepped up my preparation and I'm ready to go. Having that year's experience with Alan Docking Racing, we're going into the championship hitting the ground running, rather than joining a new team on the first day of a race weekend.
We gelled last season, and proved we're on the pace, so hopefully we'll continue that into Silverstone this weekend and give a good account of ourselves. I'll be pushing for wins straight away.
Craig Dolby leads the field at Jarama
Q. Your career has been pretty tough until now hasn't it?
CD: I've never had two seasons with the same team and that meant my career hasn't really been stable until now. Being with the same boys, I think we can be even stronger this year. If that's the case, we've got a very good chance of winning the championship - but it's definitely not going to be an easy one. Looking at the drivers who have signed up, it's fantastic to race against these guys, who have been right to the top in Formula 1 and at Le Mans.
Q. What's the key to getting it right with these cars?
CD: You hardly get any track time and the limit on the number of tyres you get makes it even harder. You have to think about looking after your tyres all weekend. I think the key to it is bringing a good baseline set-up to each track. Then you need to get qualifying right. Last year, that was our weakest point - the whole team will admit that.
Sometimes I'd qualify 10th and finish fourth, and then I'd have to start 14th and come through again in the reversed-grid race. We were making it difficult for ourselves. The races were fantastic, I could always overtake and get to the top five positions. If I could qualify that bit higher, then it would make my life a little bit easier in the first race to save all my overtaking moves for the second.
Q. You've never been shy of overtaking, have you?
CD: No. Never. That's the bit I'm looking forward to the most. And the more ex-F1 drivers in there, the more guys to prove a point against. For sure, I'm going to pull off some more good overtaking maneouvres this year. That's motorsport, isn't it?
Starting at the back and racing to the front. Monza last year was amazing. I started with [Sebastien] Bourdais at the back and it was a race between us to see who could get through the field the fastest. I came second and he came third. Afterwards we both looked at each other and said 'that was a wicked race!' We overtook so many people, and that's the beauty of this championship you know every race weekend you with have to overtake people, especially in the reversed-grid race. It is quite cool!
Q. Is mastering the push-to-pass the key to getting past people?
CD: Yeah, it is really. It's working out where to use it and when. Sometimes you come up to a group of cars, you've got to plan it out laps ahead of where you are. If you use it on one lap, you won't have it for the next one, so you have to use it sparingly. It's something else to think about, which makes it more interesting. For the spectators it makes it a great show.
Q. And you're pretty good on brakes too?
CD: Not too bad! I think this year I'll be even better. I've thought about a lot of things over the winter. I've not been in any racing cars, but I've been dreaming about that first race and I feel I've learnt where I can get stronger. I've identified my weakness and I'm working on it. If I can pass a few more people around the outside on the brakes, then that's going to be a added strong point of mine.
The level of drivers from year one to year two raised quite a lot, and when Sebastien [Bourdais] arrived I think it raised again. This year, it's going to be even higher so I've got to rise to the challenge and put a good effort in and start the year strong.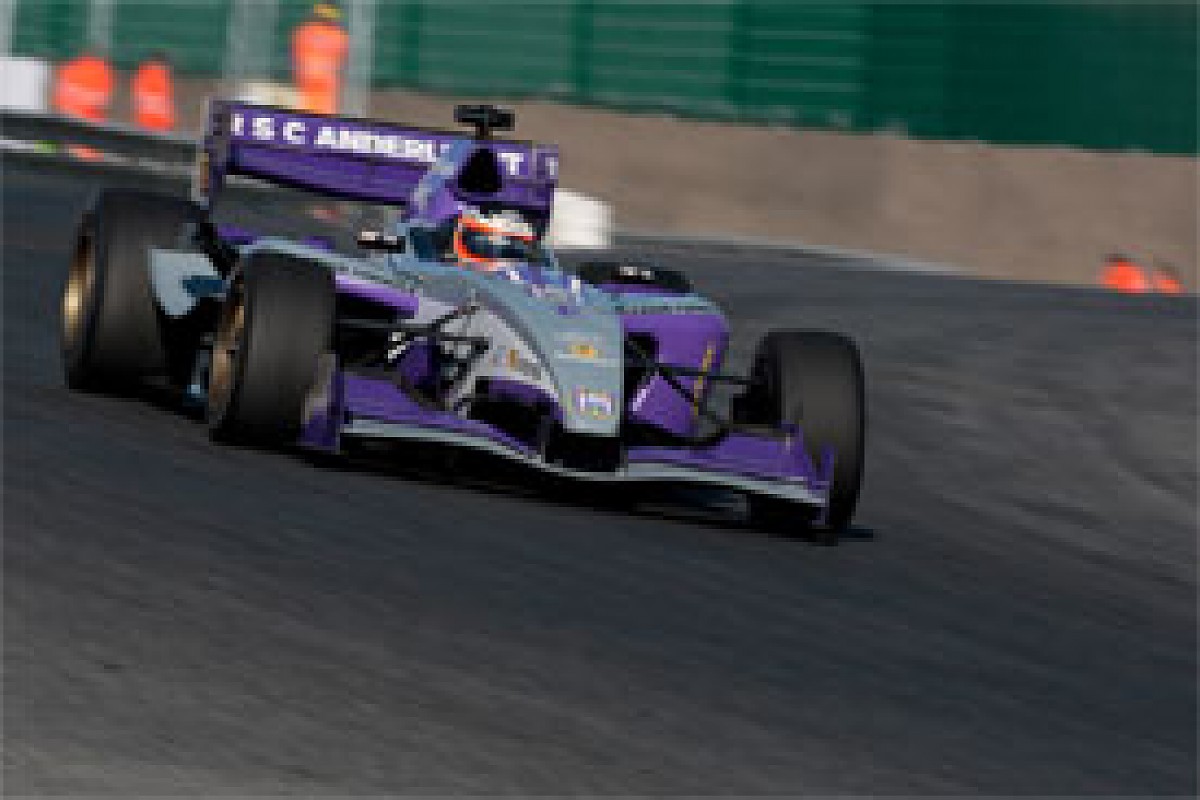 Yelmer Buurman in the Anderlecht entry
Q. Who do you think your main rivals will be?
CD: Franck Montagny is going to be awesome, with his Le Mans and F1 experience, in testing and races, and I think James Walker in the Liverpool car will be there or thereabouts. Yelmer [Buurman] is going to be fast, as it's his third year in the series, and Max [Wissel] is the young guy who was very strong last year in the Basel car.
To be honest, from the ones I've seen signed up, they're all fast. Any of us could win races, I think at least 15 of us, and that's the best thing about this series.
Q. Has this series saved your career?
CD: I really don't think I'd be racing without it. At the start of 2008, trying to find a World Series budget was just too difficult. Then in August that year, I hadn't driven anything all year and I got the call a week before the first race asking me if I could drive the Anderlecht car. Yes please!
All of a sudden, I was on the podium in both races at the Nurburgring and my career was back on track. It's scary looking back. If Superleague hadn't happened, I don't know what I'd be doing, not racing. I'm just happy to have this opportunity. And now, with the level of drivers in there, I can continue to prove myself.
Q. Last year you pushed Adrian Valles and Liverpool all the way in the title race, can you go one better in 2010?
CD: Last year was frustrating at times to come close to the title. We had a few little problems, and Estoril was a bad round for us. After that, Adrian and Liverpool had the gap they needed to win. With 12 rounds, even if I have a bad one, I have the time to claw my way back into the fight. It gives you a bit of leeway, I guess.
I can make myself much stronger this year, and that starts this weekend at Silverstone. I'm looking forward to it and I'd love to say we're going to win it after coming second last year, but it's going to be so tough. I'm confident I can do it. I can fight for race wins. I'll take it round-by-round and the championship will look after itself.