On the Record with Jenson Button

---
By Anthony Rowlinson, England
Autosport Executive Editor
Speaking exclusively to Autosport magazine, Jenson Button explains why he wants to stay at BAR and how he plans to convince Frank Williams to release him from his 2006 contract. Autosport-Atlas brings the full Q&A
Autosport: Jenson, could you please explain your current position with regards to who you want to drive for next season?
Jenson Button: "I think everyone knows the reasons why I wanted to leave at the end of last year. When I made my decision, I was advised that Honda may not be involved with BAR, and I therefore wasn't sure they were going to continue. Nobody could tell us. Williams had an engine manufacturer on board, and that was a positive thing.
"Obviously, it was all decided in the courts that I was staying at BAR. I then found out that they did have a works engine. And not just a works engine, but Honda buying 45 per cent of the team.
"I realised that they were very serious about their efforts in Formula One. I think this has not been the easiest year but even so, I think BAR Honda have done an exceptional job and I have really felt a part of the team. I think that there are a lot of good things happening and we've got a lot of history together through good and bad times.
"Obviously BAR have got Honda and owning 45 per cent of the team is a big part of it because it really does show how serious they are. And I know what's going on within BAR and it's very positive."
Autosport: Won't people think this is a rather opportunistic decision by you?
Button: "I think people understand that I want to be with the best possible team I can. Obviously there were mistakes made and the contractual mess last year, and now I'm a lot more in control of my future. For me, this is the best thing for the future. That's not just in the short term, but I do think that BAR are going to do very well especially if I'm with the team in the long term as well."
Autosport: You say long term. How long term is that?
Button: "More than one year."
Autosport: Have you got to the point where you are feeling a little bit fed up with this?
Button: "I'm very fed up with it but I'm in the centre of it really. You could say that I've made mistakes and I think I have been poorly advised on the future. But now I've got to make it right and choose the direction I need to go in my career. I've got to put me first. Obviously, Frank and I have always had a good relationship and Williams have achieved a lot in the past, and also Honda have been multiple World Champions. I've got a lot of respect for Frank and it's obviously a difficult situation. But he will understand I have to be with the best team possible.
"I've been in Formula One for six years now. I haven't had the equipment to win a race, so this is a very important decision for me. I have to be with the correct team and that is BAR Honda."
Autosport: Frank Williams said at the weekend that you had to go to Williams next season. That is their position. How do you react to that?
Button: "I have a contract with Williams for 2006. Whether that is binding or not remains to be seen. I can understand his situation, but he has to understand mine as well. And I want to be with BAR Honda. It's not in a spoilt brat kind of way, it is just this is an important decision for my career.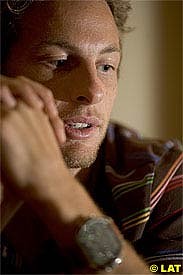 "I'm sure Williams will be very strong in the future - in three of four years time - but BAR Honda will be strong from the word go."
Autosport: You mentioned earlier that everyone was aware of what was going on at the end of last year. I'm not sure everyone was aware of what was going on at the end of last year. What were the factors that made you want to leave the team?
Button: "As I said, I wasn't sure where they were with their engines and with Honda, if they had any involvement. Basically we made a mistake and I was ill-advised in not talking to the team beforehand and seeing what the position was. But as soon as I realised the involvement of Honda it obviously made a big difference."
Autosport: Williams are getting a Cosworth engine next year. In some drivers' contracts that might have been enough for them not to have to go there because it is not a works engine. We're told that that doesn't apply in your case.
Button: "I can't say anything on that. That's confidential. But I can say that to be competitive I think that next year you will have to be with a manufacturer and for them to have a big involvement with the team. The position has changed a lot with Williams from when I signed the contract; their position has changed a lot, so yeah it is not something I'm getting into."
Autosport: So what is your motivation to stay at BAR?
Button: "My aim is to be World Champion. I'm sure I'm going to get asked whether it is because of money. But racing drivers don't get paid a bad wage whatever team you're in. It's winning the World Championship that stays with you for your whole life and that is what I want to do."
Autosport: Has money come into it at all?
Button: "100 per cent not."
Autosport: Nick Fry said the other week he would do whatever he could to keep you in the team. How do you react to that?
Button: "That's nice to know!"
Autosport: If you see Frank in the paddock over the next couple of weeks, as you are bound to, are you going to be able to look him in the eye? How is it going to be?
Button: "I'll be able to look him in the eye, definitely. We have got a lot of history together since 2000 and even before then. We need to be adult about it and understand the situation and hopefully, everybody does who is involved."
Autosport: How do you feel in the team now?
Button: "I feel like I'm involved in every decision that is made, and that is a fantastic position to be in. I'm not just one of the drivers. I feel like I'm very involved in the decision-making in the team, which is great and I don't think there are many positions like that in Formula One for the drivers. That is very important.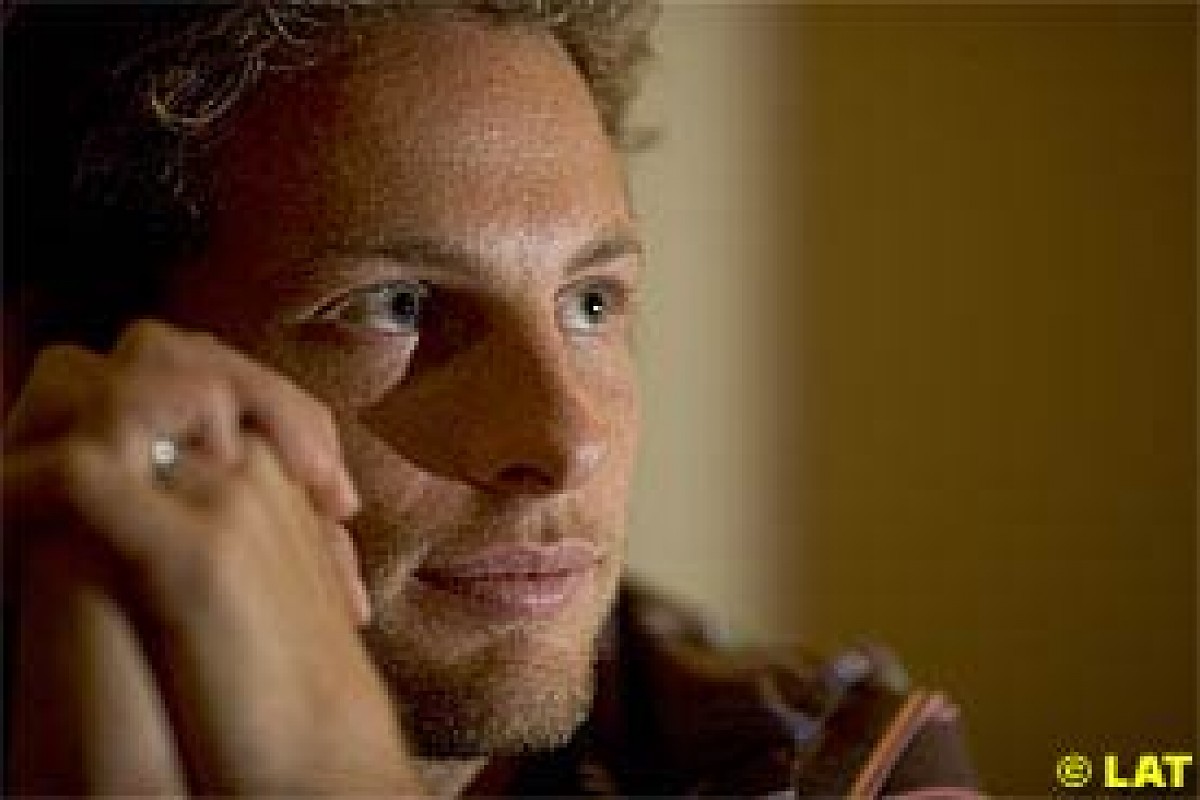 "I have a good relationship with everyone in the team, and with Gil [de Ferran] coming onboard as well that is going to be good for the team. I think he has made a difference and will continue to do so in the future when he gets more experience of Formula One. Because he's standing back he can see a lot more of what's going on, which is good."
Autosport: Have there been times this season, with what's gone on, when you've questioned whether you wanted to stay with BAR Honda?
Button: "Even though it's been tough and I threw my toys out of the pram in Malaysia, I know that they will do everything to win the Championship and Honda will give everything. They won't stop until they do. It has been frustrating at times this year but I know it will turn around. It has already started turning around but I haven't made the decision overnight. It hasn't been the last three races where I've thought 'BAR Honda are going better now and this is where I want to be'. It's been a longer term thing and I've been thinking about it all year - even though I've said in the press that I haven't been - its just to get you all off my back. I've been thinking about it all year, ever since the decision was made last season."
Autosport: Do you wish this never happened?
Button: "It is not a nice position for me to be in. I'm sure people will say he signs up with teams and he moves on and tries to drive with someone else. But they've got to realise that a Formula One driver's career is not very long."
Autosport: Does this distract you?
Button: "It seems that when I'm distracted and stressed I seem to drive better for some reason. There has not been a race in the last two years where I haven't been asked questions about my future and what's happened in the past.
"I think when I get into the car everything switches off. I switch off from the outside world and I just concentrate on driving, so nothing seems to distract me when I'm driving."
Autosport: What happens if all this pans out that and you end up at Williams. What would your feelings be?
Button: "I don't think I can really answer that one."
Autosport: Do you have anything you'd like to say to the British fans you have?
Button: "They might see it as very strange, trying to change your mind all the time, and they might think that I can't make a decision. But I made a decision a long time ago on where I want to be next year and also for my future. And hopefully they will stand by me in that because hopefully they want to see a British World Champion.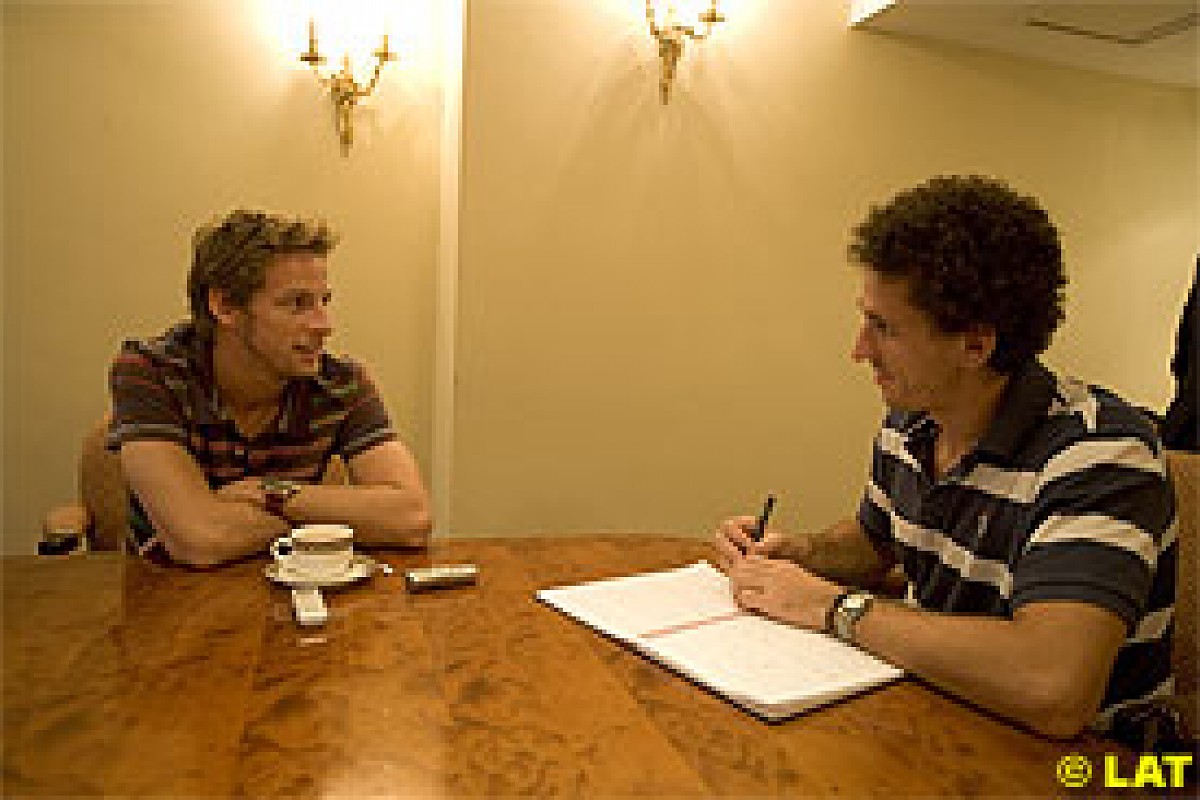 "And the place for me to do it is at BAR Honda so hopefully I'll have the support of the fans out there and the British public. They've got to understand that a driver's career is not long, as I've said already, and I have to find the right place to win the World Championship and I think BAR Honda are capable of doing that.
"And I don't mean in five or six years. I don't think it's going to take that long to be challenging for the Championship anyway. So that's my best option of having a car that's going to be pushing me towards the World Championship."
Autosport: The overall team management change that happened at BAR Honda at the end of last year. Is that something you can talk about?
Button: "It is something I can talk about but I don't want to go too deep into it. At the moment I'm very happy with the way it is, and it has been great working closely with Nick Fry. I've worked very closely with Nick this year, with Nick and Gil. More so than what I did last year, I didn't see Nick last year because he was always in the back room doing a lot of work. We have a good relationship and I think he's doing a good job. He's always interested in my opinion on things, which is what I think is important in a team.
"Teams need to realise that the drivers are important. They are the people who really feel what's happening with the car and are not just robots who get in and drive. We do have opinions and we do need for them to be taken into consideration."
Autosport: What about your personal management change? How has that changed the atmosphere in the team? You seem a lot happier this year than last year.
Button: "I am a lot happier. Having Richard Goddard working with me is fantastic. He has done such a good job. For me he hasn't put a foot wrong. For a guy that has little experience in Formula One, he has done a fantastic job and I couldn't wish for anyone better to be in his position."