It's a Wonderful AF1 Life

---
By Jonathan Noble, England
Autosport-Atlas GP Editor
The AF1 (After Formula One) life of a World Champion could be fraught with longing for a crash helmet and a cockpit, but not many find a way to enjoy their trade or be successful in other forms of racing. One weekend in Germany saw five former World Champions rekindle their racing instinct, in a race event that also featured more F1 drivers than could be seen in the US Grand Prix. Indeed, the DTM series is becoming a favourite among former F1 stars, with Mika Hakkinen never looking happier than he is now, and even Alain Prost and Nigel Mansell are mulling the possibilities of driving in the series next year. Jonathan Noble was at the Norisring last weekend and talked exclusively to these great drivers, about the AF1 life of a former World Champion
All too often former World Champions' lives are over-shadowed by what they have achieved in their former career. The greatest days and happiest moments of their time at the top of Formula One are very rarely matched by what they go on to do after Grand Prix racing.
Think Alain Prost, Nigel Mansell, Nelson Piquet, Niki Lauda, Keke Rosberg...the list goes on. At very few points in their life AF1 (After Formula One) have they even come remotely close to getting the same satisfaction on track that they did in F1.
There are some exceptions. Mansell triumphed in CART in 1993, while Emerson Fittipaldi achieved considerable success in the same series, even winning the Indy 500. But this type of success, which leaves a Champion happy AF1, is bizarrely rare.
Now, though, there is a new member of the happy AF1 Club. Four years on from that glorious September afternoon at Indianapolis in 2001, where Hakkinen stood atop an F1 podium for the last time in his career, there is a new relaxed version of the Flying Finn.
The wrinkles around the eyes may be slightly firmer than they were back then, but that is the only evidence of how the years AF1 have taken their toll on him. In fact, by all accounts, the DTM-spec Hakkinen looks much younger than he did in his final months of Formula One. Everything about him, his swagger, the glint in his eye, the way his blond hair hangs on his head, that famous Mika smile - all of it point towards a man who is now more than content with his lot.
Yes, the years away from motor racing made him as happy as they did Damon Hill, who fell in love with the guitar as much as he ever did with racing cars. But after a while even spending time at home with the family, spending the millions earned in the top-flight, are not enough to satisfy the urges racing drivers get when that crash helmet is pulled on, the engine fires into life, and the chequered flag is the only target that counts.
For those driven by the passion of racing to the extent of Hakkinen, who lived and breathed it from their first time in a kart right through until they hung up their helmet in F1, life is really not complete without a cockpit and steering wheel in front of them.
Yet finding the right competitive environment is the most difficult task. The series cannot be too easy, too slow, too boring, too irrelevant or too much like hard work.
Former Champions want to be challenged, want to drive good cars, want to be appreciated, want to earn money, want to win - but they don't want to have to make too many sacrifices to their private lives.
Is it a realistic balance to find? Well, it's something that Hakkinen appears to have done so far. Off track, on track and away from the weekend, AF1 life is simply great at the moment.
Sat down in the Mercedes-Benz hospitality unit at the DTM Norisring race last weekend, Hakkinen did not even need to open his mouth for it to become clear just how happy he is at the moment. He laughed at a series of embarrassing shunts in a support race to the DTM main event and needed no time to respond as to whether he was enjoying life in touring cars more than he expected he would.
"Yes, absolutely, " he declares, with that familiar tone of voice seeming slightly more animated than in years gone by. "I enjoy it much more...and in every sense. The driving. The atmosphere in the paddock. How well everything is running, how smoothly everything is running.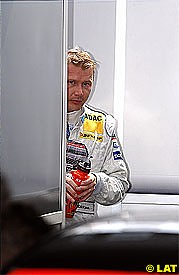 "Nobody is pulling your sleeve all the time saying 'come on, left, right, left, right, left right.' There is nothing like that. Everything works smoothly here. It is fantastic."
In fact, DTM is providing Hakkinen with everything he needs to be happy. After his time away from Formula One, the DTM cars are delivering enough satisfaction - and certainly feel different after so long away from Formula One machinery than they did when he originally tested one in 2001.
"When I jumped in it after F1, I felt it was slow," explains Hakkinen. "It was very demanding to drive the car and very difficult to put it on the limit. The braking, acceleration and cornering was all very challenging because the grip that was available was very minimum.
"And when I compare the DTM cars now to what it was then, the aerodynamics have improved enormously, so it makes life different.
"So even though you don't have lots of grip with the tyres available, the aerodynamics are bringing a lot of speed in the corners, so it is a bit weird. You don't know if it is the aero that is keeping the car on the track or it is the tyre grip. It is a very difficult challenge to understand which is doing what."
Another difficulty Hakkinen has had to overcome is in his seat position - no longer bang in the centre of the car.
"Yes, that is one of the things that is new for me with the DTM car, because obviously I am not sitting in the middle of the car. In a single seater it is easier to find the limit of how close you can put the car next to the wall, but when you sit on the left hand side I know I always leave it a little bit too far from the wall. But that's something that will come from more driving and more experience."
Hakkinen is on a roll, and every facet of his new life in touring cars is filling him with joy. Even the Norisring, whose sub-50 seconds lap comprises a hairpin, a chicane and a tight left hander, is being talked about delivering the kind of test thrown up by street tracks like Monaco and Macau.
"From the driving point of view this is a very challenging circuit. It is a nice circuit to drive and now, thinking about it further, it is fantastic for the spectators because it is so short. It gives a chance for the fans to see the cars all the time. The laptime is 49 seconds so people can see the cars all the time and see all the action.
"It is fantastic entertainment for the people to see the race, and driving the circuit is challenging. You have big camber changes in different places and have big bumps that affect you under braking, acceleration and the middle of corner areas. So it is a difficult one.
"Like every street circuit, when you come here the first time, it is hard to make a result. It is possible, but very difficult. When I did F3 in Macau I made a success in my second year. Also Monaco; I went there in 1989 and wasn't very good. I raced there with Porsche in 1993 and won it, so you need to go to the streets just once.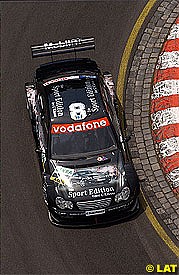 Does the comparison with Monaco really stack up, though?
"Yes," replies Hakkinen. "Here you have got much more space first of all, which is a very good thing. Much more space. It's less hectic, people are more relaxed, you have important guests, important sponsors but you can still have normal people from the factories who might be working for Mercedes-Benz, Opel or Audi they are walking around here with their families having fun. That gives me a great feeling.
"They can touch the cars, they can see how the mechanics work on the car, so you can compare it to like the Monaco GP, yes. But Monaco is a....you are in a cage and nobody can touch you there and nobody can see the cars or anything, so that is the difference. This is like Monaco in the old [F1] days, when everybody could come and look and see and touch and see what is happening, which is very natural."
But amazingly it is not the cars or the tracks that have floated Hakkinen's boat. After talking about the 'luxury' he has had in taking time off from his career after F1, he simply adores the fact that DTM comprises of 11 weekends. Full stop. No endless testing or promotional appearances is right up Hakkinen's street.
"I think it is a fantastic thing," declares Hakkinen. "The most important thing is that you can live a life and enjoy your life. And how you enjoy your life is to work hard and make good results in your job, have a great time with your family, have time to spend with your family, time to see friends, and have time to spend with your sisters or brothers.
"That is a combination of what is absolute luxury if you can have it. And DTM enables you to do that. It enables you to have a couple of weeks with your family and to see your friends.
"It combines everything together and then you come to the race weekend at DTM, you are full of sunshine, you are happy, motivated, energised to have a good time and you enjoy it. It is a great thing.
"And that is part of the whole thing of DTM. And I am not only talking about myself. The mechanics and the marketing people, the management, they don't have to travel all the time to different countries, they can stabilise their lives. It means less arguments, less divorces, and families are happy. It is great, you know..."
But finding something that makes an ex-Champion happy is no easy feat - and while Hakkinen has found contentment with DTM's cars, tracks and calendar, it is not to say others will find the series as their perfect place AF1.
Just look at the difficulties Mansell and Prost - both visitors to the Norisring DTM race last weekend as they made an appearance in the 'Race of Legends' - have had trying to find nirvana AF1.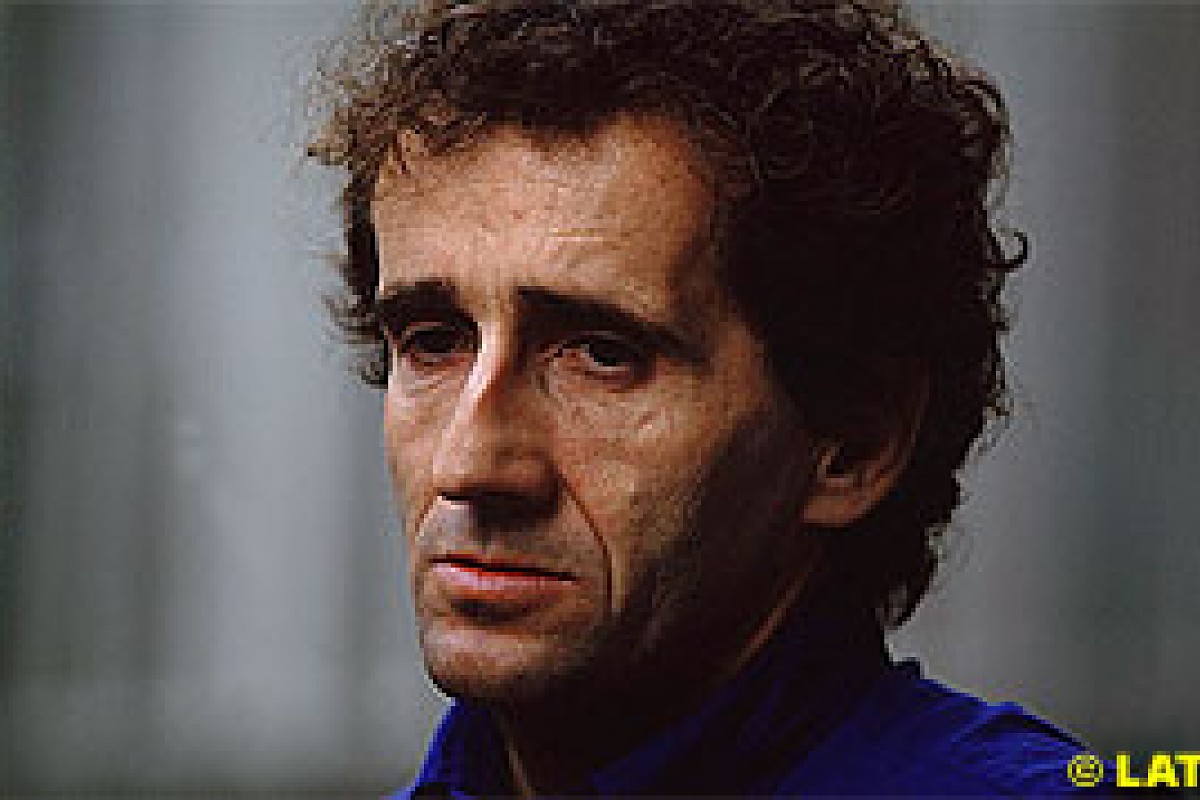 Prost's switch to team management and then team ownership proved a disaster when Prost Grand Prix folded - leaving the man a shadow of his former self. Recent returns to competitive action in ice racing and the French GT Championship appear to signal more serious intent, but it is clear Prost has not yet reached his zenith AF1 - although even he questions whether it is already too late for him to get there.
Prost clearly loved the DTM cars from his taste of them in the 'Race of Legends' last weekend, but the biggest consideration for him as he ponders his next racing venture is whether he wants to get back into a proper competitive arena.
"That is the thing I need to consider," he says. "If you do that just after you have retired from F1 then it would not have been a good idea, but now it may be too late because I am old. But it is also part of your life when you can motivate yourself for a new challenge."
And there is clearly a bit of difference between the French GT Championship and DTM.
"The GT is not that easy to drive, it may be not more complicated or less complicated but the competition is much less tense than the DTM. But they are also difficult cars to drive, very hot inside, much more than here.
"There is no easy competition anywhere, but this one is very strong. Here you have a very strong competition and fantastic ambiance with fans and the public, so it not bad."
Mansell enjoyed great success in the United States, winning the 1993 CART title, but a subsequent return to F1 and appearances at ice racing events and in the BTCC have not delivered the kind of buzz he will have been chasing. Speaking to him at the Norisring last weekend, there was an undercurrent of frustration at not being out there racing regularly - although some of that may be eased by the level of interest he is showing in his son's karting careers.
He proved quick in the DTM 'Race of Legends' event despite not having been in a truly competitive arena since his last BTCC outing in 1998, and his bickering at the fact Prost had an advantage in the showdown because he had tested the cars and had a weight advantage, showed just how much the competitive fire still burns in Mansell's stomach.
"I've never been away from racing as such, it is just that no-one has offered me anything sensible," he says. "I think as I showed here, I haven't driven a race car and haven't been on a race circuit for eight years and bang we were right there."
But would Mansell really be ready to pack in his golfing interests and make the full-time return to action in a series as competitive as the DTM?
"One of the things I have found out this weekend is that they weighed me and I am 20-30 kilos heavier than Alain is, for instance, and they have a combined driver/car limit here. So you can take ballast off the car if you have a heavier driver - so that is good. It doesn't penalise a heavy driver. The other good thing about this series is that there are only 10 or 11 races per year.
"I am enjoying going karting with my sons, but if something was to come up then you never know. You know better than I do that I will never predict the future. Prost and I might be racing against each other in the DTM next year, who knows? But there are other things afoot as well, so I've no idea."
While Prost and Mansell ponder how best to live AF1, Hakkinen made sure to keep a close eye on his former on-track rivals.
The fact the former Ferrari teammates were able to lap quick enough to qualify for the DTM race in their demonstration laps was not lost on Hakkinen - even though in some senses he was not surprised by what he saw.
"It was interesting," confesses Hakkinen. "It was interesting. I was quite surprised with their speed and laptimes. They were really, really good and only a few seconds off our times.
"Okay, Alain is still driving, but in reality they haven't been driving these cars and they are different animals, different machines, and they are not very easy ones. So I think they did a very, very good job. Fantastic.
"But they are among the best in the world, those drivers, so what do you expect them to do."
What was also not lost on Hakkinen is that amid rumours claiming Prost and Mansell are now considering a more serious effort in the DTM - and could even race in the series next year - his star-status could come under threat.
Hakkinen is the big name driver this year, has all the backing he needs at Mercedes-Benz, and is not facing the kind of on-track threat and rivalry that would come with a Prost or Mansell arrival.
When asked about whether he would like to race against either of the former World Champions next year, a big grin spreads across his face as he shakes his head.
"I don't think it is a good idea," he laughs.
The message is simple. Hakkinen's life AF1 is fine just as it is, thank you.