As super-rookie and Minardi Team USA driver Robert Doornbos slid his car into the rear of Sebastien Bourdais' Newman/Haas/Lanigan machine in the closing stages of the Toronto race earlier this month, most onlookers were thinking in terms of the bad blood that had flowed between them just a week earlier at Mont-Tremblant.
There, Bourdais, fuming at Doornbos' blocking tactics, had unwisely launched into a tirade against his rival, eliciting jeers from the Quebecois crowd.
Then, he refused to shake the Dutchman's hand on the podium. A week on, everyone wondered what might occur when the pair of them came face to face in the pitlane after a true on-track clash...
In fact, that potential flashpoint was quickly extinguished by the good grace shown by both parties. Bourdais stated: "The eyes don't lie, and when Robert flipped up his visor after he hit me, I could see he was sorry and that it had been an accident."
Doornbos went and apologised to the reigning champion after the race, and the pair shook hands. Problem sorted.
But the implications of this clash were huge. Bourdais' car was out of action, Doornbos was bump-started and needed only a new nosecone before finishing sixth - and Will Power won for Team Australia.
In one misjudged braking manoeuvre, one driver had blown the championship contest wide open to three drivers at the halfway stage of the championship.
Okay, the seventh round of 16 is not halfway, but with the next two races being back to back, and the doubts over Champ Car's inaugural Chinese race (originally slated for May, then October, and now possibly November 25) possibly reducing the calendar to 15 rounds, now is a natural break in which to review who is influential and who is inconsequential in the series thus far.
Lending his words of wisdom is Champ Car's 1996 title winner, Jimmy Vasser. As a team co-owner, he of course has a particular interest in PKV Racing's drivers, but he remains as astute and objective an observer of the whole Champ Car scene as anyone in the pitlane.
The Race Winners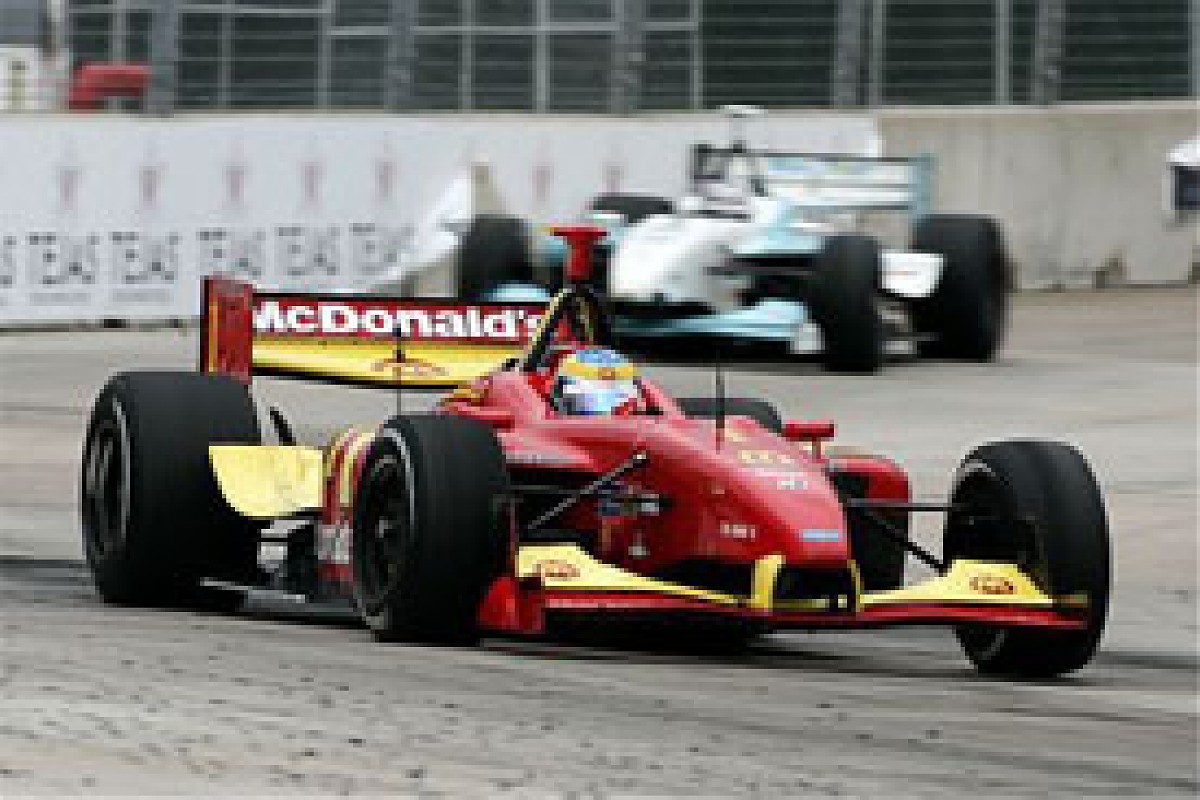 Sebastien Bourdais and Graham Rahal © LAT
Newman/Haas/Lanigan Racing
When Sebastien Bourdais racked up three wins on the trot in rounds two to four of the series, some of us wondered whether we had previously underestimated the mighty power that the best driver and best team in the series can summon.
Here they were with their rivals on as equal a footing as they could ever get, thanks to the arrival of the new car, and still the reigning champs were dominant.
Portland was simply one of Bourdais' greatest drives in the series. From fifth place and 20s behind Wilson going into the first scheduled stops, Bourdais went on to win by a similar margin - and without the help of a single yellow flag.
And yet he lies only third in the championship. After a mechanical problem in qualifying, Bourdais' season-opener on the streets of Las Vegas was a ragged, desperate effort, punctuated by mistakes which culminated in a DNF.
Following his hat-trick of wins, he suffered another DNF in Cleveland (mechanical), defeat at the hands of Doornbos, his closest championship rival in the rains of Mont-Tremblant, and was then punted out in the closing stages of Toronto by Doornbos - while their primary opposition, Power, went on to win.
Champ Car's restriction on modifications to the DP01 has reined in much of the advantage that Newman/Haas and Bourdais enjoyed with the old Lola B2K, but this has revealed itself in two very obvious ways.
In qualifying, Sebastien has scored 'only' three pole positions in the opening seven races as he and his race engineer Craig Hampson have to work harder to find a set-up - within the rules - that suits the Frenchman's driving style.
The second area that has been affected by the strict technical rules implementation has been reliability. With stronger, self-built parts that are superior to those on the official supplier's 'production line' again not permitted, Newman/Haas/Lanigan suffer pretty much the same number of problems as any of the other teams.
In a year when the cars and the paddle-shift gearbox are new, that is significant.
Before the season started, this writer would have put money on Graham Rahal not only leading the rookie standings, but also becoming the first of this year's bumper crop of rookies to win a race. But in fact the American lies fourth in the rookie standings, and has a solitary podium finish to his name.
To be fair, Rahal is rarely more than 0.35s off Bourdais' pace on a qualifying lap. But his problem is that in a field as competitive as Champ Car is in 2007, that gap can be filled by four or five cars.
And starting from sixth or seventh on the grid can lead you to be caught up in incidents, or stuck behind cars on different strategies.
Houston was a great boost for Rahal, finishing second to his team-mate (albeit with a fastest lap a full second slower), but he left Toronto perplexed at his inability to get the most from his qualifying set-up (he started 15th).
So long as he doesn't let this dent his confidence, the No. 2 car can still win this year, and that in turn will increase the likelihood of repeat performances.
VASSER'S VIEW
"Bourdais is a great champion who is possibly showing a few cracks in the armour. Having previously seemed unbeatable, now he looks a bit more human again.
"Part of it is down to the new car putting all the teams on a similar level, but then again there have been occasions this year with the new car when he's been a second clear of the field. The pace is still there.
"I think the question mark is more over his mental resolve. When things are going well he's untouchable, when they're not, he can be shaken up and beaten.
"He lets people get inside his head, and that appears to affect his driving a little. The proof will be in the second half of the season; whether he can pull himself up by his bootstraps.
"Rahal, I think, is doing a good job, although maybe I expected to see a little more pace. But then you have to remember his age and his experience level.
"He had bad luck at Mont-Tremblant, where he was leading until he had that bad pitstop [the gearbox did not change to neutral so the engine stalled], and then he wasn't really a factor at Toronto. I guess I'd say he's shown the speed we'd expected, but not as consistently as he should."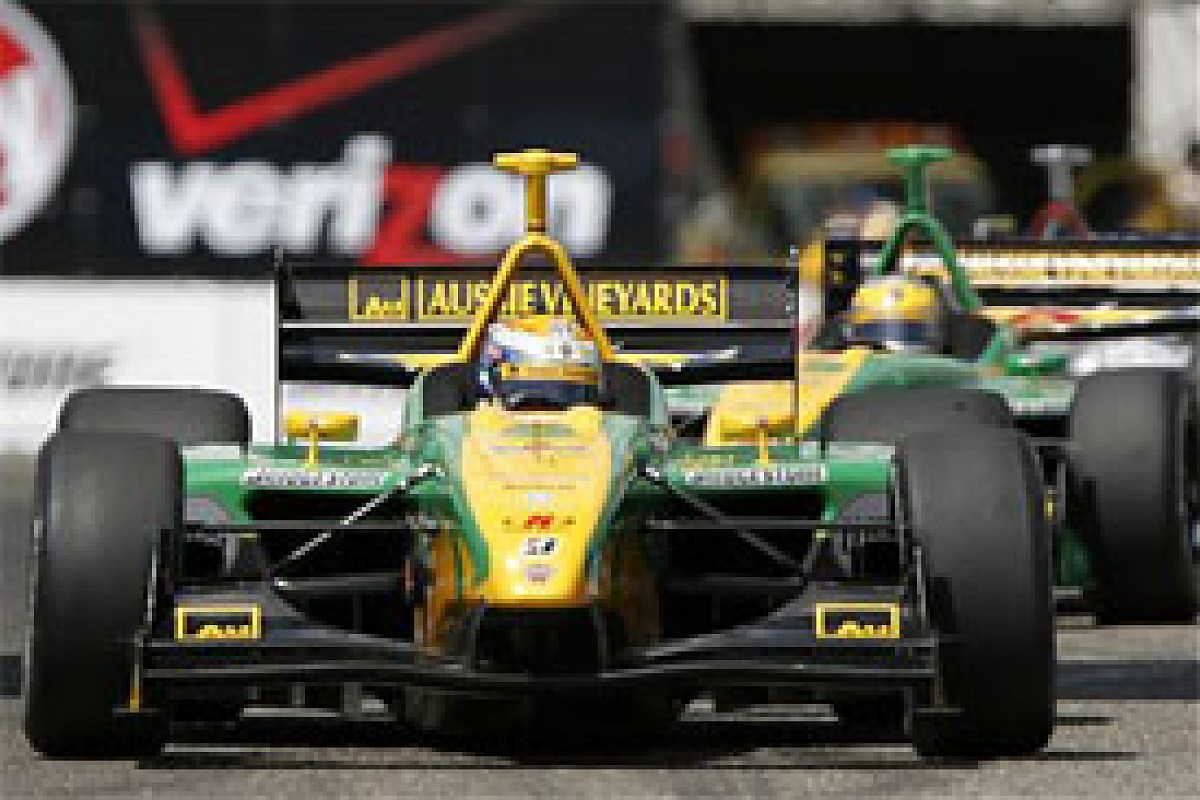 Will Power and Simon Pagenaud © LAT
Team Australia
When Power crossed the line to win the season-opening race in Las Vegas, he scored team co-owner Derrick Walker's first Champ Car victory since Gil de Ferran came up trumps in Portland in 1998.
When Power did the deed again last race in Toronto, it matched Walker's best ever effort of two wins with Robby Gordon in 1995; and Power's two poles (Las Vegas and Houston) also match Gordon's '95 efforts. And this after just seven races.
Now, he finds himself two points behind the more consistent Robert Doornbos and one point ahead of reigning champion Bourdais.
Is the team worthy of that place? Unquestionably. Team Australia could have had a podium in Houston had Power not driven into Justin Wilson's RSPORTS machine, and the Aussie had Cleveland all but sewn up until a fractured tyre valve caused a sudden deflation.
All of the leading protagonists have made one race day goof this year, so Power shouldn't beat himself up too much about his Texas cock-up. He is arguably Bourdais' equal in one lap pace, and at Cleveland and Toronto he also demonstrated he and Team Australia can beat Newman/Haas/Lanigan Racing in terms of coming up with an answer to the pace/fuel economy equation.
If the second half of his season matches the first half, no one should argue that he will be a worthy champion.
It is beyond many people's understanding how Simon Pagenaud has failed to score a podium yet. He has been the revelation of the season, often on Power's pace and not making many more mistakes either.
In fact, if we acknowledge that Doornbos is rather too experienced to be classified as a rookie, Pagenaud is the king of the new breed.
Preseason, many people put a few question marks over the 2006 Atlantic winner's ultimate potential, as he appeared to win that title by stealth (one win to Rahal's five) rather than outright pace. Such doubts seem very foolish in retrospect.
There is much for Simon to learn still - he needs to iron out the little mistakes he sometimes makes on race day, he needs to learn how to save fuel, and he's yet to prove his willingness to dice with the series hard men. But the cornerstone - his basic pace - is shining like a new diamond.
VASSER'S VIEW
"Will Power is really starting to come into his own as a race driver. Both his race wins have been convincing, and his comfort level is increasing.
"I see Will as definite championship material, proving his ability every weekend. Now it's just a matter of whether he can do it this year.
"The first half of the season he's been consistent, an extension of how he was towards the end of last year. You have to commend him for driving visibly on the edge when Team Australia don't have a spare car; that speaks volumes for his confidence, and how naturally that pace is coming.
"Simon is, for me, the surprise of the first half of the season. It's not that we didn't expect great things out of an Atlantic champion, but to be as close to Power as he has been, and on occasion quicker - like when he started from the front row in Cleveland - is just great.
"I think it's just a matter of time before Pagenaud wins his first race. He's already knocking on the door for pole positions."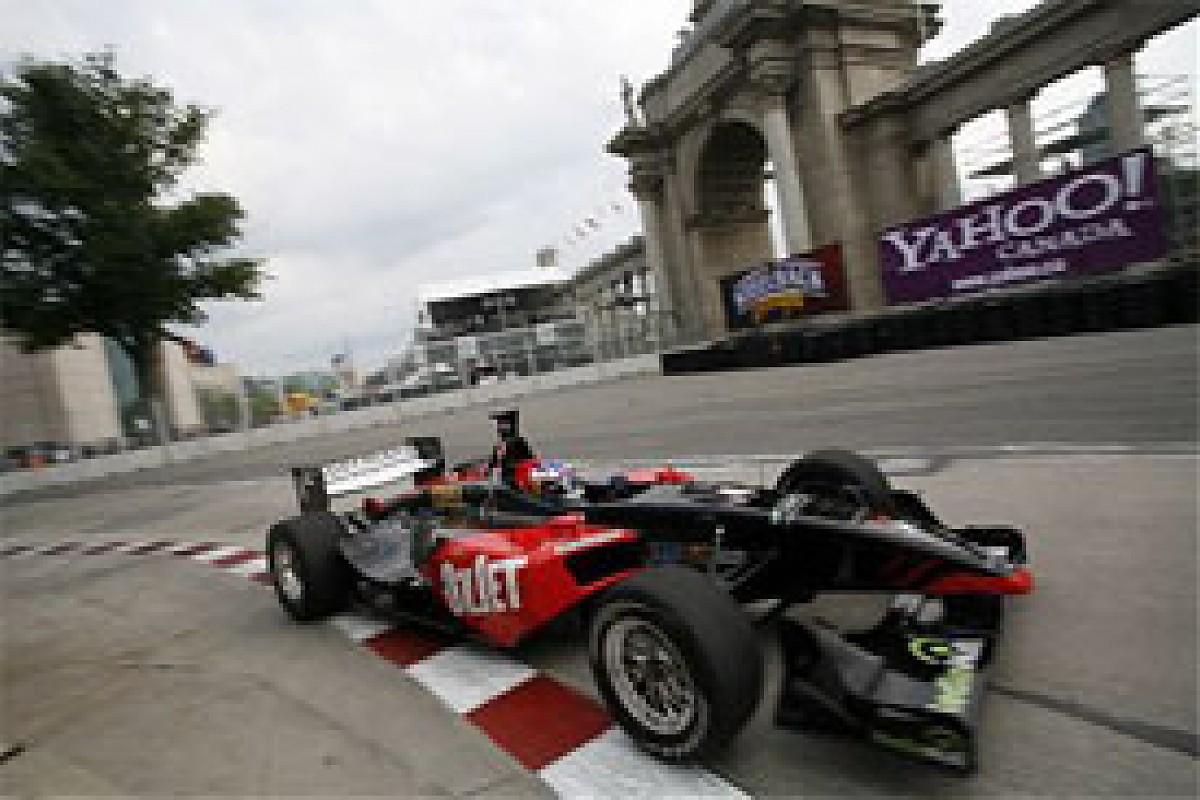 Robert Doornbos © LAT
Minardi Team USA
Through 2006, as some journalists (this one included) expressed surprise at how Nelson Philippe and eventually Dan Clarke too, were progressing with and through CTE Racing-HVM, there came to be a note of asperity in team boss Keith Wiggins' voice as he tackled the subject:
"I don't like to think of our performances this year as a surprise. I think of 2005 as a blip, a bad year for a team with a pretty reasonable heritage. This year we're back where we should be - but not yet where we could be."
With Paul Stoddart buying into the team in the off-season to form Minardi Team USA, Wiggins' case has been proven. In seven races, Doornbos has missed the podium just twice, and in the tricky dry-wet conditions of Mont-Tremblant, he beat Bourdais and Power in a straight fight and now marginally heads them in the championship hunt.
Doornbos is a highly talented open-wheel racer, as David Coulthard would tell you, having raced alongside him in Red Bull Racing's Formula 1 squad for three races last year.
He is not intimidated by rivals' reputations, and has already proven he will be ruthless if he thinks he can get away with it.
Also on his side is race engineer Michael Cannon, who made AJ Allmendinger into a star last year yet who was curiously released (along with half the team) by Forsythe at season's end.
Vince Kremer's team management style displays a lot of nous, and with the charismatic Stoddart and the quietly determined Wiggins at the helm, this team has a lot going for it.
Whether this lineup will be enough to elicit the best from Doornbos' team-mate Dan Clarke remains to be seen - although it was clearly starting to work last year.
Having no pre-season testing unquestionably threw him in at the deep end in Las Vegas, but seven races into the season, this is no longer a factor. Having come to match Philippe and on occasion outperform him last year, Clarke has found Doornbos to be something else again.
No question, the Englishman can drive well. His Cleveland qualifying performance was impressive, as was his determination at Portland, his composure (in the race, at least) in Mont-Tremblant and his combativeness in Toronto.
But it's clear that until he beats his ex-F1 team-mate in a straight fight, he will not be satisfied. In the meantime, he will bust a gut - and a suspension arm or two - in order to reach that happy state.
VASSER'S VIEW
"I didn't have a judgement of Doornbos coming into the season, as I didn't know all the details of his career.
"His first couple of podiums, people suggested, were down to being in the right place at the right time, but you don't get lucky five times out of six at the start of your rookie season.
"And importantly, he's proven to be not only fast but also mentally strong. I don't see him keeping up with Power and Bourdais in the championship hunt, but he's very good and another big surprise.
"I'll also add that he's been a pleasant surprise out of the cockpit. His character has done a lot for the series; he's a personality. And he's done a Paul Tracy - got inside Bourdais' head!
"I'm disappointed with Dan Clarke being outshone by his team-mate pretty much every weekend, because you still see flashes of the blazing speed.
"In Cleveland, for example, for a stint and a half he was the fastest car on the track. That pace is still there, but there are still rookie mistakes, and he's no longer a rookie.
"It was strange at Toronto that he stayed out on slicks in the wet. That wasn't the cleverest of moves, as he then proved.
"We know what's there, we know he can do it, but he needs to just do it - without the spins and crashes."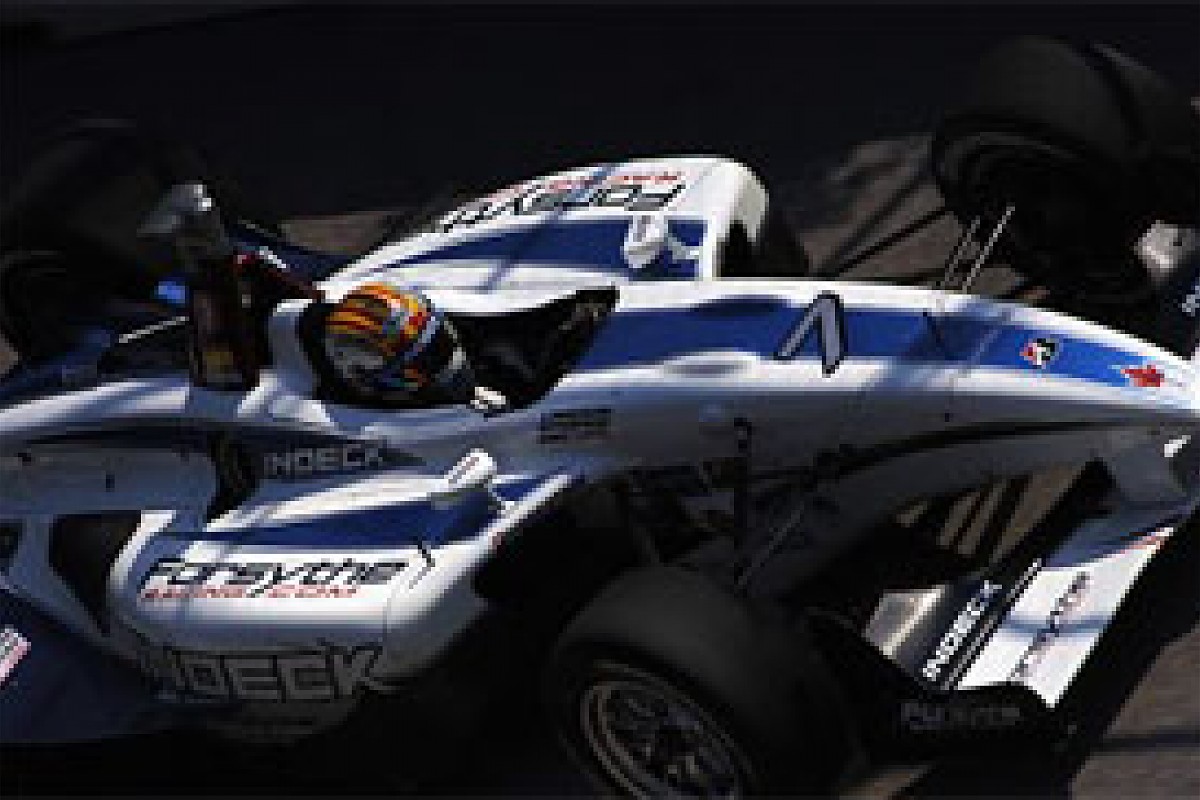 Oriol Servia © LAT
Forsythe Championship Racing
The usual mixed bag of pain and pleasure for FCR, and nothing to threaten the leading runners on a consistent basis.
At Las Vegas, Tracy qualified on the front row and would have finished at least second had not there been a (human) difficulty with the refuelling which knocked him down a place.
But then at Long Beach, what appeared an innocuous spin into the wall that should have required a few repairs was enough to break one of his vertebra and consign the Canadian to sitting on the sidelines for that race and the following event in Houston.
Into the breach at the Beach stepped the hitherto unemployed Oriol Servia, who ran an alternate strategy from mid-pack and vaulted into second place.
The following race gave him fourth (and team-mate Mario Dominguez sixth), and in Portland the Catalan replaced the Mexican in No. 7 to partner returnee Tracy.
Talk about a damp squib! That race saw the pair qualify and finish midfield, cursing their phenomenally bad understeer. Indubitably, missing the test there hadn't helped their cause - but there are still question marks over how much they learned in the subsequent tests in Mont-Tremblant and Road America.
And yet at Cleveland, Paul Tracy returned to the Winner's Circle for the first time in two years when a well-timed yellow flag period on race day helped him make up the ground he had lost through a couple of indiscretions in the opening seven laps.
At Tremblant their cars were understeering nowhere in first qualifying, but on Saturday they were transformed, their potential masked by rain in second qualifying.
Toronto again should have seen both cars in the top four in qualifying, but only Servia fulfilled that potential. Tracy, struggling as ever to find the limit on red (soft) tyres went beyond it, pushed a quarter of a second away in two corners and dropped to 10th, whereupon he became an innocent victim of a first lap shunt. Meanwhile, Servia led but eventually spun into a wall in the rain.
Should the Forsythe team discover a way to get front-end grip from the light steering castor which Tracy prefers, then the 2003 series champion can fight for victories again, as can Servia.
Something needs to happen soon, because there are a lot of fine talents in this team whose results aren't the sum of their parts.
VASSER'S VIEW
"The Forsythe team has lost some of their form. When Paul's happy and comfortable he's still as quick as anyone out there, but when he's not, the wheels seem to fall off the whole team.
"The flush-out at the end of last season has affected the team, because they downscaled and then scaled it up in a hurry and those off-season moves are affecting Tracy more than anyone.
"He's a fighter as he proved at Cleveland, but like every driver he needs the team back-up.
"Servia could be a big help to Paul. A quick team-mate to keep him on his toes, but also a team motivator, a team player to keep everyone focused.
"They're veterans, they won't butt heads, they'll work together and if any two guys can turn a team around it's Paul and Oriol.
"Oriol can be fast too, as we've seen, but he also needs to stop making those little mistakes that he's made throughout his career like in Toronto, when he put the car in the wall. He's got to get to the finish."
Podium Finishers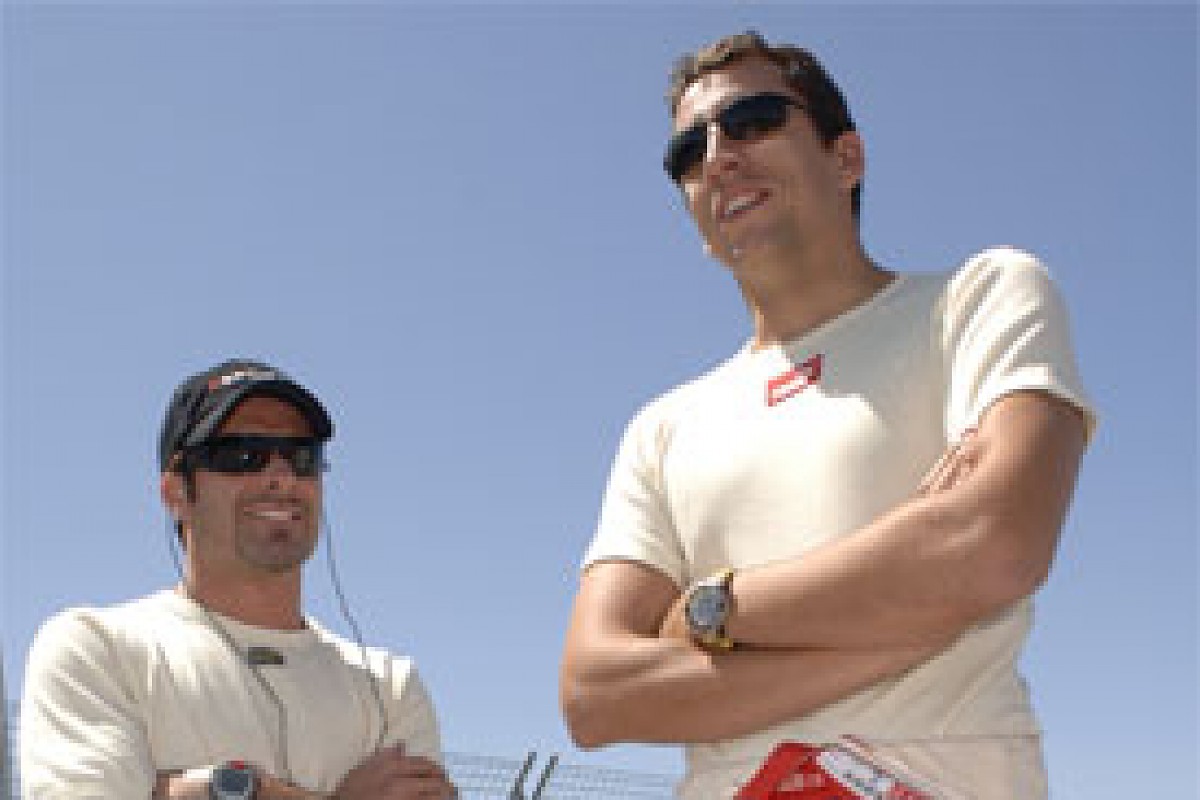 Alex Tagliani and Justin Wilson © LAT
RSPORTS
Justin Wilson looked ill at ease in the opening couple of rounds of the season, getting used to depending upon less-familiar faces.
Race engineer Todd Malloy had departed for Newman/Haas/Lanigan Racing to be replaced by Mike Talbott, and the Briton was also feeling unsettled by the merger put together by RuSPORT's new owner Dan Pettit and Rocketsports owner Paul Gentilozzi to form RSPORTS.
The implications for his Colorado-based buddies could be immense if Rocketsports' Michigan base became the team hub.
By contrast, team-mate Alex Tagliani was delighted to have an acknowledged ace as his team-mate, and gained much satisfaction from outqualifying Wilson in Las Vegas and Long Beach. Even Tag probably wasn't expecting that.
Since then, Justin has had a decided edge, as expected by most, taking pole in Portland, and starting from the front row in Toronto.
But neither have had much luck, and their race day pace has rarely looked a match for Bourdais, Power and Doornbos. Sebastien trounced Wilson in Portland on race day, and Justin has just one other podium finish to his name. Surprisingly he also made a mistake while leading in the wet at Mont-Tremblant.
Meanwhile, Tagliani has been feisty in his passing manoeuvres, but as ever becomes too cautious if he gets into a position of prominence, as if he doesn't have enough self-belief.
Meanwhile, it's worth pointing out that RuSPORT loyalists and Gentilozzi detractors were wrong to predict that a merger with Rocketsports would drag the squad down to midfield.
RuSPORT are pretty much where they were this time last year, and it's only the names above and below them on the grid that have changed around. Expect a win or two before the year's out.
VASSER'S VIEW
"I don't know if the comfort level of the team is returning, or something within him has changed, but Justin is starting to show better form and threaten for race wins like he was last year.
"Portland must have been demoralising for him, to get run down by Bourdais the way he did, but the old form is coming back and Wilson seems to be handling Tagliani pretty regularly now.
"Tag was the big winner in the team merger. He seemed to be well off the pace in pre-season testing until the merger, but at Laguna he jumped right up, and he seems to have similar performance to what he's had in years past. He's the consummate journeyman team driver - consistent, diligent, technical."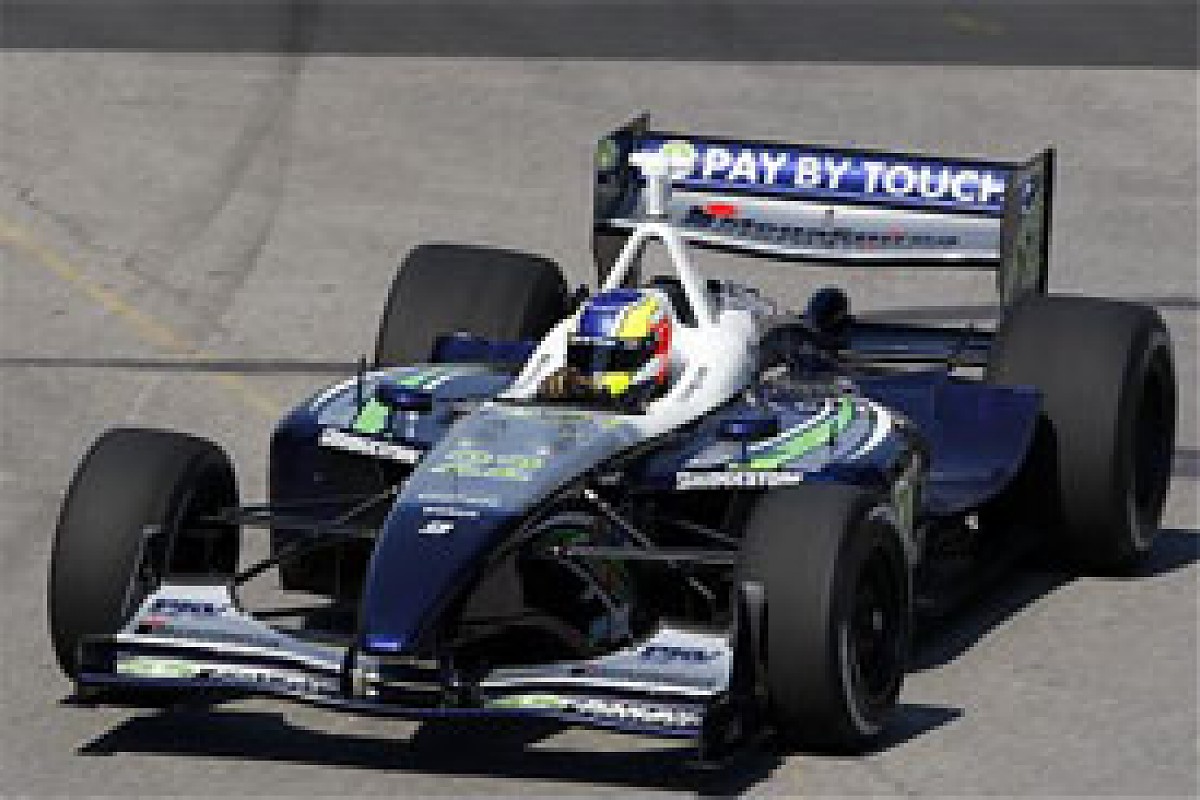 Tristan Gommendy © LAT
PKV Racing
Tristan Gommendy, a French Formula 3 champion, even a Macau GP winner, wasn't going to warrant much press attention, especially when the final pre-season test would be his first taste of Champ Cars - first taste of any single-seater - for nine months.
But in both Long Beach and Houston Gommendy led - by strategy rather than pace - as PKV Racing prayed for a late-race caution to throw them a bone, and in Portland only a questionable call by Race Control robbed him of a front-row start.
Two races later the Frenchman did it properly, taking pole at Mont-Tremblant, the team's first on a non-oval race track. That an electrical glitch meant his engine failed to fire up on the warm-up lap is now a painful memory. Gommendy is now a possible top-six qualifier whatever the circuit.
The same is true - at last - of team-mate Neel Jani, a GP2 race-winner and F1 tester, but initially his qualifying and race performances looked decidedly limp in comparison.
The Swiss, used to stickier tyres and sharper turn-in, was turning into corners too abruptly, which was ruining his qualifying times, while he was one of the slowest drivers to learn how to go quickly while also saving fuel.
On street courses, he was being too gentle with the car over kerbs, whereas Gommendy - after being shown pictures of Paul Tracy and Justin Wilson in mid-air - had adapted his style, as anyone who watched him at Mont-Tremblant's first chicane will attest.
In the last three races, however, Jani has come on stronger. He may not have known how PKV's strategy got him into third at Cleveland, but he did well to hold off Wilson.
Although he failed to do the same in Mont-Tremblant, losing fifth place to the RSPORTS car on the last lap, Jani was quick, aggressive and error-free on the treacherously slick Toronto track on race day, and deserved his second place.
VASSER'S VIEW
"Neel was so quick in the pre-season testing that I was a bit surprised to see that it was Tristan who showed the better pace early in the season.
"Communication was one of Gommendy's bigger issues early on, but he's rapidly overcome that. Pole position at Tremblant was great, and we let him down as a team, which was a great shame.
"He's had the occasional loss of pace like any rookie does - for him, it was at Toronto. But in general his speed has been a pleasant surprise for the team and he's got a great personality, so his crew really seems to be rallying around him.
"Neel's very analytical, very smart, very intelligent. He's got the speed, but he's over-analysing situations too much and he needs to buckle down and just concentrate on the driving.
"Once he gets in the car he needs to be less of a mechanical driver and more of a natural driver. On plenty of occasions his sector times have been good, but he needs to get them together and put that time on the clock.
"Hopefully, with his confidence rising with two podiums in three races, that will start happening. We just need to make sure he doesn't vex himself over politics and just do what he does best - drive.
"But two rookies in a team are obviously each going to be in a tough situation with an uphill climb. They both have European mentalities towards their racing, and by that I mean they don't necessarily work together to move the team forward. That's one of the things I'm working on - to get them to work together more."
The Rest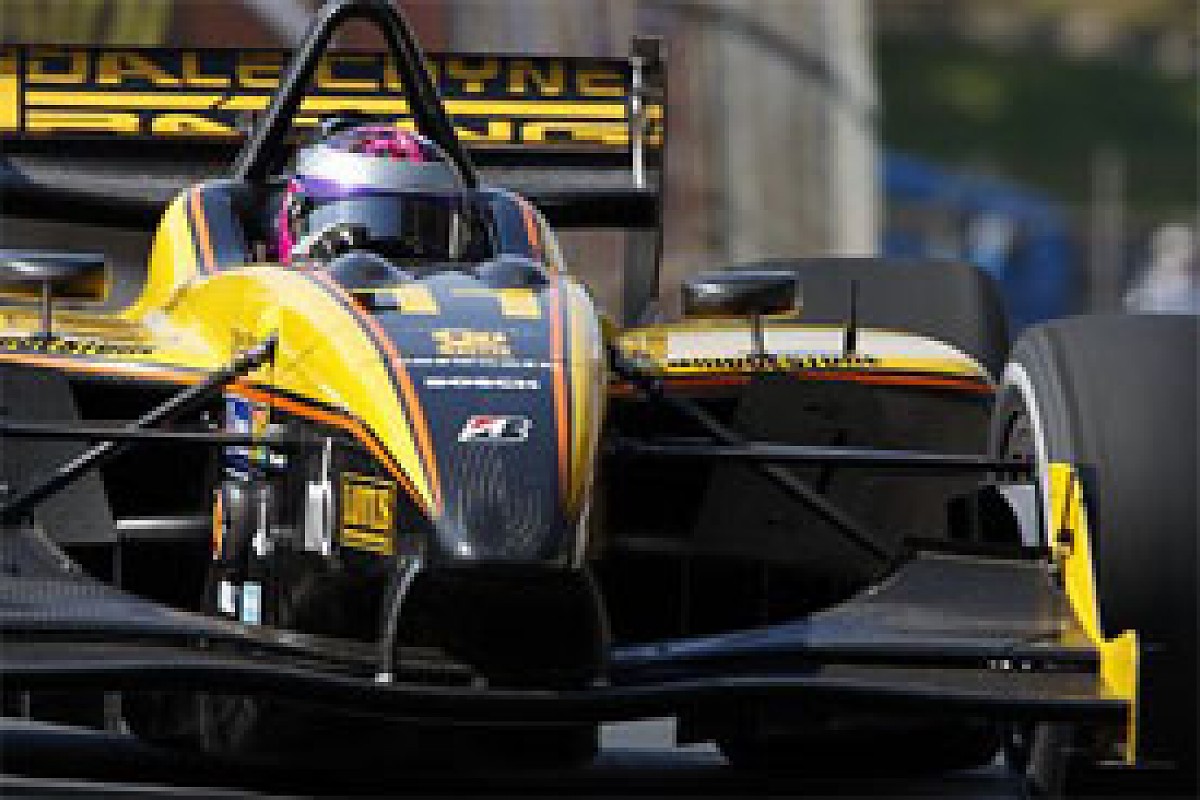 Katherine Legge © LAT
Dale Coyne Racing
An intriguing season for Dale Coyne, as for the first time in his team's history, he has a proven race-winner on his books. Not just that, but a triple vice-champion.
And Bruno Junqueira has come direct from the dominant championship-winning team of the last three seasons.
Is there a difference? Oh yes. Junqueira, out of Bourdais' shadow at Newman/Haas at last, has driven like a man released. He's shown commitment, passion, and a great deal of pace and only DNFs (eliminated by Paul Tracy in Cleveland and by gearbox failure in Mont-Tremblant) have restricted him to 10th in the championship standings.
He qualified fifth in Toronto, and following a test last week at Putnam Park, the team hopes to have dragged its road course performance up to its street course level.
Katherine Legge has not enjoyed the same results, having not enjoyed the same confidence as her team-mate. She parked what she felt was an evil-handling car at Cleveland, and her confidence was further sapped by braking problems at Mont-Tremblant.
There, both she and Junqueira were alarmed at their cars' snap oversteer on corner exits, too.
But had she not crashed in final qualifying in Toronto, she was looking likely to join Bruno in the top ten grid slots. The self-belief that only a result can bring would, as ever, do her a world of good.
VASSER'S VIEW
"I think Bruno has had a great attitude, and done a great job in adapting to the inevitable change of racing for Newman/Haas to Dale Coyne.
"While the speed is inconsistent like you'd expect, it's also not a surprise to see him stick it in fifth on the grid in Toronto, and the longer he's with the team, the more consistent I think you'll see him become.
"I think he and Katherine make a great pairing. He's a kind guy; he genuinely likes Katherine, who I think has done well at times this year.
"But there are a lot of similarities to when she was with us at PKV last season. She shows pace in practice and in the race, but when it comes to qualifying on a new set of tyres and squeezing the last couple of tenths out of the car, she's struggling.
"She's a good racer and she can drive well on older tyres, but she needs to figure out qualifying, because that will be the biggest obstacle in her career.
Conquest Racing
Eric Bachelart must have done something wrong in a previous life to have earned the bad luck he is currently experiencing. The same is true of his Belgian compatriot and driver Jan Heylen.
Matt Halliday had been Conquest's entry in the first three races, but although looking quick - he qualified 12th at Long Beach - he got involved in too many incidents in qualifying sessions and races, and at any rate, the sponsorship money would stretch no further.
Stepping into the car at the fourth round in Portland, Heylen was surprised to find himself battling the Forsythe cars, but a fuel pick-up problem ended his race two laps too early.
At Cleveland he just happened to be where Gommendy crash-landed his out-of-control PKV car, at Mont-Tremblant he spun into a wall in the wet, and at Toronto he qualified an excellent eighth, only to have Gommendy torpedo him again as he braked to avoid the first lap pile-up.
Bachelart believes that despite his team's relatively minuscule budget, a podium finish is not out of the question, and few would argue that both team and driver are capable of such feats.
In the meantime, it would be good if the team-owner and driver could head to their home race at Zolder in August with a couple of top six finishes on the board.
VASSER'S VIEW
"Jan was thrown into the fire by missing all the testing and the first three races, but I think you'll start to see him come on form.
"I think highly of him. You will see the whole team gel in the second half, and whatever the case with their budget, the Conquest team is good enough to be fighting for podiums, I'm sure of that."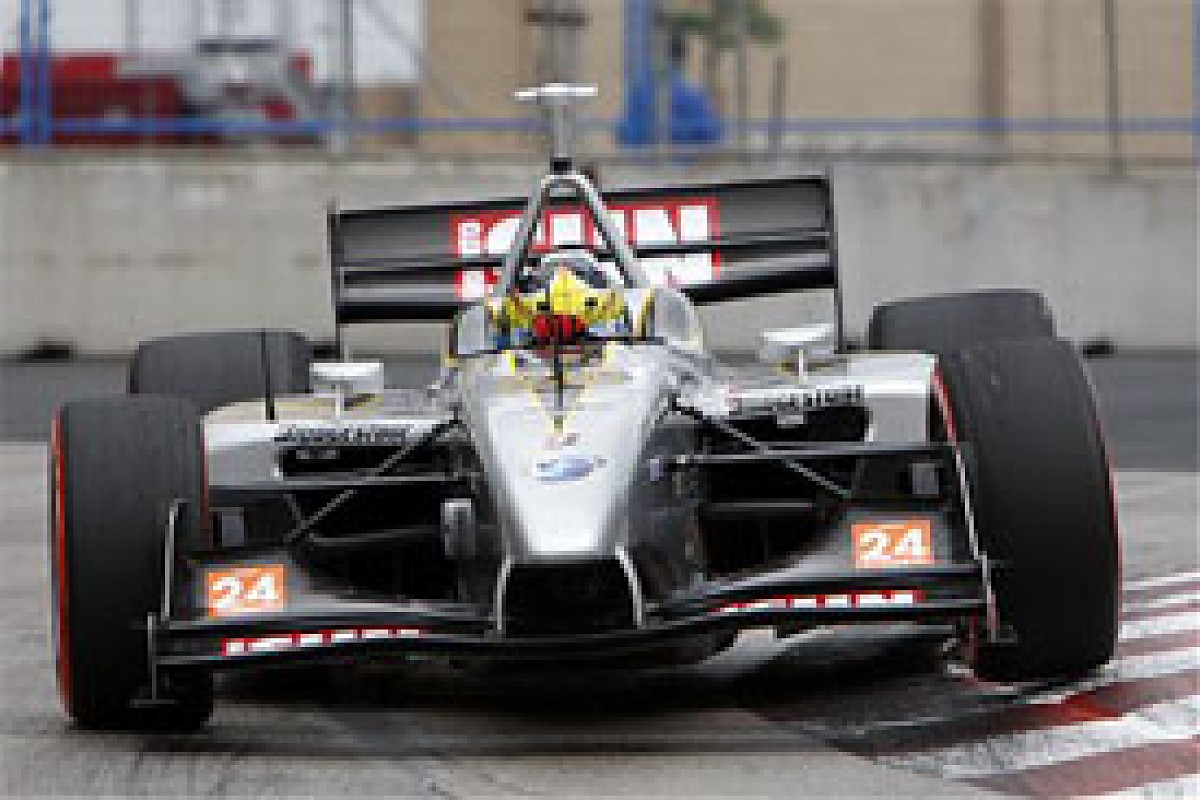 Ryan Dalziel © LAT
Pacific Coast Motorsports
To quote Sheryl Crow, 'no one said it would be easy, but no one said it'd be this hard...'
Such sentiments must have crossed PCM team-owner Tyler Tadevic's mind a few times through pre-season testing, and the first four races of the season. Who knows? Maybe that's still the case. But the difference now is that the team is not just running to stand still, but actually making noticeable progress.
In January and February, anything that could go wrong mechanically with the new cars seemed to hit Pacific Coast Motorsports and multiply two-fold. The effect, for a team new to this branch of motorsport, was to multiply ten-fold.
But Tadevic and his close-knit group kept smiling, working, learning and are now ready to reap some reward.
At Cleveland, Alex Figge qualified 13th but had his gearbox go haywire on the warm-up lap. At Mont-Tremblant, both cars were within 1.3s of pole (down from 2.5s at the season-opener in Vegas, another 76/77s lap circuit), while in Toronto Ryan Dalziel was less than 0.65s off pole.
On race day he led, thanks to a perfectly-timed pitstop and switch to wets, and could have taken a fourth place finish had he not argued over third with Wilson and nosed into the tyres.
Whoever's side you take on this, the improvement in performance should give everyone at PCM an adrenaline rush. By the end of the year, a top six finish or two should be feasible - highly admirable in a team's debut season.
VASSER'S VIEW
"I like all the players there, and I like the Figges. I think highly of Dalziel ever since we tested him back in 2005. So I was a bit disappointed to see Pacific Coast struggling for so long in the off season and the early part of the season.
"They did it the hard way, coming in with not many people with Champ Car experience, so it means they're really learning how to go Champ Car racing together and now it really is starting to show. I expect to see them do better in the second half.
"I've been impressed with Alex Figge's pace in comparison with Dalziel, because I know how quick Dalziel is, and to be quite honest I didn't expect Figge to be as close - and at times quicker - than him.
"But I think you're pretty soon going to be seeing Dalziel regularly get himself further up the grid, like he was in Toronto."