If other riders are reading this, then look away now. Casey Stoner said to Ducati engineers after his victory at Donington that he could have won it by more.
While he recovered from being 12th into the first corner after a fraught start from 5th on the grid, he led the race in no time. He sat with Edwards, who'd in any other circumstances had gottn his first MotoGP win under his belt. He beat Valentino Rossi in a fair fight, but he hadn't counted on Stoner sitting behind him wondering why the Yamaha wouldn't go any faster.
Stoner pulled past the Texan to get a clear view of things, only to then get caught in a dilemma of whether or not to clear off and get a buffer or conserve his tyres. In the end he bimbled around to win by nearly 12 seconds.
Casey Stoner checks the margin after winning the British Grand Prix for Ducati © DPPI
No. 27 shrugged his shoulders when he came over the line. It was that easy ...
Reports from the inside of Coppice, the last corner, suggested that Stoner just had the confidence to hold the throttle open and let the electronics do their job. He said to his engineers that the bike was still moving around underneath him, but to the eye, you couldn't tell.
"I could have won it by more," was what Alan Jenkins heard when he returned to the garage.
My thesaurus is worn out ...
Rossi is second in the championship and battling Stoner, who has beaten him six times from the eight races so far this year. The difference in 2007 is the Italian has been beaten fair and square rather than the 'oh well my bike blew up' problems he encountered in 2006.
After eight races last year, Rossi was 46 points behind the championship leader, and although he is 26 points behind this season, it all seems a steeper hill to climb for Rossi, Yamaha and Michelin.
Rossi can blame only Turkey and a little bit of Donington on duff tyres. In Istanbul all Michelin runners struggled, while at Donington his own team-mate was two places ahead of him on what Rossi says was the same tyre.
Looking away from Stoner's championship lead a moment, his last two victories have allowed the Australian to put the 'you've got a faster bike' nayslayers back in their box.
In Catalunya he led the entire last lap, while at Donington there was no straight to speak of. It should have fallen into the hands of the nimble Yamaha, but in the end they were nowhere relative to the dominant red Ducati.
The good thing for Stoner is that Bridgestone have got all of their wrong tracks right. And when they were wrong last year - Istanbul, Catalunya and Donington - they were very wrong. Here they are 12 months later and the tables have been turned.
All of the low-grip circuits are under control now so far as Bridgestone are concerned. It has probably been a blessing in disguise for Bridgestone that Neil Hodgson didn't get a full-time ride this season, leaving him to stand in and test tyres alongside Shinichi Itoh.
The Japanese have now just got so much data from both good and bad races that they can cut off the two ends of the spectrum and concentrate in the middle for a while. Seems easy, but boy have they had to go through some embarrassingly poor races to get there ...
One assumes that their ex-racer engineers who run between the garages, such as Masao Azuma (who has 10 GP wins to his name), must help in with the translation between riders, engineers and Japan.
Marco Melandri, Gresini Honda © DPPI
Azuma must be extremely proud to look down the World Championship sheets and see Rizla Suzuki third, ahead of Repsol Honda and just 33 points behind FIAT Yamaha.
It's a shame that poor old Marco Melandri, runner-up in the championship in 2005 and winner of three races last year, can't say the same about Bridgestone.
Talking of tyres, Herve Poncheral's Tech 3 team had a disastrous weekend. Dunlop are in real trouble at the moment, especially when it's wet. Guintoli and Tamada both finished without any off-track excursions, but were still lapped twice.
It left Poncheral speechless on Friday afternoon, and again after the race when Randy Mamola wanted a quick word with him during the broadcast.
Tech 3 have got first call on Yamaha again next year, but the Frenchman is not going to get any sponsorship, or more importantly, riders if he stays on the yellow brand.
Word has it that Yamaha may not even give him the bikes if he's on Dunlop as they need a bike that they can draw data from, not for Rossi to lap twice.
"They were looking more over their shoulder than looking forward during the race," said Herve. "I don't want to shoot an ambulance [French expression], but it has got to get better. I'm very pissed off."
By the time you read this we'll be at the track at Assen, MotoGP bikes already storming past the press office window. Do not adjust your set, that is correct as the Assen race is always on a Saturday.
It's been that way from the first time the bikes went there in 1949 - the local church wanted things kept quiet for the Sunday service - and it hasn't changed since.
It will mean that the MotoGP riders will be riding their bikes for six days out of nine, with Donington having been just the weekend before.
This is nothing out of the ordinary for the riders themselves, as they can pound around test tracks for six hours a day for three days. But if there is an injury, it may fragment the championship.
We saw this last year when Capirossi could barely ride to 15th place two weeks after falling in Barcelona, essentially destroying his 2006 championship charge.
My fingers are crossed that we have a fair and clean fight right through every race, but I'm worried about the mechanics and the support staff for the teams. They packed up and bolted out of the Donington paddock in record time, heading down the M1 or the M40 to get to Dover and over to Assen on a non-stop schedule.
Last Tuesday morning the trucks were constructing garages and rebuilding bikes that had been drowned in WD40 after Donington before being slung into the truck.
Mechanics get tired - they are only human - and many who drive the trucks actually work on the bikes. It only needs a small mistake, like a bolt not being tightened, or a tyre warmer not set at the right temperature, and the rider goes down the road.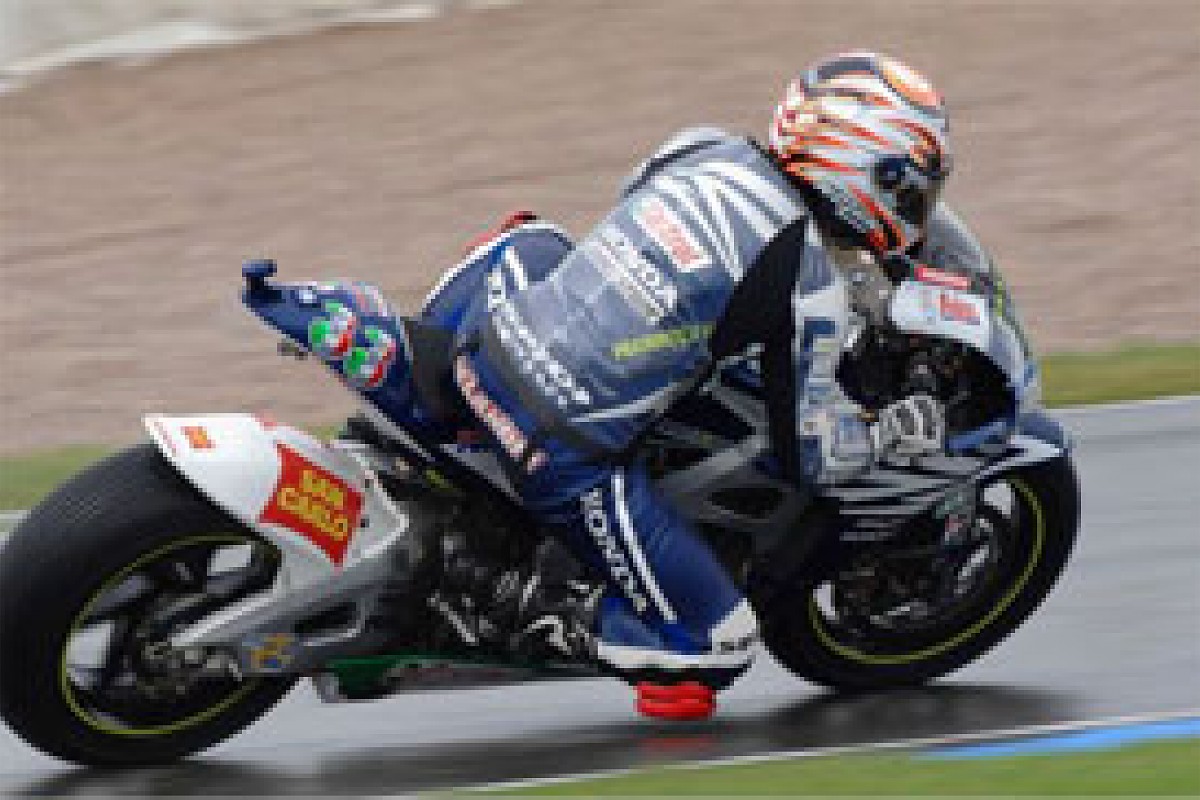 The Donington Park Spitfire © DPPI
Indeed, arriving at Assen, the championship organisers have not even brought their own mobiles office, such is the time scale and logistics involved.
I just pray that this run of six races over eight weekends sees the medical centre people reading the papers and playing cards a lot.
I bumped into an old friend on Sunday who last went to Donington ten years ago when the RAC Rally drifted through. He was co-driving that day, and has since gone on to with the world championship in the second seat. He was flabbergasted at how Donington hadn't changed. Most of the press office were unfortunately with him in his thoughts.
Emails from spectators complaining about the non-arrival of advance tickets was just the start, while stories about people taking two hours to get from the M1 to the car parks harks back to Silverstone's problems. But at least the BRDC did something about it when Bernie kicked them into order.
Donington has another two years remaining on its current deal with Dorna and MotoGP. Dorna need to hold the sword of Damocles over Donington's head to get the place sorted out up to full world championship specification for the spectators and the for the riders, the people who are actually providing the show.
In days less commercial than these, some rebellious riders would have said much more than they did at the weekend.
Catalunya has won Grand Prix of the Year as voted by the people within the paddock, and it would surely win the same award from those paying to enter. They had 76,000 grandstand seats in 15 different grandstands, never mind the twenty big screen TVs for people to keep tabs on the action.
A colleague watched qualifying from the outside of Hollywood and stood right under a PA speaker. He had no idea who was on pole until he returned into the paddock. Not the commentator's fault, but bikes are exceptionally noisy!
What Donington are good at is taking people's money with discounts on ticket sales, delivery on time or not. Though that begs the question - what do they do with all the money in advance of the Grand Prix meeting?
If I calculate the ticket price at £45 (I'm under-averaging here) for Sunday alone, never mind the other days, and multiply that by the amount of spectators through the gate on Sunday (84,000), then £3.78m should have been taken on the gate.
I totally understand that Dorna charge to bring their Grand Prix caravan to Donington, and Donington happily pay for that, but some of that gate money has to filter back into the facilities. If not, Dorna should take it away and let Silverstone have a crack at it.
The ironic thing is that the track layout is universally loved by the riders, but the current facilities make Rio look good.
Oh, and regarding one of the figurehead pieces of British engineering that young and old still stop in their steps to marvel at. Will they please put the wing back on the Spitfire? The lack of pride in not doing that is a disgrace.
But that's it, isn't it? A lack of pride.