"At the end of the day, it's a video game." This was the final defence of IndyCar driver Santino Ferrucci after he veered into Arrow McLaren SP's Oliver Askew while fighting over the lead before the finish of Saturday's virtual Indy 175.
It was a statement repeated in the aftermath by many across social media, who simply failed to understand why the actions of Ferrucci - as well as 2019 Indianapolis 500 winner Simon Pagenaud - were an embarrassment both to IndyCar and sim racing.
The sixth and final round of the IndyCar iRacing Challenge was the accumulation of six successive weekends of virtual IndyCar action, organised to replace the postponed real-life season during the lockdown resulting from the coronavirus pandemic.
As the finale was taking place at the Indianapolis Motor Speedway - the beating heart of US open-wheel racing - it was something of a showpiece event in this alternative racing world. There were no official points standings or championship fight, so it was effectively a standalone race that made a solid effort of replicating the real-life Indy 500, which has been pushed back to August from its traditional May fixture.
Drivers had their own condensed 'Month of May' in the week before the event, even featuring a high-pressure one-lap pre-qualifying 'Bump Day' featuring 10 drivers battling over the final four spots on the grid.
Such was the quality of the field that 2016 Indy 500 pole winner James Hinchcliffe failed to qualify, likewise his former team-mate Robert Wickens despite assistance from highly-rated engineer Craig Hampson. Some drivers had spent thousands improving or obtaining a specialist sim racing rig and many others, including guesting McLaren Formula 1 driver Lando Norris, had spent the week practising for the race - which featured the usual pre-race procedures including the US national anthem and the call for the drivers to start their engines.
There was little doubt that this was a professional sim racing event, with every effort taken to replicate the real-life event. It started in a similarly professional manner too, with arguably better driving standards during the first half of the race than seen in many previous real-life additions of the race, aside from a couple of collisions which aren't uncommon in a race of attrition and survival.
It was an enthralling race that demonstrated the potential of a well-produced virtual event. At least, it was going to be.
Enthralling action turns into chaos
With eight laps to go, Norris was charging to the front on fresh tyres and with more fuel than those around him when he attempted an ambitious, but ultimately reasonable, move to the inside of Pagenaud and Graham Rahal for the race lead at Turn 2.
With Norris on the inside, Rahal slid slightly wide and collided with Pagenaud, sending the 2016 IndyCar champion into the wall, effectively ending both his and Rahal's chances of victory.
Norris then led an Arrow McLaren SP one-two-three, chased by Askew and Patricio O'Ward, and a thrilling finale was staged with the team-mates attempting to work together to ensure one of them emerged victorious ahead of multiple threats behind.
"I know it's a game but when you are wearing a team shirt, representing sponsors, a team, a series, you should be held accountable" Max Chilton
Unfortunately, it was an unexpected threat in front of Norris that ended his spirited virtual oval debut. The lapped Pagenaud - previously a winner of the virtual Indy races at Michigan and Motegi - slowed to allow Norris to catch him, and as Norris rounded Turn 4, Pagenaud was waiting for him on the exit and collected Norris to put him out of the race.
"We take out Lando, let's do it," Pagenaud exclaimed on his Twitch feed as he left the pits to re-join the race, moments before colliding with Norris.
The move by Norris that ended Pagenaud's victory prospects was at worst over-optimistic, but if anything Rahal - and his internet connection speed - was more to blame. But it does not give the right for drivers to inflict their own retribution - even if Pagenaud later claimed he was only trying to slow Norris, rather than intentionally trying to take him out.
After the race, Norris didn't mix his words, calling Pagenaud "salty".
"He said he wanted to come into the pits and slow me up," Norris explained. "He wanted [Oliver] Askew to win, he didn't want me to win. So, he tried slowing me up a little bit and then was going to come into the pits. He gets a bit salty that a non-IndyCar driver is going to win an IndyCar race. It just ruins it."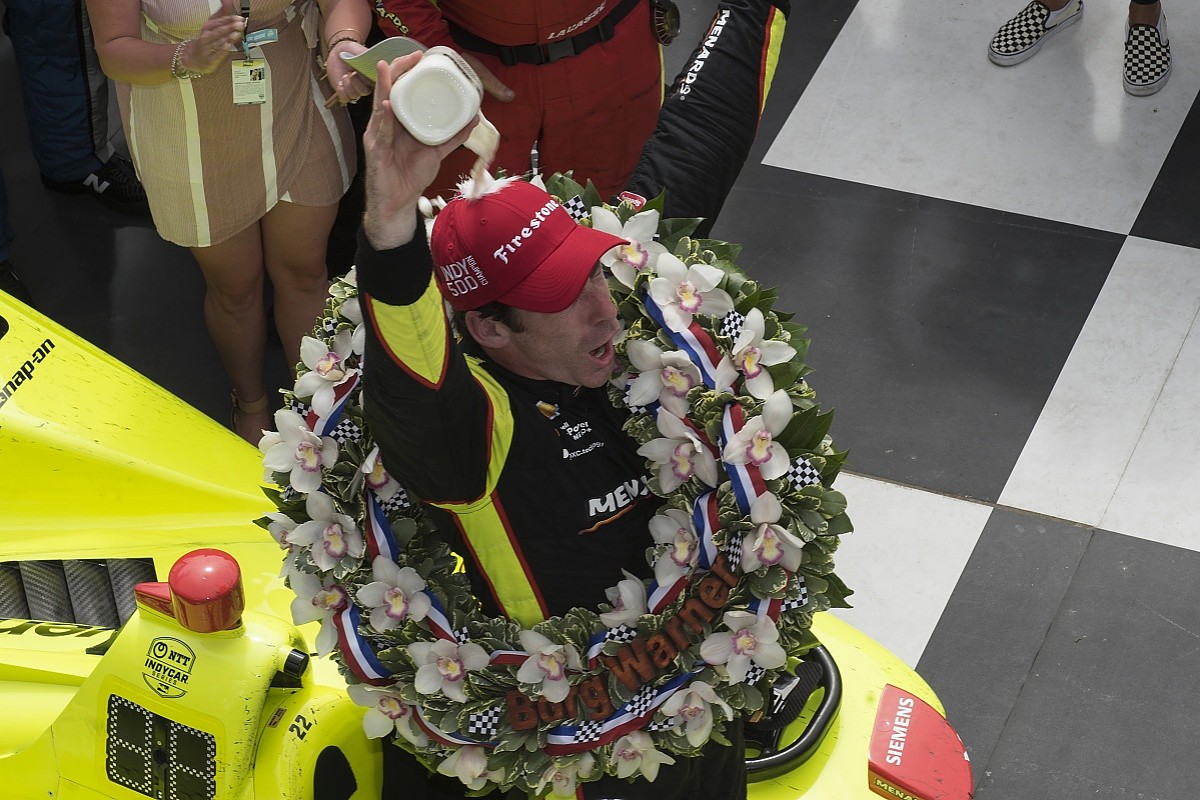 The idea that a non-IndyCar driver winning a virtual IndyCar race - which Norris had done the previous weekend at a virtual Austin circuit - would be a bad thing for the series is a ridiculous one when considering the peak in interest that results from their attempts.
Double Supercars champion Scott McLaughlin of course has yet to make his debut in a real IndyCar, but Pagenaud's Team Penske team-mate won the second round of the virtual series at Barber Motorsports Park and profited from the Ferrucci/Askew skirmish to snatch victory at the line from Conor Daly.
Indeed, rather than diminishing the image of the IndyCar drivers, Nigel Mansell's success in 1993 created a wider appreciation for the skill level involved in hustling single-seaters around on ovals. It was a similar story when Fernando Alonso skipped the Monaco Grand Prix in 2017 to contest that year's Indy 500 - and his failure to qualify for last year's race only increased the public's level of respect for the Indy regulars.
In Norris' case, there can be no shame in losing to a driver who has been sim racing for over a decade and puts an enormous amount of practice into the virtual races he participates in.
When asked on Twitter if Pagenaud would face sanctions such as a ban, iRacing vice president Steven Myers explained that the series was run independently by IndyCar, but he strongly disapproved of the drivers' actions.
"This was an IndyCar private series with participants exclusively chosen by them. We are not in the business of policing anyone's private leagues for racing issues," Myers said. "Does it suck that he made a mockery of a great opportunity for the series and iRacing? Absolutely."
Myers is right to highlight the major missed opportunity by IndyCar to attract new fans, with many likely to be tuning in for the first time after Norris' success the previous weekend. The perceived snobbery of IndyCar drivers to the wider motorsport world identified by Norris is a largely unfair stereotype, but Pagenaud's actions will leave a lasting impact.
Ex-F1 driver Max Chilton, who made his IndyCar debut in 2016, was one of many IndyCar drivers to criticise his actions.
"I am sorry IndyCar has been seen in a bad light," Chilton said. "His [Pagenaud's] spotter [Ben Bretzman] says what Lando did wouldn't have happened in real life, but what wouldn't happen in real life is a driver leaving the pits to purposely put the leader in the fence.
"I know it's a game but when you are wearing a team shirt, representing sponsors, a team, a series, you should be held accountable."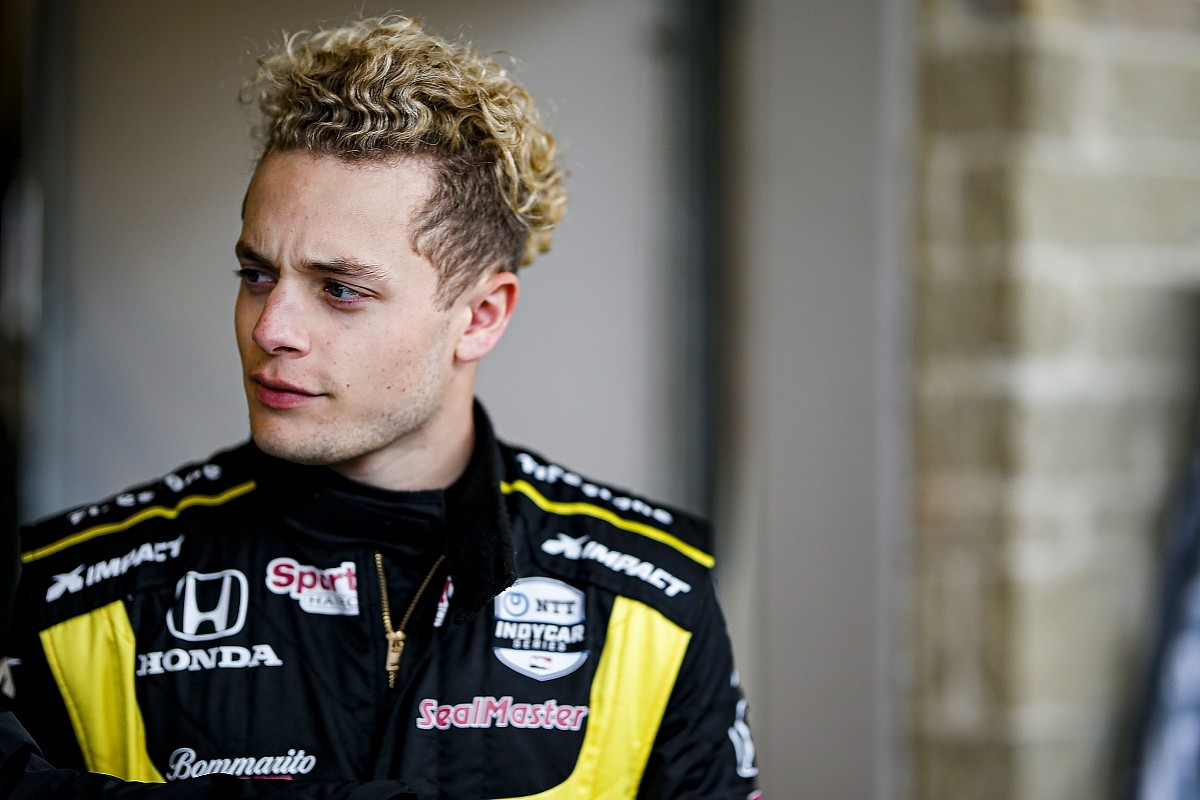 IndyCar exposed by lack of stewardship
It is embarrassing for IndyCar as a series as well as for the drivers concerned. A lack of firm or clear stewardship allowed drivers to take justice into their own hands - which should never be allowed in the real or virtual world - and is also apparent by Ferrucci keeping his third-place finish, despite his ill-judged move on Askew.
When O'Ward spun ex-F1 driver Marcus Ericsson out of the lead at Turn 4, O'Ward's loss of momentum left Askew and Ferrucci to battle to the chequered flag.
Ferrucci, who was infamously banned for four Formula 2 races in 2018 before switching to IndyCar, violently moved to the left in the middle of the straight and sent Askew airborne, handing McLaughlin the victory.
"That was close, that was so worth it. Last lap, last straight, come on, it is for TV, it is for the fans. That was so intentional" Santino Ferrucci
Ferrucci eventually admitted that his manoeuvre was a mistake and clumsily blamed the move on his recent experience racing in virtual NASCAR events.
"I watched everybody get slowed up there coming out of the last corner," Ferrucci said. "I was catching Askew, and I've been running a lot of different series lately, and I was trying to get on his door because of the NASCAR style.
"I got a little too close, and I think I turned just a touch too aggressive, and that's my fault. That is definitely my mistake there.
"I did not mean to come across the line through the air to a virtual finish, but also at the end of the day, we're racing on a video game, and I am second, he is first. I was doing everything I could to put our car in first place in Victory Lane."
Just as with Pagenaud, this was contrary to what Ferrucci said during his Twitch live-stream, which he has since deleted.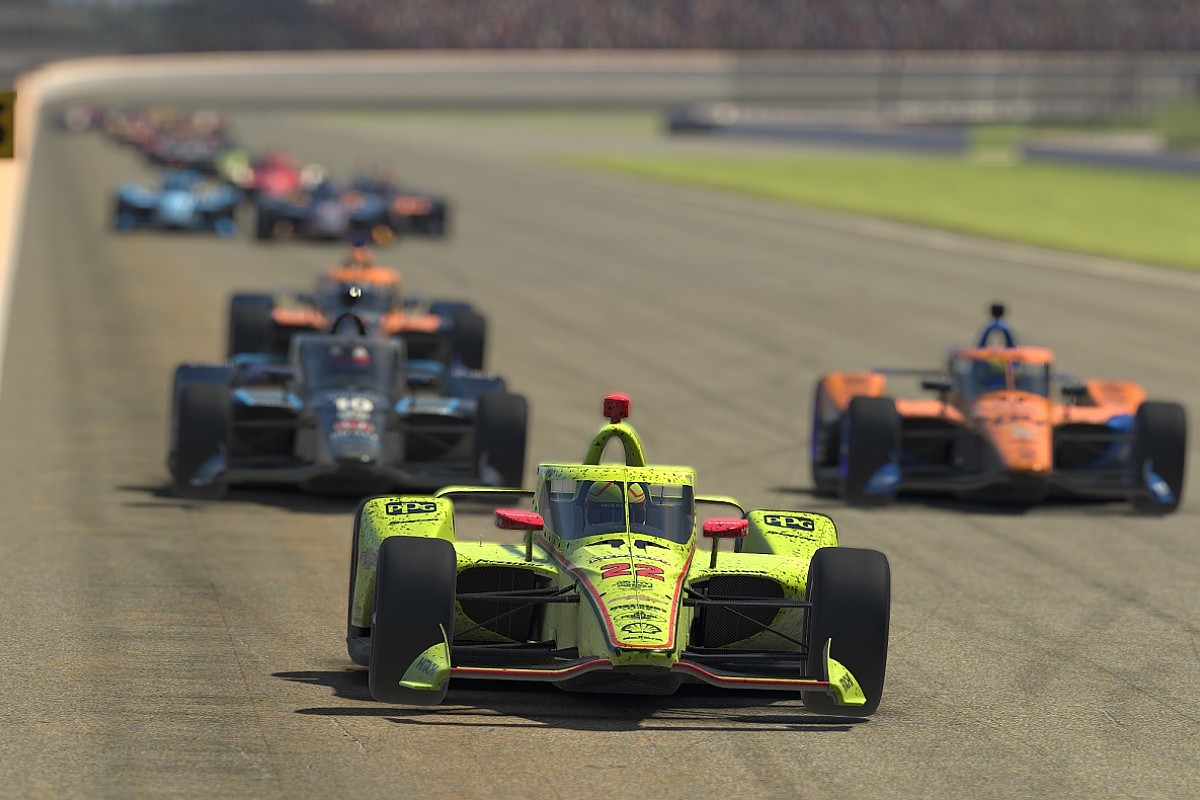 "I thought I was a little closer to the line," he laughed.
"That was close, that was so worth it. Last lap, last straight, come on, it is for TV, it is for the fans. That was so intentional. I should have just tried and just tapped him a little bit. I didn't expect that."
One of the benefits of sim racing is that the drivers broadcasting their perspectives are held accountable to a level that the main TV broadcast cannot reach.
Like Pagenaud, Ferrucci's post-race comments heavily contradicted what he revealed as the incident was unfolding, which does little to undo the damage caused by their actions and merely serves to insult the credibility of the sim racing sphere.
Esports was thrust centre stage when the coronavirus hit, and many drivers, teams, broadcasters, sponsors and series have made an major effort to produce content for fans to enjoy during lockdown. It is vitally important that IndyCar learns the lessons from this embarrassment, as almost every element of the real-life Indy event was replicated - except for proper stewarding with justice carried out by stewards and not drivers.
One of the best things for fans to enjoy during this postponement period is the drivers seamlessly switching between multiple different disciplines, while sports and entertainment stars from outside the motorsport world - such as England cricketers Ben Stokes and Stuart Broad to One Direction's Liam Payne - have also embraced F1's Virtual Grand Prix series.
Unfortunately, the actions of a small minority of IndyCar drivers have somewhat soured the good-will that has arisen. Norris said after his virtual Austin win that the experience had "pushed me towards" considering racing a real-life IndyCar, but how much will Pagenaud's actions impact on that?
While iRacing may "just be a game," the implications of the embarrassing driving standards in the Indy 175 may have some serious real-life consequences.