Haas Formula 1 junior driver Santino Ferrucci has received a four-race ban from Formula 2, after crashing into his team-mate Arjun Maini after the sprint race at Silverstone on Sunday.
Ferrucci drove into the left rear of Maini's car on the cool down lap after the race, for which Ferrucci has been fined €60,000 and banned from the next two rounds at the Hungaroring and Spa.
Allied to that, American driver Ferrucci was seen to be driving with a glove off between the F2 and F1 paddock at Silverstone on Sunday, which is not allowed.
In that hand he was seen to be holding a phone, and for these two offences he has been fined €6000.
Ferrucci had been deemed to have forced Maini off the road at Turn 4 in the sprint race on Sunday, and was disqualified from the results.
Trident intends to show their solidarity and support to @ArjunMaini_ and his family, for the unsportsmanlike and above all uncivilized behavior that he was forced to endure not only during this last weekend by Santino Ferrucci and father, who accompanied him. https://t.co/Z78SjIjXXH

— Trident Team (@trident_team) July 8, 2018
After being hit by Ferrucci, Maini complained on the radio that his team-mate should be banned.
The pair had also clashed in the feature race on Saturday. Ferrucci was given a time penalty for forcing Maini off the track in that race as well.
He will now miss the Hungary and Spa rounds of the championship, in which he lies 18th in the points.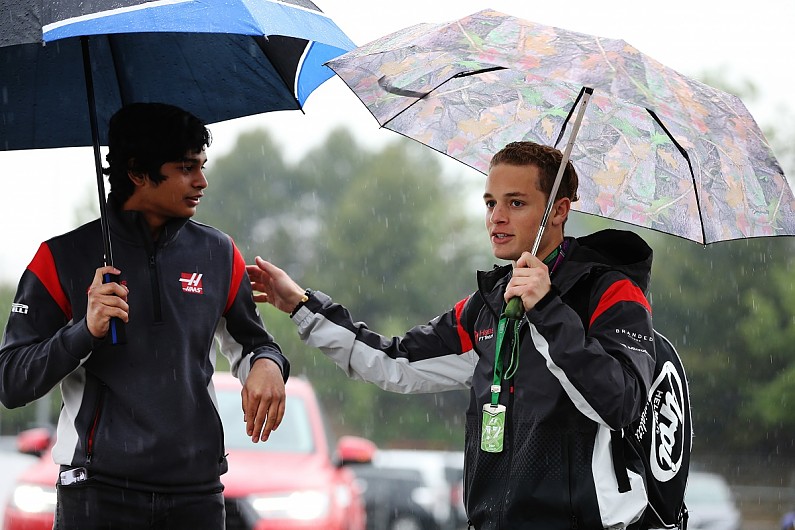 Haas F1 team principal Gunther Steiner confirmed he would be investigating the incident.
"I'm aware of the incident, I've seen it once on TV when they showed the race," he said.
"I didn't really realise, I didn't hear the audio, but I was made aware that there are some problems.
"I said I'm not gonna deal with them today, because we have a race to go to.
"I'm gonna deal with them in the week so I will get more information.
"I'm aware something happened but at the moment I don't have enough information to comment on it."
Another penalty has been revealed after Sunday's F2 feature race.
Luca Ghiotto drops out of the points from sixth, as he failed to maintain the minimum delta time under the virtual safety car.
That promotes Nyck de Vries into sixth, Alexander Albon into seventh and Ralph Boschung into the final points-paying position.