It's nearly 6pm after MotoGP's Spanish Grand Prix and I've only just got back to the press office.
It's boiling outside and the fans I've seen drifting out of the paddock are lobster red to the same hue as their Spanish flags.
To boot, the same cassette is still stuck in the Dorna stereo for the winners' national anthem: nine races, nine Spanish winners so far this year across the grand prix classes.
There's obviously been a bit of a hubbub over Marc Marquez's manoeuvre on Jorge Lorenzo but at the end of the day there are precedents for this. Valentino Rossi set it when he did a carbon copy dive inside Sete Gibernau at the very same corner in 2005. It's a storm in a tea cup. A racing incident.
Yamaha bosses can't have it both ways, given that Rossi punted Gibernau in their colours, could they? They put a protest in but they were most likely appeasing an angry #99 when he got back to the garage. Lorenzo, it should be added, rather naughtily said the bike didn't have the pace in the post race interviews.
If a racer is to be quick then he usually is quick right from the word go. If they crash a bit then they take two tenths off and get to the line. Rossi did that in 125cc, 250cc and 500cc, while Marquez looped it three times when moving up to Moto2 as 125cc champion two years ago. This time two years ago in Moto2 he hadn't scored a point after three races, and that eventually transpired as nearly a championship-winning year for the 18-year-old.
Marquez is quick on the bike but he's even quicker off it. When asked after the Lorenzo-corner-Lorenzo-fairing-bashing what he would've done if it was his Honda team-mate Dani Pedrosa instead of Lorenzo, he replied: "But Dani was too far ahead winning the race." He didn't actually answer the question. Brilliant.
As Honda's Livio Suppo said to me right before I began to write this: "He has the speed of Casey [Stoner] but the brain of Valentino."
Lorenzo himself has already done 'a Marquez' and 'a Rossi' into that last left handed at Jerez and still he didn't learn from it.
Way back in 1997 Lorenzo and Joan Olive were fighting for the Spanish Aprilia 50cc title. Last round, last corner. Lorenzo whacked Olive. Olive fell and Lorenzo won the race and the title.
What was more telling was the story that drifted around the press office a few moments ago. At Christmas that year, the mild mannered Joan received a phone call. He answered, only to hear "Tell him. Tell him. Say it. Say it!" It was Lorenzo on the phone but the voice was Jorge's father shouting at his offspring to apologise for his unsporting move.
It reportedly took 10 minutes for Jorge to quip a staccato "Sorry" before finishing the call.
Lorenzo can't have it both ways either. He is probably more angry with himself than Marc, for it was he who left the door open and had the wherewithal to do just as Marquez did in a previous life. Hell...we've all made mistakes and tried to wriggle, but deep down we know it was our own fault. Lorenzo didn't fall off a Christmas tree and he won't make that mistake again.
But here and now what Marquez has done is rattle everyone on that grid. He has the face of an angel but the devilish killer spirit is inside him when on the track. Here we have Marco Simoncelli all over again, don't we? But this time he's just that bit lighter to aid him along those straights.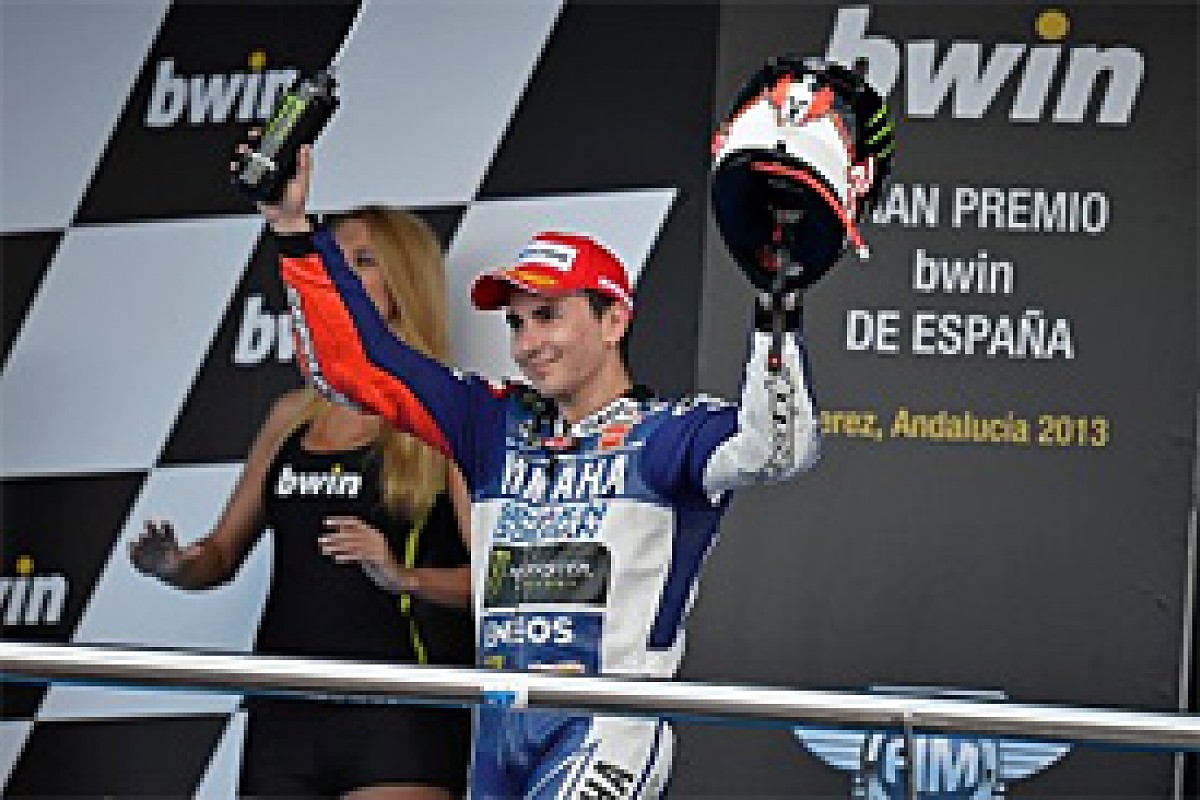 Lorenzo wasn't happy with Marquez's move
Stoner was a fair racer; he would never have taken the risk of bashing into another rider, although thumping Randy de Puniet in the Le Mans warm up in 2011 and then the 'I don't care, fine me' attitude was puerile.
So what else happened this afternoon? Oh, HRC won its second race on the bounce with its second 1-2 in two races. Pedrosa won the Gran Premio de Espana and whooped the backsides of the two guys who most thought would be ahead of him at the end of 27 laps.
No wonder the five Japanese HRC/Honda management gents I was following through the paddock a couple of hours after the race were just laughing their heads off. And I mean laughing.
Three races, three winners and a timely tiff in a run-off area between the champion and a guy who still isn't allowed by law to drink the Texas champagne. The day after his 26th birthday, Lorenzo has just seen the next generation of MotoGP on his left hand side into that corner.
Well, we don't want them all pally and getting on with each other like in World Superbikes do we?