MotoGP has been no stranger to change in recent years, but the latest proposal of a spec ECU has proved particularly disruptive to Dorna's relationship with the factory teams. Dorna is holding nearly all the cards, however, making a compulsory system ever more likely.
For Dorna, the pursuit of electronic advantage is an arms race which drives up costs and detracts from the show. For the factories meanwhile, freedom to develop independent, sophisticated systems is essential not only for on-track success but also because of the trickle-down benefits from road to race machinery.
While the factories are hardly unified, there is still precious little middle ground between the two parties. As a result, simmering tension is increasingly making way for a fraught stand-off. Honda has openly warned that it could leave the series; Ducati and Yamaha are known to have reservations. Dorna has not been swayed.
Part of Dorna's dogma revolves around MotoGP's status as a showpiece event. Electronics may help keep factory teams ahead, but in doing so they also lend to races when can verge on uninspiring, even drab. Aragon was a case in point - while Moto3 and 2 produced thrilling races with myriad lead changes, in MotoGP Dani Pedrosa simply eased away. Only Jorge Lorenzo was able to get within 10s of the Honda man.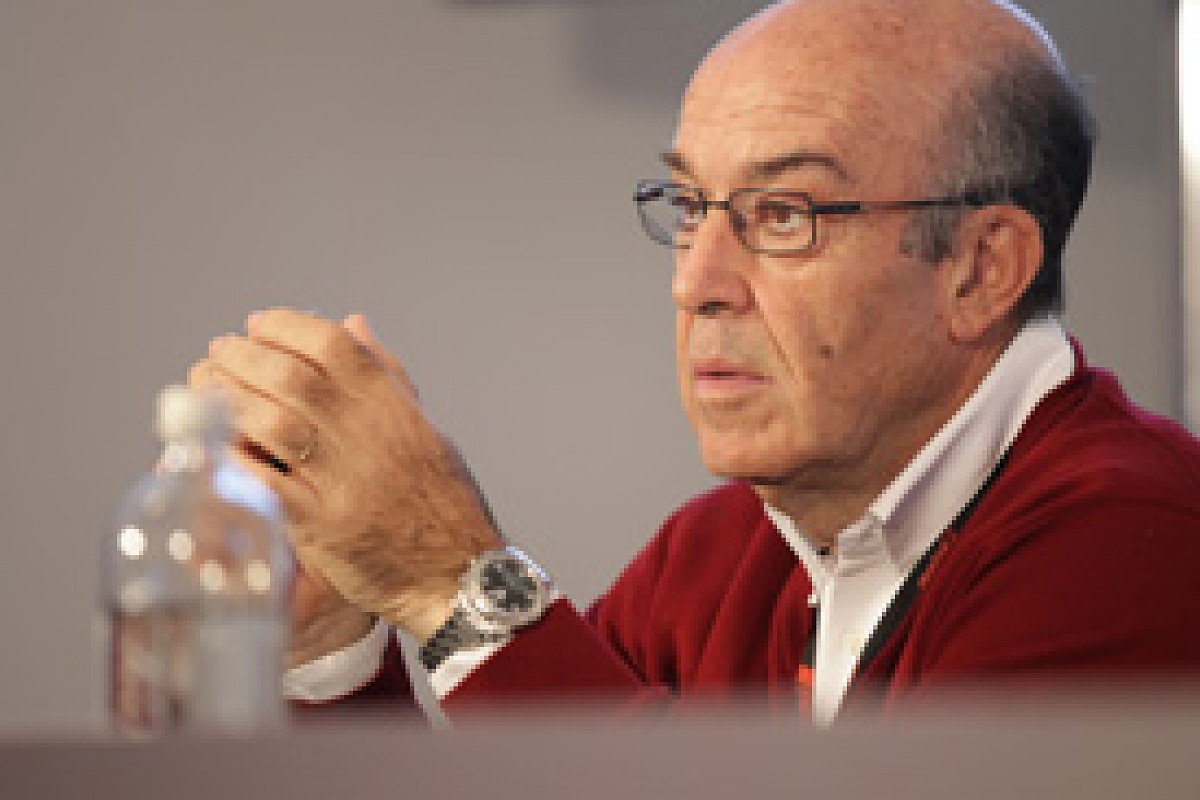 Dorna's Carmelo Ezpeleta © XPB
For now, that situation suits the factories, even if long-term it harms the overall product. The reality however is that something needs to change - and the dramatic news that Dorna will take over organisation of the rival World Superbike Championship from 2013 could be just the catalyst.
In one fell swoop Honda's hand was negated; sure it could leave for WSBK, but Dorna could just as easily introduce a spec ECU in that series too. Already a spec system will be offered out in MotoGP in 2013, possibly paving the way for a compulsory introduction one year later. Whatever the factories may think, it seems the idea is here to stay.
MotoGP Director of Technology Corrado Cecchinelli is keen to stress that no decision has yet been made on a mandatory system, but does believe it could ultimately benefit the series.
"It all depends on your goals and your perspective, but from my point of view - which is the organiser's point of view - a spec ECU may help in reducing the technical gap between the factory and non-factory bikes," he told AUTOSPORT. "That means a better show and a reduced overall amount of money spent, which accounts for a healthier sport in the mid to long term.
"[Factories] say the main reason for racing is to develop technologies that are useful for production. I understand that, but I only agree in part. It is a stretched concept and only partly true - there are a number of things you do on track that are completely useless for production, and still they race anyway. Racing is partly a way to develop technologies, but it is also partly a marketing investment."
One of the issues with an electronic arms race, Cecchinelli says, is that it inevitably creates more losers than winners.
"I think the difference between good software and the best in the world in measurable maybe in tenths or hundredths of a second," he explains, "but of course the difference between a good and bad one can be huge." It is a cyclical logic: teams must spend to keep up, but in doing so they oblige other teams to spend.
"One reason [for the spec ECU being offered to teams in 2013] is to save overall money spent in MotoGP. Software accounts for a huge spend in the series and we can take care of that. The other reason is because we believe it will reduce the technical gap between the factory and independent teams. They can forget about what software to use, and then trying to develop it.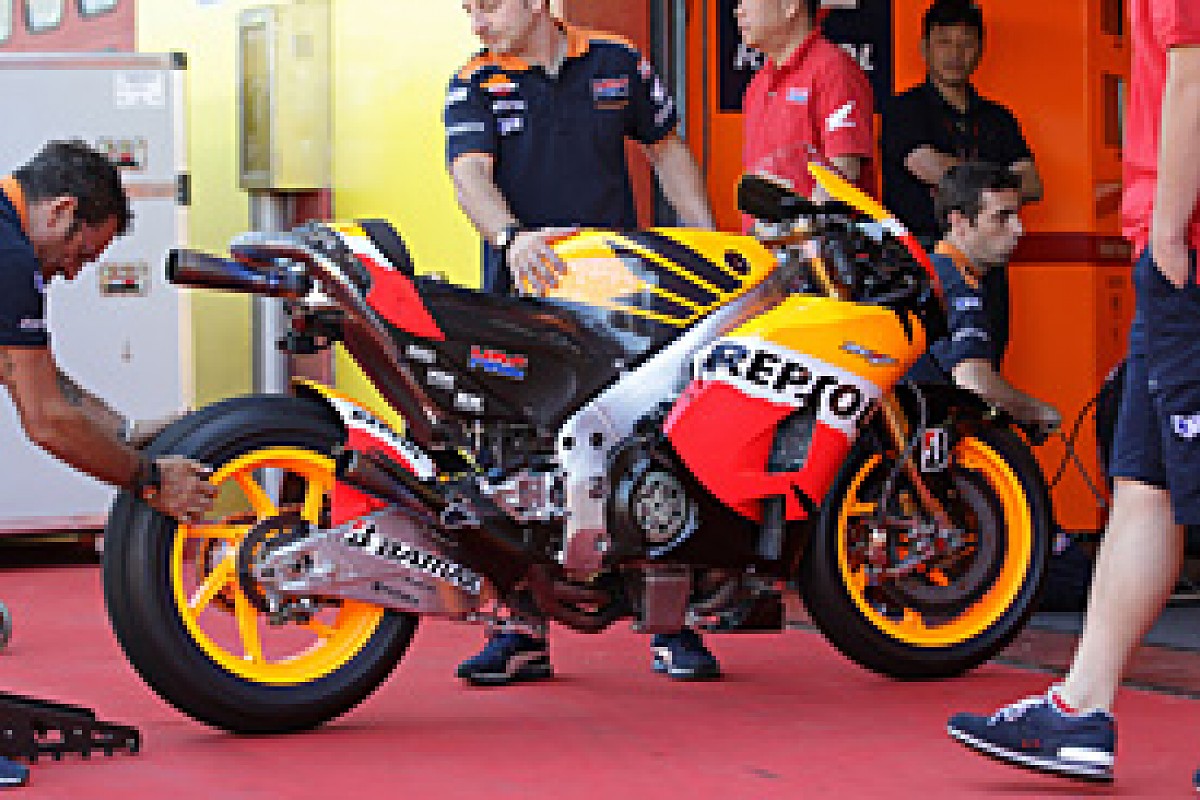 Honda has warned against standard ECUs © XPB
"[The optional Magnetti Marelli] ECU is already very sophisticated, but we will also work on it with the help of those teams which endorse it, so it will develop too. Teams will be able to calibrate the software, while track maps, traction control, wheelie control and launch control will also be included.
"Crucially for me lean angle will also be considered. Knowing the angle of the bike relative to the ground is a breakthrough in control because you can basically set targets depending on the lean - for example wheelie control or engine braking. We have top level knowledge already and we won't forget about development, so I think it is a premium solution."
Given just how complex electronics have become - current systems for example use not just lean angle but also take into account front and rear heights - there are those who believe a one-shape-fits-all solution will simply be unworkable.
The same was said in British Superbikes however, when the series began mooting the idea of a spec ECU. Like MotoGP, BSB was suffering under the proliferation of an electronic arms race which was forcing costs up and simultaneously impacting upon grid numbers. Like MotoGP, the series initially introduced an optional spec ECU.
BSB, however, pioneered the move in time for the 2010 season, two seasons ago. For this season, it was made compulsory. Unlike MotoGP, it also had to account for six manufacturers. Now, with one round to go, five of those manufacturers - and six different teams - occupy the top six spots in the championship.
"During 2009 we identified that the level we were running at the time, which was identical to WSBK, was pretty obviously unsustainable in the long term," series director Stuart Higgs explains.
"A big factor in that was that the electronic systems were beyond the reach of most teams, so you had this situation of two or three teams with all singing, all dancing systems, two or three with potentially great systems and then every other team had far less functional systems. You had a real big split in equipment standards.
"One of the key things for us was taking away a lot of the gizmos that had found their way into open ECUs in order to re-empower the rider: traction control essentially became the right wrist. Some riders have perhaps been flattered in the past by the systems: now there is no hiding place and it all comes down to rider skill.
"The biggest resistance really was in 2009. There were all sorts of people telling us we would never find a solution for different bikes, different bores and strokes, two or four cylinders ...and the reality was is was complete bullshit. There were also prophets of doom about everyone high-siding out of their seats or destroying tyres - likewise unfounded.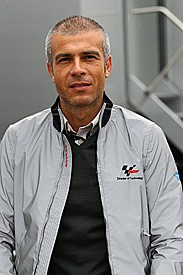 Corrado Cecchinelli © XPB
"To be honest, no one now gives it a second thought. Ultimately the proof is that we have full grids and a championship with six different teams and five different manufacturers in the top six. It shows that everyone has good access to a sensible level of equipment and it's very competitive. After all, we are first and foremost an entertainment property, not a technical R&D function for manufacturers."
For all such positives, there are those who will point to MotoGP being a wildly different beast, with development a far more intrinsic function. Cecchinelli has an answer.
"First of all the spec engine management system - and this includes more than just the ECU - could be developed with the input from all the users, so it is not a stop in development. Plus there are many more know-how-building areas to make good use of.
"To me it's just a matter of not spending too much money in something which has no added value for the show. We have to do that all together, given the period we are living in."
Showdown talks are expected this weekend at Motegi, but with Dorna holding nearly all the cards it seems spec ECUs will soon be a reality. The factories may not like it, but it could just prove to be exactly what the championship needs.