Ex-Formula 1 driver Alexander Rossi says his IndyCar future is "in God's hands" amid speculation he could move from the Honda-backed Andretti Autosports squad to Chevrolet-powered Penske for 2020.
Rossi won at Road America last weekend, and sits second in the championship with two wins and a further three podium finishes.
The 27-year-old joined Andretti in 2016 after contesting five grands prix with Manor the year before, and won the Indy 500 with the squad at his first attempt, while last year he narrowly missed out on the IndyCar title.
It has been rumoured that Rossi could replace Simon Pagenaud at Penske, although Pagenaud's Indianapolis 500 win this year may have been enough to secure his seat for another year.
Rossi joined Penske for its IMSA SportsCar Championship assault this year, strengthening his links with the team, and finished third in the Daytona 24 Hours and fourth in the Sebring 12 Hours.
Speaking after last weekend's Road America race, Rossi refused to address the Penske IndyCar rumours directly.
Asked by Autosport if his future was in someone else's hands, Rossi said: "It's in God hands."
Rossi could still be run in a fourth Penske entry, alongside Josef Newgarden, Will Power and Pagenaud.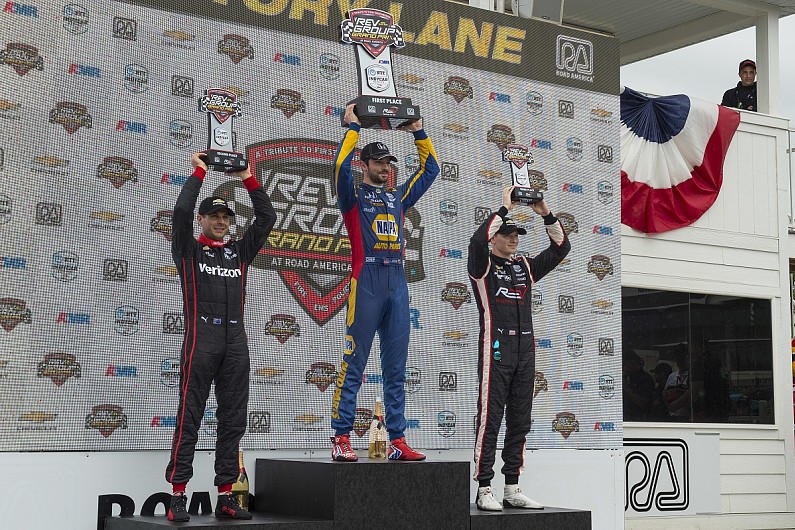 Both Power and Newgarden said they would welcome Rossi as a team-mate.
"That would be cool... I think it would be awesome," said Newgarden.
Power added: "Yeah, Josef really wants him as a team-mate. I'm good whatever."
Andretti is believed to be keen on keeping Rossi, and Honda would likely want to keep him from joining a Chevrolet-powered rival.
Rossi led every lap at Road America and sealed victory by close to half a minute, recording his seventh IndyCar win.
"For whatever reason, we haven't had a good result here," said Rossi.
"It took four years to even get in the top 10.
"As I said at the beginning of the weekend, we've always had pace, but just haven't closed the deal on Sunday.
"To be able to not only close the deal, but do it in the way we did, feels good."