Penske's Will Power and Josef Newgarden are at a loss to explain how Alexander Rossi was able to take such a dominant IndyCar win for Andretti Autosport at Road America.
Rossi took victory after leading all 55 laps and crossing the line ahead of Power by almost 30 seconds, with Newgarden completing the top three positions.
Power believes even a full-course caution would not have helped him catch Rossi, although he added that changeable conditions might have aided him.
"I actually never saw [Rossi]!" Power said. "It felt like I was in my own race with Josef. That's all we had. It was a very clean day for us - good start, no mistakes, reasonable car - but we simply did not have the pace to run with Alex. I've rarely said that in my career.
"If Alex wasn't in the race, I would have said I had a good car. But he's in the race. You can look at that pace and go, 'What are we missing?'
"It's kind of tough to pinpoint that because the car did not feel bad. It was a reasonable balance. Tyres kind of went off a bit at the end.
"But it's hard for me to understand how he can be so fast over a whole stint."
Newgarden admitted that his Penske team was "shy" and it forced his crew into making adjustments to try to catch up to Rossi.
"We obviously didn't have enough today," said Newgarden. "But we were trying to do what we could to catch back up, hold our ground.
"I think even guys behind us were very quick towards the end.
"Alex and Andretti - they were too good for us today. We've got to go back to the drawing board, try to figure out what we're missing."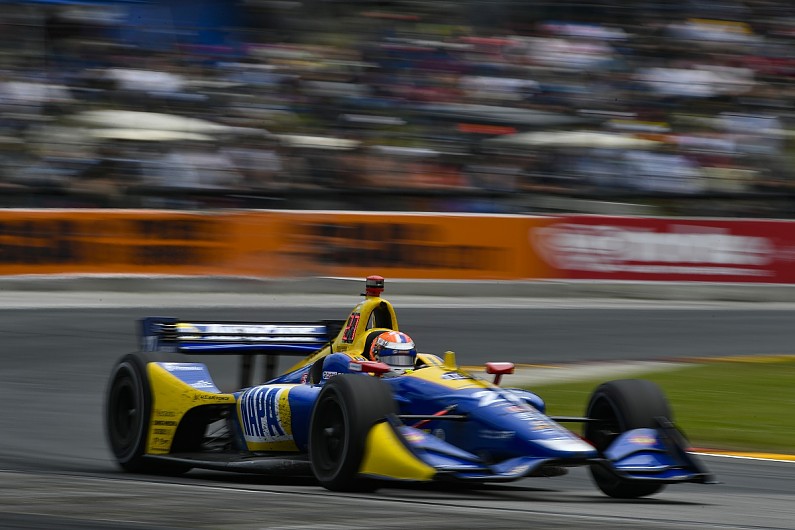 When both drivers were asked where the deficit compared to Rossi came from, Power said qualifying had revealed that Penske was missing "just a bit of everything".
The Penske driver had often turned his engine down in the race to help make the strategy's fuel windows.
"For me to knock off half a second a lap [the rate at which Rossi pulled away] I would have been using a bit of push-to-pass every lap," Power added.
Newgarden also pointed to engine and chassis optimisation as a potential reason for his pace lacking when compared to Rossi.
But Power said Penske would need to review its performance.
"Once we get all the sector analysis report and all that stuff, we'll understand more," said Power.
"It's hard to win in IndyCar these days so for someone to have an advantage like that, we've got to have a pretty close look."