Luca Filippi says his contractual situation with the NIO Formula E squad means he expects to continue racing with the Chinese electric car manufacturer-backed team for the 2018/19 season.
Filippi finished 21st in the season four standings with one point, 45 fewer than team-mate Oliver Turvey - who was 10th in the drivers' championship - managed.
The Italian was also replaced by Ma Qing Hua in Paris as NIO exercised its right to make a driver change ahead of the final three events of the 2017/18 season, before Filippi returned to the squad for the remaining four races.
"I don't know exactly how much I can say about it, [but] I can tell you I have a signed contract already, which has been signed [since] last September and is still going for longer," Filippi told Autosport.
"So from my point of view I expect to keep doing Formula E.
"I'm going ahead with development of the Gen2 car. I've driven it recently and I'll be driving again. From my point of view, I am going ahead with that.
"The team has given me a lot of faith. For sure I wanted to do more, and I feel I can do better than this. I don't feel that I've done what my potential is in reality."
Filippi, who is understood to have tested NIO's Gen2 car in Spain recently, described his debut FE season as a "rollercoaster".
"Horrible is unfortunately the word," he said. "It's been a bit of a rollercoaster. It started well, competitively, then I had some unlucky moments.
"I was competitive in Hong Kong and in Marrakech and Santiago but it's been a bit of an unlucky situation. After that I was struggling a little bit in qualifying sometimes and it became sort of a mental thing.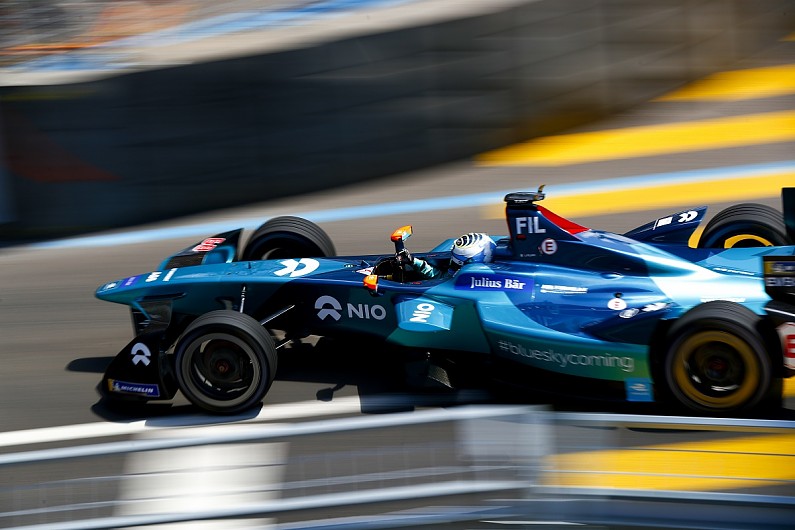 "Rome could have been a turning point because I was very competitive there, very motivated, but unfortunately everything went wrong.
"In qualifying I just couldn't get to do it and in the race I was just involved in an accident I couldn't avoid.
"That would have been a very important turning point for me because [it was my] home race and everything.
"I feel I underachieved compared to what my expectations were. It's a bit of a shame.
"[New York] wasn't bad. [I was] unfortunate with the safety car [in race one] because we had a different energy strategy.
"[In race two] with Antonio [Felix da Costa], he admitted he made a mistake and I unfortunately paid a very high price for that.
"It would have been better to have finished with some points - it would have been nice."
NIO was unable to comment on its season five driver contract situation when approached by Autosport.