Ferrari Formula 1 junior Robert Shwartzman delivered a spectacular lap to score pole position for Prema Racing in the first qualifying of the new FIA Formula 3 Championship in Barcelona.
With the European F3 and GP3 Series combining to form the new series with a fresh car in 2019, all eyes were on the 30 cars sent out to duel for pole position in Spain.
Just before drivers could get the first flying laps in, Alessio Deledda's Campos Racing-run car halted at the run-off inside Turn 11. The session went green again with 25m56s left on the clock.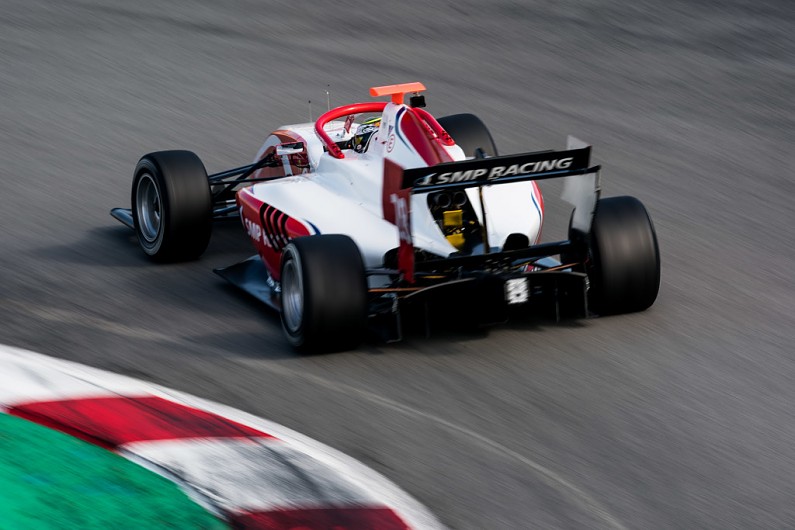 The reigning European F3 champions Prema elected to run all three cars in the mid-session gap in a bid to avoid traffic, with all drivers in the top four positions and SMP-backed driver Shwartzman delivering what looked like an untouchable lap, four tenths clear of the opposition.
But Formula Renault Eurocup runner-up Christian Lundgaard had other ideas for who should score pole position and took the spot late on, forcing Shwartzman out to contend again.
Lundgaard looked to have given eight-time GP3 champion team ART Grand Prix the inaugural pole, but Shwartzman was spectacular to regain the place late on and edge just over a tenth clear of the Dane.
Marcus Armstrong and Jehan Daruvala - also of Prema - headed out to fight late, and rose up the order to take third and fourth in an incredible result for Prema, which has no relevant experience of GP3 or many of the parts that carry over from its old car including the engine and gearbox.
The session was defined by traffic struggles for most, with as many as eight-12 drivers believed to be worthy of winning races and fighting for poles this year.
But the field was not as close together as anticipated, 0.8s separating pole and seventh place.
Behind Daruvala, Logan Sargeant steered Carlin to a top five, ahead of MP Motorsport's Simo Laaksonen and ART's David Beckmann.
The latter had been a pre-season title favourite after his strong end to the GP3 season last year, but hit traffic on one of his faster laps and his seventh was actually a good recovery for what could have been so much worse.
His team-mate and reigning Eurocup champion Max Fewtrell scored eighth for ART, ahead of late improvers Alex Peroni (MP Motorsport) and Yuki Tsunoda of Jenzer, on his birthday.
Outside of the top 10, de facto pre-season title favourite Leonardo Pulcini struggled. He was late to start the session as his Hitech Grand Prix team examined his car with the engine cover off, and in the end he could only manage 18th position.
Hitech - coming over from European F3 - had a tough session, with Red Bull-backed Juri Vips its highest finisher in 11th.
Jake Hughes was the last car in the order, the 2.1 seconds in arrears not representative of his ability levels. He reported to have no DRS on his car.
Hughes's HWA - making its proper junior single-seater debut as a team - managed a best position of 16th with Euroformula Open runner-up Bent Viscaal.
The new F3 car ran largely without issues, on what is its first weekend in competition after three two-day pre-season tests.

| Pos | Driver | Team | Car | Time | Gap | Laps |
| --- | --- | --- | --- | --- | --- | --- |
| 1 | Robert Shwartzman | Prema Racing | Dallara/Mecachrome | 1m31.975s | - | 11 |
| 2 | Christian Lundgaard | ART Grand Prix | Dallara/Mecachrome | 1m32.083s | 0.108s | 11 |
| 3 | Marcus Armstrong | Prema Racing | Dallara/Mecachrome | 1m32.427s | 0.452s | 11 |
| 4 | Jehan Daruvala | Prema Racing | Dallara/Mecachrome | 1m32.529s | 0.554s | 11 |
| 5 | Logan Sargeant | Carlin | Dallara/Mecachrome | 1m32.660s | 0.685s | 11 |
| 6 | Simo Laaksonen | MP Motorsport | Dallara/Mecachrome | 1m32.755s | 0.780s | 13 |
| 7 | David Beckmann | ART Grand Prix | Dallara/Mecachrome | 1m32.829s | 0.854s | 12 |
| 8 | Max Fewtrell | ART Grand Prix | Dallara/Mecachrome | 1m32.857s | 0.882s | 11 |
| 9 | Alex Peroni | Campos Racing | Dallara/Mecachrome | 1m32.863s | 0.888s | 12 |
| 10 | Yuki Tsunoda | Jenzer Motorsport | Dallara/Mecachrome | 1m32.875s | 0.900s | 11 |
| 11 | Juri Vips | Hitech GP | Dallara/Mecachrome | 1m32.876s | 0.901s | 13 |
| 12 | Niko Kari | Trident | Dallara/Mecachrome | 1m32.878s | 0.903s | 12 |
| 13 | Pedro Piquet | Trident | Dallara/Mecachrome | 1m32.880s | 0.905s | 11 |
| 14 | Lirim Zendeli | Charouz | Dallara/Mecachrome | 1m32.934s | 0.959s | 11 |
| 15 | Richard Verschoor | MP Motorsport | Dallara/Mecachrome | 1m32.949s | 0.974s | 12 |
| 16 | Bent Viscaal | HWA | Dallara/Mecachrome | 1m33.010s | 1.035s | 11 |
| 17 | Fabio Scherer | Charouz | Dallara/Mecachrome | 1m33.022s | 1.047s | 11 |
| 18 | Leonardo Pulcini | Hitech GP | Dallara/Mecachrome | 1m33.103s | 1.128s | 11 |
| 19 | Liam Lawson | MP Motorsport | Dallara/Mecachrome | 1m33.150s | 1.175s | 13 |
| 20 | Felipe Drugovich | Carlin | Dallara/Mecachrome | 1m33.313s | 1.338s | 12 |
| 21 | Keyvan Andres | HWA | Dallara/Mecachrome | 1m33.430s | 1.455s | 11 |
| 22 | Yifei Ye | Hitech GP | Dallara/Mecachrome | 1m33.475s | 1.500s | 12 |
| 23 | Sebastian Fernandez | Campos Racing | Dallara/Mecachrome | 1m33.508s | 1.533s | 12 |
| 24 | Devlin Defrancesco | Trident | Dallara/Mecachrome | 1m33.545s | 1.570s | 11 |
| 25 | Raoul Hyman | Charouz | Dallara/Mecachrome | 1m33.564s | 1.589s | 11 |
| 26 | Artem Petrov | Jenzer Motorsport | Dallara/Mecachrome | 1m33.714s | 1.739s | 13 |
| 27 | Andreas Estner | Jenzer Motorsport | Dallara/Mecachrome | 1m33.962s | 1.987s | 13 |
| 28 | Teppei Natori | Carlin | Dallara/Mecachrome | 1m34.054s | 2.079s | 11 |
| 29 | Jake Hughes | HWA | Dallara/Mecachrome | 1m34.173s | 2.198s | 11 |
| 30 | Alessio Deledda | Campos Racing | Dallara/Mecachrome | - | - | 1 |