Formula 3 on the Brands Hatch Grand Prix circuit means a trip up Hailwood Hill, a walk across the Pilgrim's Drop bridge, picking your way through the woods (although I never seem to choose the right path), and finally arrival at Sheene Curve (nee Dingle Dell Corner) to see who's really on it in qualifying.
Usually there are a handful of spectators plus a few team people. Sure enough, Double R Racing chief Anthony 'Boyo' Hieatt is already in situ with team driver coach Rupert Svendsen-Cook - the pole winner here last year, but frustrated at life on the sidelines in 2012. Then along comes Trevor Carlin, encouraged to make the trek out by some AUTOSPORT cajoling half an hour earlier.

He could have spent his weekend in the Mediterranean sunshine of Valencia, watching his GP2/GP3 boys on a dull artificial track and arguing over the spurious penalties that are monotonously dished out by officials who seem to have little understanding of racing. But instead here he is in the overcast cold of some squelchy woods in Kent, looking forward to seeing some proper driving on a big-balls, sixth-gear right-hander.
Well, it's sixth gear for most of the top lads, although Fortec's Felix Serralles is snicking it down to fifth on turn-in for better drive down to Stirling's, while his team-mate Pipo Derani is entering the corner in fifth.
The Brazilian seems to lack confidence, but his time will come with a morale-boosting reversed-grid win on Sunday. Learning: that's what F3 is all about.
Carlin teamsters Jack Harvey, Jazeman Jaafar and Harry Tincknell are impressive, going round together and forcing the pace. It looks good, but the most spectacular is Serralles, whose aggression on the inside kerb means he's having to catch the rear end with a deft opposite-lock flick that on one occasion lasts until he's on the outside grass on exit.
As the field head for the pits halfway through the session, it's time to leave the other guys behind for a short walk to Westfield for the second half of qualifying.
But Carlos Sainz Jr is staying out late on his first set of tyres - he comes past on his last flier before heading to the pits, and his commitment on corner entry is amazing. Half a minute later he flashes to the top of the live timing list...
At Westfield the quality of Harvey and Jaafar shines through, while Alex Lynn looks increasingly strong as the laps go by. It's all about momentum, and hitting the ripples and bumps on exit with the car pointing the right way as they plunge downhill. Tincknell and Pietro Fantin are among those who get it wrong on the odd occasion - the car flicks wide and you're relieved not to hear the thump of Dallara on barrier.
Sainz, meanwhile, is mired in traffic, and falls to fifth. His chances of victory this weekend are effectively over, less than 24 hours after he'd topped testing by half a second. On such minutiae can the shape of a season change completely.
STAR IN A REASONABLY PRICED DALLARA
Andre Lotterer in his British F3 days © LAT
Andre Lotterer's results in his season of British Formula 3 didn't exactly set the world alight - he finished seventh in the 2001 championship for Jaguar Racing, which as Paul Stewart Racing had been all-conquering through most of the 1990s.
But observers at the time are not surprised by his rise to prominence as the new big star of the Le Mans 24 Hours. It's now two wins in a row for Lotterer and Audi, as well as a sensational pole position for the 2012 race. On pace, he is the man in sportscars. After a decade of exile in Japan, where he has become a huge name in Formula Nippon and Super GT, forgetful Europeans have been reminded of his talent.
If anything, he was a guy whose driving style didn't suit F3, but would be better rewarded with more power and grip. He was always awesome in fast corners, but would often overdrive in the slow ones. Sure enough, his only BF3 victory came on the sweeping bends of the Donington Park short circuit, but he was less competitive on the venue's stop-start GP loop.
Lotterer's engineer at Jaguar was Alan 'Skelly' Woodhead, who now runs the T-Sport Dallara of Nick McBride.
"We'd tested 10 drivers, including Gary Paffett, Andy Priaulx, Nicolas Kiesa..." says Woodhead. "Then they springboarded Lotterer in."
Lotterer came as part of a German axis via Wolfgang Reitzle, who was then the head of Jaguar owner Ford. He had good form in German F3, but a trip to Britain would be a new experience. "For him, to go to Castle Combe and Thruxton was a massive eye-opener," continues Woodhead. "But what I remember was he was always good at high-speed corners. He was brave. He was the first guy I ever ran who went flat through Copse at Silverstone, and he screamed down the radio, 'I'm flat!'
"My girlfriend was working for the Jaguar F1 team as events coordinator, and when the F1 drivers were being arses they'd get the F3 drivers along instead. Susan loved Lotterer because he was great with the guests as he was multilingual: apart from German he could speak French, English, Italian... And he was energised about motorsport, very good at describing things and always had a smile on his face.
"He lived with us for a bit, and then he got an apartment in Milton Keynes. The first night he pitched up at our place, 'I have no lightbulbs!' and wanted to stay the night with us again." Ironic that he's so good in the dark of Le Mans now...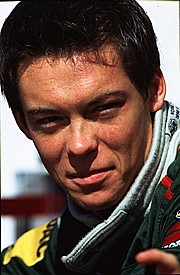 The results weren't stellar for Lotterer in 2001 but he made the right impression © LAT
Lotterer was an aggressive racer, as 'Skelly' remembers: "We used to have this nosebox called the ramming nose, and if he ever qualified outside the top six he'd ask us to put it on. He knew exactly how to push people off, and because of his nature he'd then defuse the situation in such a nice way."
Woodhead had no doubts that Lotterer would succeed in Japan: "He asked my opinion and I told him to go for it. Because he is so good at learning languages I knew he wouldn't sink out there, whereas some others you know wouldn't last five minutes.
"His British F3 season in 2001 was a really strong year, with loads of people who've gone on to earn good money out of motorsport, and on his day he was unbeatable. F3 is a keynote for what you're going do in the sport and, although that season didn't pan out as he'd like, if you look at the crop of drivers he was parachuted into [Takuma Sato, Anthony Davidson, Derek Hayes, James Courtney, Gianmaria Bruni and Andy Priaulx finished ahead of him in the standings) it wasn't a bad job."
BRANDS HATCH Driver by Driver
Jack Harvey (Carlin Dallara-VW): 1st/9th/1st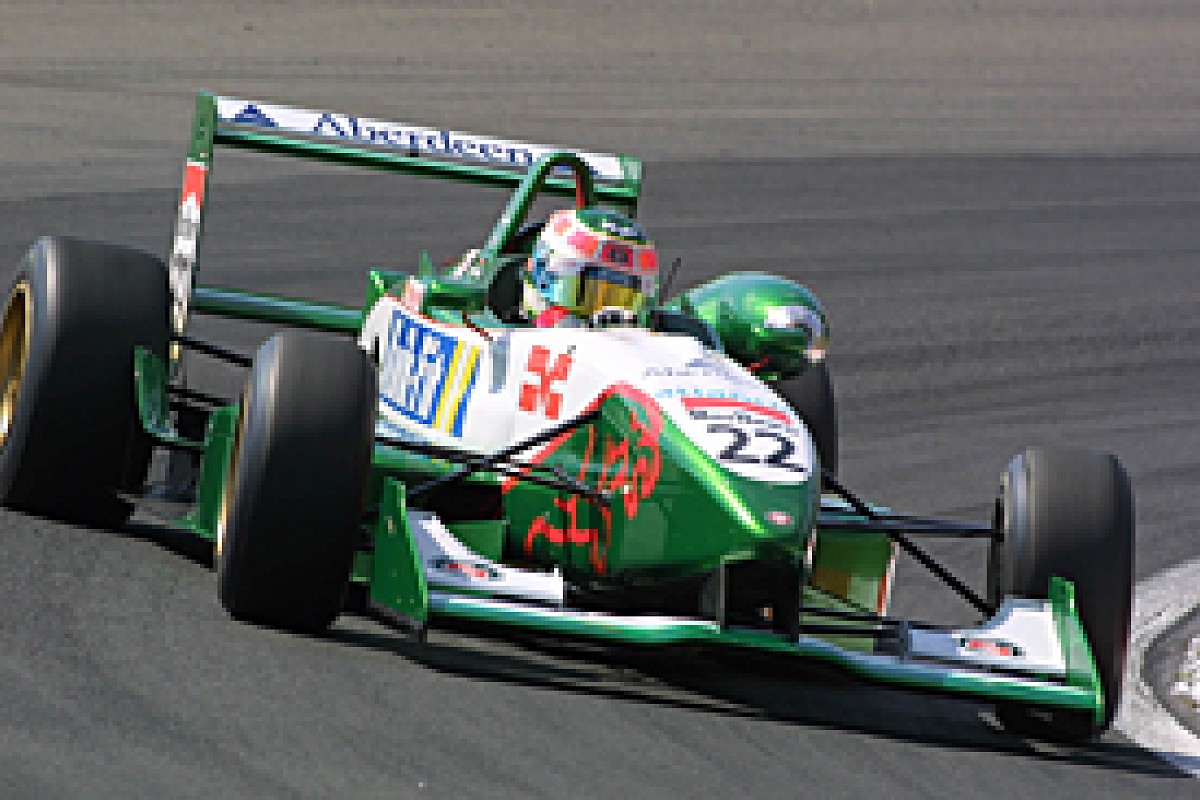 As at Rockingham, Harvey was the man to beat. Recovered from a gearshift problem in Friday's test to plant his car on double pole in qualifying. Headed Jaafar throughout the two 'proper' races, although in the first he came under serious pressure all the way. Made a good start to reversed-grid race but slid wide at Paddock, losing the places he'd gained and consigning him to ninth.
Pietro Fantin (Carlin Dallara-VW): 8th/3rd/5th
Season of niggles continued when he got a puncture in his left-rear on his first set of tyres in qualifying - he believed it was caused when the Cooper technician was taking temperatures! Took his traditional reversed-grid podium, hovering around a second behind top two Derani and Serralles. Other than that he kept it clean and claimed some solid points.
Harry Tincknell (Carlin Dallara-VW): 5th/15th/3rd
Once again Tincknell was the guy in trouble for track-limits penalties, although if you grow up in Devon you're probably used to driving on verges to get past herds of cows. As a result he lost third on the grid for race one, and also had his fastest lap taken away in race two - although as his next best was also quicker than anyone else he wasn't too bothered. What he <was> miffed about was being hit by McBride in the chain reaction caused by Ilyas clambering out of the gravel in front of everyone. That caused a puncture and broke the front wing, and cost him a lap in the pits. Otherwise, a much better weekend that ended with a podium, despite a sticking throttle in the closing laps.
Jazeman Jaafar (Carlin Dallara-VW): 2nd/6th/2nd

Just a tad behind Harvey in qualifying, and that defined his weekend. On a fresher set of tyres than Harvey for race one, what he really needed was a good start. As it happened he lost second to Lynn off the line, but snatched it bravely back around the outside at Druids. Had a terrific first lap of reversed-grid race to rise from 10th to sixth, but from lap five on he could not pass Ilyas, effectively costing him 1.5s per lap.
Carlos Sainz Jr (Carlin Dallara-VW): 4th/4th/DNF
After blitzing testing, he was disappointed to end qualifying in fifth - traffic meant his best lap came at the chequered flag, when his tyres were past their best. Shadowed Lynn throughout race one, and did a good job to go from eighth to fifth on first lap of reversed-grid race, but ended day with an early bath after being tagged by Serralles on the first corner of the finale and spinning into the Paddock Bend gravel.
Pipo Derani (Fortec Dallara-Mercedes): 9th/1st/DNF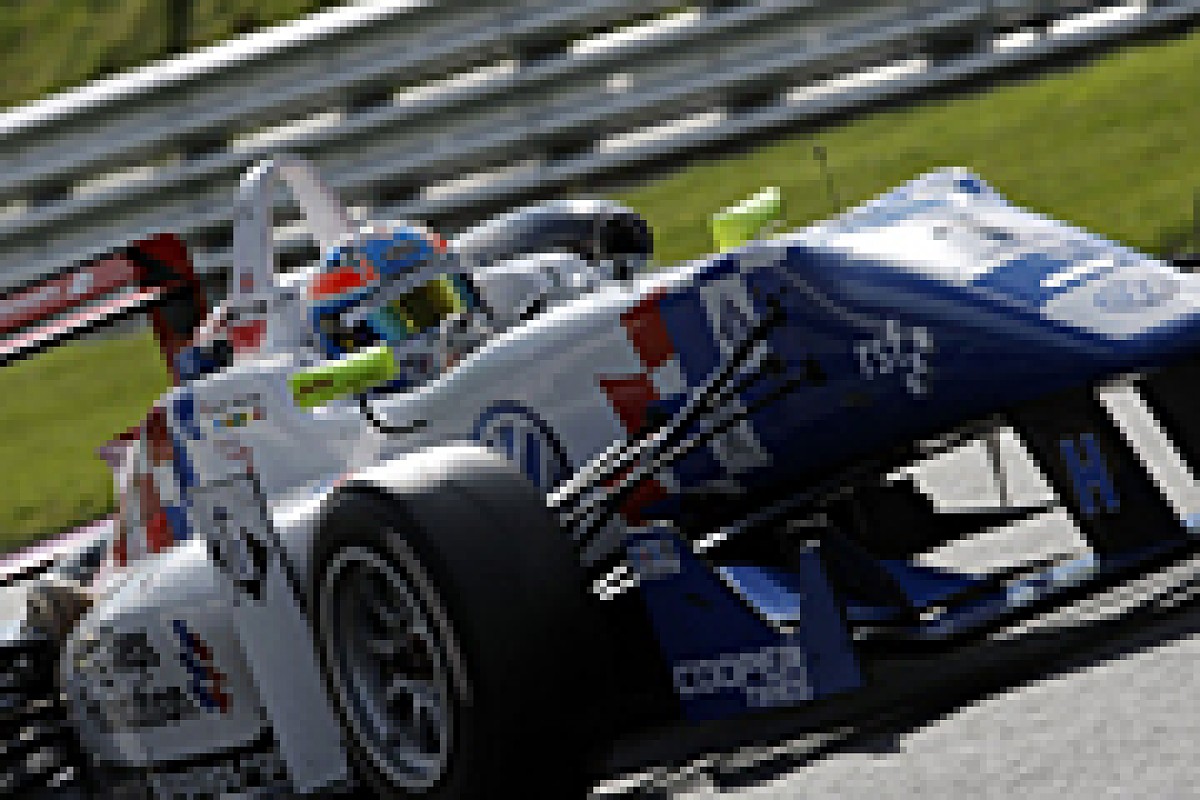 Built confidence throughout the weekend, and his reward was a second reversed-grid win. He started the race third, moved to second when the front-row Double R cars made contact off the line, then took the lead when Ilyas slid off, and soaked up pressure from Serralles. Just as well, because he was left with nowhere to go in the finale when Sainz and Serralles tangled in front of him, Pipo crashing into Sainz as the Spaniard released the brakes.
Felix Serralles (Fortec Dallara-Mercedes): 6th/2nd/9th

Confident in test but a slow puncture on the left-rear on his second set of tyres in qualifying scuppered him. The Puerto Rican is a great racer though, pressuring McBride into an error in race one, and scything from sixth to third on the first lap of the reversed-grid race. He nearly caught Derani on the line for victory. Collision with Sainz at first corner of finale ripped a valve out of his tyre. After pitting he was aeons behind the field, but pipped Ilyas on the run out of Clearways on the final lap for ninth.
Hannes van Asseldonk (Fortec Dallara-Mercedes): DNF/10th/7th
After the promise of Rockingham this was a tough weekend. He had never seen the GP circuit before the Friday test, and then he shunted heavily at Paddock Hill Bend quite early in qualifying. Was lying in 11th - good for the reversed-grid pole slot - when he went off again in race one at Sheene while challenging Uhrhane. Kept things quiet on Sunday, shadowing McBride throughout the finale but understandably reluctant to try a big move.
Alex Lynn (Fortec Dallara-Mercedes): 3rd/8th/4th

Weekend really took shape when he found pace on his second set of tyres in qualifying - although that was quite late in his run. Ran briefly second in race one before Jaafar swept back ahead, then consolidated third from Sainz. Couldn't find a way by McBride in reversed-grid race, but in finale he almost caught the struggling Tincknell at the finish. Good weekend with more solid points.
Nick McBride (T-Sport Dallara-Nissan): 7th/7th/6th

The Aussie still lacks pace in the fast corners, but his slow-corner technique is obviously pretty decent and qualified sixth for race one. Was running in that position when he spun at Westfield, losing one spot to Serralles. Had big pressure from another Fortec car - that of van Asseldonk - in the third race but atoned for his Saturday mistake by keeping it tidy this time. Best weekend in F3 yet.
Spike Goddard (T-Sport Dallara-Mugen): 13th/13th/DNF
Shunted in Friday testing, then spun into the gravel at Stirling's late in qualifying. Kept things clean in the first two races, although on this occasion the National Class championship leader was left behind by returnee Fong. In the third race he swapped places with Padayachee a couple of times before setting off after Fong, challenging the Chinese racer for a while until shunting on the exit of Hawthorn's.
Geoff Uhrhane (Double R Dallara-Mercedes): 10th/11th/8th
Like McBride, he's lacking confidence in the high-downforce sweepers but improving all the time - and looking forward to the big braking of the Norisring this coming weekend. Big chance came with a reversed-grid front row, so he was unimpressed to have his front wing stamped on by team-mate Ilyas away from the line, and faded to 11th. Good, solid drive to eighth in the finale.
Fahmi Ilyas (Double R Dallara-Mercedes): 11th/5th/10th
Put it in the wall at the exit of Surtees right at the beginning of qualifying, causing a red flag. Recovered in first race to take a reversed-grid pole, and was leading that race when he understeered off into the gravel at Paddock. Climbed back on in fifth, and stuck his elbows out throughout to prevent fellow Malaysian Jaafar from passing. Set for ninth in third race until he went off Clearways on penultimate lap, giving Serralles the chance to strike on the run to the line.
Duvashen Padayachee (Double R Dallara-Mugen): DNF/14th/12th

Rather forlornly went off at Clearways on the final lap of the first race, but built his confidence through the Sunday races around the challenging high-speed sweeps of the GP circuit. His best race was the last, where he headed Goddard for a while before getting left behind, but picked up second in class when his fellow Aussie crashed.
Adderly Fong (CF Dallara-Mugen): 12th/12th/11th
After racing in Auto GP and Asian Audi R8 LMS competition to date this season, returned to British F3 in his patriotically-liveried Chinese red-and-yellow Dallara - the same chassis he used last year but now fitted with the spec National Class Mugen mill. Dominated the class throughout the weekend, occasionally mixing it with tail-end A-class boys. Lacked a little speed in finale and briefly challenged by Goddard, but otherwise no worries.