Robert Kubica says his Williams Formula 1 car was 'turning without turning the steering wheel' during the Canadian Grand Prix.
Kubica made a good start in Montreal and briefly ran as high as 15th ahead of team-mate George Russell.
But he suffered with handling issues from the first lap, explaining that the car was steering itself under braking, and ended up back in 18th and last.
"Unfortunately there is no magic," he said when asked about his performance by Autosport.
"Qualifying was already difficult with handling, and generally I have no grip, so with high fuel and track conditions hotter, and longer stints, it was even more difficult.
"Often the car was turning without really turning the steering wheel, just on the braking, and I don't know what to say honestly. It has been very difficult to keep it on track."
Asked if it was dangerous to drive, Kubica replied: "Not dangerous - in the end you know that it's like this, so you are not even able to push.
"But for the speed I had I took too many risks. But that's how it is.
"Overall grip is missing. Honestly I don't know what to say."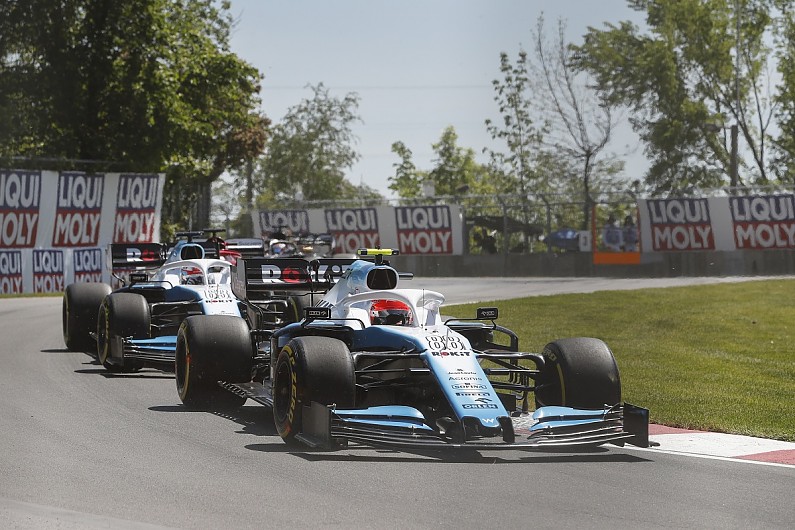 Kubica admitted that he could not stay ahead of Russell after beating him off the line.
"It was a small fight, I overtook him into Turn 1, and then he got me on the straight, and that was it," he said.
"But already on lap one I arrived into Turn 6 and Turn 8 really sideways before even turning the car. So it was difficult."
Russell was much happier with his race, and was at least able to keep some faster cars behind him in the early laps before finishing 16th ahead of Kevin Magnussen's Haas.
"The car was feeling relatively nice to drive," Russell said when asked by Autosport.
"We maximised the package, we just need to bolt some downforce on it now. We've got to be pleased that we the race team maximised the car we had.
"I definitely had a bit of fun, battling with myself really, and that's all we can do at the moment."
Russell acknowledged that the new front suspension introduced in Canada had been an improvement.
"The car is definitely feeling nicer to drive, unfortunately lap times didn't really show it for whatever reason this weekend," he said.
"Before we had a car that wasn't nice to drive and lacking downforce, now we've got a car that lacks downforce, so we're making progress."