Pierre Gasly says he does not yet feel as comfortable with Red Bull's 2019 Formula 1 car as he did in the Toro Rosso he drove last season.
Gasly has struggled compared to team-mate Max Verstappen in his first two races since being promoted to Red Bull's senior team, and was knocked out in the first part of qualifying at the season-opening Australian Grand Prix then started 13th in Bahrain.
He scored his first points of the season in Bahrain - where in 2018 he was fourth for Toro Rosso - by finishing eighth, but was close to 45 seconds behind Verstappen in the laps before a late safety car was deployed and already trails his team-mate by 23 points.
Asked if the RB15 was more difficult to drive than last year's Toro Rosso, Gasly said: "It's faster, but for sure at the moment I don't feel as comfortable as I was in [the] Toro Rosso.
"[In the] Toro Rosso I could feel I was doing exactly what I wanted, and even if it wasn't behaving always well, it was more predictable and I could feel that I had a bigger impact on what was happening.
"At the moment sometimes it's just quite tricky and unpredictable and I can't really do what I want inside the car - that's the main thing to work on, that I'm able to deliver what I want inside the cockpit."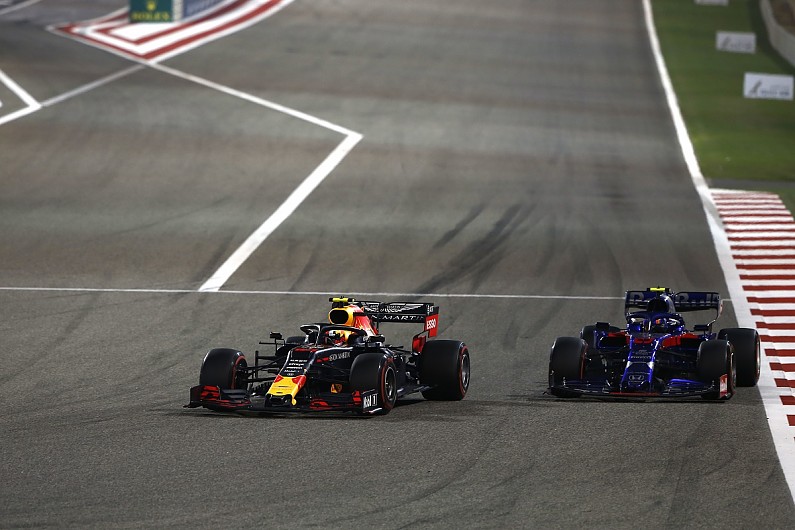 Gasly said although it was annoying not to be getting "the result I want", he wanted to channel an "anger to do well" to get on top of his current struggles.
Asked if he shared Red Bull technical chief Adrian Newey's view that his pre-season testing crashes had put the team under pressure, Gasly said: "It's not I don't think so much [about being] under pressure, but a bit stressed.
"I think at this level in racing everybody [has] crashed their car - whether it's in testing, whether it's in the race.
"When you push these cars to the limit and with the speed we're going at at the moment, these things happen.
"I know this wasn't the first one, it's not going to be the last one unfortunately.
"But no, for sure [it] wasn't the smoothest testing, and then it was important to get a clean weekend, especially as I said it's mainly the tricky feeling in the car that I can't really do exactly what I want, that makes it a bit difficult for me at the moment and that's the main thing we need to focus and work on.
"But no, I just feel relaxed. Of course I'm a really competitive guy and when I don't get the result I want, makes it annoying and it's not nice, but gives me even more anger to do well and work and push on my side to make everything better."