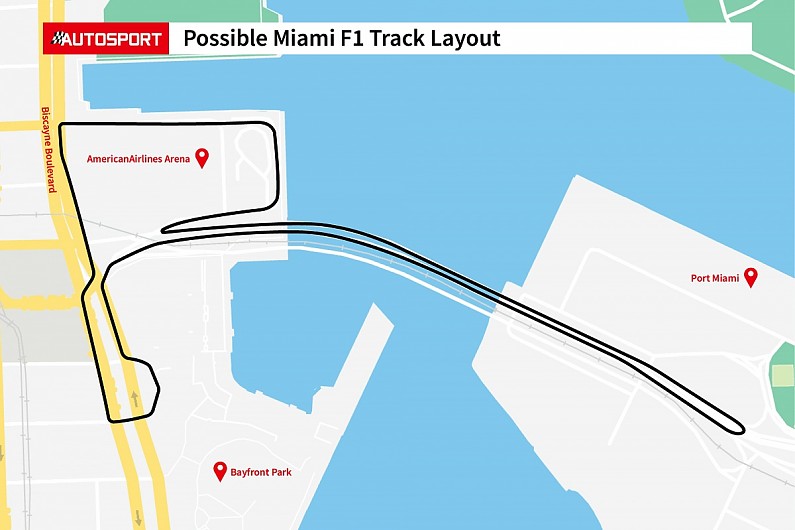 Lewis Hamilton has expressed doubts about the provisional layout of Formula 1's Miami GP circuit and offered to help designers improve it.
The US city is planning to host an F1 race in 2019 and the city's commission is expected to approve a resolution to allow negotiations over the race to proceed.
A map outlining a proposed route for the street circuit, using an area previously incorporated into Miami's IMSA, CART and Formula E circuits, was released last week.
Hamilton said he was "very, very excited" to hear about plans for the race and suggested he could offer organisers advice on "better locations to put the track".
"Miami is a super cool place, and I was very, very excited to hear about it, and then I saw the layout," Hamilton said.
"I think it could be a lot more fun - you've got two of the longest straights, but maybe when we drive it, it will be more fun.
"I don't want to make an assumption before we've even driven it, but if there's time, and anyone wants to approach me or any of the drivers, I'm sure we could give some good insight into what the layout's like, and how it could be better.
"I know Miami quite well. There's a few better locations to put the track, for example. I dread the thought of a street circuit like we had with Valencia (pictured bottom), which wasn't really a great street circuit. It can be very hit and miss, but maybe it's a hit."
McLaren driver Stoffel Vandoorne also expressed reservations about the proposed circuit layout.
Vandoorne said: "I don't know about the track layout, I've seen their proposal, I can't really visually imagine where it is exactly or how it would look, but just looking at the shape of it it doesn't look very attractive so far, so maybe there's something we could change there.
"I think it will be great to have a race there and I think the US has always been kind of a territory where we want to promote the sport a bit more. I think Miami is a great location for that as well."
Hamilton's Mercedes team-mate Valtteri Bottas was more positive about what he's seen so far.
"I saw some initial layouts, and it looks cool," said the Finn. "Fingers crossed that it's going to happen. I think it will be good for F1.
"I think from a driver's point of view for sure you always want to go to good circuits. I think the destination is always a bonus.
"But if that brings people, then it makes the atmosphere better, and then the weekend is always nicer."
And Haas driver Romain Grosjean warned that apparently "boring" circuits could still produce good racing.
"It's difficult to comment from a layout point of view," Grosjean said of the Miami plan.
"If you look at Bahrain, let's say, you could find it boring [based on the circuit layout] but when you race there the race is amazing.
"So with Miami, you go up and down the bridge - why not? And there's a big hairpin to create overtaking."